L to R

Back Row: James Hinman, Avery Rademacher, Jared Oathout, Jaden Adams

Middle Row: Hunter Bryant, Chase Hamel, Dakota Lynnes, Dominic Shore, Kade Adams, Matthew Sanders
Front Row: Brody Groom, Christian Burden, Bryce Gilbreth, Aidan Young
Not Pictured: Joe Ybarra, Jacob Ewing, Timothy Tracy
2018 SEASON
WHS VARSITY BOYS TENNIS
@ Circle HS
Tuesday, Apr 17, 2018
The WHS Varsity Boys Tennis team brought home some hardware Tuesday from the Circle HS Invitational! 
#1 Singles Hunter Bryant 1-2 / 6th
#2 Singles James Hinman 2-1 / 3rd Medal
#1 Doubles Jared Oathout / Avery Rademacher 3-0 / 1st Medals
#2 Doubles Jaden Adams / Kade Adams 1-2 / 4th
Next action @ Winfield Friday 3PM
**********************************************
TEAM PICTURES
Friday APR 13, 2018
It's time to "officially" introduce the WHS 2018 Boys Tennis Squad and their coaches. This year's head coach Chad Whaley and asst coach Adrian Young are working with over a dozen tennis athletes and have found success at several meets thus far. Varsity still has meets at Circle (04/17), Winfield (04/20), Augusta (04/24).

JV will play at HOME one more time on Apr 23rd, hosting Conway Springs, Derby, El Dorado and Valley Center and then on the road to Circle Apr 24th.

AVCTL League Meets will be held at Wichita Collegiate, JV League on Apr 26th and then Varsity League on Apr 30th. 4A Regional play will also be at Collegiate, on May 3rd & 4th. 4A State is being held this year at Winfield on May 11th & 12th. Good Luck Crusaders for the remainder of the season!!

MEET YOUR 2018 BOYS TENNIS TEAM
*********************************************
WHS VARSITY BOYS TENNIS
@ Maize South
Wednesday, Apr 11, 2018
#1 Singles - Chance Hamel 0-4 8th
#1 Doubles - Avery Rademacher/Jared Oathout 1-3 6th
#2 Singles - James Hinman 0-4 8th
#2 Doubles - Dakota Lynnes/Brody Groom 0-4 8th
****************************************
WHS VARSITY BOYS TENNIS
@ Chaparral HS
Tuesday, Apr 10, 2018
Avery Rademacher / Jared Oathout 3-0 / 1st
James Hinman 2-1 / 2nd
Jaden Adams / Kade Adams 2-1 / 2nd
Hunter Bryant 1-2 / 3rd
Crusaders finished 2nd as a team - other teams included Douglass, Fairfield, Kingman and Meade.
**************************************
The WHS Boys Varsity Tennis squad opened their season Tuesday here at home. Mother Nature took a break around noon and fortunately by 3pm, with the assist of wind and squeegees, the early rain disappeared and the courts were playable.

The Crusaders fared well on the cold, damp and breezy at times, day, finishing 2nd as a team in the Quad with Augusta, Eisenhower and El Dorado High Schools. Here's the overall outcomes:

#1 Singles - Hunter Bryant / 1-2
#2 Singles - Kade Adams / 2-1 2ND PLACE
#1 Doubles - Jaden Adams / James Hinman / 1-2
#2 Doubles - Avery Rademacher / Jared Oathout / 3-0 1ST PLACE
Congratulations Crusaders and Coaches Chad Whaley and Adrian Young - good start to 2018 season!!

QUAD ACTION VARSITY BOYS TENNIS PICS 032718
**********************************
2017 SEASON
CONGRATULATIONS BROCK!!!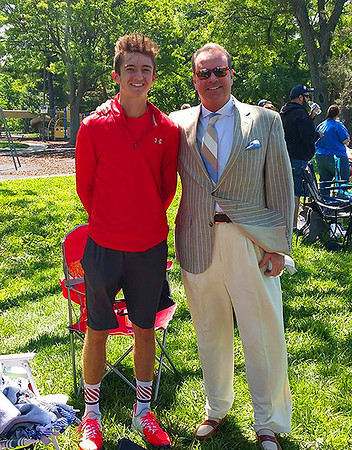 After playing superbly Friday in the opening rounds of the State 4A Boys Tennis Tournament in Prairie Village, WHS Senior Brock Edwards will be bringing some HARDWARE home! Brock went 3-1 on Friday to secure that outcome - he perhaps picked up a bit of good KARMA as well from Cramer Hass, WHS 1983 State Tennis Champion who was there to offer his Crusaderly support to Brock!! (above pic) Brock's last victory on Friday was a come from behind, tie-break, fighting cramps and fatigue victory for the Crusader! On Saturday Brock lost his first match to Independence, won his 2nd match 9-2 and last match 9-3 to finish 9th in the State 4A Boys Tennis Tournament - in a very strong field of contenders. Congratulations Brock - that is awesome and Wellington is proud of you for sure!! Great Job Crusader - bringing home some hardware - fantastic!!!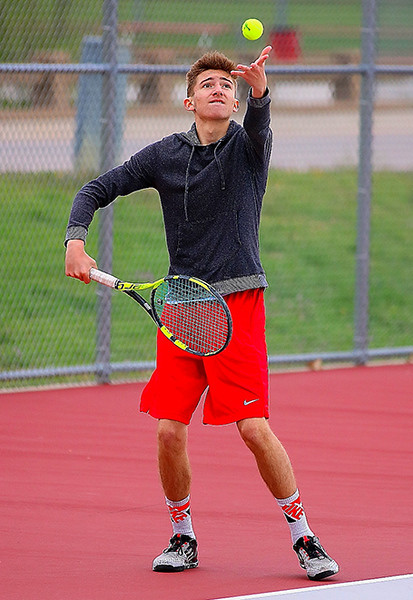 Brock Edwards (file photo) went 3-1 at the 4A Boys Tennis Regional held in Pratt on Thursday and Friday to advance to the State 4A Tournament this coming weekend in Prairie Village! This is Brock's 4th appearance at the STATE LEVEL in as many years! 

REGIONAL 4A WRAP-UP

AVCTL JV BOYS TENNIS @ BUHLER on 042717

#1 SINGLES RESULTS
#2 SINGLES RESULTS
#1 DOUBLES RESULTS
#2 DOUBLES RESULTS
VARSITY BOYS TENNIS @ WINFIELD 042817

Coach Alan Keller Update: "Best day in 5 years for Wellington Boys Tennis!!!! And almost an exceptional day! Brock Edwards had Luke Bass, Independence (one of the best players in the State) on the ropes but came up a little short and lost a very close match in a Tiebreaker. Luke was seeded #1 out of 16 players, Brock #4. They met in the semi-final match and stood toe to toe slugging it out. Brock never flinched, Luke just hit some spectacular shots at the right time which made the difference. Very, very proud of Brock's effort! Even though he lost, he gained the favor of many coaches who watched and they now know... Brock Edwards from Wellington High School is a serious threat to anyone on the court across from him. Then there was Will Long who got the 7th seed out of the same group of 16. Will worked his magic again... first confusing, confounding, then beating some very good players. He finished the day at #5 and along the way has compiled a team best 16 and 3 record going into the League Tournament next Monday. Our two doubles teams continue to struggle, but Carson LeGrand/John Long managed to give the team a very much needed 10 points with a 7th place finish, after getting a #10 seed. Juniors Jaden Adams/Jared Oathout managed to win 2 matches out of 4 played and are gaining valuable experience and getting better. This was their first time playing together and they were seeded 14th out of 16. This was a tough tournament with some very good schools/players.. and as a team, we finished 3rd!!! Only Independence and Derby finished better. But yesterday, we were better than Campus, Pittsburg, Newton, Maize South and Winfield. Great Day for Wellington!!"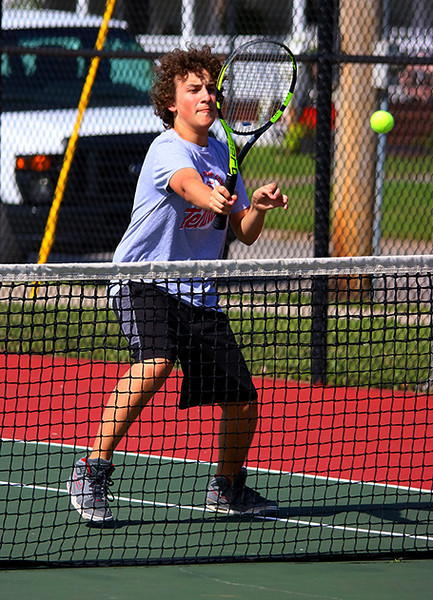 The WHS JV Tennis Boys hosted Conway Springs, Derby, El Dorado and Valley Center Monday down at the 9th St. Courts and Kueneke Courts near Eisenhower. Windy but nice otherwise - here are the results: TEAM: Wellington 36, Conway Springs 36, Valley Center 20, Derby 6, El Dorado 0 (Wellington won in a tie-breaker!) #1 Singles Reece Langford 4-0 1st / #2 Singles Hunter Bryant 3-1 2nd / #1 DoublesJames Hinman & Avery Rademacher 4-0 1st / #2 Doubles Chance Hamel & Dakota Lynnes 2-2 3rd. 

JV BOYS TENNIS ACTION PICS 04.24.17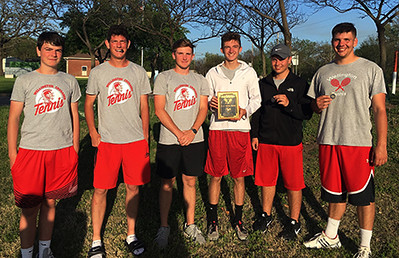 The Varsity Boys Tennis squad was on the road Tuesday to Circle HS and finished 2nd overall! In #1 Singles Brock Edwards finished 3rd, in #2 Singles Will Long finished 1st. In #1 Doubles, Carson LeGrand & John Long came in 4th and in #2 Doubles, Jaden Adams & Jared Oathout finished strong in 1st! Congrats gentlemen!! Next Varsity action will be on Friday @ Winfield.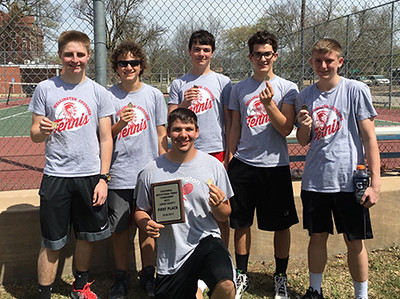 The WHS Boys JV Tennis Squad dominated at the Chaparral JV Tournament Saturday morning! ALL 1st PLACE FINISHES for the Crusaders! #1 Singles Hunter Bryant - FIRST! / #2 Singles James Hinman - FIRST! / #1 Doubles Jared Oathout and John Long - FIRST! / #2 Doubles Dakota Lynnes and Chance Hamel- FIRST! Consequently, the TEAM 1st PLACE TROPHY is now residing in Wellington!! Great Job Crusaders and Asst. Coach Adrian Young!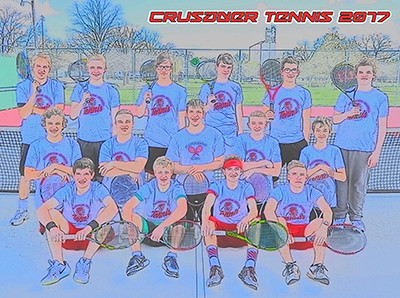 It was Paparazzi Time at the 9th St. tennis courts Wednesday afternoon - check out the team and individual pics of our 2017 Crusader Boys Tennis Team!

2017 WHS BOYS TENNIS TEAM PICS 040517