FALL 2020
**********************
WHS VARSITY GIRLS GOLF
@ Emporia (State 4A Tournament)
Monday-Tuesday, October 19-20, 2020
WHS Senior Payton Ginter is the 2020 4A State Girls Golf Champion! Her and WHS Sophomore teammate Kasiah Richmond qualified for the State Tourney, this time last week in Wellington, at the 4A Regional. Richmond had two strong days of competition and finished in the middle of the field at 34th. There were 63 participants at this year's State 4A Golf Championship!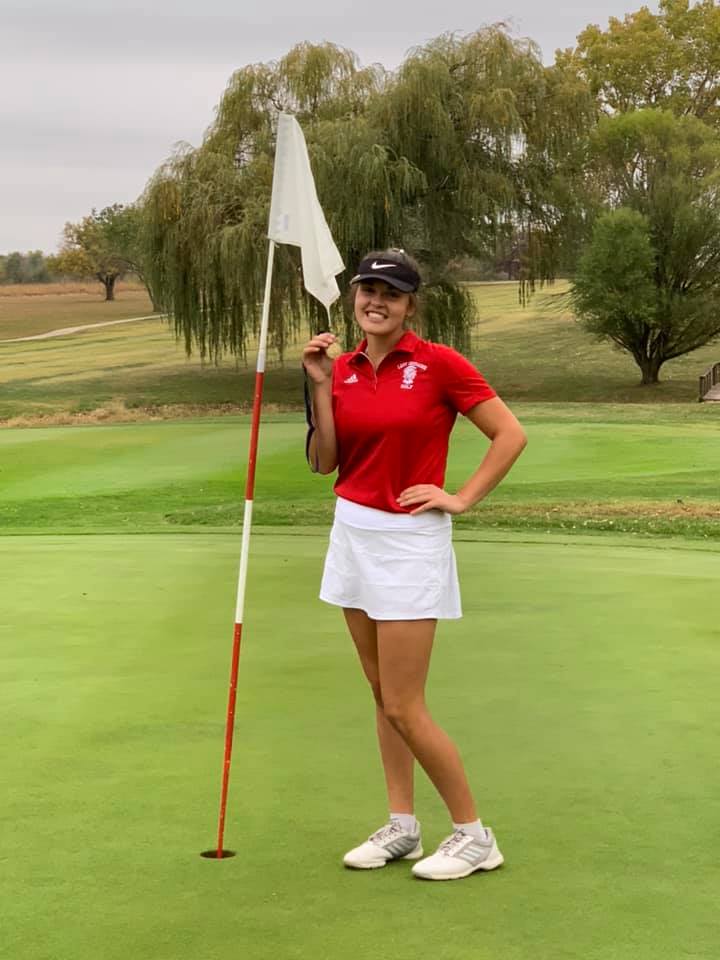 At the halfway point on Monday, after 18 holes, Ginter was in 2nd, trailing Abaigeal Donovan of Concordia by 3 strokes. When the 2nd and final round at Emporia, ended today, Ginter was up by 1 over Donovan, 158 and 159 respectively! WAY TO GO PAYTON!! STATE CHAMPION!! We are so proud of you and Kasiah.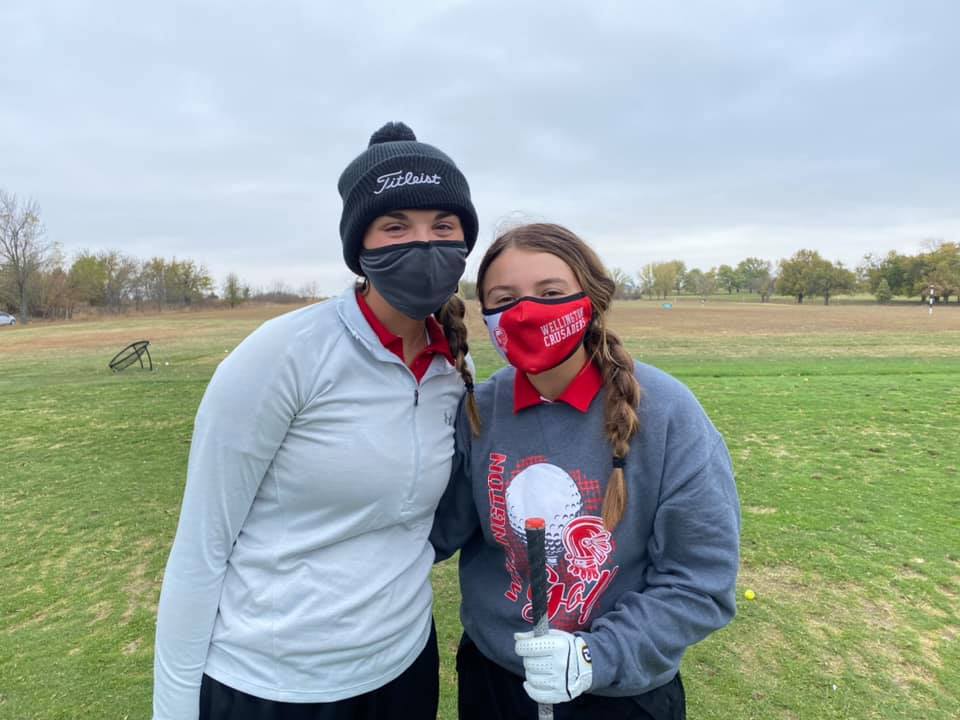 Great showing Kasiah, you have two more years to go - nothing but good vibes about the possibilities! Great Job!!
Congratulations to Head Coach (and DAD) James Ginter and Asst. Coach Vanessa Sawyer - way to represent FOLKS!! GO BIG RED!!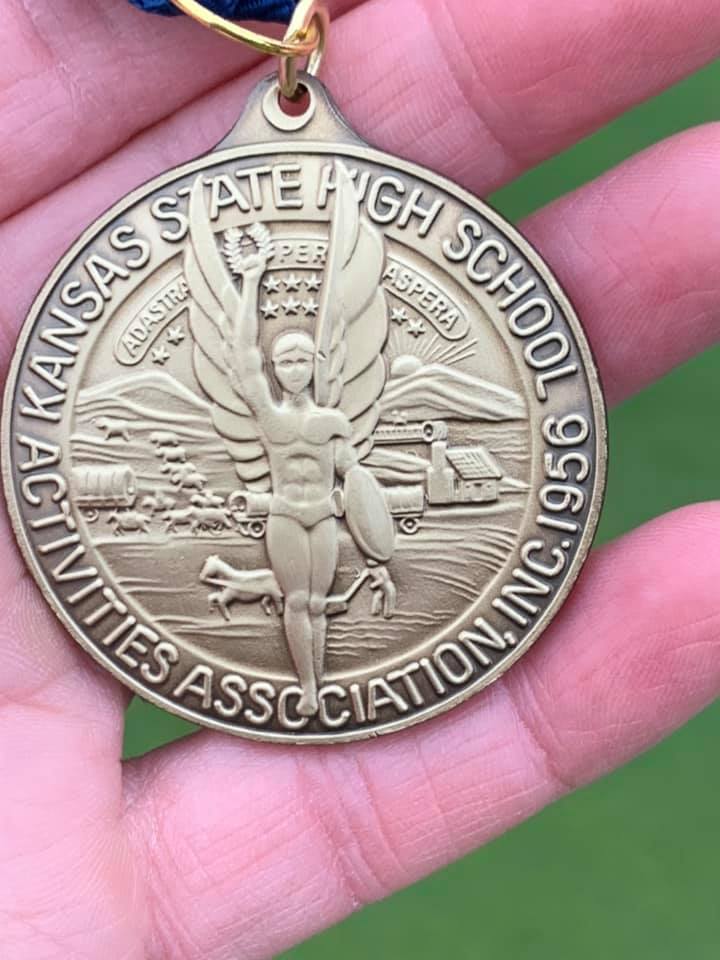 *********************
WHS VARSITY GIRLS GOLF
HERE @ WGC (4A Regional)
Monday, October 12, 2020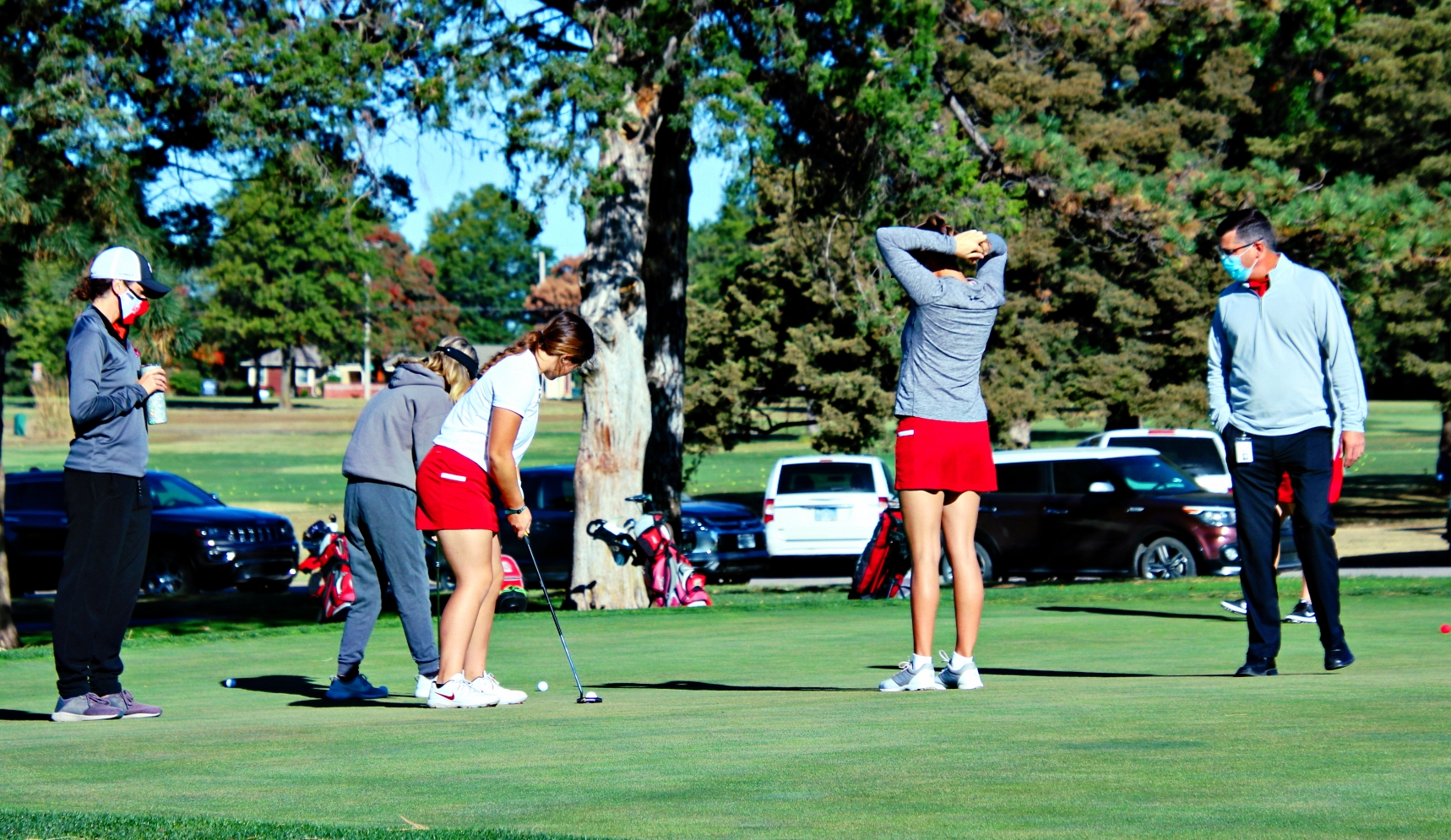 Congratulations to Payton Ginter and Kasiah Richmond! Both qualified for the 4A Girls State Golf Tournament!

THE TOP 3 TEAM finishers at the 4A Regional held at WGC on Monday, qualified (Buhler 366, Winfield 374 and Andale 401) and the TOP 6 INDIVIDUALS, not on one of those TOP 3 TEAMS, qualified as well.

Those TOP 6 INDIVIDUALS are:

Payton Ginter / Wellington (86) 3rd (CONGRATS!!) Avery Blasi / Pratt (88) 4th Loralai Millspaugh / Trinity (100) 11th Jacklyn Wolf / Ulysses (102) 12th Kasiah Richmond / Wellington (105) 15th (CONGRATS!!) Jyntri Moyer / Ulysses (106) 18th

Other LADY CRUSADERS participating today:
Leanna Herring (114) 24th
Laney Dillon (116) 26th
Eliza DeJarnett (118) 27th

There were 38 participants / as a team Wellington finished 4th.

1st Buhler 366
2nd Winfield 374
3rd Andale 401
4th WELLINGTON 421
5th Pratt 441
6th Ulysses 475
7th Mulvane 490
4A REGIONAL GIRLS GOLF ACTION PICS  10.12.20

Congrats again to Payton Ginter and Kasiah Richmond! Way to represent!

4A State this year is at Emporia Municipal Golf Course on Oct. 19-20. Tee Time 10:00AM
*********************
WHS JV GIRLS GOLF
JV AVCTL @ Hesston
Friday, October 2, 2020
courtesy pics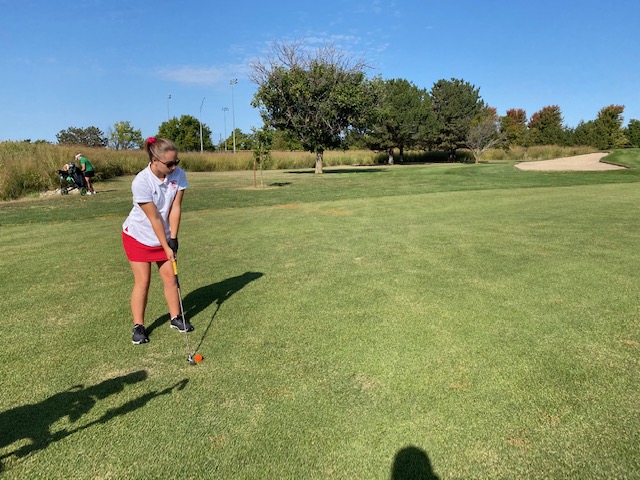 Coach Sawyer reports...
Aubrey Hunt and Evelyn Trafecanty wrapped up the JV season at Hesston on Friday. Both showed up to play!  Evelyn posted her best score ever!! Aubrey played well but was 2 shots off her score posted a week ago at the same course, so she was a little disappointed. The girls did well and we are very proud of them! We look forward to great things from each of them as they both have off season plans to improve before the 2021 season.
Field of 35 participants
4th - Aubrey Hunt 52
6th -  Evelyn Trafecanty 53

Great Job Lady Crusaders!!
***********************
WHS V/JV GOLF
@ Andale @ Valley Center
Monday, September 28, 2020
JV GOLF @ Valley Center (MON 092820)
T5th Place - Evelyn Trafecanty 50
T7th Place - Aubrey Hunt 51
13th Place - Abi Gill 54
Nice Job Ladies!
VARSITY GOLF @ Andale Invitational (Cherry Oaks) (MON 092820)
Here are the results from the Andale Invitational at Cherry Oaks Golf course in Cheney on Monday. Our ladies performed well again placing 5th out of the 11 team tournament. This tournament was an excellent tune-up for our 4A Regional being hosted at Wellington Golf Club, 2 weeks from today.

Many of the teams WHS will compete against for a chance to go to State, were competing in Monday's tournament @ Cherry Oaks. The team once again led by senior Payton Ginter who fired a +10 over par 82 to finish third individually, two strokes behind tournament champion Lauren Specht of Buhler.  Other contributors to the Lady Crusader team score were Leanna Herring (103), Kasiah Richmond (107), Elly DeJarnett (108) and Laney Dillon (109). The ladies will compete for the AVCTL championship next Tuesday at Quail Ridge Golf course in Winfield.
TEAM RESULTS
Andover 354
Buhler 367
Cheney 386
Andale 394
Wellington 400
Circle 401
Salina-Central 423
Goddard 463
Medicine Lodge 466
Mulvane 468
Augusta 470
INDIVIDUAL RESULTS
3rd Payton Ginter 82
21st Leanna Herring 103
25th Kasiah Richmond 107
26th Elly DeJarnett 108
T27th Laney Dillon 109
*********************
WHS VARSITY GIRLS GOLF
@ El Dorado
Thursday, September 24, 2020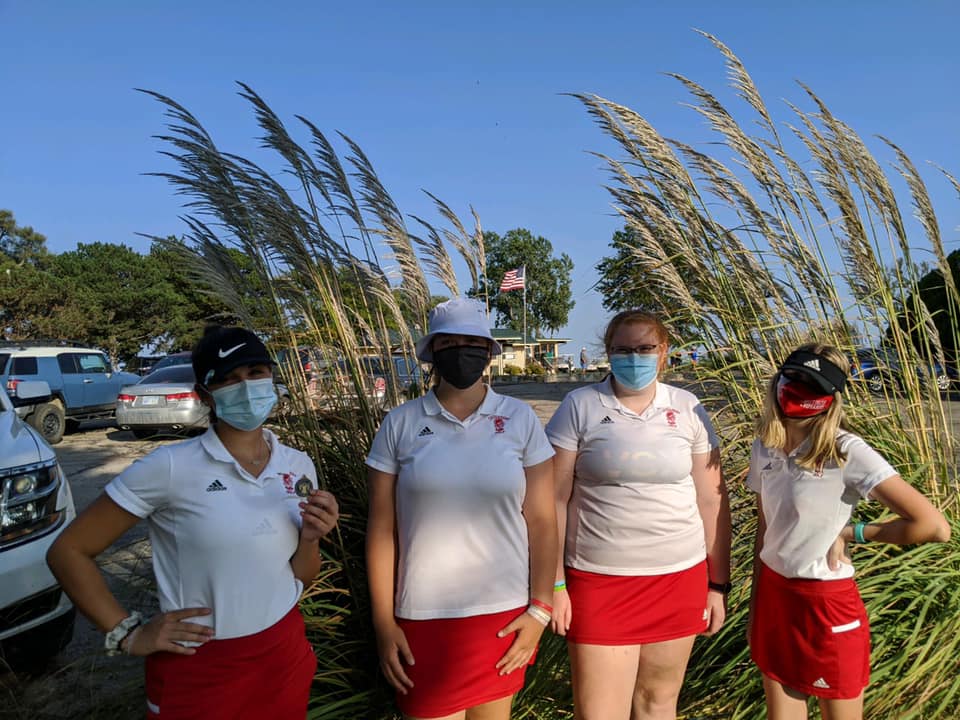 courtesy pic
TEAM RESULTS
1st - Circle  198
2nd - Andale  198
3rd - Emporia  210
4th - Augusta  213
5th - Wellington  220
6th - Buhler JV  244
7th - Mulvane  245
8th - Circle JV  248
9th - Buhler JV - White  255
10th - Andover Central JV  302
INDIVIDUAL (WHS)
1st Payton Ginter 38
16th Leanna Herring 54
35th Elly DeJarnett 64
36th Laney Dillon 64
The team finished fifth overall, 10 strokes out of a third place medal, and that even includes missing two of our top six varsity players. I was really proud of the girls and their effort today. As I've said numerous times before, we are continuing to get better and better with each tournament.
Individually, another big day for Payton Ginter, who claim top medalist for the second consecutive tournament and third time this season.  She fired a two over par 38, winning the tournament by two strokes. Other scores included a tournament PR for Leanna Herring with a 54, two strokes out of a top 10 individual medal. Congratulations Leanna, hard work pays off. Also contributing to the team score where Elly DeJarnett and Laney Dillon, both shooting 64s on the day.
***********
WHS VARSITY/JV GOLF
JV @ Hesston & Varsity @ Winfield
Tuesday, September 22, 2020
Lots of GIRLS GOLF action with outstanding outcomes took place on Tuesday! (courtesy pics)
At Hesston, the WHS JV squad fared well – Aubrey Hunt finished FIRST, 1 stroke ahead of her nearest competitor in the 37 player field, firing a 50 for the event. Awesome job Aubrey – congratulations on your fantastic play! Also at Hesston: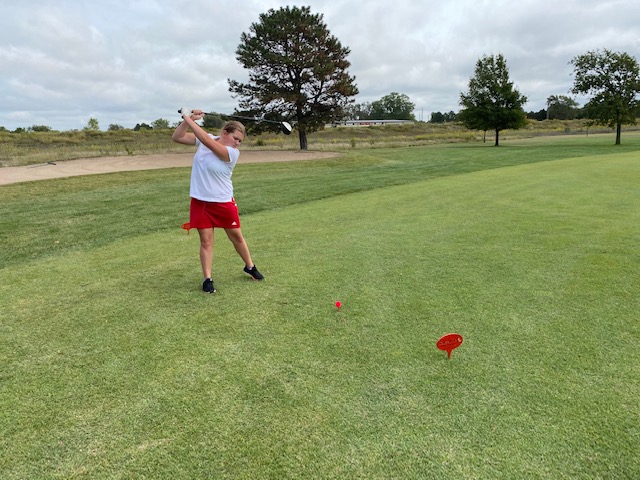 Evelyn Trafecanty who finished 19th with a 62.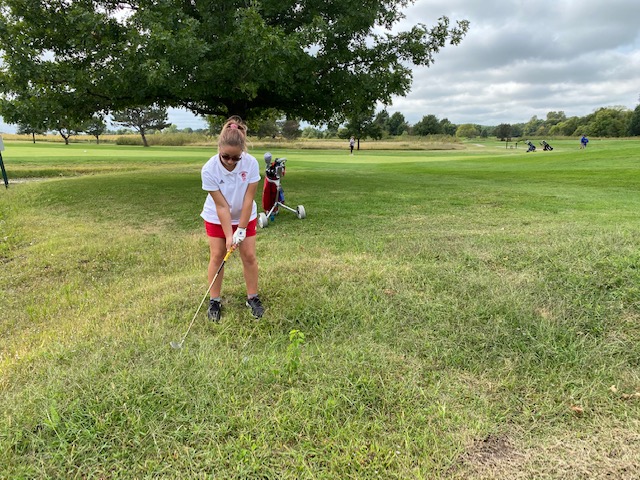 *******

The Varsity squad was in action at the Winfield Girls Invitational – big congrats go out to WHS Senior Payton Ginter who secured a 1st place finish in the 36 player field. Coach Ginter filed this report:

The Wellington Lady Crusaders golf team finished fourth Tuesday at the Winfield invitational tournament hosted by the Winfield country club. The team finished three strokes out of a third-place medal. Another nice showing by the ladies, finishing top four for the fourth time out of five tournaments this year.

Medaling as a team in two of those tournaments. Senior Payton Ginter had another fantastic day, finishing as the overall winner of the tournament with an 84, winning by four strokes over second place. This marks her third first place finish in her last four tournaments and her second overall win of the season.

This team continues to improve as the season progresses. With only two regular season tournaments left before league and regionals, these young ladies are playing their best golf at just the right time.

Congratulations to all!!
1st  Payton Ginter 84
18th  Leanna Herring 113
23rd  Elly DeJarnett 117
25th  Laney Dillon 122
************
WHS GIRLS GOLF
TEAM PICS @ WGC
Thursday, September 17, 2020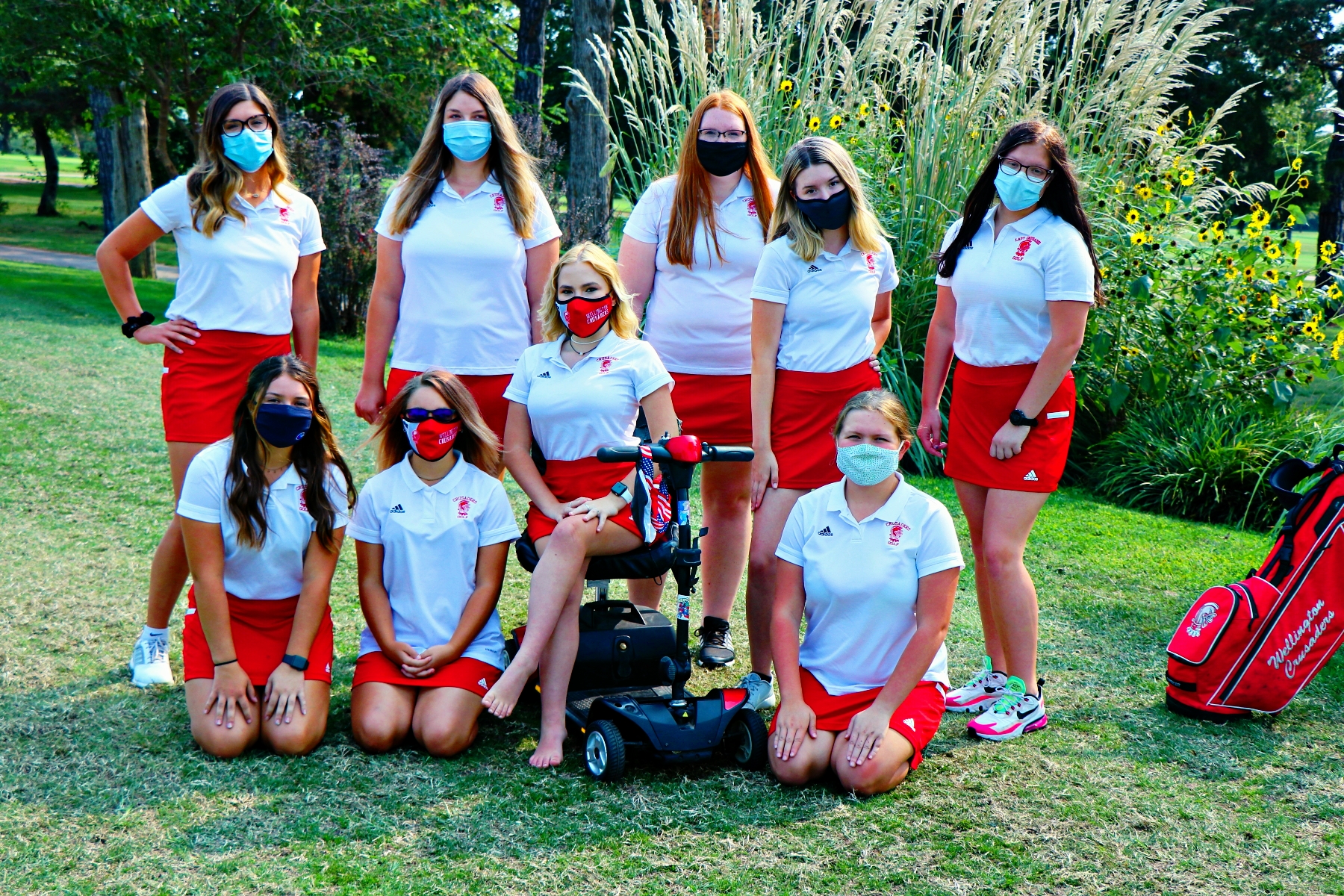 *************
WHS VARSITY GIRLS GOLF
@ Andover Central (@ Sierra Hills)
Wednesday, September 16, 2020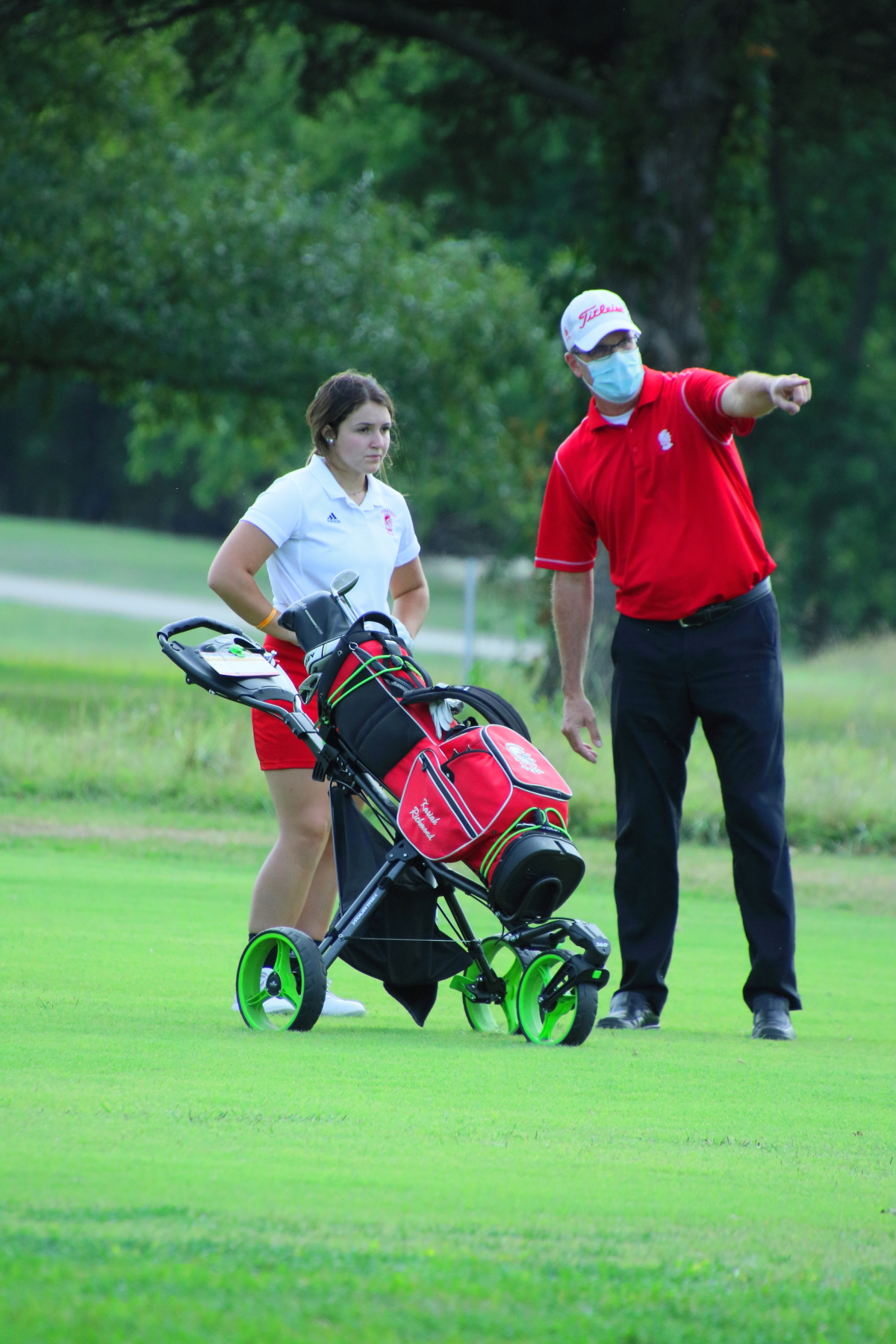 File Pic
WHS Varsity Girls Golf finish 5th Wednesday at the Andover Central Varsity Tournament played at Sierra Hills.
All five ladies that competed Wednesday played well. The team finished fifth overall (393), one stroke out of fourth and seven strokes out of medal contention and third place.
The Lady Crusaders were led by senior Payton Ginter who finished off a very successful tournament week, tying for first again at the conclusion of the Andover Central invitational. Three golfers vied for the individual title after firing +7 (65) rounds. Payton came up just short, placing third overall. Kasiah Richmond finished just out of medal contention with a tournament career best plus 18. Also firing tournament career bests on the day where Elly DeJarnett, Leanna Herring and Laney Dillon.
Payton Ginter - 65
Kasiah Richmond - 76
Elly DeJarnett - 85
Leanna Herring - 93
Laney Dillon 94
Congrats to the team, congrats to Payton - keep it goin' ladies!!
*******************
WHS JR. VARSITY GIRLS GOLF
@ Andover Central (@ Sierra Hills)
Tuesday, September 15, 2020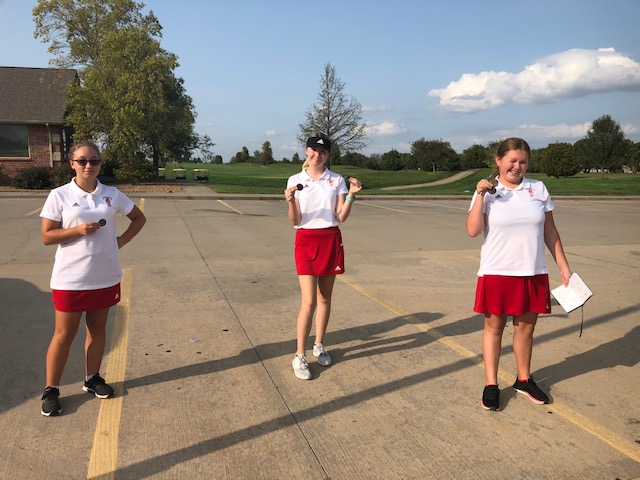 Courtesy Pic
More great WHS Girls Golf results to report. The Lady Crusader JV squad was in action today as well, @ Sierra Hills (Andover Central). Kudos to all, finished 2nd place as a team and had strong individual finishes to boot!
4th - Laney Dillon 45
5th - Aubrey Hunt 46
10th - Evelyn Trafecanty 42
17th - Abi Gill 58
Great job Ladies - keep it goin'!!
******************
WHS VARSITY GIRLS GOLF
@ Andover Invitational (@ Crestview)
Tuesday, September 15, 2020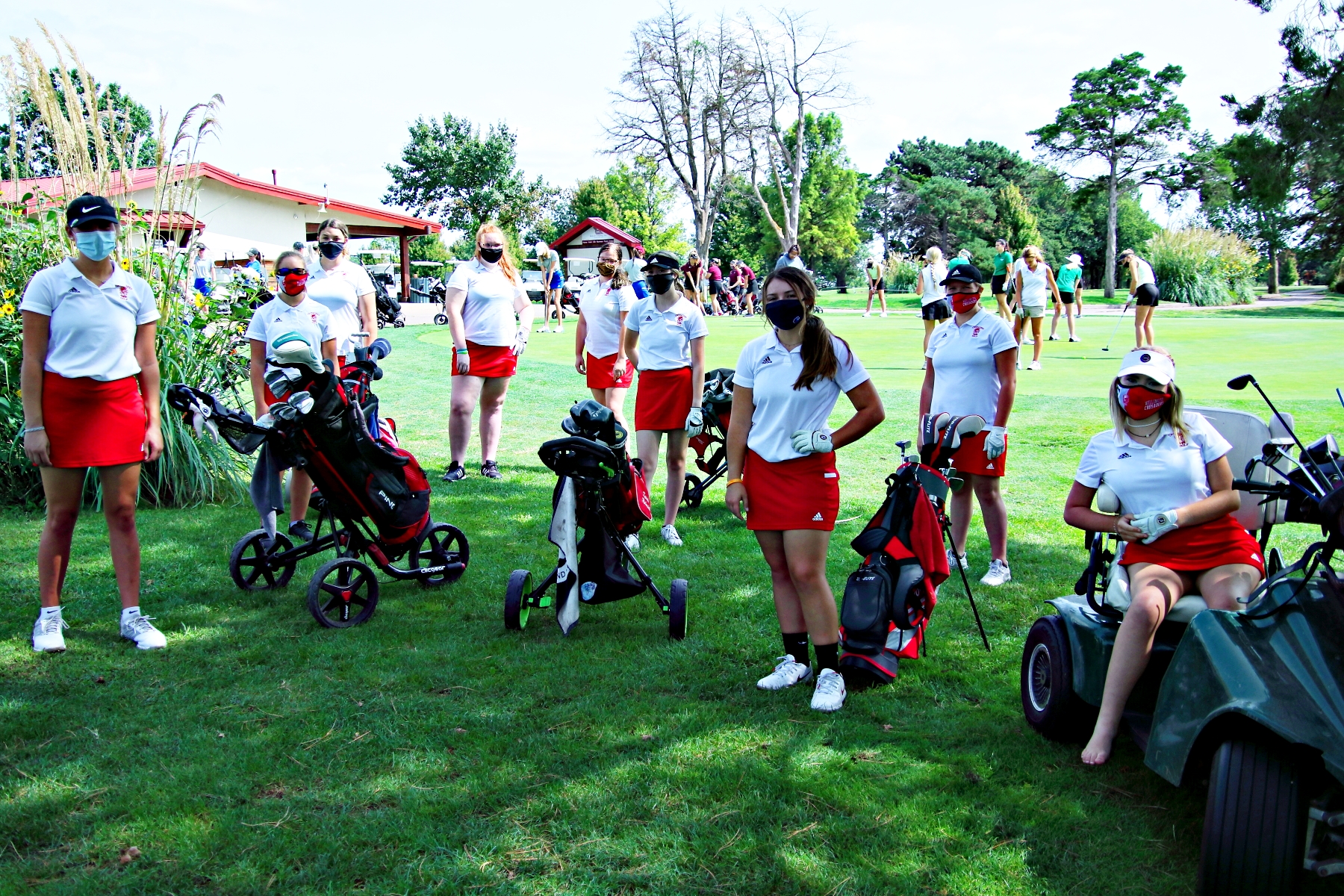 TEAM RESULTS
1st - Kapaun Mt Carmel 339
2nd Andover 362
3rd Wellington 392
4th Maize South 393
5th Bishop Carroll 393
6th Andover-Ctrl 402
7th Valley Center 441
8th Augusta 475
9th Goddard 493
INDIVIDUAL RESULTS
4th Payton Ginter 80
17th Ashlyn Sowersby 98
18th Kasiah Richmond 100
37th Leanna Herring 114
46th Elly DeJarnett 124
***********
*******************
WHS VARSITY GIRLS GOLF
@ HOME
Monday, September 14, 2020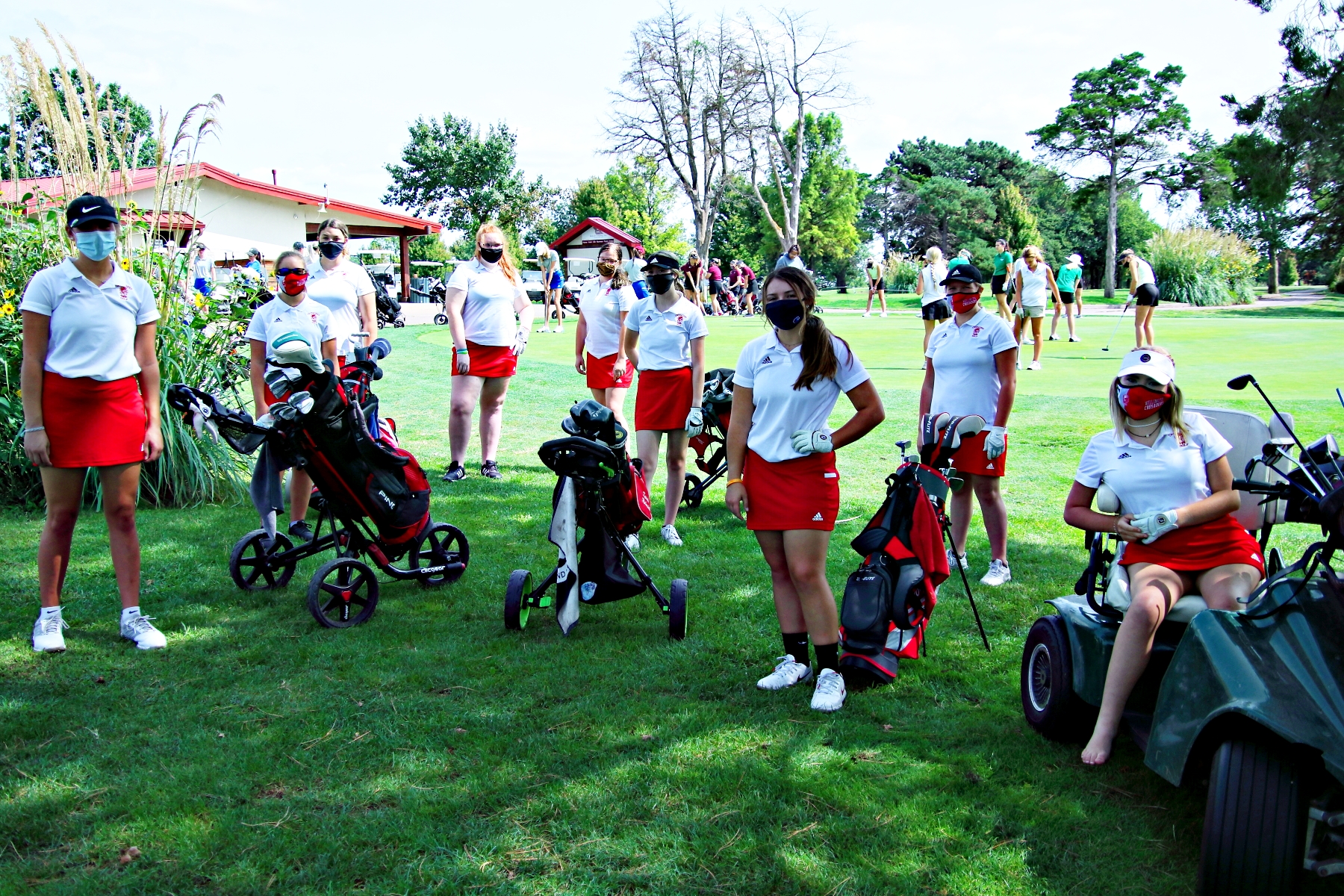 WHS SENIOR Payton Ginter finished in 1st Place at the 2020 Wellington Golf Invitational at Wellington Golf Club on Monday. Tied after 9 holes, Payton won a 4 hole playoff vs a golfer from Buhler. WAY TO GO PAYTON!!! The Varsity girls, as a TEAM, placed 3rd - the first time in the history of WHS Girls Golf! Awesome!!
Congratulations to WHS Senior Payton Ginter. After 9  holes, Payton was tied with Callie Cooper of Buhler. In a 4 hole playoff, Payton grabbed the gold. Great Job!!
VARSITY INVITATIONAL @ Wellington Golf Club
Finished 3rd as a team - first time in Wellington Girls Golf history!

1st Payton Ginter 41 (won in 4 hole playoff)
13th Kasiah Richmond 52
16th Ashlyn Sowersby 53
21st Leanna Herring 57
22nd Elly DeJarnett 58
JR. VARSITY INVITATIONAL @ Wellington Golf Club
3 JV Lady Crusaders finish in the TOP 10!
5th Laney Dillon 58
6th Aubrey Hunt 61
10th Evelyn Trafecanty 67
27th Abi Gill 77
Great outing!!!  GO BIG RED!!
******************
WHS VARSITY GIRLS GOLF
@ Augusta Country Club
Thursday, September 3, 2020
WHS Girls Golf results are in from Augusta!
INDIVIDUAL RESULTS
1st Shawna Lee 36 (Andover Central)
2nd Keira Ronsick 38 (Bishop Carroll)
3rd PAYTON GINTER 39 (Wellington)
4th Tiffany Chan 41 (Andover)
5th Mati Newman 43 (Valley Center)
6th Madi Michaelis 44 (Circle)
6th Loralai Millspough 44 (Trinity Academy)
8th Alivia Nguyen 46 (Andover)
8th Katie Henry 46 (Andover)
10th Kate Stuckey 47 (Bishop Carroll)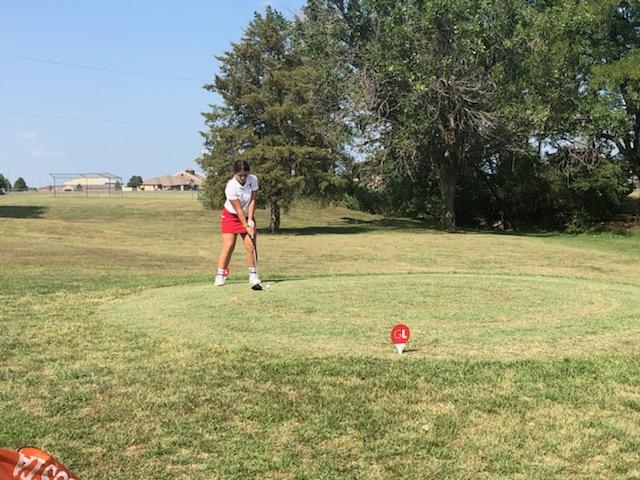 TEAM RESULTS
1st Andover 181
2nd Bishop Carroll 186
3rd Andover Central 194
4th WELLINGTON 203
5th Circle 210
5th Valley Center 210
7th Augusta 213
8th Trinity (No Team Score)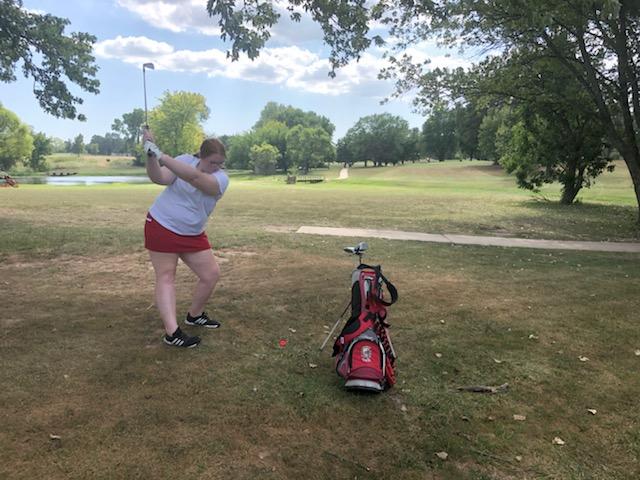 WELLINGTON VARSITY
Payton Ginter 39
Kasiah Richmond 52
Leanna Herring 55
Elly DeJarnett 57
Laney Dillon 62
COURTESY PICS / Nice showing Lady Crusaders!!
FALL 2019
**************************
Payton Ginter was named to the 4A All-State 1st Team!!
Way to represent Payton - CONGRATULATIONS!
*************************
WHS VARSITY GIRLS GOLF
@ STATE 4A TOURNAMENT (HESSTON)
Monday/Tuesday, October 21-22, 2019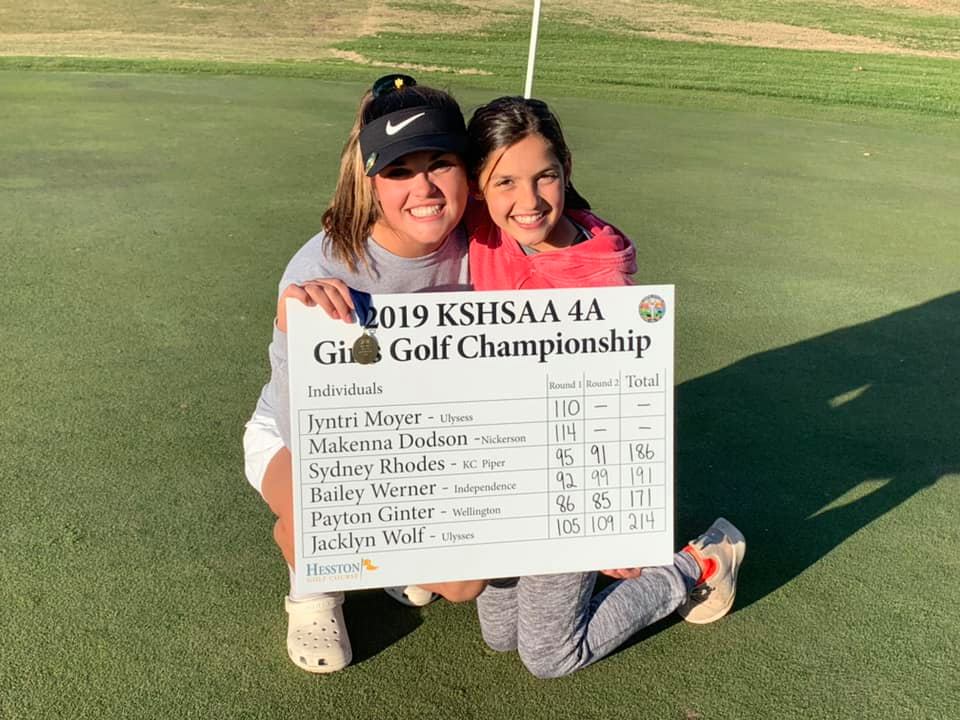 Under less than favorable weather conditions, especially Round 1 on Monday, the State 4A Girls Golf Tournament is "in the can" so to speak. Wellington's Payton Ginter shined for the third consecutive year in a row at this highest level! Ginter battled hard both days, finishing in 5th (86) after Round 1 behind Brasser (80) of Andale, Donovan (82) of Concordia, Miller (85) of Buhler, and Madison (85) of Ft. Scott. On Tuesday, Payton improved her position, finishing 3rd (85), behind Brasser (78) and Miller (83).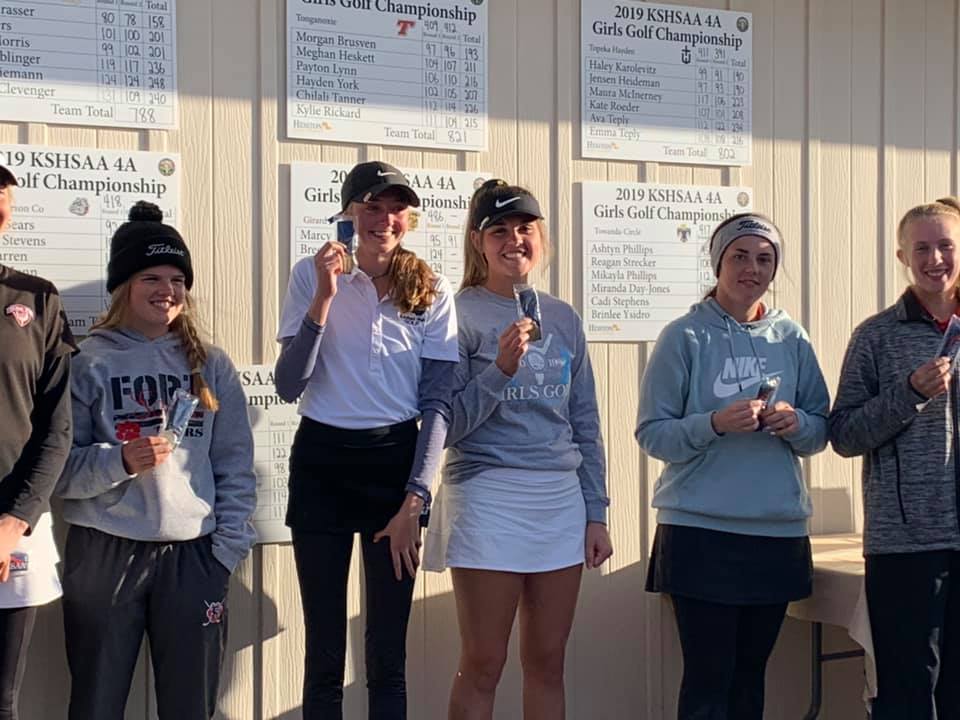 When Round 1 and Round 2 results were combined, it was the same "5" at the top as on Day 1, Brasser (158), Miller (168), Donovan (169), Madison (171), and Ginter (171). Ginter has found success her entire 3 year career at WHS. Last week she finished 2nd at the 4A Regional at Quail Ridge, and finished 5th at the AVCTL DIV III / IV League Meet (a very tough meet) held here in Wellington, receiving AVCTL First Team Honors for her efforts!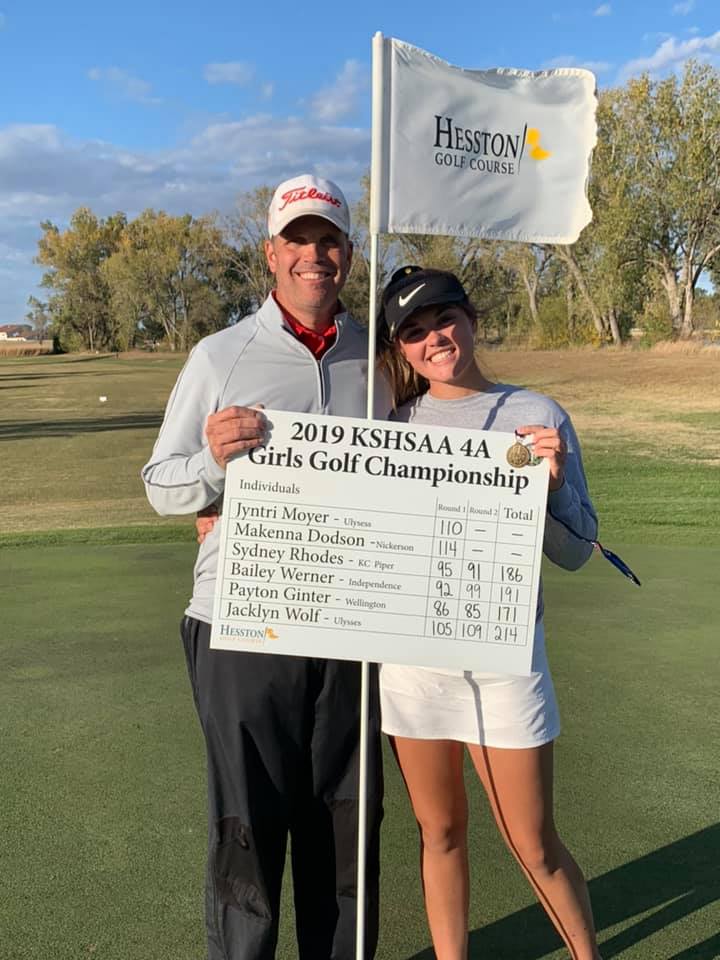 Her coach & father, James Ginter, will have one more year together on the links, these past "3" have created unforgettable and plentiful memories for both. Next year will be the culmination of all of that and more. What a ride it's been, hang on, soon they'll be heading down the last stretch of HS competition - can't wait to watch! GREAT JOB PAYTON - WE ARE PROUD OF YOU!

OVERALL RESULTS from HESSTON
*****************************
GOLF/TENNIS SENDOFF
@ WHS Commons
Thursday, October 17, 2019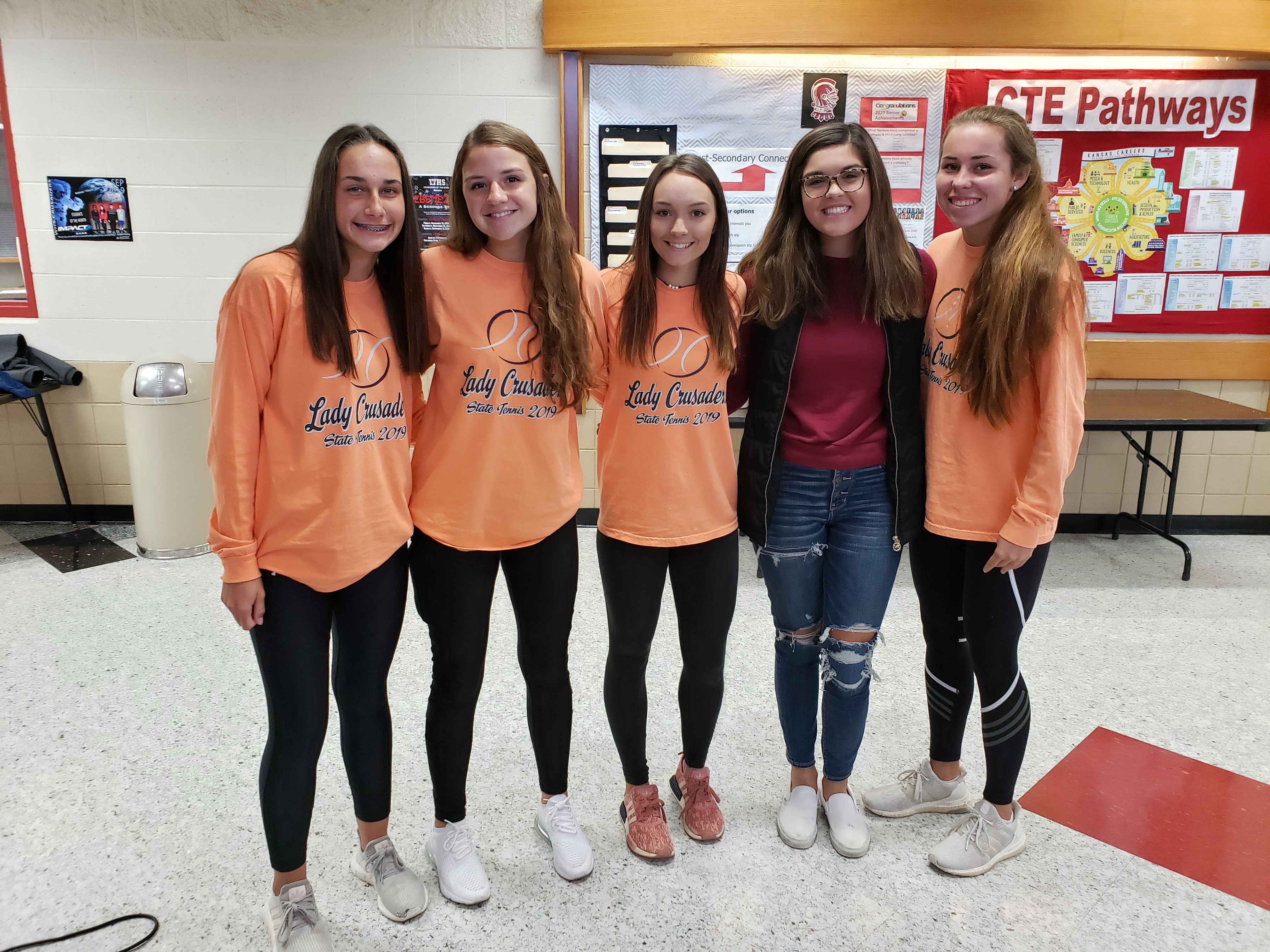 Members of the Varsity Girls Golf and Girls Tennis Teams were given an official sendoff at WHS on Thursday during lunch. Kylie Aufdengarten, Rylee Rusk, Calli Hatfield and Jensen Lynnes are heading to Winfield on Friday and Saturday for State 4A action. On Monday and Tuesday, WHS Jr. Payton Ginter heads to Hesston for her 3rd consecutive appearance in the State 4A Golf Tournament - good luck to her and her coaches. GO PAYTON GO!
****************************
WHS VARSITY GIRLS GOLF
@ Regional 4A (Quail Ridge-Winfield)
Monday, October 14, 2019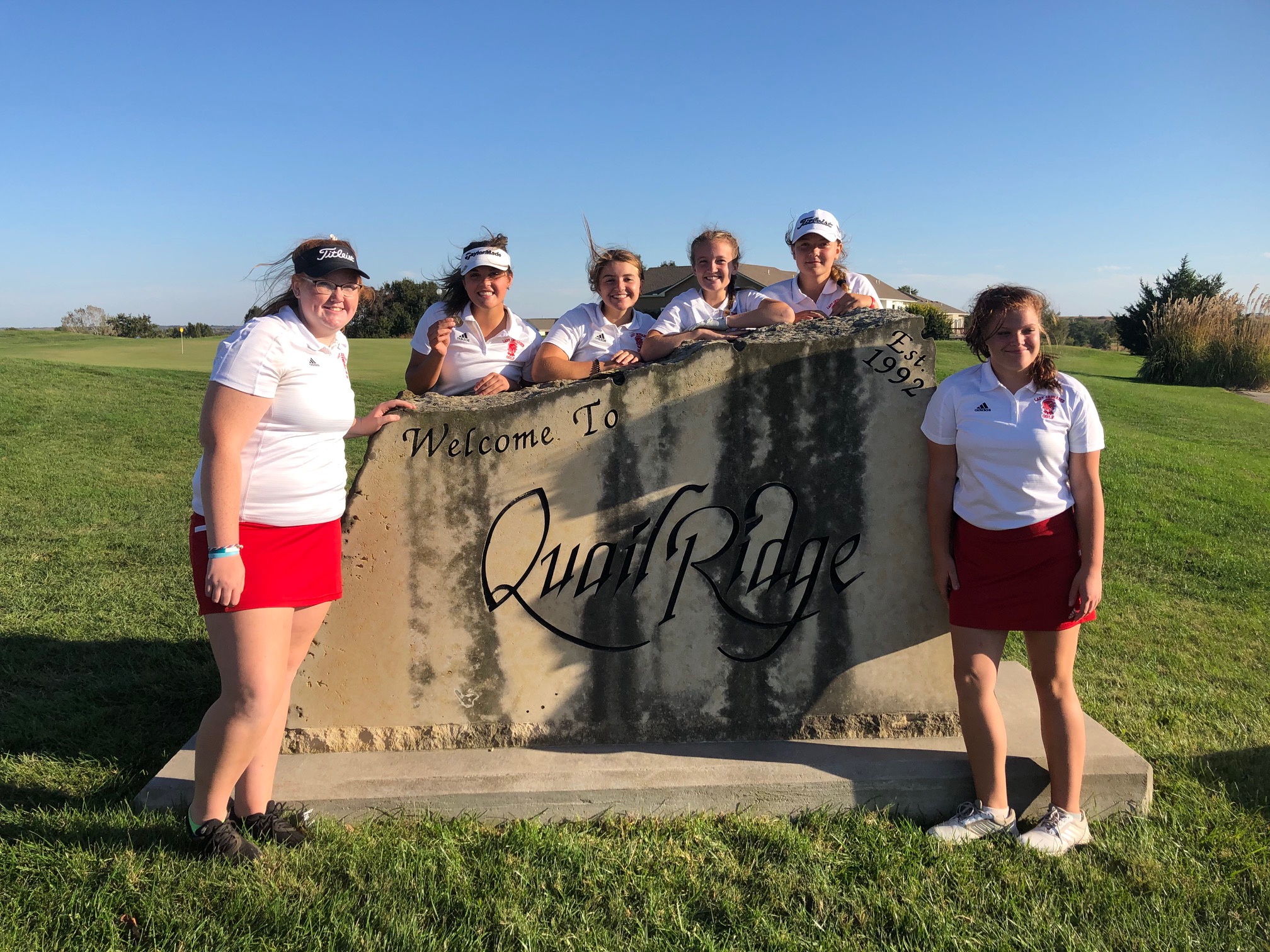 WHS Jr. Payton Ginter finished 2nd Monday at the 4A Girls Golf Regional @ Quail Ridge in Winfield, just 3 strokes behind Regional 4A Champion Elly Berthoff of Winfield. Payton shot a 93 (+21). All scores were high. Congratulations to Payton and the rest of the WHS Varsity Girls Squad - here are their results:
1st    Elly Berthoff (Winfield) +18 (90)
2nd   Payton Ginter +21 (93)
24th  Emma Stover +56 (128)
27th Kasiah Richmond +58 (130)
28th  Elly DeJarnett +61 ( 133)
29th Leanna Herring +62 (134)
30th Ashlyn Sowersby +65 (137)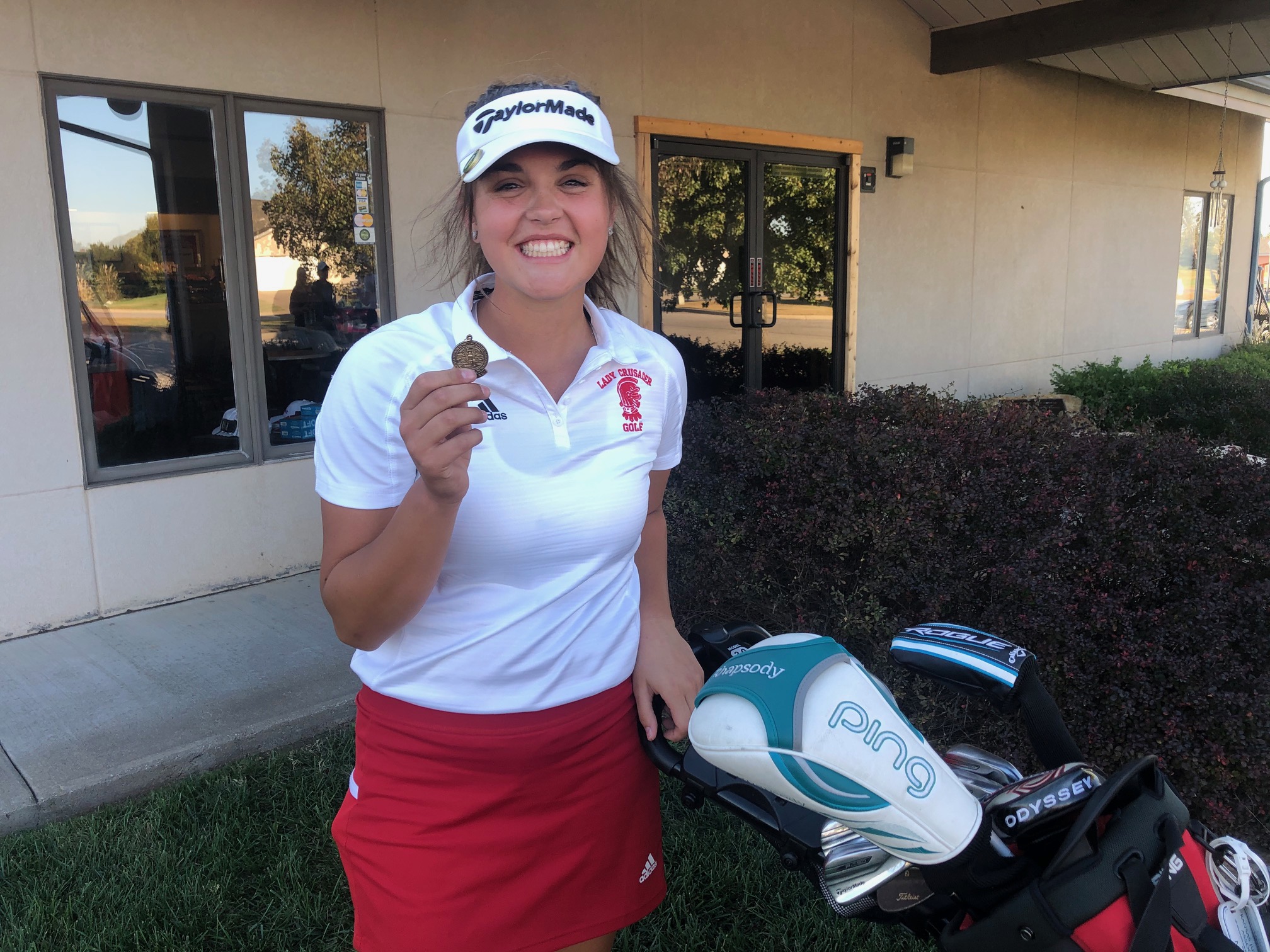 Payton will be heading to the State 4A Meet in Hesston next Monday and Tuesday! Good Luck to her and congratulations to a very young team this year - look forward to more great things in the future!! GO BIG RED!!
**************************
WHS VARSITY GIRLS GOLF
HERE @ WGC (AVCTL LEAGUE DIV III / IV)
Tuesday, October 8, 2019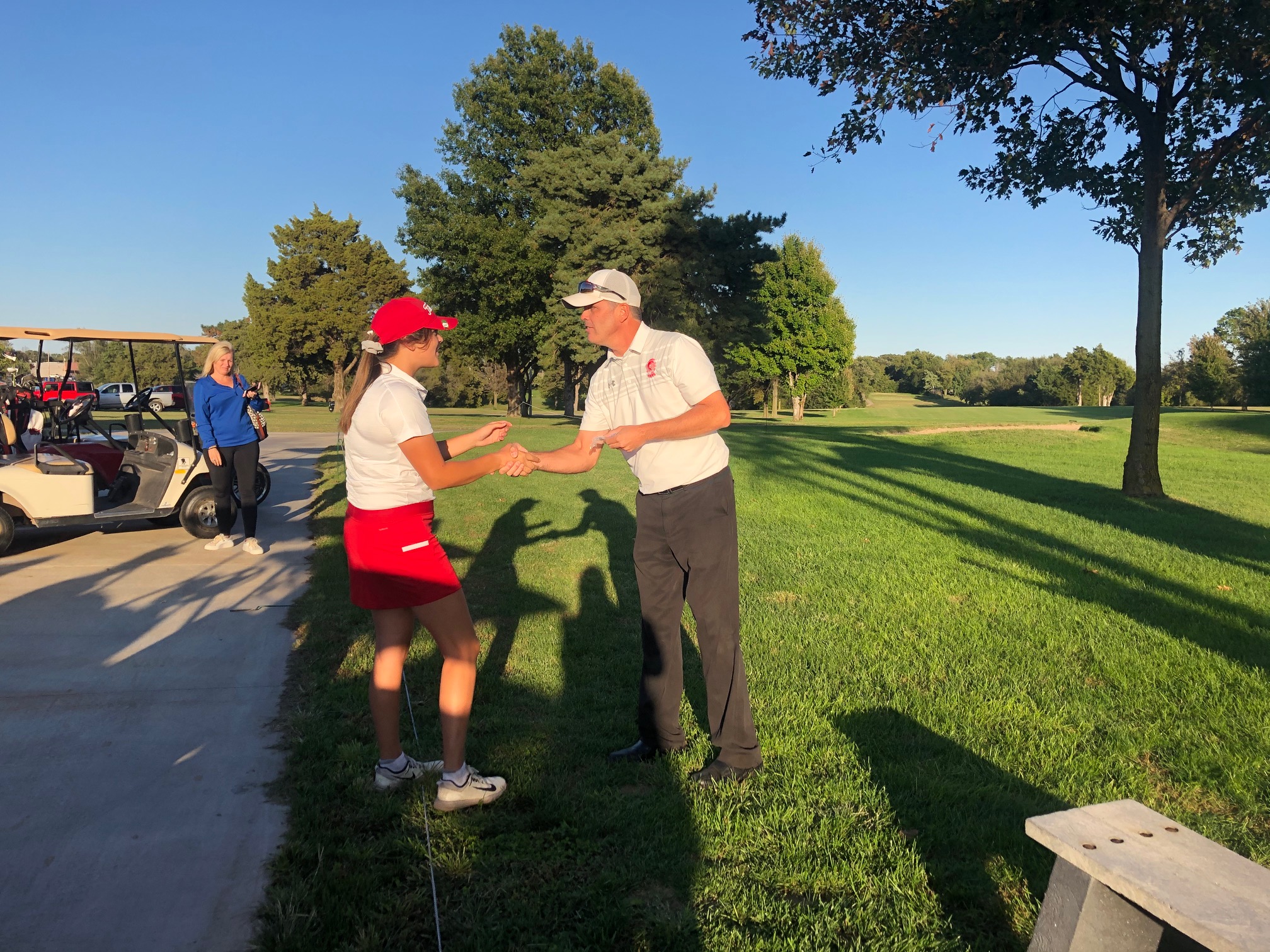 The Varsity Girls Golf Team hosted the AVCTL LEAGUE MEET Tuesday, out at Wellington Golf Club. 36 Golfers from 6 league schools participated. Wellington as a team placed 4th, Jr. Payton Ginter finished 5th and medaled! (TOP 6 receive AVCTL FIRST TEAM HONORS!) Congratulations Payton!!
TEAM RESULTS
Buhler - 371
Andale - 382
Winfield - 382
Wellington - 410
Circle - 420
Augusta - 433
(Mulvane had 2 participants, not enough for a team score)

INDIVIDUAL  RESULTS (TOP 12)
Brasser ANDALE 74
Miller BUHLER 83
Albers ANDALE 86
Bertholf WINFIELD 89
Ginter WELLINGTON 90
Cooper BUHLER 91
Littell WINFIELD 94
Specht BUHLER 95
Phillips CIRCLE 95
Mendoza WINFIELD 99
Price AUGUSTA 99
Ewing MULVANE 99

OTHER WHS RESULTS
Kasiah Richmond 17th 104
Emma Stover 21st 105
Ashlyn Sowersby 25th 111
Elly DeJarnett 28th 115
Leanna Herring 31st 123
****************************
WHS VARSITY GIRLS GOLF
@ Andale (Cherry Oaks)
Monday, September 30, 2019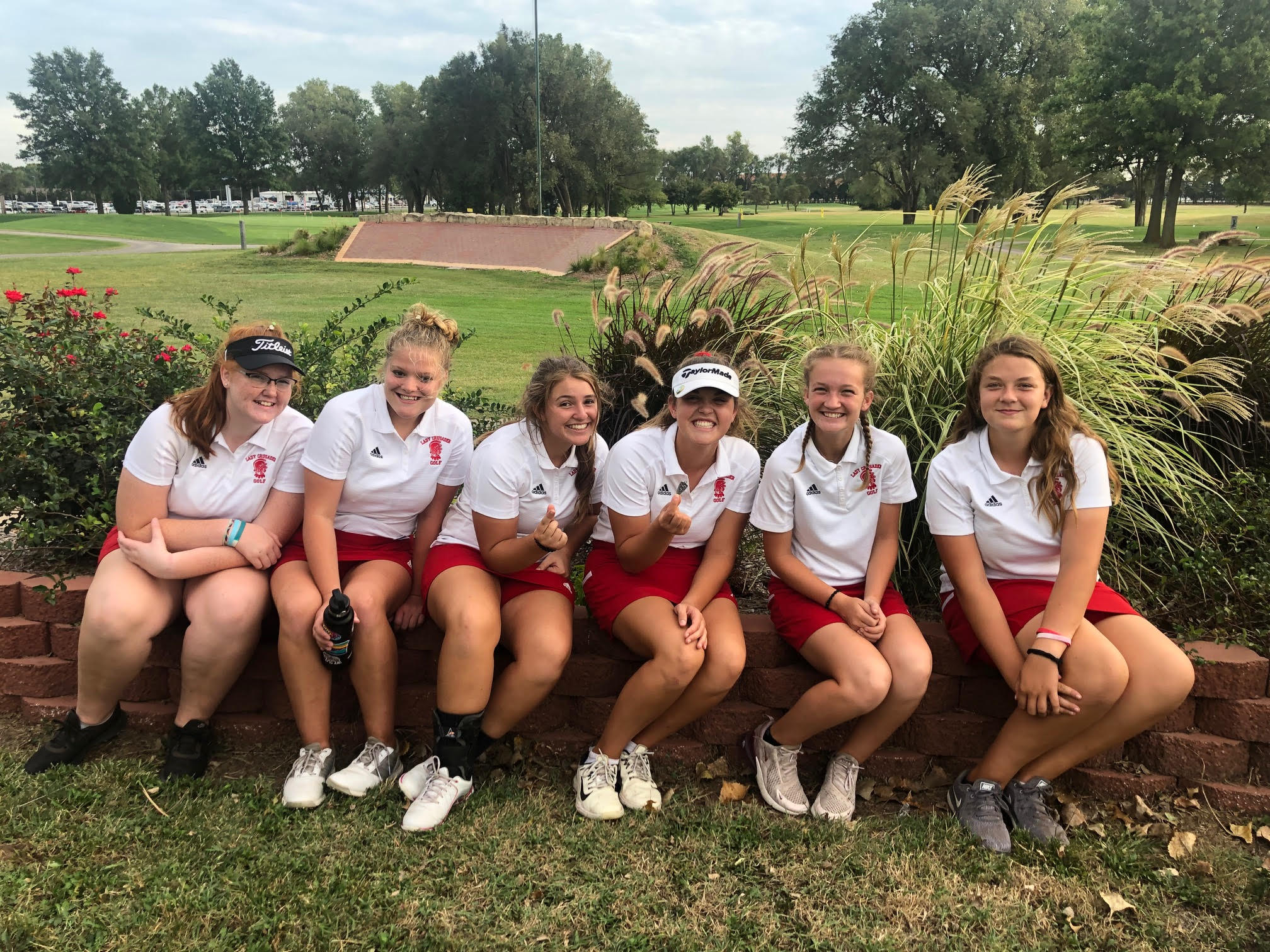 At the Andale Invitational at Cherry Oaks Golf Course in Cheney on Monday, the WHS Varsity Girls finished 5th out of 12 teams.

Payton Ginter finished 8th place with a score of 90.

TEAM RESULTS
Andover 323
Andale 379
Buhler 380
Circle 405
Wellington 409
Maize 416
Goddard 427
Cheney 427
Augusta 433
Salina-Central 434
Garden Plain 471
Medicine Lodge 472
WHS INDIVIDUAL RESULTS
Payton Ginter 90 / 8th
Ashlyn Sowersby 105 / 30th
Kasiah Richmond 105 / 31st
Emma Stover 109 / 37th
Elly DeJarnett 113 / 40th
Leanna Herring 117 / 49th
The girls will play league next Tuesday at home in Wellington!
************************
WHS VARSITY GIRLS GOLF
@ Circle HS
Thursday, September 26, 2019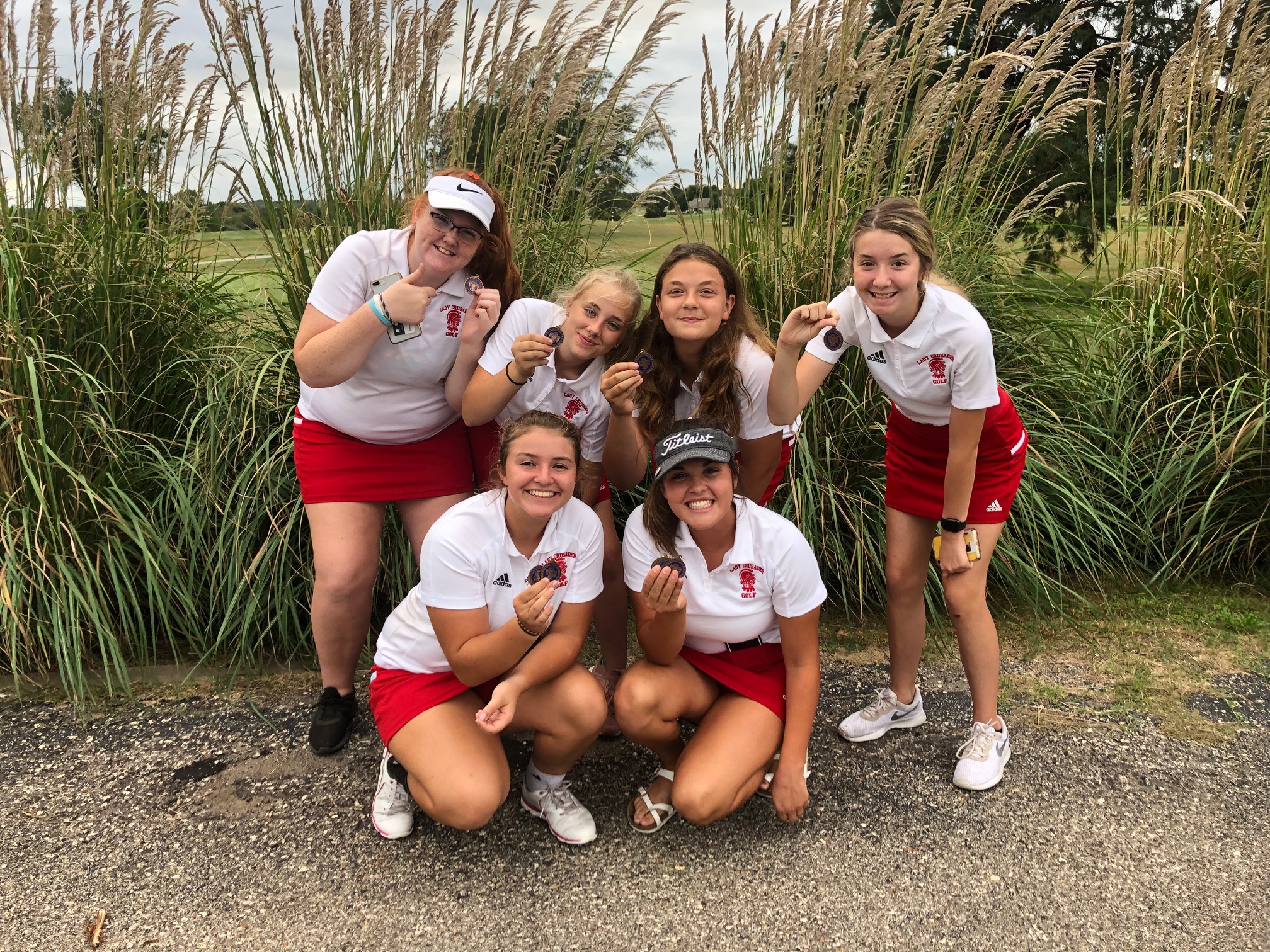 An exciting THURSDAY for our VARSITY GIRLS GOLF TEAM @ the Circle Varsity Tournament! Payton Ginter was the tournament champion with a score of 41 and Kasiah Richmond finished 7th with a 51. The girls played great and the team and coaches were BEYOND excited and proud!! Payton was also the "long drive" champion for this tournament! Circle won the tournament with a 198 and Augusta edged us out with a 210. Wellington shot 213 as a team (3rd).

INDIVIDUAL RESULTS (WHS)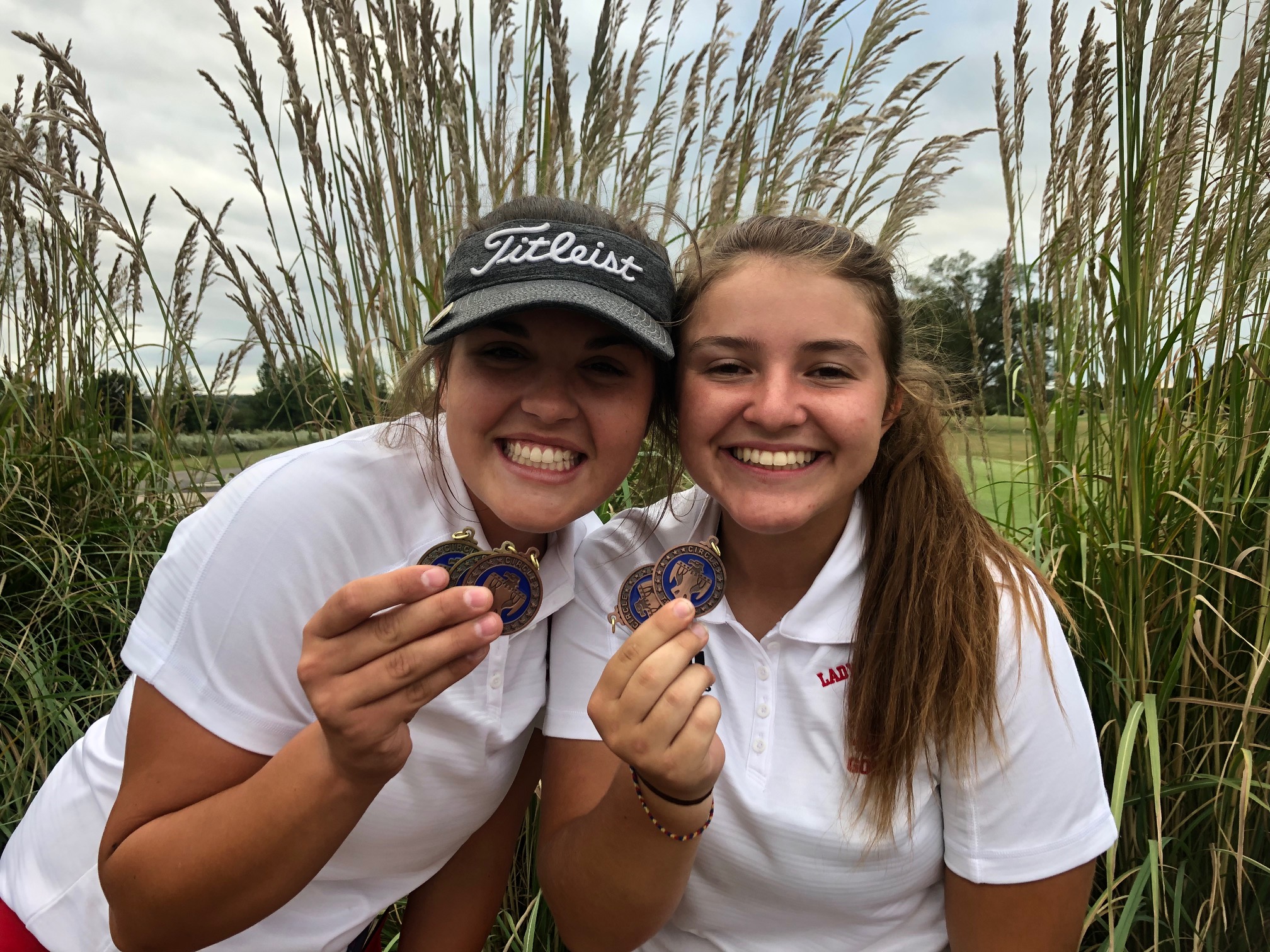 Payton Ginter 41 (1st - tournament champ) (medal)
Kasiah Richmond 51 (7th) (medal)
Leanna Herring 55
Laney Dillon 66
Elly DeJarnett 72
Roxi Webster 73
********************************
WHS VARSITY GIRLS GOLF
@ Andover
Monday, September 23, 2019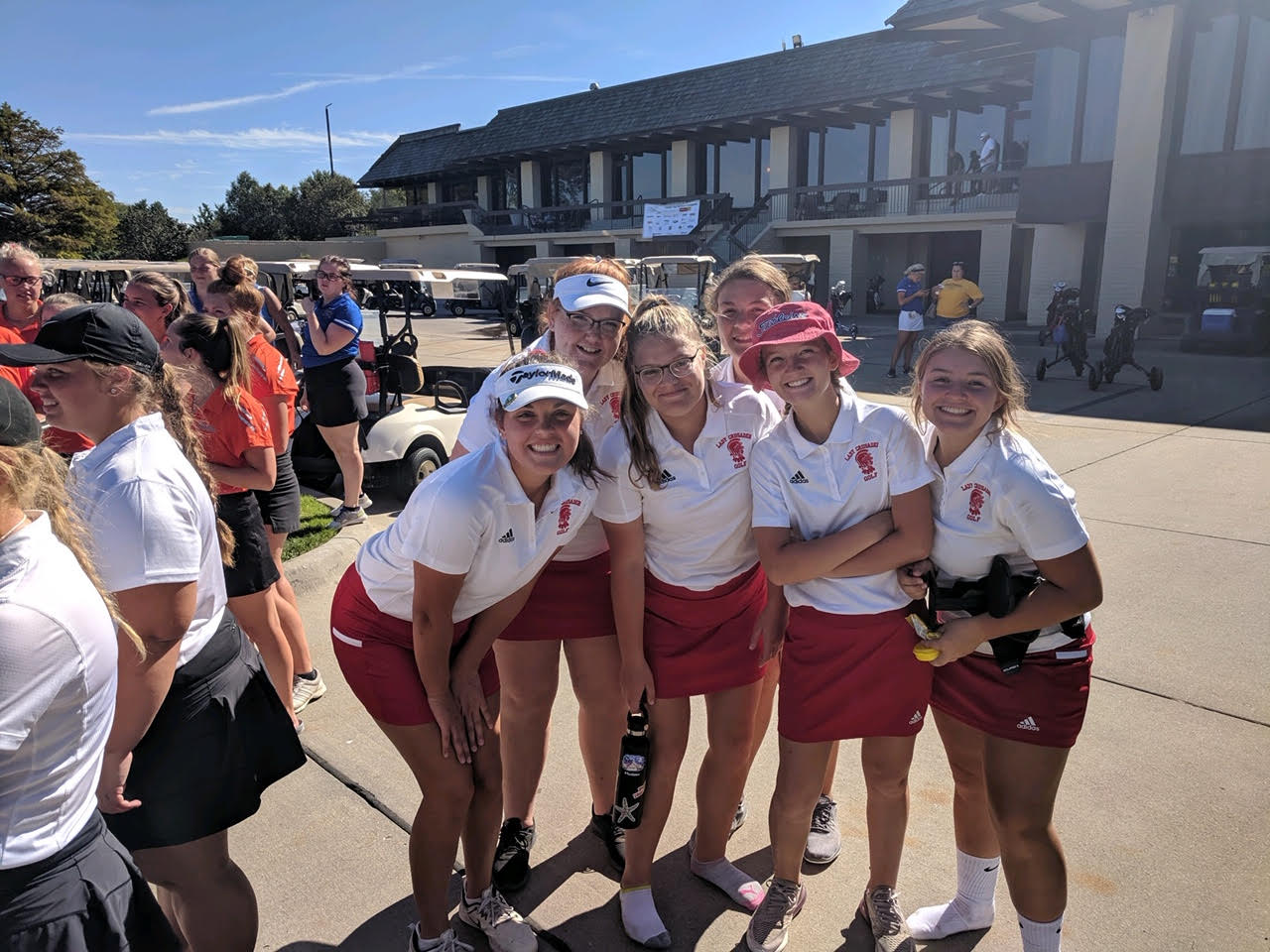 The Varsity Girls Golf team was in action Monday at the 2019 Andover Invitational. Congratulations to Payton Ginter who finished 4th in a strong field of 56 participants. Payton finished with an 83, just 3 strokes out of 1st. Congratulations Payton!
TEAM FINISHES
Andover 349
Kapaun-Mt Carmel 356
Maize South 374
Andover Central 419
Wichita NW 427
Goddard 428
Wellington 434
Arkansas City 440
Augusta 454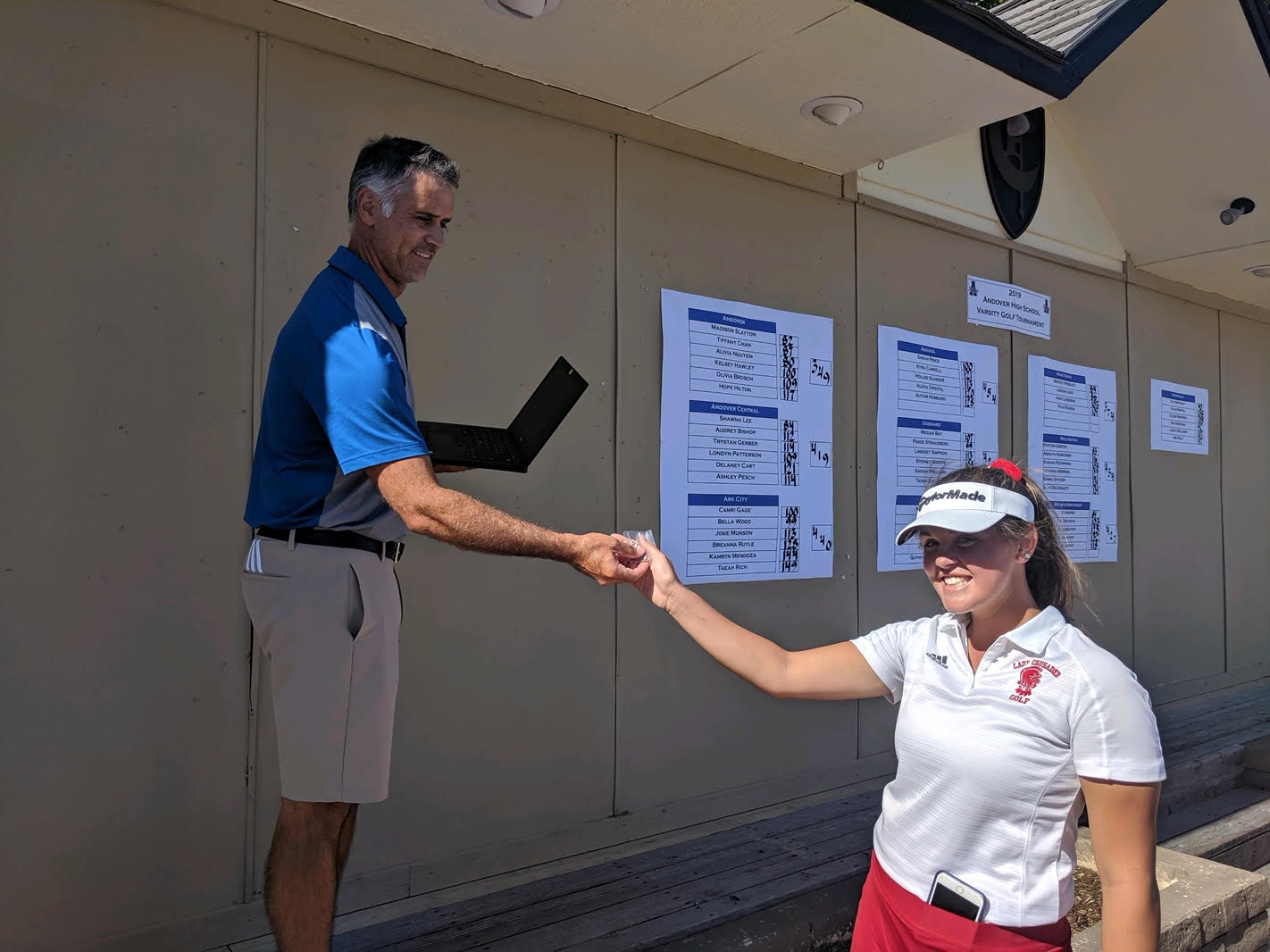 INDIVIDUAL FINISHES (WHS)
Jr. Payton Ginter - 4th - 83
Fr. Kasiah Richmond - 28th - 108
Fr. Ashlyn Sowersby - 40th - 116
Fr. Leanna Herring - 48th - 127
Fr. Elly DeJarnett - 51st - 131
Fr. Emma Stover - 52nd - 131
Congrats!!
*********************************
WHS VARSITY GIRLS GOLF
@ WGC (Home)
Monday, September 16, 2019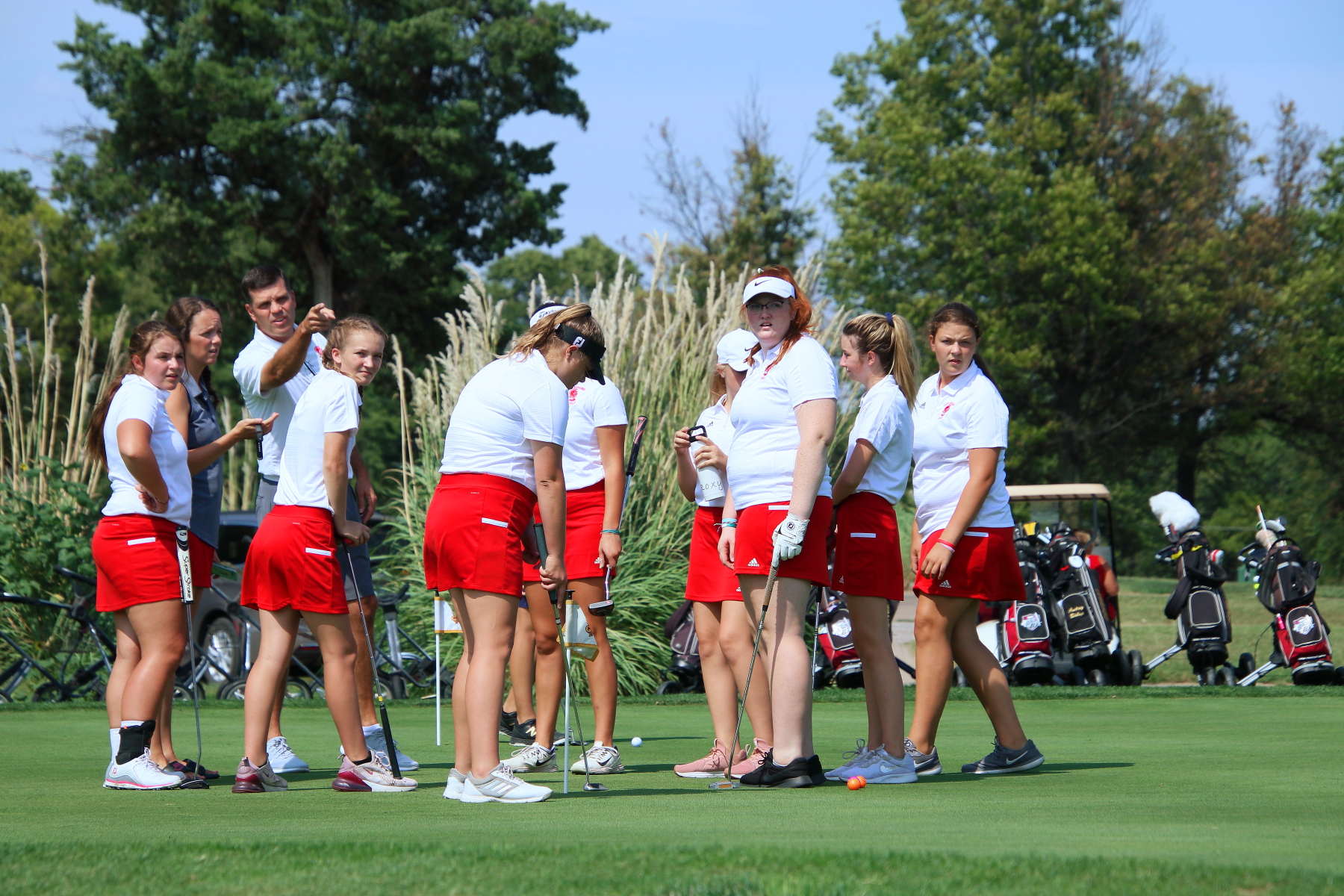 The WHS Varsity Girls Golf Team hosted Andale, Andover Central, Ark City, Buhler, and Towanda-Circle out at Wellington Golf Club on Monday afternoon. "43" participants finished 9 holes, Wellingtons' Payton Ginter finished 3rd! Great Job Payton! Shauna Lee of Andover Central finished 1st @ 38 and Morgan Brasser of Andale, 2nd @ 42.

TEAM FINISHES
Buhler 193
Andale 199
Andover-Central 202
Towanda-Circle 208
Wellington 210
Arkansas City 221
INDIVIDUAL WHS FINISHES
Payton Ginter 44 (3rd)
Ashlyn Sowersby 53
Leanna Herring 55
Emma Stover 58
Kasiah Richmond 58
Elly DeJarnett 62
Roxan Webster 65
Laney Dillon 68
Payton is a junior this year at WHS, Ashlyn, Leanna, Emma, Kasiah, Elly, Roxan, and Laney are freshmen. Great group!
**************************
WHS VARSITY GIRLS GOLF
@ Sierra Hills
Tuesday, September 10, 2019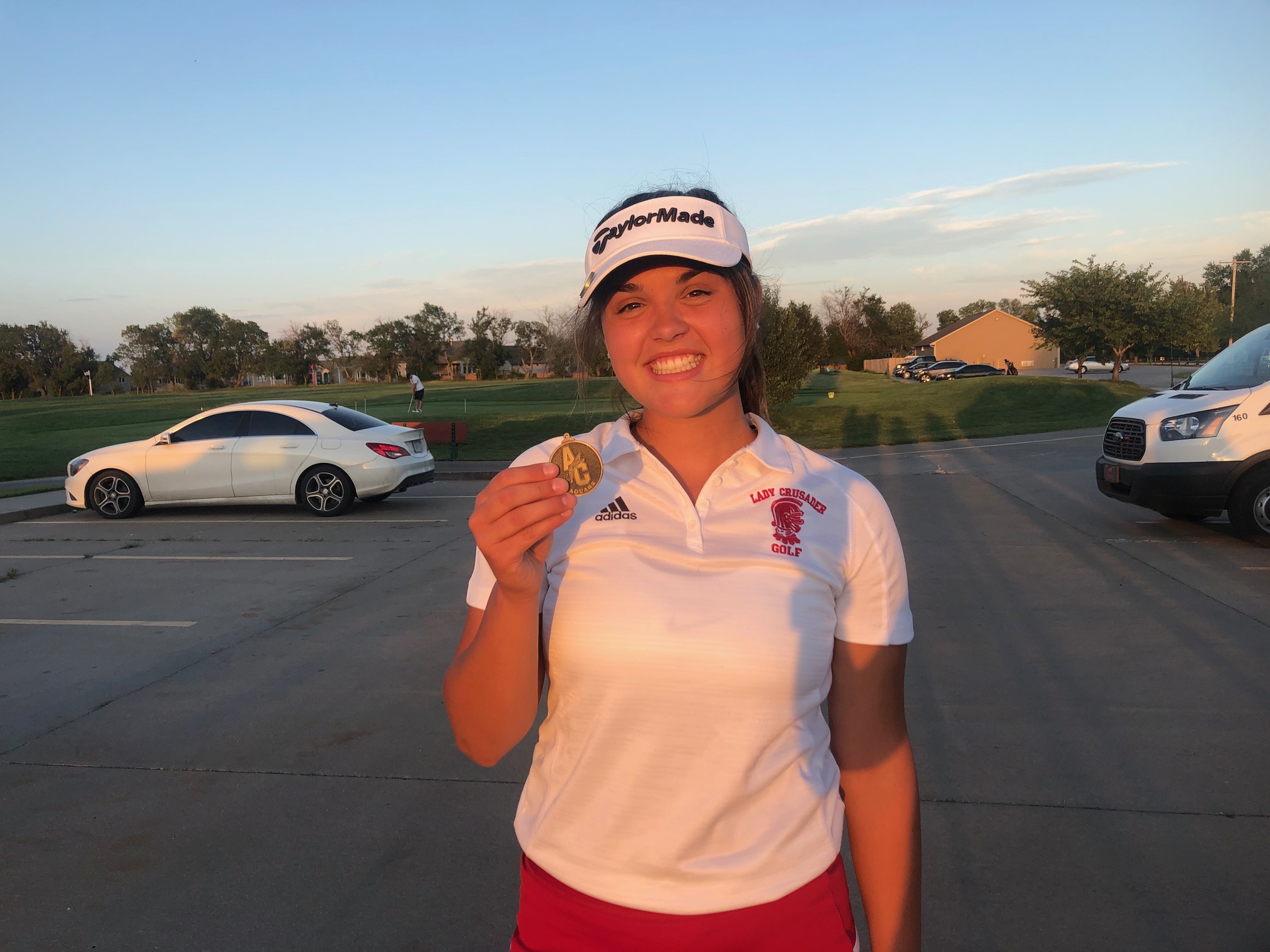 (courtesy photo)

Payton Ginter 72 (8th)
Kasiah Richmond 92
Ashlyn Sowersby 95
Leanna Herring 99
(358) (11th)
Elly DeJarnett 103
Emma Stover 104
Roxy Webster 112
Laney Dillon 112
***************************
VARSITY GIRLS GOLF
@ Augusta Invitational
Thursday, September 5, 2019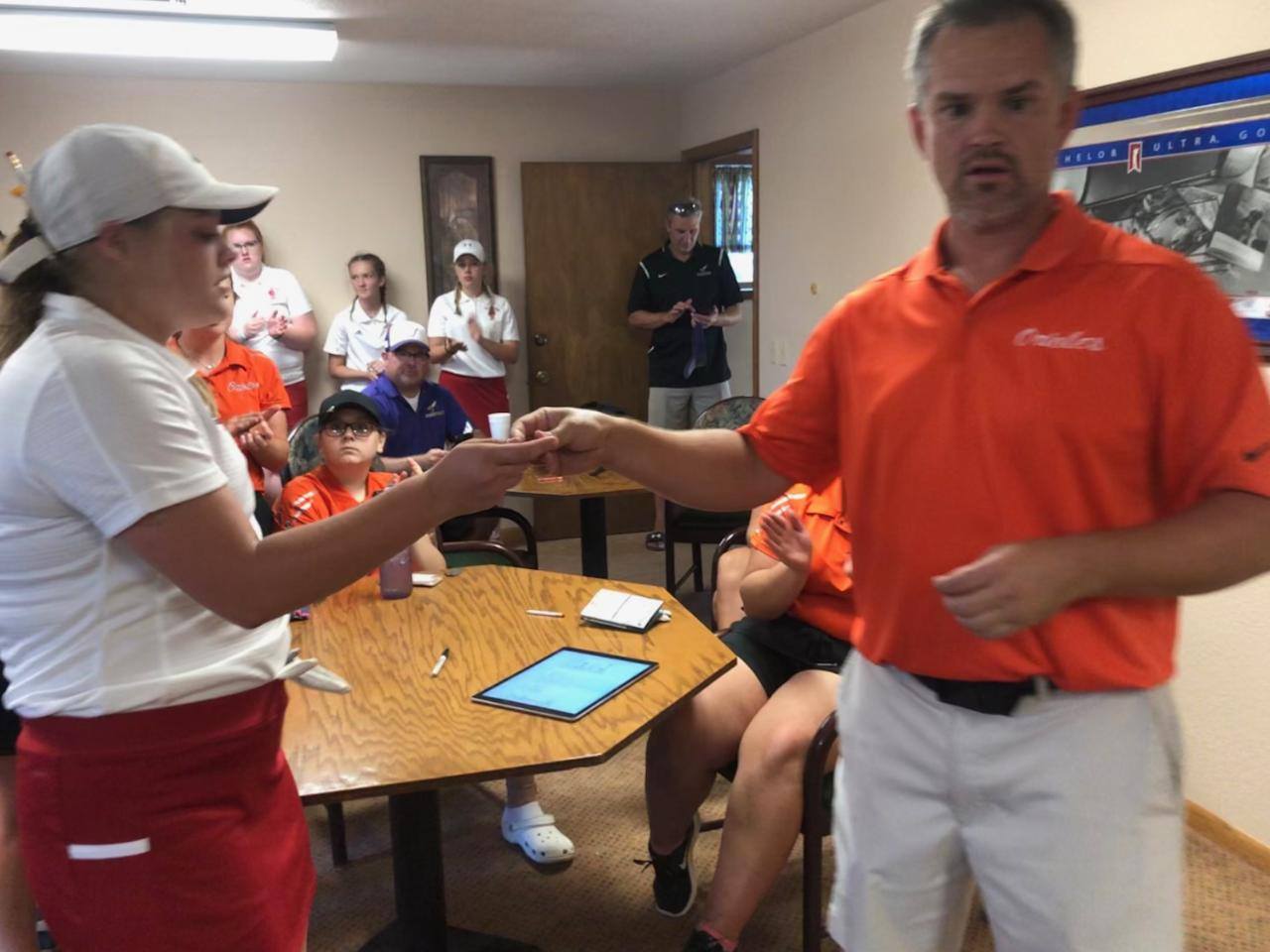 WHS Freshman Ashlyn Sowersby finished 6th in her first varsity tournament for WHS!!! Awesome job Ashlyn!
(courtesy photo)
TEAM RESULTS
Valley Center 204
Augusta 209
Circle 215
Wellington 227
Andover 261
Andover Central 269
INDIVIDUAL WHS RESULTS
Ashlyn Sowersby 49 (6th)
Payton Ginter 52
Emma Stover 62
Roxan Webster 70
Leanna Herring 64
Elly DeJarnett 72
Next Action - @ Andover Central TUE SEP 10TH 3:00PM
********
FALL 2018
STATE 4A GIRLS GOLF
@ Hutchinson
Tuesday, October 16, 2018
Results are in - congratulations to WHS Sophomore Payton Ginter who finished 13th Tuesday (just 1 stroke out of top 10) at the weather-delayed State 4A Girls Golf Tournamentin Hutchinson. Payton had an 89 on the day, 18 over par. Wichita Trinity's Hanna Hawks finished 1st @ 68, 3 under. Awesome job ladies!!
"91" girls participated in and finished the tournament.
Hanna Hawks (11) -- Wichita-Trinity -3 / 68 /1st
Morgan Brasser (11) -- Andale HS +4 / 75 / 2nd
Caroline Setter (12) -- Topeka-Hayden HS +4 / 75 / 2nd
Madison Slayton (11) -- Wichita-Trinity +4 / 75 / 2nd
Jacy Anderson (12) -- Andale HS +8 / 79 / 5th
Katye Vausbinder (12) -- Topeka-Hayden HS +8 / 79 / 5th
Lindsey Lewellen (12) -- Augusta HS +14 / 85 / 7th
Haley Miller (11) -- Buhler HS +14 / 85 / 7th
Lauren Madison (11) -- Fort Scott HS +15 / 86 / 9th
Jaela Albers (10) -- Andale HS +17 / 88 /10th
Sarah Carson (12) -- Topeka-Hayden HS +17 / 88 / 10th
Sammy Walter (12) -- Garnett-Anderson CO HS +17 / 88 / 10th
Payton Ginter (10) -- Wellington HS +18 / 89 /13th
This capped off a very successful sophomore season for Payton as she medaled in all 10 tournaments she participated in.  She had 5 top 5 finishes, 4 top 10 finishes and capped it off with 13th at the State Tournament.  This is an improvement over her freshman year when the finished 45th out of 90+ golfers.  This young lady has a lot to be proud of and great things ahead of her.
*****************************
WHS VARSITY GIRLS GOLF
SENDOFF for STATE 4A
Thursday, October 11, 2018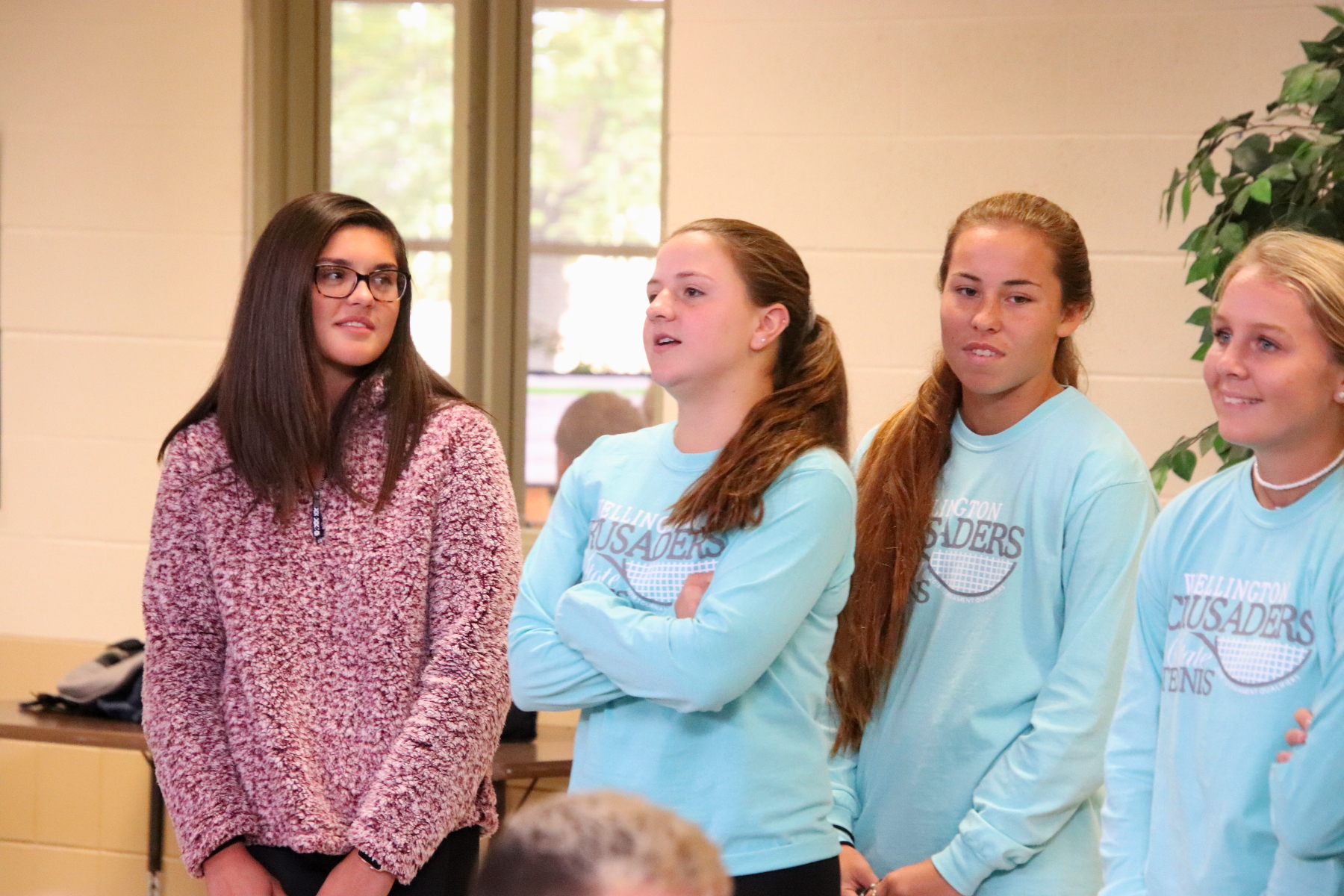 The WHS Lady Crusader Tennis Squad (Jacelyn Buck, Kylie Aufdengarten, Rylee Rusk, Calli Hatfield and Sophomore Lady Golfer Payton Ginter rec'd a sendoff at WHS Thursday as the former head to Topeka and the latter to Huthinson, for 4A State action, weather permitting. Many students, staff and the Crusader Band fired the crowd up just before departure. The "5" were presented with some gifts and Senior Jacelyn Buck thanked the crowd for their support. Tennis is scheduled for Friday and Saturday, Golf for Monday. The start time for Golf on Monday has been moved back to NOON at all State venues due to forecast low temps overnight Sunday.

GOOD LUCK LADIES - MAKE IT HAPPEN!!
***********************************
WHS VARSITY GIRLS GOLF
@ 4A REGIONAL (WGC)
Monday, October 8, 2018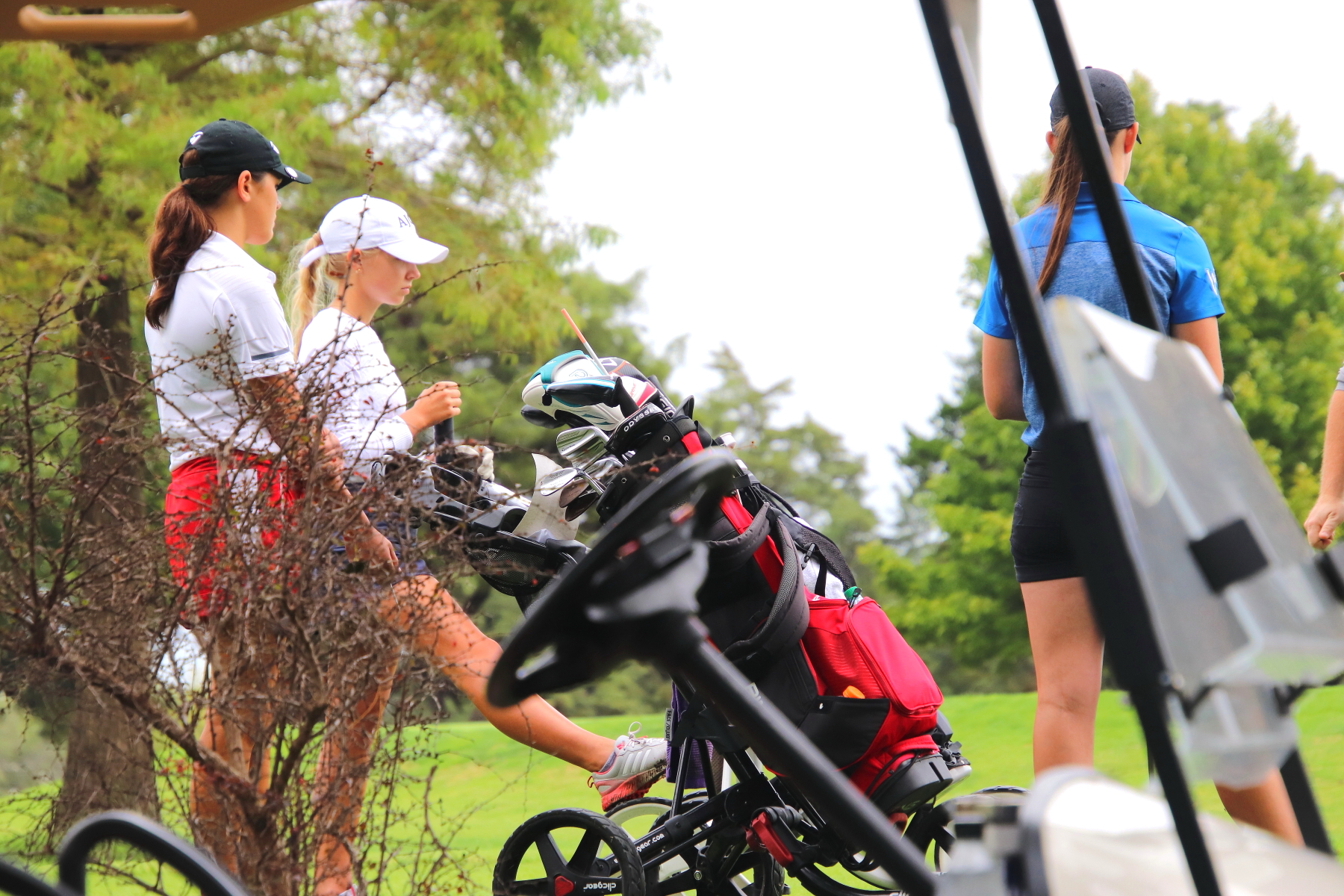 For the 2nd year in a row, Sophomore Payton Ginter has qualified for the State 4A Girls Golf Tournament. Last year as a Freshman, Payton competed at State and finished 45th out of 90 golfers, shooting a 105 at the Lake Shawnee Golf Course in Topeka.

Payton and teammate Emberly Gonzalez competed today in Regional 4A action, right here in Wellington at the Wellington Golf Club. Mother Nature went to sleep for a bit and the field of golfers were able to get 9 holes in. Weather got worse so 9 holes would be it. Here are the outcomes - congratulations to Payton who finished 4th overall - awesome job young lady!!
 
Congrats to State-Bound Teams
1. Winfield
2. Augusta
3. Circle
Top Ten
1. Hawks Trinity
2. Slayton Trinity
3. Biddle Winfield
4. Ginter Wellington
5. Lewellen Augusta
6. Price Augusta
7. Bertholf Winfield
8. Bartel Winfield
9. Oneyear Augusta
10. Johnston Augusta, won scorecard playoff over Stanton from Winfield
Individual Qualifiers / Top 5 (not on a qualifying team)
Hawks Trinity
Slayton Trinity
Ginter Wellington
Ewing Mulvane
Ingram Mulvane
Congratulations to Hanna Hawks of Wellington, who attends school at Wichita Trinity for her first place Regional 4A finish! 
**********************************
WHS VARSITY GIRLS GOLF
@ Andale Invitational (Cherry Oaks)
Monday, September 24, 2018
The Lady Crusaders competed at the Andale Invitational Golf Tournament @ Cherry Oaks Golf Course in Cheney yesterday (Monday).  Emberly Gonzalez and Payton Ginter played well.  Emberly recorded her first birdie and par of her young golf career.  She had her highest finish of the season as well.  
Payton Ginter continued to play well, finishing 6th overall with a 87 (+15) for the day.  The Andale Invitational hosts the front running teams in 4A Andale and 5A Andover.  The field had a number of very good golfers.
The ladies will wrap up the regular season next Monday at the AVCTL Championships, hosted again by Andale at Cherry Oaks.  Regionals will be here in Wellington on October 8th.
********************************
WHS VARSITY GIRLS GOLF
@ Prairie Trails Golf Course (El Dorado)
Thursday, September 20, 2018
Girls Golf played at Prairie Trails Golf Course in El Dorado yesterday.  Payton Ginter was the only participant from Wellington.  Payton continues to play well, finishing 2nd to Morgan Brasser of Andale with a score of 45.  Payton has medaled in all 6 tournaments this season.  Next up for the Lady Crusaders is the Andale Tournament in Cheney on Monday, Sept. 24th.
**************************
WHS VARSITY GIRLS GOLF
@ Andover
Monday, September 17, 2018
Today the girls competed in the Andover Invitational at Crestview Country Club in Andover, KS.  Payton Ginter placed 6th overall with an 89 (49/40), continuing her season streak of top 10 finishes. Very proud of her and her ability to fight back from a rough start on the front nine.  Payton had two eagle attempts on the back that led to birdies.  She continues to improve each week.   Emberly Gonzalez played in only her 4th tournament every (2nd 18 hole).  I am so proud of Emberly and her willingness to try something new.  She has done everything we have asked and continues to get better each week.
************************
WHS VARSITY/JV GIRLS GOLF
@ ANDOVER CENTRAL
Tuesday, September 11, 2018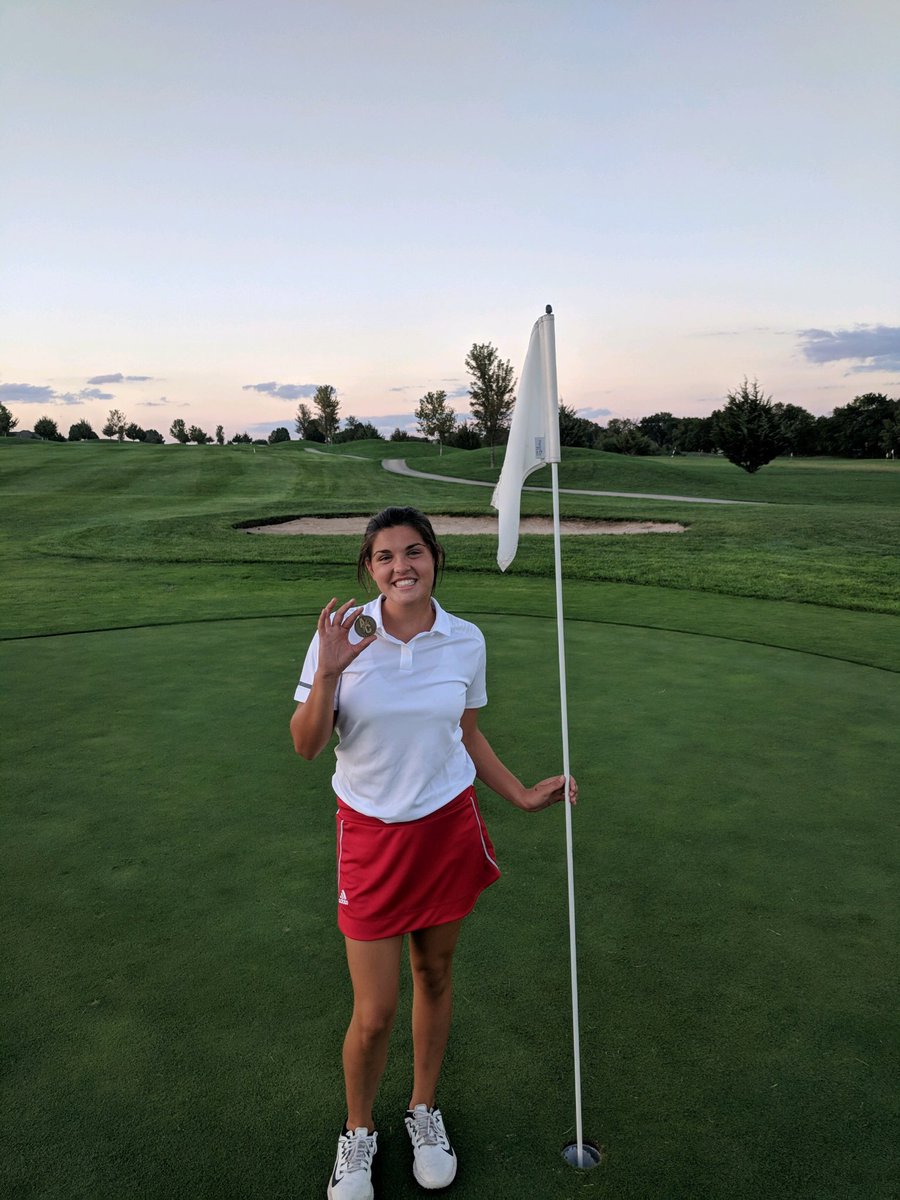 Beautiful day for golf.  Payton Ginter played in the varsity tournament that consisted of 18 holes.  She shot 37 on the front nine and 32 on the back.  Par for Sierra Hills Golf Course is 58.  Payton was +11 for the day, placing 2nd overall behind Morgan Brasser of Andale.  She played extremely well today, setting a PR and placing the highest of her young golf career.  She carded 3 birdies on the back nine alone.  
Emberly Gonzalez played in the junior varsity tournament.  This consisted of 9 holes and was played on the front nine at Sierra Hills.  Emberly also set a PR today with a 64.  She has only played golf for three weeks and has shown great improvement.
Both young ladies will compete next Monday @ the Andover Varsity tournament to be held at Crestview Country Club.
*****************************
WHS VARSITY GIRLS GOLF
HERE @ WGC (9 holes)
Monday, September 10, 2018
vs Winfield, Buhler, Andover Central, Mulvane
TOP 10 FINISHES
Haley Miller BUHLER 46
Elly Bertholf WINFIELD 48
Kenna Biddle WINFIELD 48
Payton Ginter WELLINGTON 49
Taylee Vieyra BUHLER 52
Celine Mendoza WINFIELD 55
Lauren Specht BUHLER 56
Chaney Littell WINFIELD 56
Dalin Bartel WINFIELD 57
Maura Flahive ANDOVER CTRL 58

******************************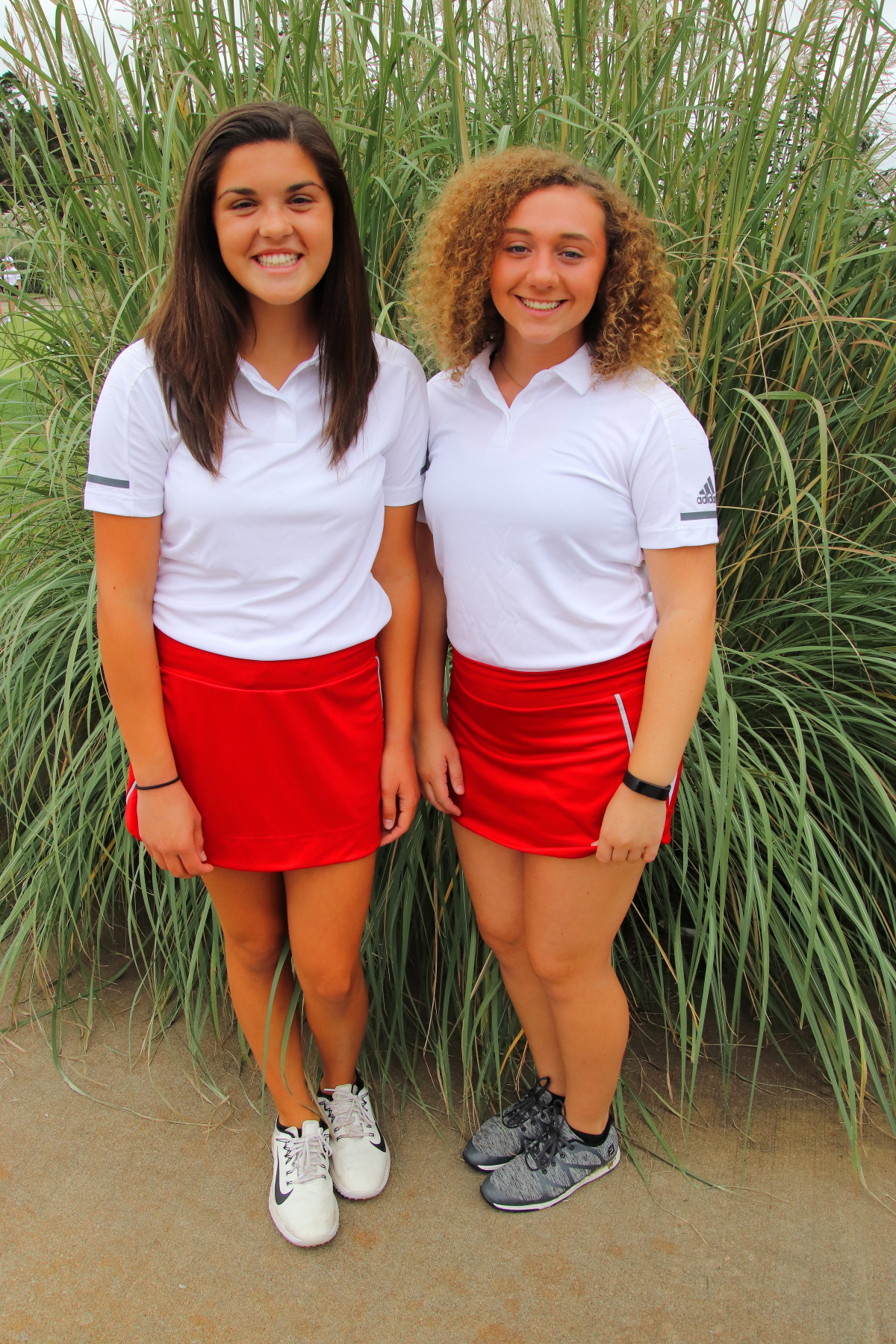 Payton Ginter and Emberly Gonzalez make up this Fall's Girls Golf Team. Both were in action HERE @ WGC on Monday, playing host to Andover Central, Buhler, Mulvane and Winfield, in the 9 hole event. 
****************************
WHS VARSITY GIRLS GOLF
@ Winfield
Thursday, September 6, 2018
Payton Ginter 55 - 12th
Emberly Gonzalez 80 - 33rd
/*/*/*/*/*/*/*/*/
WHS VARSITY GIRLS GOLF
@ Augusta
THU Aug 30, 2018
On Thursday, the Lady Crusaders competed at Augusta Country Club in the first golf tournament of the season. We only had one young lady competing. Payton Ginter fired a 44, finishing 8 over par for the day. Payton finished 4th, 8 strokes off the leader and 2 strokes out of 2nd. The girls are back in action Tuesday at Sierra Hills GC in Rose Hill.
/*/*/*/*/*/*/*/*/
DEBUT SEASON - FALL 2017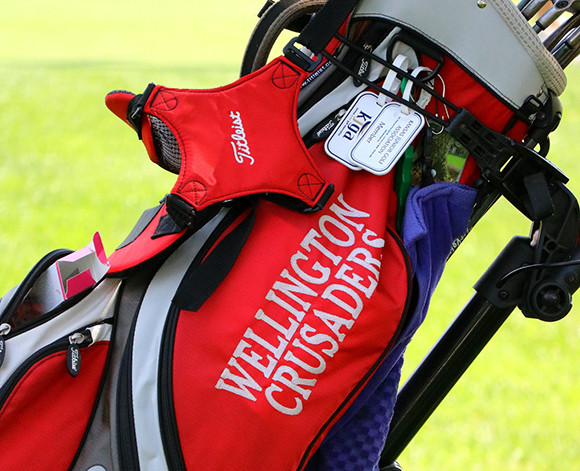 ***************************
It was AVCTL League Tournament time Tuesday for our pioneering Varsity Girls Golf Team, experiencing their first year in existence and doing quite well thank you!

Today at Hesston, all of our Lady Crusaders improved on their scores from previous tournaments. Payton Ginter (a freshman), shot a career best 88 to finish 6th for the Tournament and be named First Team All League!! Is that exciting or what? Congratulations Payton - outstanding!!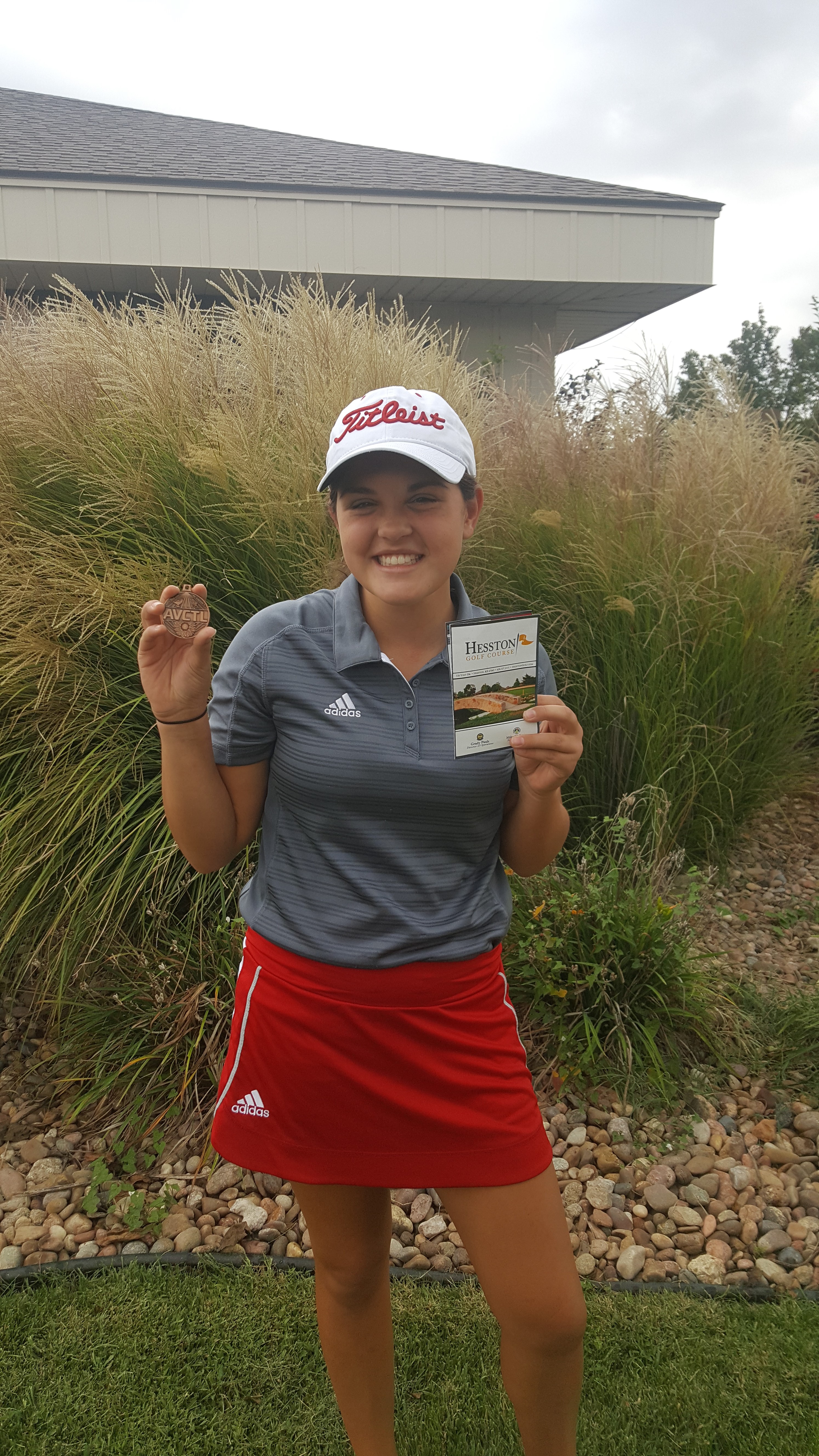 Payton Ginter - 88
Lisa Walter - 116
Taylor Heasty - 120
Kaity Kreifels - 140

Regionals are coming up on Monday in HAYS! Good luck ladies!!
************************
The WHS Girls Varsity Golf Team hosted their first ever Tournament on Monday out at Wellington Golf Club. Here are both the TEAM and INDIVIDUAL TOP 10 Finishers:
 
TEAM (9 holes)
1st Winfield - 196
2nd Buhler - 225
3rd Andover Central - 229
4th Mulvane - 244
5th Wellington - 261
INDIVIDUAL 
1st Berholf - Winfield - 46
2nd Biddle - Winfield - 47
3rd Revell - Winfield - 49
4th Miles - Buhler  - 52
5th Dial - Mulvane - 53
6th Zoglemann - Winfield - 54
7th Ginter - Wellington - 54
8th Miles - Andover Central - 54
9th Mitchell - Mulvane - 54
10th Adams - Winfield - 54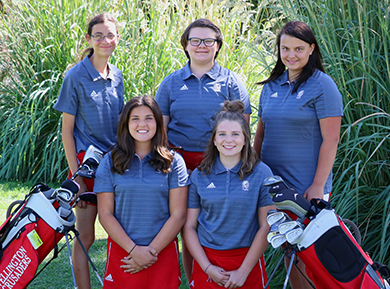 Some sports history this Fall at WHS - a GIRLS GOLF TEAM! With the popularity of golf for both boys and girls at the middle school level and the introduction of their golf program 3 years ago or so, the high school team was started this year with 5 members (4 freshmen and 1 sophomore) with more "Lady Knight Golfers" in the pipeline. Exciting stuff! GO BIG RED!
Meet your 2017 WHS Girls Golf Team!
L to R: Alisa Walters, Payton Ginter, Taylor Heasty, Lauren Bales and Kaitlynne Kreifels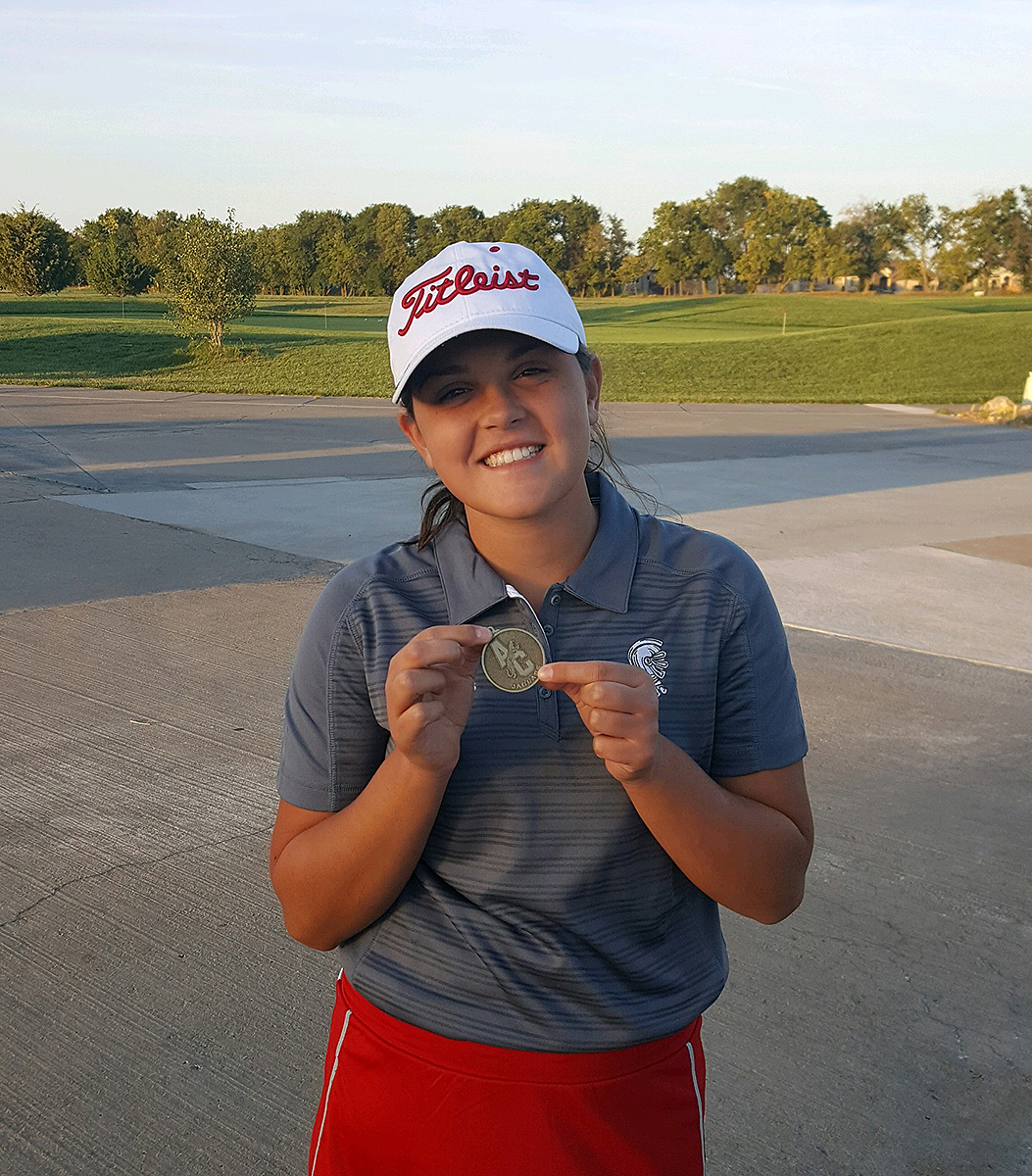 The WHS Varsity Girls Golf Squad was in action Tuesday at Sierra Hills Golf Course against some larger schools and tougher competition. As a team WHS finished 9th out of 10 and Payton Ginter, a WHS Freshman, finished 8th individually which is quite good!! Some of the other schools in competition included Andover Central, Andale, Buhler, Eisenhower, Maize, Valley Center and others. Here were the individual scores for WHS: (is a par 3 course, par was 58)

Payton Ginter 77
Alisa Walters 91 
Lauren Bales 94
Taylor Heasty 109

Congratulations - next up for Wellington's girls golf team is another road trip, this time to the Winfield Country Club on Thursday with a 1:00PM tee-off! Good Luck Ladies!
*/*/*/*/*/*
The WHS Girls Golf Team played in their first tournament EVER Thursday at Augusta. Congratulations to Freshman Payton Ginter who shot a 49 (PR) and finished 7th individually!! The Lady Crusaders in their DEBUT finished 5th, just behind Circle and just ahead of Andover and Andover Central. Congratulations on an awesome first outing to these 3 Freshman and 1 Sophomore!!

VARSITY GIRLS GOLF

This was the WHS Girls Golf Team debut - check out the fine results!
(@ Augusta Country Club)

Payton Ginter 49 (PR) 7th Place
Lauren Bales 57
Alisa Walters 69
Taylor Heasty 71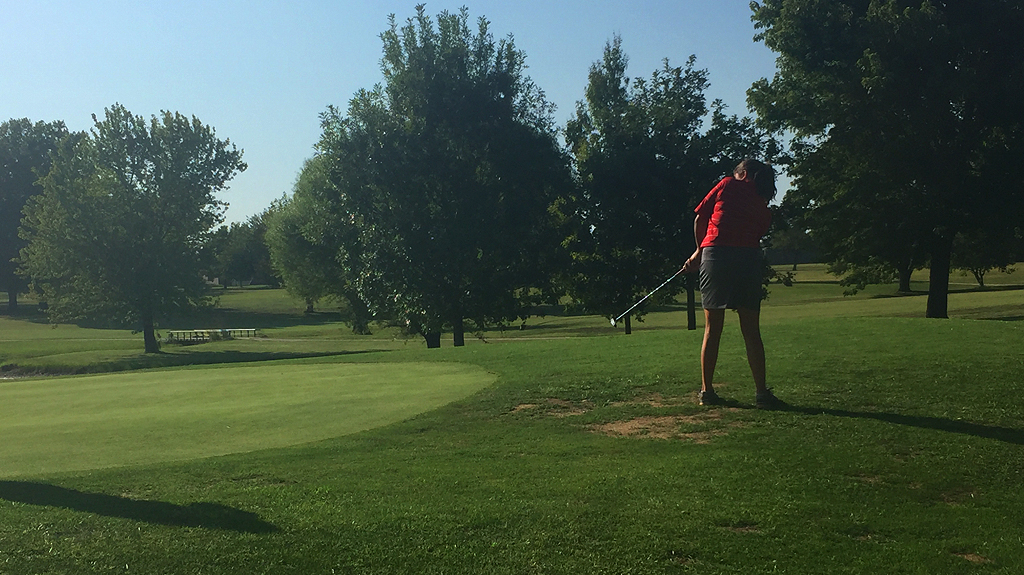 Payton putting on final hole!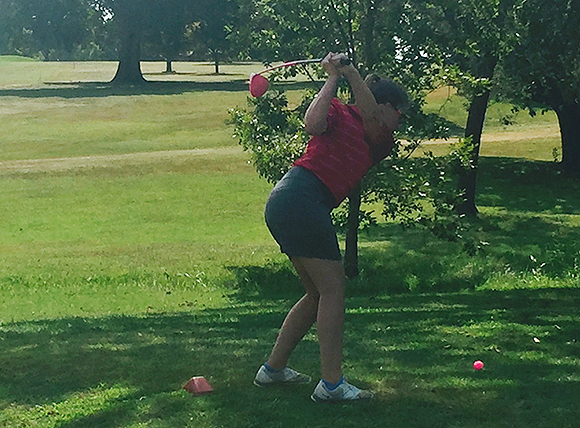 Lauren Bales teeing off!
TEAM FINISHES
Wichita Trinity 170
Augusta 196
Valley Center 232
Circle 245
Wellington 246
Andover 247
Andover Central 263
Maize South (No Team Score)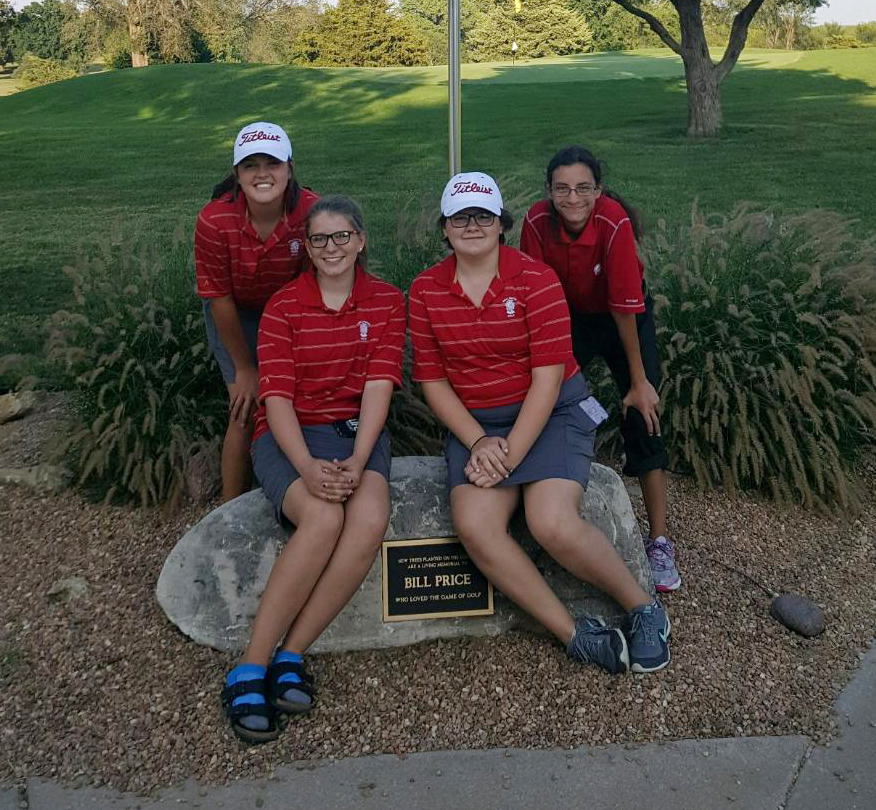 Payton * Lauren * Taylor * Alisa
Next action for the Varsity Girls Golf squad is September 5th @ Wichita (Sierra  Hills).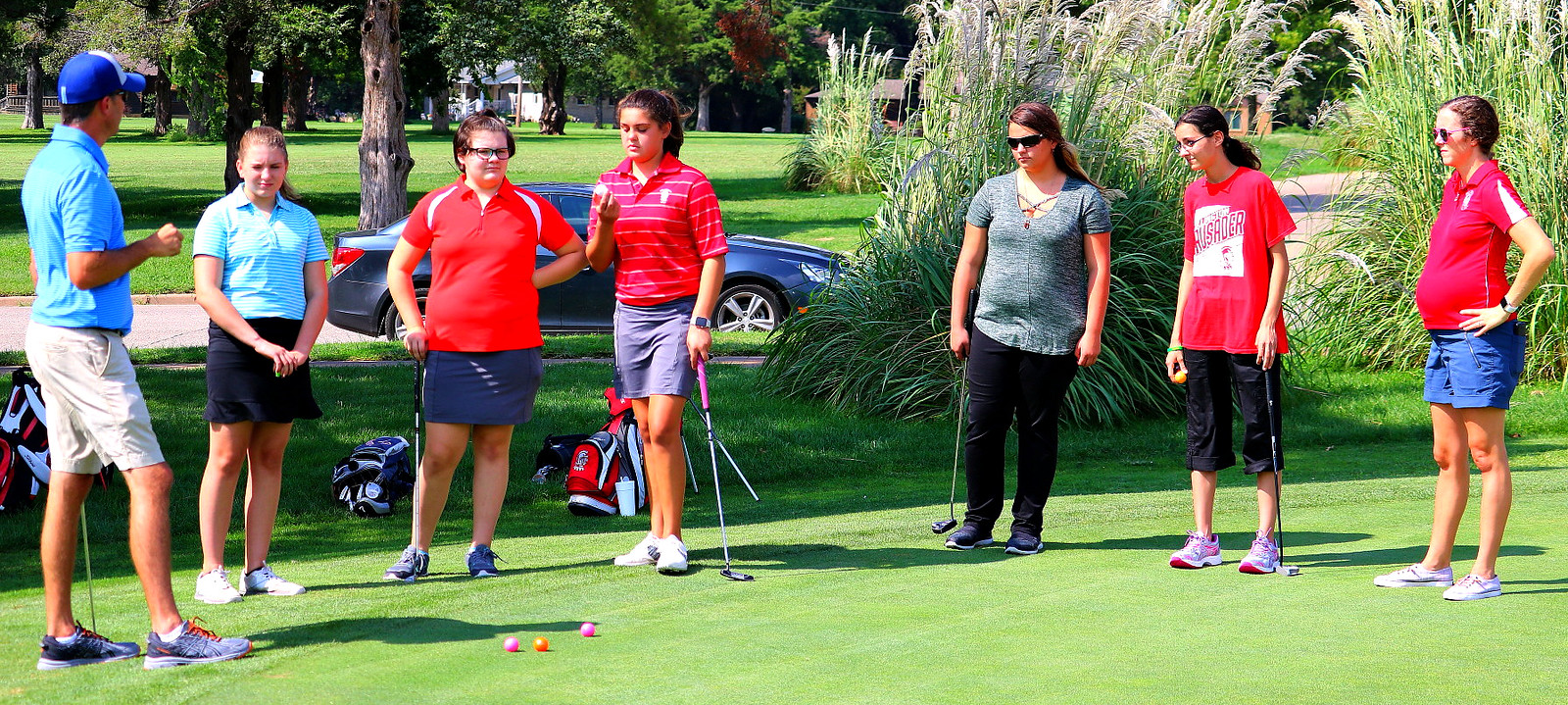 WHS Lady Crusader SPORTS HISTORY was made Wednesday, Aug. 17, 2017 at the Wellington Golf Club. After "2" days of watching "rules videos", etc. the first ever Girls Golf Team took to the course for their first outside OFFICIAL PRACTICE in the history of the school. Coaches James Ginter and Vanessa Sawyer took charge of the team after a welcome to the Wellington Golf Club by our very own WHS Graduate and now Director of Golf at Wellington's phenomenal course, Mr. Derek Harrison.

Practice began where tournaments are won and loss - on the putting green. Good Luck to these fine ladies and coaches - you are PIONEERS for sure!!

WHS Girls Golf Team / FALL 2017

Lauren Bales - 9th grade
Payton Ginter - 9th grade
Taylor Heasty - 9th grade
Kaitlynne Kreifels - 9th grade
Alisa Walters - 10th grade
GOOD LUCK THIS SEASON!!