2017-2018
WHS VARSITY BOYS GOLF
@ Terradyne (host Andover Ctrl)
Monday, Apr 9, 2018
The Crusaders didn't gain the results they were hoping for as a team, but it was a good finish nonetheless according to Head Coach James Ginter. The Varsity Crusaders finished 4th (321) as a team with "2" individual medalists. Ty Wilson and Blake Bales both shot 76 and finished 9th and 10th respectively. Freshman Blake Saffell shot a 79, finishing 18th. Freshman Jace Lawrence finished with a 90 (33rd), True DeJarnett 93 (43rd), and Jaylen Harris 97 (55th). There were a total of 69 participants in the 18 hole event at Terradyne.

Next action for the Varsity Boys - @ Cherry Oaks (Cheney) Friday, Apr 20th - 3:00PM
*************************************
WHS JV BOYS GOLF
@ Andover HS
Monday, Apr 9, 2018
Wellington had only "3" boys at the JV tournament in Andover, so not enough for a whole team score. Hayden Baker, Rylan Blasi, and Langdon Lack all played very well. This was Langdon's debut and he shot a 51. He stayed consistent and did very well according to Coach Vanessa Sawyer. Rylan Blasi had a rough start but brought things around, shooting a 41. Hayden Baker DEFENDED HIS TITLE, as he won this same tournament last year! In 2017, Hayden shot a 37, Monday 040918, he shot a 35, just 2 over par and his 2nd consecutive Andover Tournament win!! Awesome job Hayden!! (and Rylan and Langdon!)
Next action for the Jr. Varsity Boys - @ Sierra Hills Tuesday, Apr 17th - 3:00PM
*************************************
WHS VARSITY GOLF INVITATIONAL
@ Wellington Golf Club
Thursday, Apr 5, 2018
The Varsity Crusaders finish 2nd at Wellington Invitational! (April 5th)
It was cool and windy at the start, but the sun shined brightly and the winds diminished as the invitational proceeded. 11 teams and Wellington, played 18 holes and when it was over, the Crusaders had had a great day.
 
TEAM SCORES
Andover Central 297
Wellington 303
Andover 314
Rose Hill 335
Eisenhower 337
Augusta 342
Hesston 365
Clearwater 373
Goddard 382
Mulvane 392
Towanda-Circle 411
Chaparral 506
INDIVIDUAL SCORES
Ty Wilson 72 (+2) 3rd
Blake Saffell 75 (+5) 7th
Blake Bales 76 (+6) 8th
True DeJarnett 76 (+6) 9th (JV)
Jace Lawrence 80 (+10)  17th
Hayden Baker 88 (+18) 31st (JV)
Jaylen Harris 90 (+20) 34th
Rylan Blasi 91 (+21) 38th
Langdon Lack 120 (+50) 65th (JV)
**************************
The WHS Varsity Boys Golf Team saw their 2018 first season action Monday at Crestview Country Club in Wichita. Also on the team roster, Andover, Wichita Trinity, Andale, Andover Central, Augusta, Buhler, Eisenhower, Maize, Mulvane, Rose Hill, Valley Center and Wichita Collegiate.

The Crusaders as a team, finished 4th, behind Senior Ty Wilson's 79 (+7) on the day. Ty finished 6th after a 4-way tie at 79, winning the scorecard playoff. Blake Saffellfinished with an 80, after a very tough first hole, Blake leveled out and played well. Senior Blake Bales came in at 83, showing good consistency and steady play. Jace Lawrence played well also, shooting an 85. (Saffell and Lawrence are both Freshman) Senior Jaylen Harris held on well, finishing with a 98. Sophomore Rylan Blasi finished with a 101.

Anyone outdoors Monday knows it wasn't an ideal day for golf. The 1st place finisher came in at 70, which was amazing considering the conditions.

The Crusaders open here at HOME on Thursday, that invitational gets underway at 1pm at the Wellington Golf Club. And, Wellington will be hosting 1 of 6, 4A Regionals this Spring, on May 14th!  Arkansas City HS, Winfield HS, Mulvane HS, Clearwater HS, Rose Hill HS, Wichita-Collegiate HS, Wichita-Trinity Academy, Augusta HS and Andover Central HS will be here for that event.

Good start BIG RED - you're HOME on Thursday - it's going to be a great day! 
********************************
Action gets underway VERY SOON for the WHS Boys Golf Squad - team and individual pics were taken WEDNESDAY. This year's team consists of "4" Seniors (Ty Wilson, Blake Bales, Jaylen Harris and Hayden Baker), "2" Sophomores (True DeJarnett and Rylan Blasi) and "3" Freshmen (Jace Lawrence, Blake Saffell and Langdon Lack). Good Luck to all this season!
BOYS GOLF TEAM & INDIVIDUAL PICS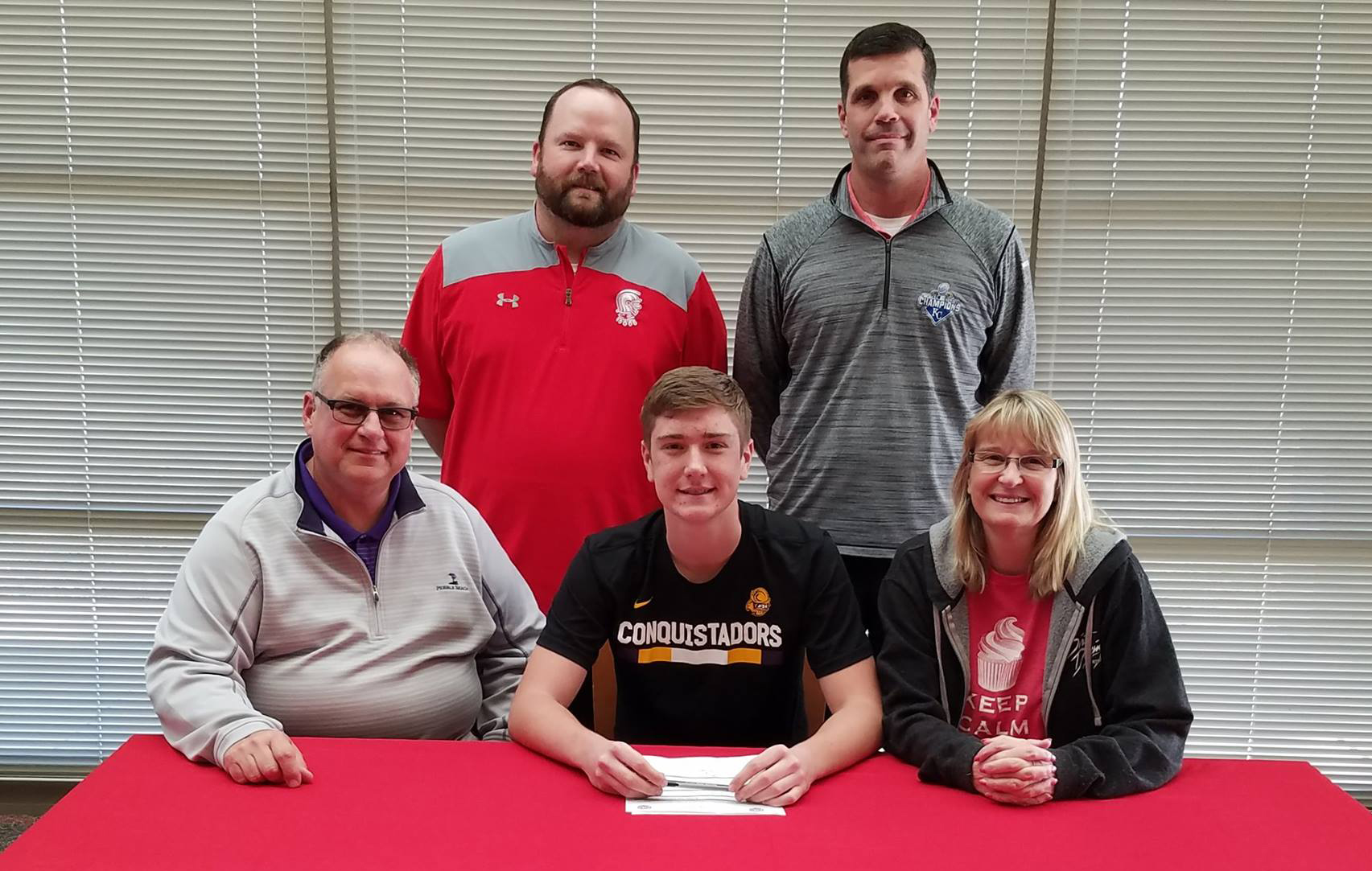 Congratulations to WHS Senior Ty Wilson. With his parents, Bobby and Ginger and his WHS golf coaches, Asst Coach Luke Smith and Head Coach James Ginter at his side, (and a myriad of teammates/friends!), Ty signed a letter of intent Thursday afternoon at WHS to play golf for the Conquistadors @ Dodge City Community College this coming school year 2018-2019.
Way to go Ty, that is awesome!


*****************************
2016-2017
STATE 4A GOLF TOURNAMENT RESULTS from Wamego
TEAM FINISHES: Andover Central 329, Wichita Trinity 329, Wamego 332, Hays 336, Chanute 339, Topeka-Hayden 352, Larned 362, Ottawa 364, Girard 367, Burlington 369, Tonganoxie 387, Wellington 393.
INDIVIDUAL FINISHES: (128 participants overall) Ty Wilson 92 55th, True DeJarnett 98 69th, Blake Bales 101 78th, Rylan Blasi 102 79th, Jaylen Harris 106 87th, Hayden Baker 113 97th

Congratulations to our Varsity Boys Golf Team who finished 2nd as a team Monday at the 4A Regional in Independence, qualifying for the State 4A Tournament next Monday. Congrats to Ty Wilson who shot a 75 and placed 2nd individually!! Other Individual Scores: Blake Bales 94, Rylan Blasi 95 True DeJarnett 96, Jaylen Harris 104 and Haydon Baker 107. Team Scores: Chanute 330, Wellington 360, Labette Co. 391, Coffeyville 400, Mulvane 437. Coach Ginter said: "Ty Wilson was our loan Medalist, finishing second with a 75. Proud of the team and the Improvement we've made this year. A great reward for a great bunch of young men. Very proud of Ty as well and the improvements he's made weekly during the season. He helped this team accomplish something that hasn't been done in a few years. We look forward to the week of practice ahead and the state tournament next Monday." Congratulations again Crusaders!! Way to represent Ty! (courtesy pic)

Coach James Ginter reported a "Great day at Hesston today. Team finished 3rd with a 346, just 3 strokes out of second. We also had two All League Golfers today. Ty Wilson shot a tournament PR (​personal record) today, firing a 74 and finishing 2nd to Peyton Austin of Rose Hill. What a great round for Ty today. He has really made great strides this season. Blake Bales finished 10th with an 88 today to also gain All League honors. Very proud of Blake as well. Probably the most improved golfer from last season to this one. Regionals are Monday at Independence Country Club with tee times starting at 9am.​" GREAT JOB CRUSADERS 

OVERALL AVCTL DIV IV GOLF RESULTS 050917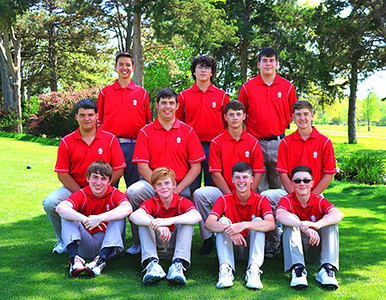 Meet your 2017 WHS Golf Squad / Back L to R: Skyler Crittenden, True DeJarnett, Chance Rogers Middle L to R: Jack Heimer, Ethan Rowley, Jaylen Harris, Ty Wilson Front L to R:Blake Bales, Rylan Blasi, Hayden Baker, Doug Garton. 

INDIVIDUAL GOLF TEAM PICS 041917 

2017 WHS GOLF TEAM - Large View 
Double-Click for largest view.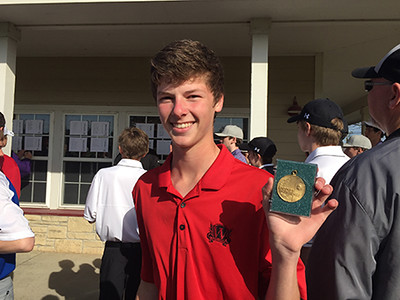 WHS Junior Hayden Baker, former baseball player in the SPRING until this season, finished FIRST at the Andover JV 9-Hole Golf Invitational on Monday, shooting an awesome 37! Congratulations Crusader!!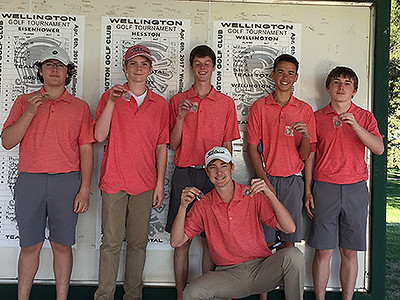 The WHS Crusaders Golf Squad hosted a dozen teams or so on Thursday out at Wellington Golf Club with great weather and great results. Andover finished 1st as a team (300), Wellington and Augusta came in at (342), the latter winning a scorecard playoff and 2nd place. WHS's Ty Wilson finished 5th with a 77. Other Crusader totals: Skyler Crittenden 12th (83), True DeJarnett 17th (87), Blake Bales 29th (95), Rylan Blasi 45th (104) and Hayden Baker 54th (111). All totaled there were 63 golfers on the course for the 18 hole event. Check out the 300 or so tournament action pics below and the"COMPLETE" results from Wellington Golf Club Thursday. GO BIG RED! OVERALL COMPLETE RESULTS WELLINGTON GOLF INVITATIONAL ACTION PICS 040617