"4" Lady Crusaders Qualify for STATE 4A @ Winfield Fri / Sat!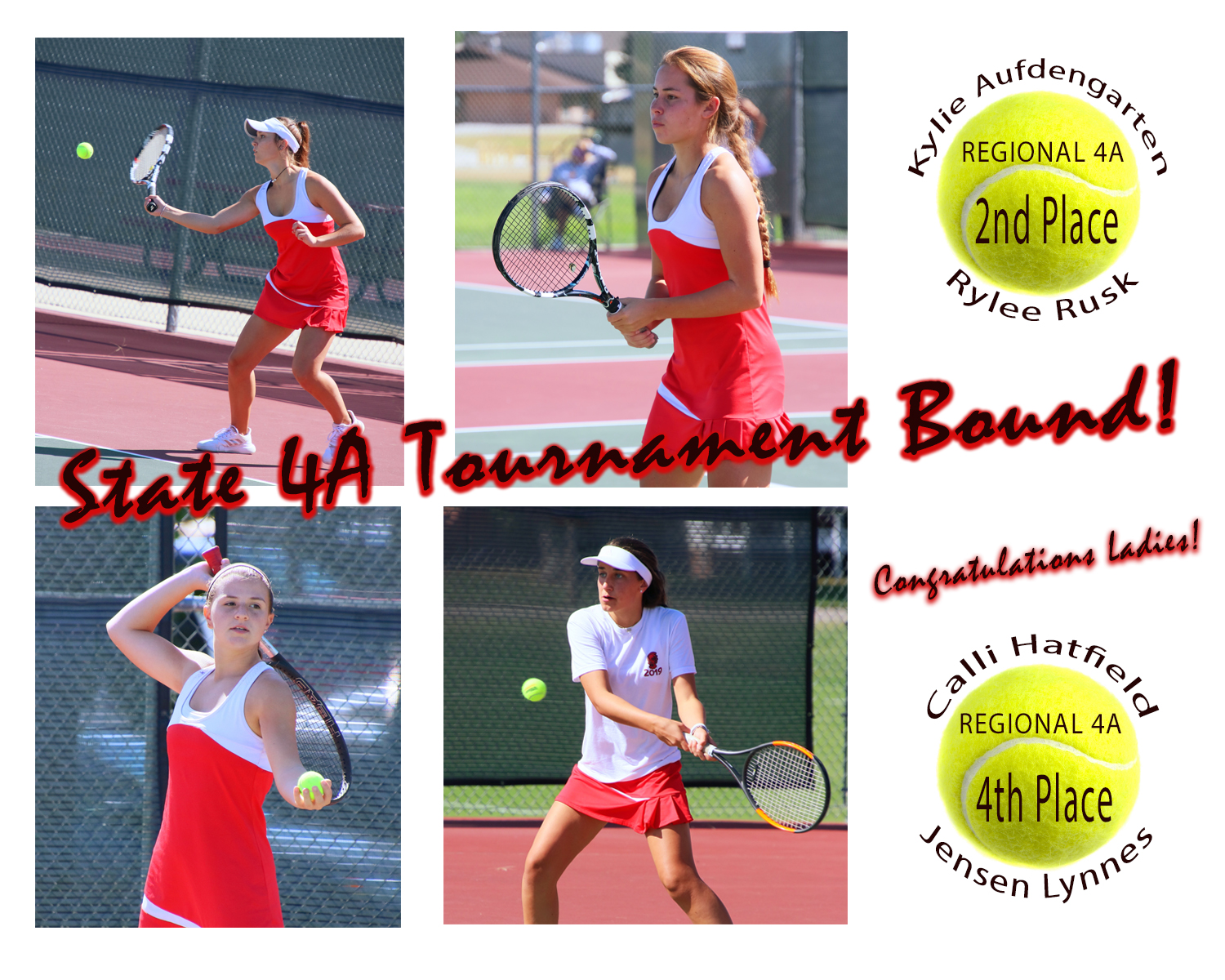 Submitted by Head Coach Brian Aufdengarten
"The Wellington girls tennis team was in action on Saturday at Wichita Collegiate for regionals on a cold morning.  Singles players Olivia Brand and Natalie Henning both got seeded in the top 10, with Brand being the nine seed,  and Henning being the 10 seed. Brand was playing Cozine from Wichita Trinity, and jumped out to an early 4-1 lead, but Cozine came back and tied the match at five all. Cozine then won the first set 7-5.  Brand then lost the second set 6-0 which ended her season.   Henning was matched up against Jackson from Pratt and lost a very close match which could've went either way. Henning won the first set 6-3, then lost the second set 5-7.  The two players went to a super tiebreak for the third set which is played to 10 points. Henning had a 9 to 7 lead when Jackson won four straight points to win the match. That was a heartbreaking match which ended Natalie's senior season I appreciate how much she has done for our team over the past four years.

On the double side Kylie Aufdengarten and Rylee Rusk received the number one seed and Wellington's other team of Calli Hatfield and Jensen Lynnes received the four seed.

Aufdengarten and Rusk opened up with Edson/Lindberg of Circle and won 6-0,6-0.  At the same time Hatfield and Lynnes we're playing García/Sharp of Pratt and won by the same score 6-0,6-0.  In the quarterfinal round Aufdengarten and Rusk continued their dominance beating Winfield's Woodburn/Law winning 6-0,6-0 again.  Hatfield and Lynnes then had to play the number five seed from Wichita Trinity Klaasen/Dunne and found themselves down 1-4 to open the first set.  Wellingtons pair then settle down a bit and came from behind to win the first set 6-4.   In the second set the Wellington pair had another close set but came out on top 7-5.  The win then guaranteed the Wellington pair a trip to the state meet and guaranteed top four finish. 

Up next  was the semifinal match  where those two Wellington teams had to play each other. Aufdengarten and Rusk won the match 6-0,6-2.  This put Hatfield and Lynnes in the third and fourth place match against Wichita Collegiate Gentile/Yoakum.  The pair kept the first set close for a little while being down 4-3, but the Collegiate team  rallied and never gave up another game winning 6-3,6-0.  Very very proud of these two anytime you can get a freshman to the state meet with Jensen and Calli returning to the state meet is an awesome feeling.  Meanwhile Aufdengarten and Rusk had their hands full in the championship match with another Wichita Collegiate  team of Lair/Conrad.  The Wellington pair won a close  first set 6-4. After that the Collegiate girls  came to life and jumped up on the Wellington pair 5-0 in the second set. Aufdengarten and Rusk won 2 games but lost that set 2-6.  The final set was hotly contested and was tied at 4-4, with Wellington having some break opportunities but didn't get them and Collegiate  went up 5 to 4. In the final game Wellington got broke and lost the match 4-6.   This is Aufdengarten's fourth straight year at the state tournament and Rusk's  third straight year at the state tournament. Hatfield and Lynnes  enter the state tournament with a record of 16-8 together, Aufdengarten and Rusk enter with a record of 28-2:"