2019 SEASON
*************
WMS 7/8 GIRLS GOLF
@Winfield Quail Ridge
Thursday, April 25, 2019
Kasiah Richmond 52 - 1st
Emma Stover 56 - 4th
Elly DeJarnett 59 - 6th
Lizza Harriger 63
Ashlyn Sowersby 64
WMS TEAM - 230  1st

SCRAMBLE TEAMS
Laney Dillon
Aubrey Hunt
56 - 3rd
Leanna Herring
Roxan Webster
56 - 4th
Olivia Smith
Evelyn Trafecanty
58 - 6th
Teylin Wartick
Karen Schmeidler 
64
*************************
WMS 7/8 GOLF
ROSE HILL TOURNAMENT
@ Sierra Hills
Wednesday, April 24, 2019
GIRLS
Kasiah Richmond 80  1st
Emma Stover 91  4th
Evelyn Trafecanty 95  6th
Ashlyn Sowersby 112
Lizzy Harriger 114
Elly DeJarnett 115
 
BOYS
Carson Nugen 75  3rd
Kaeden Gill 91  4th
Taylon Ellis 85  7th
Talan Cantrell 101
Travis Burden 104
Chopper Johnson 137
***********************
WMS 7/8 GOLF
@ Patriot League Championships (Augusta)
Thursday, April 18, 2019
GIRLS (9 Holes)
WELLINGTON 255 CHAMPIONS
Augusta 264 2nd
Winfield 267 3rd
Ark City 295 4th
Rose Hill 300 5th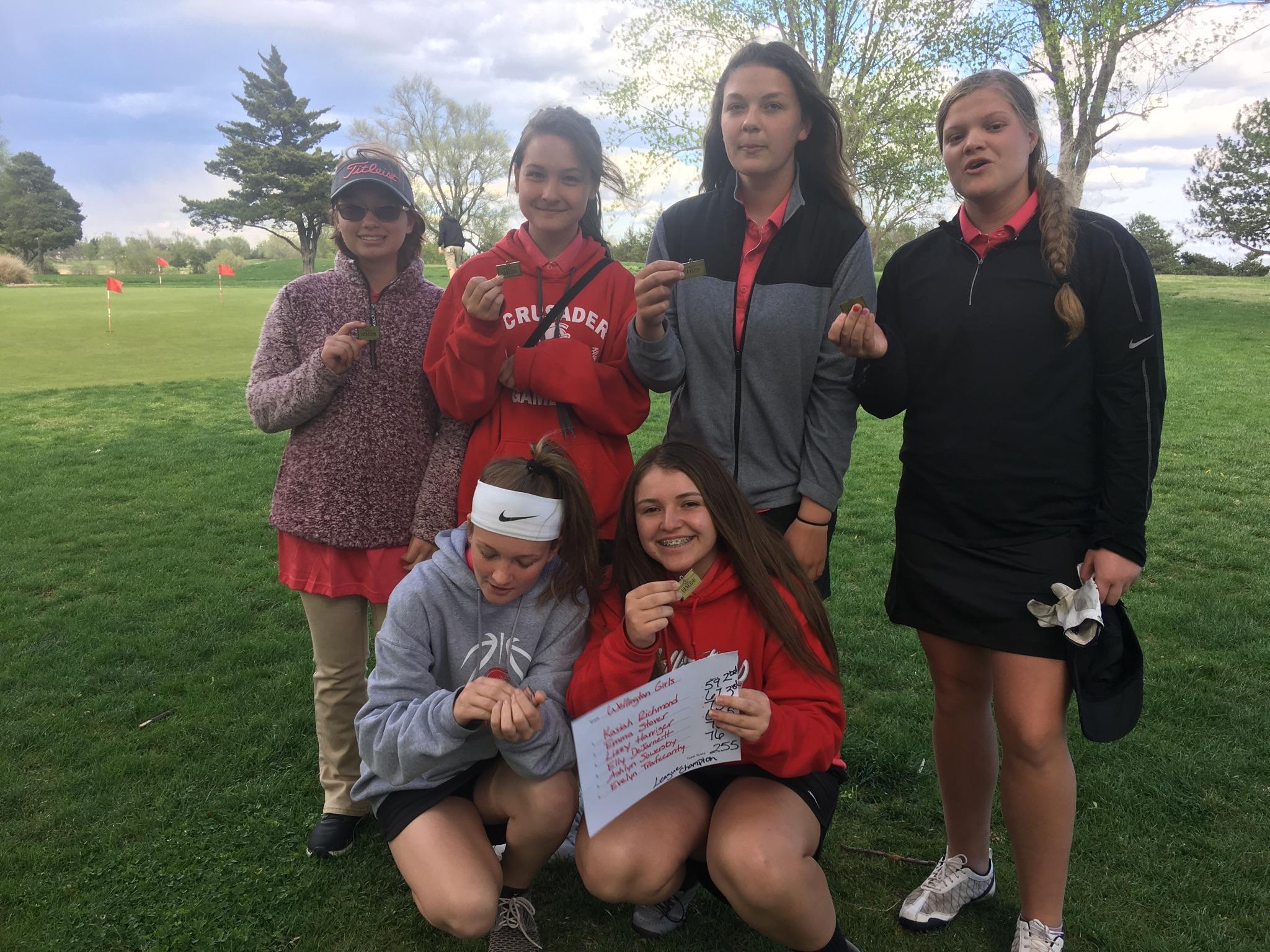 Kasiah Richmond 59 2nd
Emma Stover 61 3rd
Elly DeJarnett 62 5th
Lizzy Harriger 73
Evelyn Trafecanty 76
Ashlyn Sowersby 78
PATRIOT LEAGUE
CHAMPIONS!
Congratulations Girls!!
BOYS (18 Holes)
Augusta 438 1st
WELLINGTON 484 2nd
Ark City 488 3rd
Winfield 568 tie 4th
Rose Hill 568 tie 4th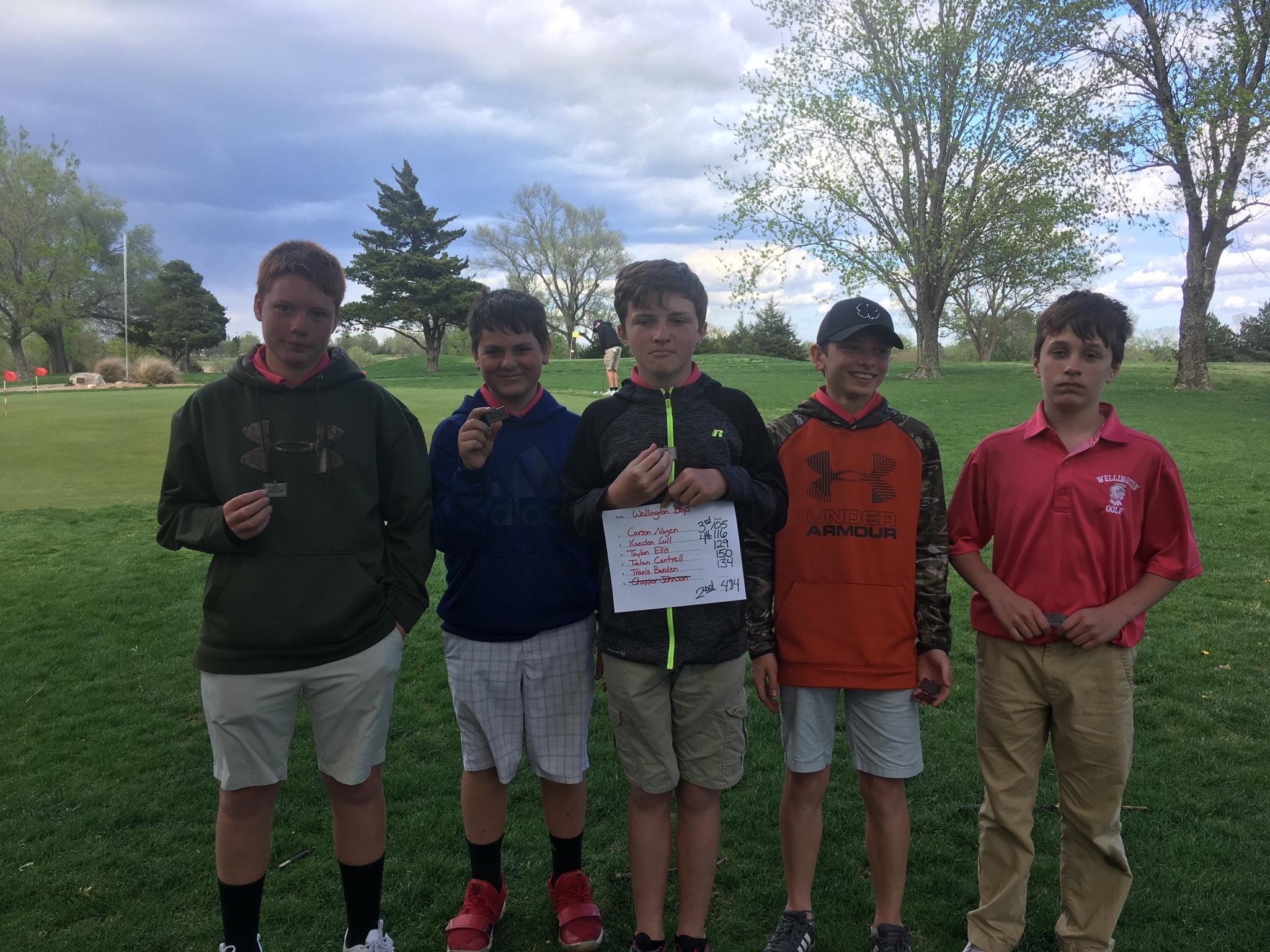 Carson Nugen 105 3rd
Kaeden Gill 116 4th
Taylon Ellis 129
Talan Cantrell 150
Travis Burden 134
PATRIOT LEAGUE
RUNNERS UP!
Congratulations Boys!
**********************
WMS 7/8 GIRLS GOLF
@ Ponca City
Monday, April 15, 2019
Kasiah Richmond 50 (1st)
Emma Stover 64
Elly DeJarnett 64
Evelyn Trafecanty 64
Ashlyn Sowersby 65
*****************
WMS 7/8 GOLF
HERE @ WGC
(Wellington Invitational)
Thursday, April 11, 2019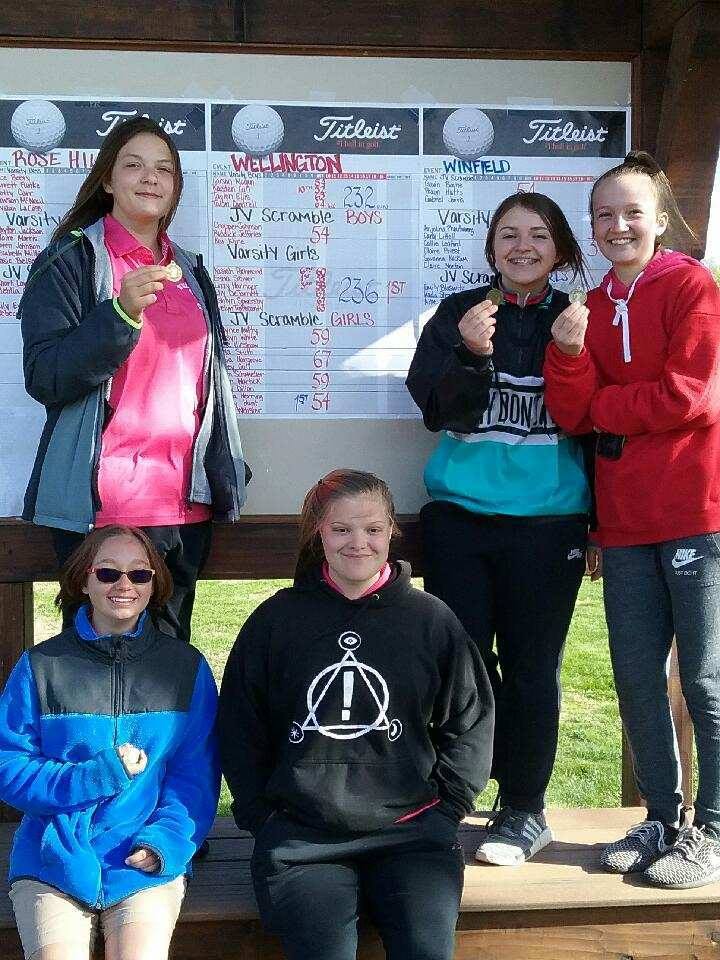 Results are in from the WMS Golf Invitational today out at Wellington Golf Club. Over 120 participants, including 25 Knights and Lady Knights!
Congrats to our Varsity Lady Knights who finished 1st as a team, Emma Stover finished 1st individually with a 55! All the WMS results below - and a few courtesy pics to boot!!
Way to represent WMS!!
VARSITY BOYS
Carson Nugen 54
Kaeden Gill 52 (10th)
Taylon Ellis 62
Talan Cantrell 64
TEAM TOTAL 232 (tied for 3rd)
JV SCRAMBLE BOYS
Chopper Johnson
Riddick Jeffries
Kai Kline
TEAM TOTAL 54
VARSITY GIRLS
Kasiah Richmond 60 (6th)
Emma Stover 55 (1st)
Lizzy Harriger 58 (3rd)
Elly DeJarnett 67
Ashlyn Sowersby 67
Evelyn Trafecanty 63
TEAM TOTAL 236 (1st)
JV SCRAMBLE GIRLS
Kadynce Aufdengarten
Karsyn White
Addie Hinshaw
TEAM TOTAL 59
Olivia Smith
Jania Hargrove 
Abbey Gill
TEAM TOTAL 67
Karen Schmiedler
Teylin Wartick
Laney Dillon
TEAM TOTAL 59
Leanna Herring
Aubrey Hunt
Roxan Webster
TEAM TOTAL 54 (1st)
*************************
WMS VARSITY GOLF
@ Ark City (9 holes)
Monday, April 8, 2019
GIRLS
Lizzy Harriger 54 (3rd)
Kasiah Richmond 55 (5th)
Emma Stover 62
Elly DeJarnett 62
Evelyn Trafecanty 65
Ashlyn Sowersby 65
GIRLS TEAM
Ponca City 222 - 1st
WMS 233 - 2nd
Winfield 242 - 3rd
Augusta 251 - 4th
Rose Hill 261 - 5th
Ark City 268 - 6th
BOYS
Carson Nugen 55 - (9th)
Kaeden Gill 59 
Taylon Ellis 66
Talan Cantrell 68
Travis Burden 78
Chopper Johnson 83
BOYS TEAM
Ponca City 184 - 1st
Augusta 238 - 2nd
Ark City 243 - 3rd
WMS 248 - 4th
Winfield 265 - 5th
Rose Hill 265 - 5th
Ark City - NS - 6th
2018
WMS 7/8 Golf 
Pioneer League @ Ark City
Monday, APR 23, 2018
Results are in from 7/8 Pioneer League Golf Tournament in Ark City! Congratulations to Deitrek Gill who finished 1st for the boys with an 81. Great Job Deitrek! PIONEER LEAGUE CHAMP!!
Carson Nugen placed 8th (114), followed by Parker Dodds(118), Caden Lawrence (119), Taylon Ellis (125), and Parker Smith (136),
TEAM BOYS
Augusta 1st (411)
Wellington 2nd (432)
Winfield 3rd (491)
Ark City 4th (518)
Rose Hill 5th (530)
On the girls side (9 holes), Congratulations to Kasiah Richmond who finished 5th with a 67, followed close behind by Elly DeJarnett 67 and 6th. Emma Stover shot a 72 and Lizzie Harriger 76.
TEAM GIRLS
Winfield ??? 1st
Augusta 273 2nd
Ark City 278 3rd
Wellington 282 4th
Rose Hill 306 5th
Congratulations again to Deitrek Gill for BRINGING HOME THE GOLD and to Kasiah Richmond, Elly DeJarnett, and Carson Nugen for their TOP 10 finishes! Congrats to Coach Jeff DeJarnett - great season, heck great 4 seasons!! (SEE HERE)
*****************************
WMS 7/8 BOYS GOLF
@ Sierra Hills (Rose Hill)
Thursday, APR 19, 2018
This is the 4th year for the WMS Golf Program - before I share today's outcomes at Rose Hill, check this out!
This coming Monday at the Pioneer League Tournament in Ark City, will be the 39th golf event for the WMS Boys since their program began 4 years ago. Are you ready for this?
The Knights have won 37 of 38 individual "GOLD" medals since the program began. The only one they lost was last year at Ark City when our #1 player wasn't able to play that day. Wellington still won TEAM GOLD that day and secured 2nd thru 6th places! (Our 2nd place finisher was just 1 stroke back!)
At the end of last year (3rd year for the program), of the 210 gold medals up for grabs (individual and team) during that 3 year period, Wellington boys snagged 209 of them!
Can I get a big HOORAH from all of you!!!!! THAT IS AWESOME! THAT IS AWESOME! THAT IS AWESOME! Congratulations to Coach Jeff DeJarnett and the Knights - that is one heck of a run!!
*******
Now, today's results for WMS golfers at Sierra Hills (Rose Hill Par 3 course - par is 58)
BOYS
Deitrek Gill - 65 (1st)
Carson Nugen - 86 (7th)
Caden Lawrence - 91
Parker Dodds - 94
TEAM - 336 (1st)
Others:
Taylon Ellis 100
Colby Fair 112
GIRLS
Emma Stover - 92 (8th)
Kasiah Richmond - 100 (10th)
Elly DeJarnett - 101
Lizzie Harriger - 108
TEAM - 401 (3rd)
**********************************
WMS 7/8 GOLF (Girls Only)
@ Ponca City (9 holes)
Monday, Apr 16, 2018
Emma Stover 61
Kasiah Richmond 62
Elly DeJarnett 68
Lizzie Harriger 69
No Medals
(7th grade girls playing against 8th & 9th graders)
*************************************************
WMS 7/8 GOLF INVITATIONAL 
HERE @ Wellington Golf Club
Thursday, Apr 12, 2018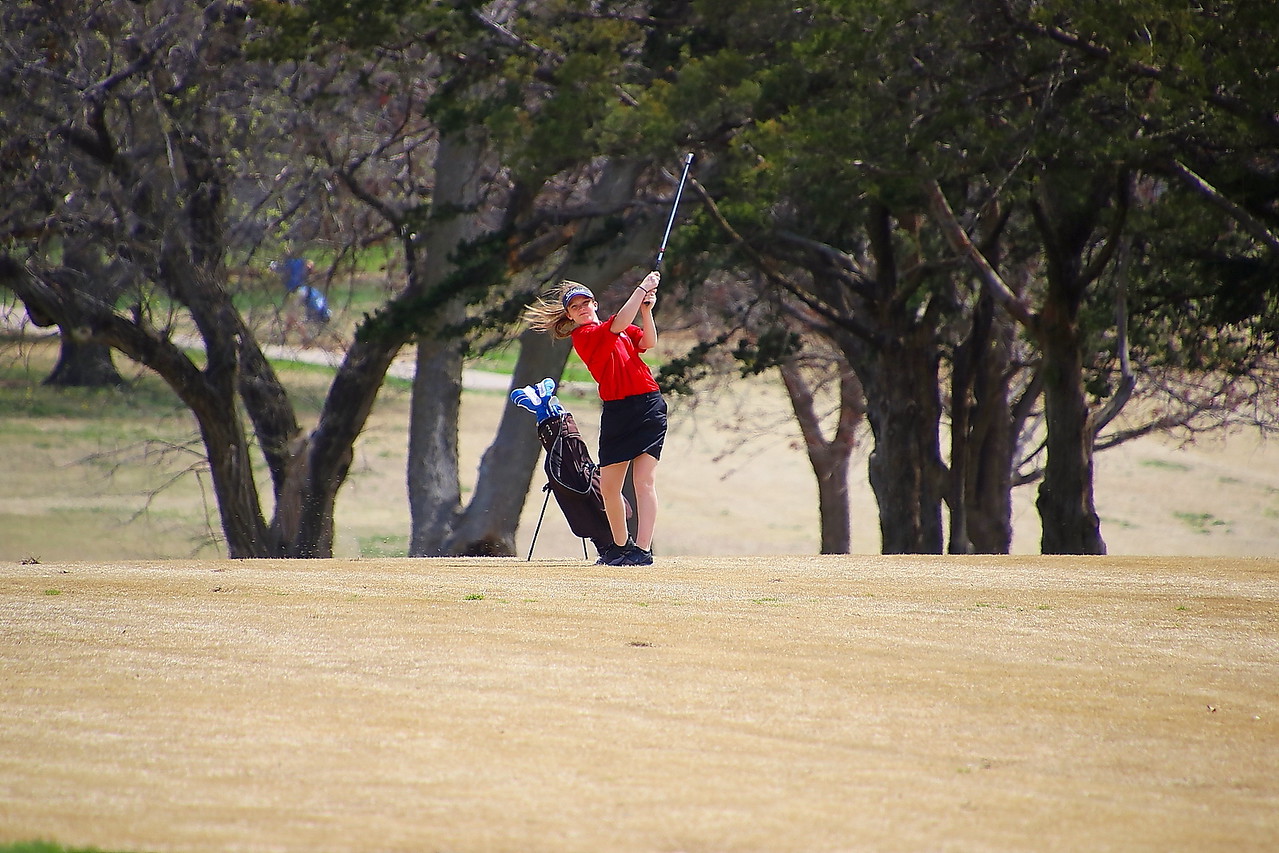 The WMS Golf Team, coached by Jeff DeJarnett, hosted an Invitational out at Wellington Golf Club on Thursday.Teams were from Ark City, Augusta, Ponca City, Rose Hill, and Winfield.

The WMS Boys played solid and came in first place as a team with a score of 192. Leading scorer for the Knights was Deitrek Gill who shot a 37 (9 holes) and came in 1st overall! Congratulations Deitrek! Carson Nugen had a fine round, (48) and finished 4th overall! Congrats Carson! Brett Wyckoff (53) and Caiden Lawrence (54) filled out the team score of 192.

OTHER SCORES
Parker Dodds 58
Taylon Ellis 58
Parker Smith 56
Kaeden Gill 62
Colby Fair 65

The Girls ended up with a team score of 256.

GIRLS RESULTS
Emma Stover 57 (5th Place Overall - Congrats )
Kasiah Richmond 61
Lizzie Harriger 68
Elly DeJarnett  70
Evelyn Trafeconty 70
Aubrey Hoskins 70
************************************************
WMS 7/8 GOLF
@ Ark City
Monday, Apr 9, 2018
2 MAN SCRAMBLE
GIRLS
Kasiah Richmond & Elizabeth Harriger - 54 / tied for 1st (finished 2nd in list playoff)
Elly DeJarnett & Emma Stover - 57 / 4th
BOYS
Caiden Lawrence & Brett Wycoff - 47 / 4th
Carson Nugen & Taylon Ellis - 49 / dnp

There were 11 girls teams and 17 boys teams - Great Showing Knights!!!
 
********************************
WMS 7/8 GOLF
@ Augusta
Thursday, Apr 5, 2018
Deitrek Gill - 41  1st
Parker Dodds - 49  5th
Parker Smith - 64
Carson Nugen 60
Kasiah Richmond - 61 5th (tie)
Elly DeJarnett - 77
Emma Stover - 77
Elizabeth Harriger - 82
BOYS TEAM SCORES (4 scores)
Augusta - 191
Wellington - 214
Winfield - 240
Rose Hill - 251
Ark City - 251

GIRLS TEAM SCORES (3 scores)
Winfield - 175
Augusta - 185
Ark City - 185
Wellington - 214
Rose Hill - 219
Congratulations to Deitrek Gill and Parker Dodds who finished 1st and 5th respectfully - great job gentlemen!

************************************
2017
The WMS 7/8 Golf Season came to a close on Thursday @ Winfield with our girls only competing in a 5 team tournament. Ponca City as a team came in first at 235 followed by Ark City 243, Winfield 243, Wellington 255 and Augusta 258. Individually the top 9 hole score was 53...Lauren Bales of Wellington shot a 58, Payton Ginter a 59 and Taylor Heasty 69. Congratulations to these girls as well as the boys at WMSthat made this golf season such a success - way to go KNIGHTS and LADY KNIGHTS!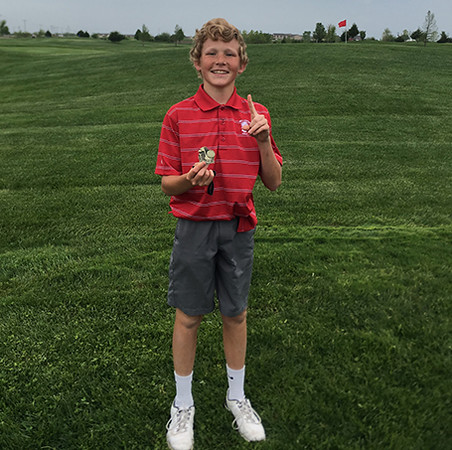 SIERRA HILLS
BOYS: Blake Saffell - 1st (1 under par) Team - Wgtn 1stDefeated 2nd place team (AUGUSTA) by 74 strokes! 5 Knights finish in TOP 10! GIRLS: Payton Ginter - 2nd / Team - Wgtn 3rd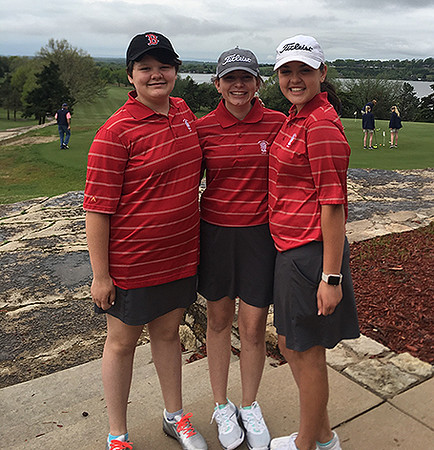 The young lady members of the WMS 2017 Golf Team ventured south to Ponca City on Monday for "girls-only golf" action. Team-wise the top 3 finishers were Ponca Red (229), Ark City (243) and Winfield (245) - WMS with just "3" golfers on the day were "1" short for a "team score". Payton Ginter shot 59 and finished 6th and medalled individually. Lauren Bales came in with a 61 and Taylor Heasty a 63 - good showing Lady Knights!!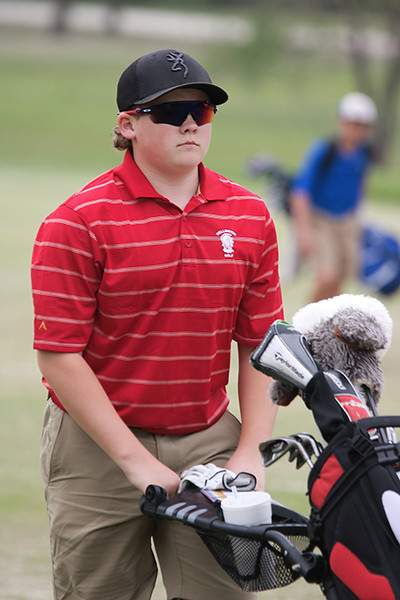 The winning ways of the WMS GOLF KNIGHTS continued on Thursday, this time on home turf. The middle schoolers hosted teams from Augusta, Winfield, Rose Hill, Ponca City and Ark City out at the Wellington Golf Club for the 9 hole competition. The Boys as a team shot a 167 which was 34 strokes betterthan 2nd place finisher Augusta (201). Winfield (227), Ponca City (236) and Rose Hill (270) completed that slate. Jace Lawrence shot 39 to finish 1st, followed by teammate Deitrek Gill (40-2nd) and Blake Saffell (42-3rd). Luke Scheufler came in at 46 for 6th, Kenny Fehrman 49 for 10th and Parker Dodds a 64.For the Girls, Wellington placed 4th at (185) ahead of Rose Hill at (225). The top 3 on the Girls side were Winfield (163), Ponca City (165) and Ark City (170). Payton Ginter finished 4th at (53) followed by Lauren Bales (62) and Taylor Heasty (70). There were 19 Knights and Lady Knights on the course - due to time restrictions I wasn't able to capture everyone this go-round!
 GREAT JOB KNIGHTS & LADY KNIGHTS!

WMS GOLF INVITATIONAL PICS 041317




More success on Tuesday for the Middle School Knight Golfers- in Ponca City, the WMS Golf Team came in 1st out of 11 teams, defeated the 2nd place team by 17 strokes! Congratulations to Coach DeJarnett and the team!! TEAM RESULTS: WMS 331, Stillwater Gold 348, Ponca City Red 364, Stillwater Blue 386, Winfield 451, Perkins 457, Ark City 460, Ponca City Blue 471, Enid 479, Ponca City White 483, Pawnee 499. Wellington's Blake Saffell (75) finished FIRST!! Awesome job Blake!! Deitrek Gill shot an 84 for 4th, Jace Lawrence and Luke Scheufler shot 86's for 5th and Kenny Fehrman in with a 99. Congratulations KNIGHTS - !!!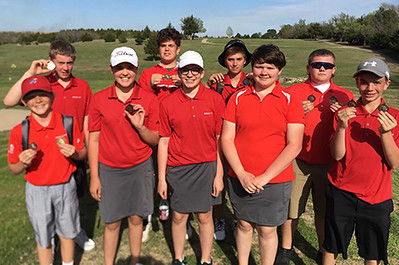 Congratulations to the Knight and Lady Knight GOLFERS!! The BOYS as a team placed 1st at Ark City Monday and "4" of the BOYS received medals! (Luke Scheufler, Blake Saffell, Deitrek Gill and Jace Lawrence) On the GIRLS side - congrats to Peyton Ginter who finished 3rd and medaled!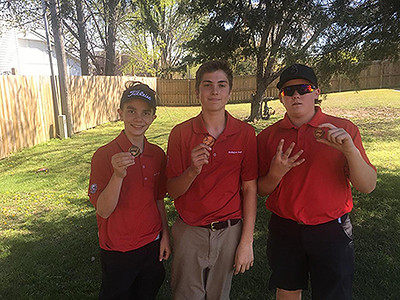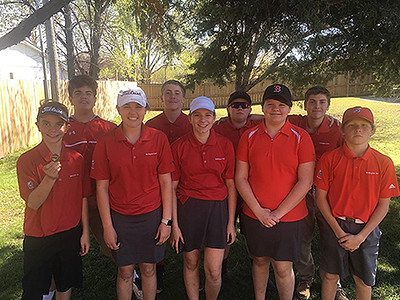 The WMS 7/8 Golf Squad saw their first 2017 action Thursday in Augusta. The boys ended up with "3" medalists (Deitrek Gill, Luke Scheufler and Jace Lawrence) and as a team snagged the 1st place trophy! Gill finished FIRST overall at 42,Scheufler THIRD at 43 and LAWRENCE FOURTH at 43. Blake Saffell shot a 45, Kenny Fehrman 54 and Parker Dodds 60. Behind Wellington (173) in the Boys Team Standings: Augusta 204, Winfield 236 and Rose Hill 277. On the GIRLS side team-wise: Ark City 170, Augusta 184, Winfield 191, Wellington 216 and Rose Hill 237. For Wellington, Lauren Bales came in with a 68, Peyton Ginter a 71 and Taylor Heasty a 77. Congrats on a great day KNIGHTS & LADY KNIGHTS!