Tournament Ends For Wellington's 16-18 yo's (15 yo's & 10 yo's advance!)
The 2017 Sr. Babe Ruth Tournament at Hibbs-Hooten wraps up today with single elimination bracket play, beginning at 10AM. Unfortunately, both the Wellington Host Team and also Walnut Ark Valley Team (primarily Wellington boys) didn't make it out of pool play with enough wins to advance to this final day of action. Both squads came up short on Saturday to seal their fates. Our Host team ended up 1-2 in pool play action, WAV ended at 0-3.

Walnut Ark Valley went up against a very solid Liberal and fell short in the end 4-14. Liberal will advance to today's bracket action having gone 3-0 in pool play since Thursday. For the 2nd game in a row, Wellington's Derek Driskell snagged the WOW Award and his teammate (from Oxford) Cal Shimkus was named MVP - congrats to both of these young men. Hayden Baker came in to pitch in relief early on and found some success but Liberal was too much to handle in the end - tournament over for Walnut Ark Valley.

The final pool play game on Saturday pitted 1-1 Wellington Host Team against 1-1 Cottonwood Valley. The winner would play at 12:30pm today, the loser would go home or as it turns out, stay home. Wellington Host Team came up short in this final contest, falling to CVL 2-7 and falling to 1-2 overall in tournament pool play action. MVP honors for Wellington went to Michael Ledbetter who caught several difficult (sun in your eyes) balls to right field to help keep the game close. The WOW Award went to Caleb Reichenberger (like Driskell on WAV team, the 2nd game in a row to receive this award!) - Caleb covered a lot of ground in center field and in the picture you see below, he gives it his all to cover that ground. Congrats to both of these young men!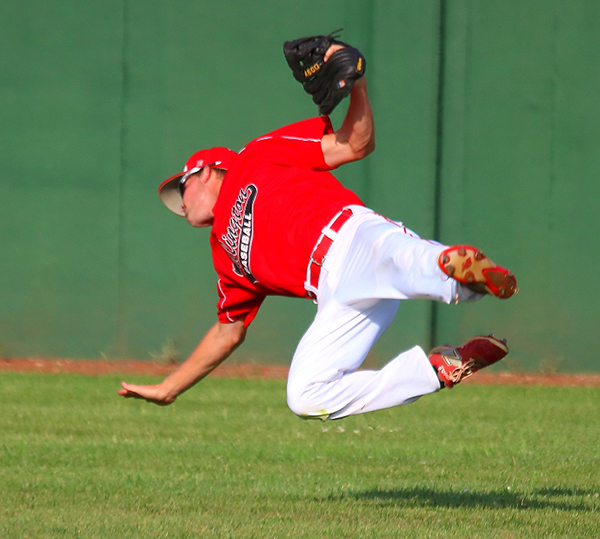 In other Babe Ruth and Cal Ripken State Tournament action on Saturday, we have better news to report. Congratulations to both our 15 yo's in State action at Peabody and our 10 yo's in State action at Harper...both moved to 2-0 in pool play Saturday and both are in the driver's seat for single elimination bracket action on Monday.

In Peabody, the Wellington boys defeated Cottonwood Valley 12-7. Gage Cunningham was named MVP and his teammate Julian Burden pulled in the WOW Award. Wellington goes up against Liberal today at 3:30PM, both 2-0 in the same division so today's game will determine "seeding" status for Monday's bracket action. Congrats to our 15 yo's - you are representing well - keep it going!! Reportedly, Rose Hill and Columbus will be the likely reps from the other division in Monday's bracket/championship play.
Out in Harper, Wellington's 10 yo's walked off the field at game's end as victors for the 7th time in a row in this 2017 tournament trail journey they find themselves on! They defeated Lakin Saturday, 9-5 (most runs scored on Wellington in any of the 7 games) and will go up against Pittsburg today at 5:00PM, they too at 2-0 in pool play. Should be a great game! Dominic "Duck" Jimenez was Wellington's MVP and Tanner Kelly received the WOW Award. Good Luck today gentlemen - you are shining big time - keep it going!

More updates as they become available - congrats to both of Wellington's Sr. Babe Ruth Teams who battled hard at this year's 16-18 yo State Tourney. It's impressive a town our size has 22 young men that age that play ball so well. They could have chosen 5 or 6 from each squad and went into the tournament that way but look at all the great experience the 22 had being able to participate. That's what it is all about when it is said and done. Proud of every one of them and their coaches. Great Job gentlemen!