WHS Track & Field Begins - Sunscreen Sales Down
This has been a fun year for me. Have been able to be a part of the new KWHS NEWS team at WHS, which is part of the WHS YEARBOOK team at WHS taught by Ms. Katie Ford...this merger has benefit, including the participation of students in all of the associated processes!

These pictures here today from the Clearwater Track Meet on Friday, were taken by WHS students Averie Burns, Drake Hendrix and Kenny Farley. (and perhaps others) Considering the conditions - they did an awesome job.

2 of those 3 and other students, will be involved in this coming week's KWHS newscast - we are all having fun working together! I'm very impressed with the young Crusaders abilities in this regard. GO CRUSADERS!!
These are not official numbers but the first track meet at Clearwater HS each year is always unpredictable weather-wise. Spring hasn't quite taken hold and usually you prepare for the worse. There have been some unbelievably nice events weather-wise, but often, it has been like Friday or even worse. So, kudos to the athletes, coaches, fans, and WHS Yearbook students that braved the elements!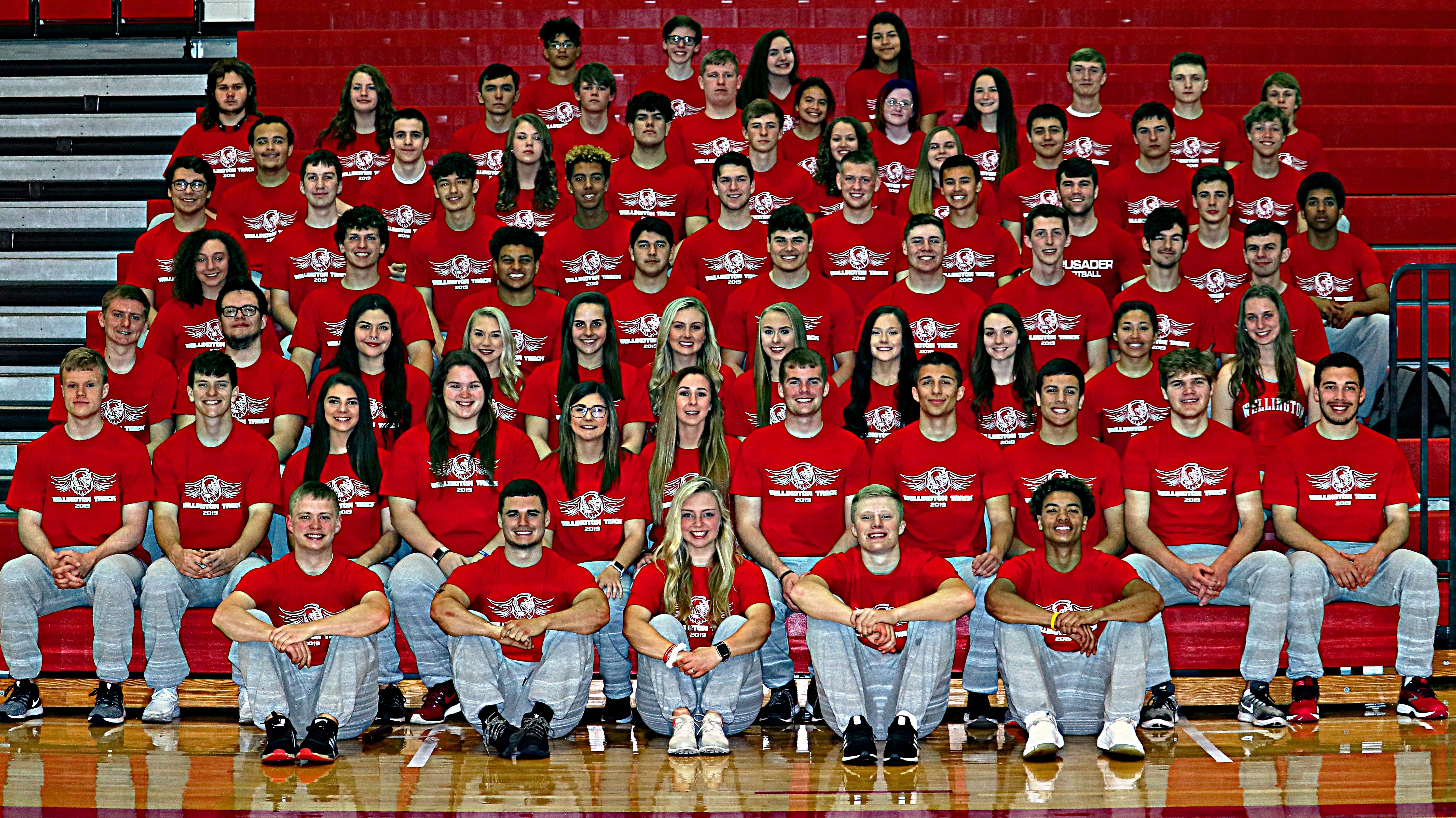 Prior to the team's departure Friday from WHS, we were able to get a nice team pic and individual pics of 17 of the 18 seniors. (not pictured Eric Kop) Those are posted here on this page - click the link to the MEET ACTION PICS where you'll find over a 100 nice shots, courtesy of WHS Yearbook photographers. (Team Pic and individual Senior Pics - taken by wellington.cc)
CLEARWATER INVITATIONAL TRACK MEET PICS 032919
(courtesy of WHS Yearbook Photographers - Averie Burns, Drake Hendrix and Kenny Farley)
CRUSADER RESULTS
BOYS HIGH JUMP
7 Schettler, Dustin Wellington 5-02.00
8 Ybarra, Braden Wellington 5-00.00
8 Washington, Tayshawn Wellington 5-00.00
10 Parker, DeVontre Wellington J5-00.00
GIRLS POLE VAULT
1 LeGrand, Elise Wellington 6-08.00
BOYS POLE VAULT
1 Green, Colin Wellington 7-02.00
3 Koehler, Chase Wellington 6-08.00
3 Dickenson, Dylan Wellington 6-08.00
GIRLS LONG JUMP
2 Aufdengarten, Kylie Wellington J14-08.00
3 Ricke, Camryn Wellington 14-07.50
10 Rademacher, Sierra Wellington 12-04.50
BOYS LONG JUMP
2 Cullens, Michael Wellington 18-08.00
3 Hatfield, Grey Wellington J18-08.00
4 Washington, Tayshawn Wellington 18-07.50
9 Barton, Chi Wellington 17-04.50
11 Schettler, Dustin Wellington 17-03.75
12 Reichenberger, Caleb Wellington 16-10.00
15 York, Gavin Wellington 16-04.00
20 Bevan, Braeden Wellington 14-05.50
21 Vargas, Zander Wellington 13-11.50
GIRLS TRIPLE JUMP
2 Aufdengarten, Kylie Wellington 28-08.50
BOYS TRIPLE JUMP
2 Cullens, Michael Wellington 38-09.50
GIRLS DISCUS THROW
1 McCorkle, Brooke Wellington 94-06
4 Meyer, Taylor Wellington 77-08
13 Baccera, Jamie Wellington 59-10
14 Reitz, Liz Wellington 50-11
15 Reyes, Antonia Wellington 44-08
BOYS DISCUS THROW
2 Probst, Trayson Wellington 108-07
6 Fehrman, Kenny Wellington 95-06
11 Dickinson, Devin Wellington 88-00
19 Clark, Trevor Wellington 79-00
21 Gageby, Nevin Wellington 75-01
22 Farley, Kenny Wellington 73-05
23 Love, Travese Wellington 70-07
27 Kobane, Jaysone Wellington 64-03
28 Blair, Timothy Wellington 64-02
GIRLS JAVELIN
2 Meyer, Taylor Wellington 102-11
10 Burns, Averie Wellington 58-05
11 Baccera, Jamie Wellington 56-00
14 Thorton, Victoria Wellington 47-09
15 Gonzalez, Emberly Wellington 45-00
16 Reitz, Liz Wellington 41-03
17 Reyes, Antonia Wellington 40-11
BOYS JAVELIN
2 Probst, Trayson Wellington 123-00
9 Soria, Jake Wellington 99-08
10 Rusk, Trace Wellington 98-04
13 Love, Travese Wellington 89-09
17 Soles, Austin Wellington 84-04
19 Clark, Trevor Wellington 75-07
20 Bryant, Hunter Wellington 75-00
22 Kobane, Jaysone Wellington 68-03
23 Gageby, Nevin Wellington 59-00
24 Blair, Timothy Wellington 58-00
GIRLS SHOT PUT
5 Burns, Averie Wellington 27-07.75
6 Baccera, Jamie Wellington 26-05.00
10 Meyer, Taylor Wellington 24-08.00
15 Reitz, Liz Wellington 21-09.00
16 Gonzalez, Emberly Wellington 21-05.00
17 Reyes, Antonia Wellington 20-07.25
18 Thorton, Victoria Wellington 15-06.75
BOYS SHOT PUT
2 Fehrman, Kenny Wellington 36-09.50
3 Probst, Trayson Wellington 36-09.00
5 Clark, Trevor Wellington 35-05.00
9 Love, Travese Wellington 34-01.00
13 Farley, Kenny Wellington 30-05.00
16 Soria, Jake Wellington 29-09.00
18 Hilt, Isaac Wellington 28-02.00
20 Gageby, Nevin Wellington 27-10.00
22 Kobane, Jaysone Wellington 27-03.00
25 Blair, Timothy Wellington 25-03.00
BOYS 100M DASH
2 Buckman, Christian Wellington 11.57
3 Rausch, Blake Wellington 11.86
4 York, Gavin Wellington 11.93
6 Hatfield, Grey Wellington 12.04
9 Barton, Chi Wellington 12.24
10 Ledbetter, Michael Wellington 12.28
11 Hilt, Isaac Wellington 12.28
14 Schettler, Dustin Wellington 12.45
17 Washington, Tayshawn Wellington 12.64
20 Saffell, Zach Wellington 12.79
23 Rusk, Trace Wellington 12.81
24 Thompson, Connor Wellington 12.83
26 Dickenson, Dylan Wellington 12.95
28 Soles, Austin Wellington 13.11
29 Parker, DeVontre Wellington 13.20
31 Green, Colin Wellington 13.39
34 Stone, Wylee Wellington 13.52
38 Bevan, Braeden Wellington 14.02
40 Koehler, Chase Wellington 15.63
GIRLS 100M DASH
1 Young, Jordan Wellington 13.42
3 Jensen, Jennifer Wellington 13.93
4 Troutman, Skylar Wellington 14.15
7 LeGrand, Elise Wellington 14.48
8 Aufdengarten, Kylie Wellington 14.62
11 Cubbage-Williams, Amber Wellington 15.02
BOYS 200M DASH
3 Rusk, Trace Wellington 26.01
6 Bevan, Braeden Wellington 27.98
7 Ledbetter, Michael Wellington 29.28
GIRLS 200M DASH
2 Young, Jordan Wellington 28.80
5 Aufdengarten, Kylie Wellington 31.22
8 Cubbage-Williams, Amber Wellington 32.41
BOYS 110M HURDLES
2 Kop, Eric Wellington 16.80
3 York, Gavin Wellington 17.58
5 Reyes, Nic Wellington 18.56
10 Hendrix, Drake Wellington 21.43
11 Thompson, Connor Wellington 22.98
GIRLS 100M HURDLES
6 LeGrand, Elise Wellington 18.99
BOYS 4x800M RELAY
2 Wellington A 9:16.94
1) Brown, Tyler 2) Reichenberger, Caleb
3) Walker, Billy 4) Pfalzgraf, Chase
5 Wellington B 10:23.36
1) Dickenson, Dylan 2) Parkey, Camden
3) Ybarra, Chilson 4) Ybarra, Braden
BOYS 1600M RUN
1 Walker, Billy Wellington 5:31.17
GIRLS 4x100M RELAY
6 Wellington B 1:04.64
1) McCorkle, Brooke 2) Meyer, Taylor
3) Burns, Averie 4) Baccera, Jamie
BOYS 4x100M RELAY
2 Wellington A 46.47
1) Kop, Eric 2) Ledbetter, Michael
3) Hatfield, Grey 4) Barton, Chi
3 Wellington B 46.76
1) Buckman, Christian 2) Rausch, Blake
3) Washington, Tayshawn 4) Hilt, Isaac
7 Wellington C 49.20
1) Schettler, Dustin 2) Thompson, Connor
3) Saffell, Zach 4) Rusk, Trace
10 Wellington D 53.99
1) Love, Travese 2) Gageby, Nevin
3) Soria, Jake 4) Fehrman, Kenny
GIRLS 400M DASH
1 Troutman, Skylar Wellington 1:11.07
3 Bacon, Morgan Wellington 1:14.95
6 Rademacher, Sierra Wellington 1:24.61
7 Smith, Carmen Wellington 1:35.16
BOYS 400M DASH
1 Buckman, Christian Wellington 53.77
3 Reichenberger, Caleb Wellington 58.12
5 Ybarra, Chilson Wellington 59.77
6 Dickenson, Dylan Wellington 1:00.10
7 Athkinson, Daniel Wellington 1:03.04
8 Saffell, Zach Wellington 1:04.04
GIRLS 300M HURDLES
6 Dickinson, Chailyn Wellington 1:02.12
7 Glover, Sadie Wellington 1:02.60
BOYS 300M HURDLES
2 Kop, Eric Wellington 43.49
5 York, Gavin Wellington 46.66
8 Reyes, Nic Wellington 49.13
10 Hendrix, Drake Wellington 50.11
11 Green, Colin Wellington 51.50
14 Thompson, Connor Wellington 56.18
GIRLS 800M RUN
8 Tredway, Abby Wellington 3:13.91
9 Rademacher, Sierra Wellington 3:25.99
BOYS 800M RUN
3 Pfalzgraf, Chase Wellington 2:20.23
7 Ybarra, Braden Wellington 2:35.67
9 Athkinson, Daniel Wellington 2:42.29
10 Dickinson, Devin Wellington 2:44.76
11 Koehler, Chase Wellington 2:49.58
12 Starnes, Caleb Wellington 2:50.33
BOYS 3200M RUN
1 Brown, Tyler Wellington 11:44.13
4 Parkey, Camden Wellington 12:01.82
***************