Varsity Football Season Ends @ 3-6/Bulldogs 27 Crusaders 6
The 2020 WHS Varsity Football season came to an end Friday evening here at HOME vs historical rival Ark City, final score 27-6. Of course, due to Covid and Health Dept. restrictions, the 25% capacity crowd would have been much larger, but not for, those aforementioned conditions. Even with the fans absence, there's still a lot of "awesomeness" to be in the stadium or along the sideline. Just soaking in the atmosphere, and enjoying a challenging sport,  played out by the hearts and souls of our community, our kids. All of that unfolds before your eyes and win or lose, memories have always been made. I'll never not like that part of it. 

The Bulldogs got on the scoreboard quickly and lead 13-0 at the end of the 1st qtr. The game was still anybody's to win and the Crusaders knew that. In the 2nd qtr., Dustyn Schettler was able to find paydirt on a 14 yd run and Jack Wright, with his center Hagen Wright and holder RJ Clift, would put it through the uprights, as this trio has done consistently all season, only to have it nullified by a penalty and unfortunately, unattainable on the 2nd attempt. We didn't know at the time, but that would be the last score for the 2020 Irondukes, who's 3-6 record was just a short jog away from a 5-4 finish. A couple games earlier in the season, were 1 TD losses, one of those in overtime. There's always "what ifs" but this squad played good football often, but not often enough apparently for that ending all would have rather had. They got 9 games in which, in this crazy world, was an accomplishment in and of itself. The Seniors walk away with experiences they'll talk about for a lifetime. When you look at this preseason pic of them, you also  realize every one of them contributed to the overall effort in many different ways.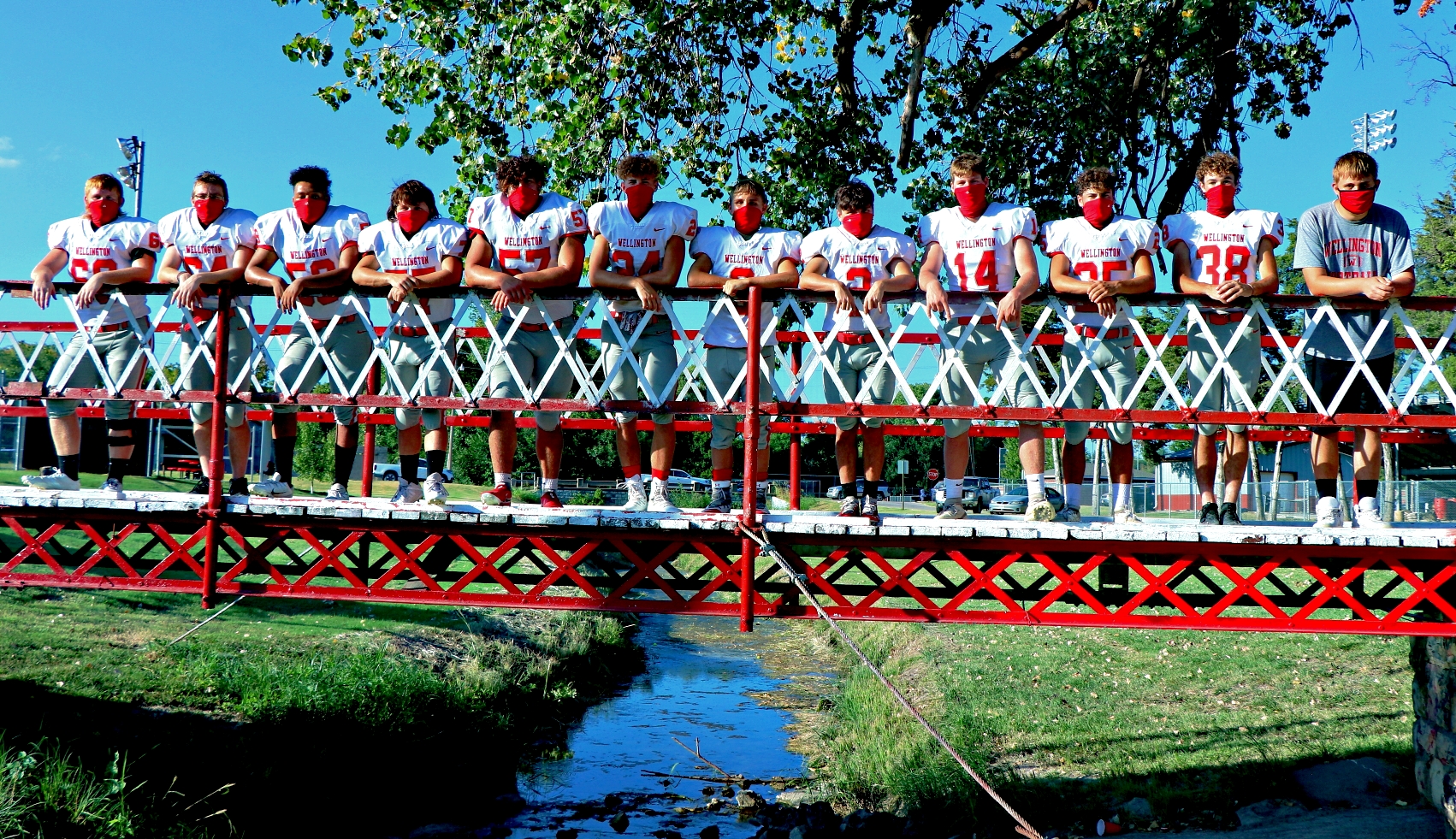 WHS Jr. Dustyn Schettler continued to shine in the rushing department. For the 3rd game in a row (possibly 4th or 5th, I don't have stats from Ulysses game), the 3 games since Ulysses, Dustyn has had 167, 169, and 135 yards rushing. The game just before the Ulysses game, 127 yds. There is a solid group of juniors, sophomores and freshmen on hand, and a solid group coming right behind them. You can never predict the future, but this group of Seniors gave it their all, and an underclassmen, hungry group bitin' at the bit to get back at it. That is Crusader Football.

Hopefully by next FALL, full bleachers and smiling faces you can actually see, will be the norm and hopefully, everyone that is here now, will be here then, on both sides of the fence. GO BIG RED! Together we are STRONG!!

ACHS 13 00 14 00 - 27 (now 3-6)
WHS 00 06 00 00 - 6 (end @ 3-6)
RUSHING
Dustyn Schettler 21/135 yds TD (14 yd run)
Berkeley Wright 10/32 yds
Mekhi Haskin-Ybarra 2/16 yds
Trenton Bannister 3/14 yds
Trace Rusk 2/7 yds
Michael Cullens 3/1 yd
Kannon Klein 1/-3 yds

PASSING
Berkeley Wright 5/12 for 29 yds
RECEIVING
Trenton Bannister 1/20 yds
Cope Henry 1/10 yds
Montel Tate 1/ 8 yds
Dustyn Schettler 1/-3 yds
Michael Cullens 1/-6 yds
OFFENSIVE YDS
RUSHING 202 yds
PASSING   29 yds
TOTAL     231 yds
FUMBLE RECOVERIES / INTERCEPTIONS
Mekhi Haskin-Ybarra INT
RJ Clift INT
FIRST DOWNS
ACHS 18 WHS 13
PUNTS
Berkeley Wright 2/91 yds
Cope Henry 1/29 yds

PAT/FG
Jack Wright / RJ Clift / Hagan Wright - 0/1 PAT