Incoming Freshmen thru Senior Girls for 2017-2018 school year attended in good numbers Tuesday at the 1st day of 4 slated for this summer's HIGH SCHOOL GIRLS BASKETBALL CAMP! The MIDDLE SCHOOL CAMP follows each day this week as well...hope to have pics from that to share before week's end! Again, good turnout today and Coach Adams, Coach Strothman and Coach Brown got down to business...here are a few pics from CAMP DAY 1!
HIGH SCHOOL GIRLS BASKETBALL CAMP PICS 053017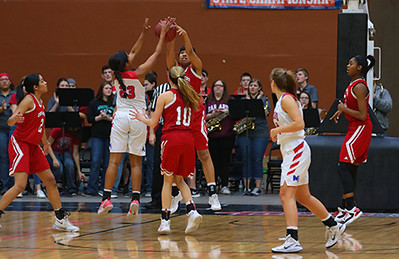 STATE 4A GIRLS BASKETBALL UPDATE Wellington 49 Bishop Miege 63 Lady Crusaders season ends at 17-6 WE ARE PROUD OF THESE YOUNG LADIES!
LADY CRUSADERS vs BISHOP MIEGE ACTION PICS 030917
2017 4A SUB-STATE CHAMPIONSHIP TROPHY PIC & SMILES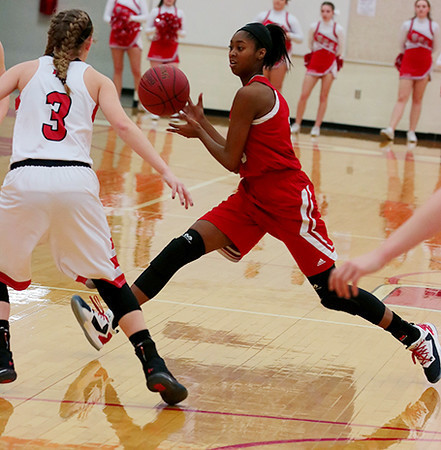 The WHS Lady Crusaders' desires to return to the STATE 4A TOURNAMENT in Salina for the 2nd consecutive year was tooooo much for the Lady Rockets of Rose Hill to overcome, even on their home court Saturday evening in the 38-35 WHS, 4A Sub-State Championship Final Game. A close game throughout, fraught with foul problems at times, the never say die Lady Crusaders held on for a close 3 pt win to advance (again, for the 2nd consecutive time) to STATE 4A TOURNAMENT action in Salina commencing on Thursday of this coming week. #6 seed Wellington vs #3 seed Shawnee Mission Miege @ 8:15PM / Tony's Pizza Event Center. Scoring honors go to both Avery Rusk and Lauryn Snipes, both with 13. Clutch free-throw shooting by RUSK down the stretch sealed the deal for Wellington's trip north next week. Shayland French had 7 pts., followed by Jacelyn Buck with 3 and Tayland French with 2. A large contingent of Crusader Fans were on hand for this game (and the boys game) - the crowd erupted at the buzzer - we're going back to SALINA!! 

LADY CRUSADER vs ROSE HILL ACTION PICS 030417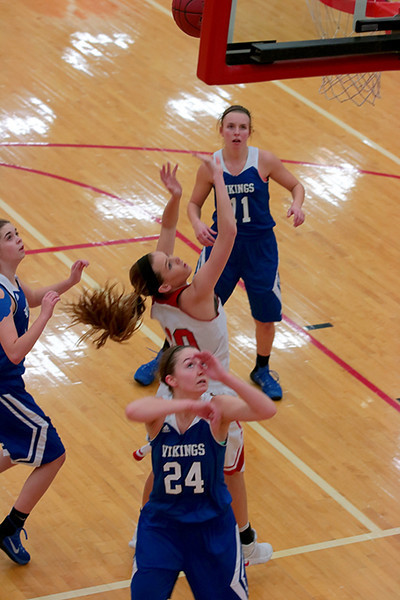 It was semi-final action at 4A Sub-State in Rose Hill Friday evening for the Lady Crusaders, Lady Vikings, Lady Rockets and Lady Wildcats. In the opener, our very own WHS Lady Crusaders pulled away in the 2nd half vs Winfield, much like the Crusaders on Thursday did vs Rose Hill. Up only 4 at half, the Wellington girls Friday doubled their score by 3rd quarters' end and added another 15 down the stretch to defeat the Lady Vikings and send them packing for another year, final score Wellington 57 Winfield 38.
In the nightcap Friday, host Rose Hill downed Mulvane 48-24 to advance and meet up for the 4th time this season with the Lady Crusaders on Saturday in the SUB-STATE 4A CHAMPIONSHIP GAME beginning at 6:00PM at Rose Hill HS. Following that game, it will be Wellington's Crusaders vs Mulvane's Wildcats!(also for the 4th time this season) The winners of these two games Saturday advance to the STATE 4A BASKETBALL TOURNAMENT next week in Salina. Wellington could have two teams at the State Tournament, which would be the 2nd year in a row for the Lady Crusaders and the 2nd time in 3 years for the Crusaders to make State appearances.
In the Wellington vs Winfield contest, the Lady Crusaders jumped out to an early lead but the Lady Vikings battled back and were within 4 pts. when the 1st half buzzer sounded. After the break though, Wellington exploded offensively, outscoring Winfield 22-10 in the 3rd and 15 -10 in the final qtr. The Lady Crusaders had "3" in double figures: Avery Rusk 18, Shayland French 12, Lauryn Snipes 12, Tayland French 8, Mekenna Adams 3, Jacelyn Buck 3, Chloe Wilson 1. The win advances the Lady Crusaders to 16-5 and sets the stage for another possible trip to the State 4A Tournament next week.
CRUSADER HEARTS are beating strong - GO BIG RED!
LADY CRUSADER ACTION PICS vs LADY ROCKETS 030317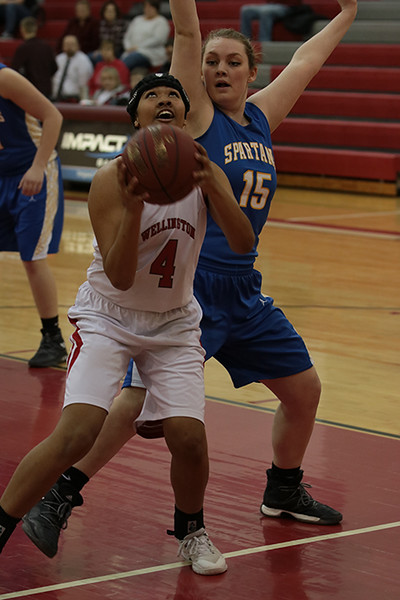 VARSITY GIRLS: WHS 51 CHS 22
End Regular Season @ 15-5
JV GIRLS: WHS 42 CHS 11
LADY CRUSADER ACTION PICS vs COLLEGIATE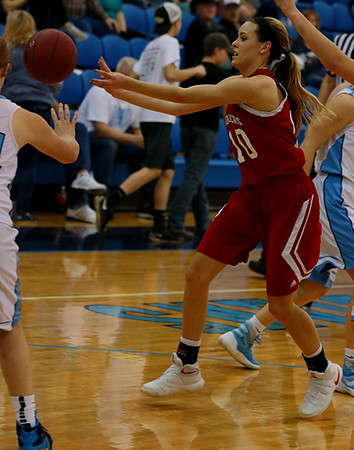 GIRLS
Varsity: Wellington 48 Clearwater 19 (Now 14-5)
Jr. Varsity: Wellington 43 Clearwater 28
"C" Team: Wellington 37 Clearwater 38
LADY CRUSADER ACTION PICS vs CLEARWATER 022117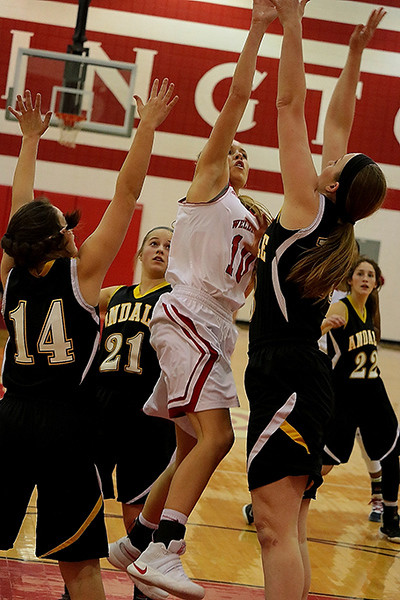 The Varsity Lady Crusaders came to play Friday night and controlled the tempo for nearly the entire game. With a margin of 8 pts. at half, Wellington would sustain and add to that down the stretch to avenge their earlier season loss by 5. Final score this time around Wellington 47 Andale 35. An awesome job by the Lady Crusaders who move to 12-4 on the season. "3" Lady Crusaders were in double figures, Lauryn Snipes pumped in 16, followed by Tayland French 12 and Avery Rusk 11. Shayland French and Jacelyn Buck both added 4.
"C" TEAM GIRLS
Andale 53 Wellington 20
Natalie Henning 9, Delaney Parkey 5, Hope Maxwell 4, Cassandra Moody 2
JV GIRLS
Andale 46 Wellington 25
Gracie Fink 9, Natalie Henning 6, Chloe Wilson 6, Taylor Meyer 4
LADY CRUSADER ACTION PICS vs ANDALE 021017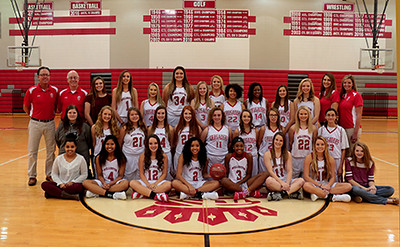 The WHS Lady Crusaders battled hard Saturday in day #3 at the 44th annual Haven Wildcat Classic at Haven High School...after a a big 2 OT win on Thursday vs Rose Hill and an unfortunate loss Friday to Cheney, the LADY CRUSADERS rebounded in the 3rd place consolation game vs Kingman and won by the final score of 40-38. The Ladies had to battle back in the fourth qtr from a 28-32 deficit after 3 qtrs to secure the 3rd place finish and came home with a 2-1 tourney record and now 9-4 on the season. The squad will have nearly a week off to prepare for more action on Feb. 3rd here at home vs El Dorado. That night will also be HOMECOMING with the DUKE CORONATION following the Varsity Girls game in the main gym.
SCORING vs Kingman: Lauryn Snipes 20, Shayland French 13, Avery Rusk 3, Mekenna Adams 3, Tayland French 1
CONGRATULATIONS LADIES - KEEP IT ROLLIN'!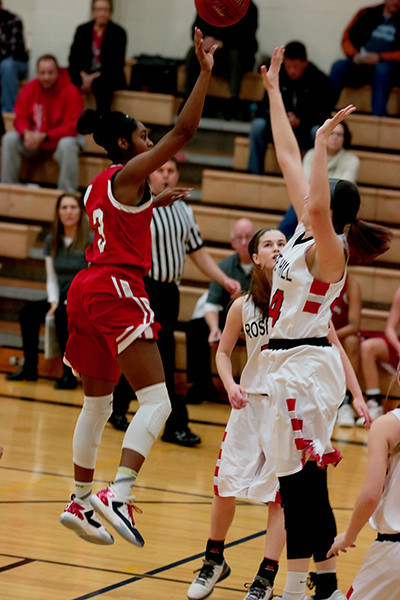 HAVEN WILDCAT CLASSIC 012617
WHAT A GAME!! The Lady Crusaders downed previously undefeated Rose Hill in 2 OT's - Final Score 55 - 52!
Last second shots by Lauryn Snipes in both OT's - in 2nd OT, it was a long "3" for the WIN!!
Lauryn Snipes 29, Mekenna Adams 9, Avery Rusk 6, Tayland French 5, Shayland French 4, Chloe Wilson 2
NEXT UP - Cheney @ 7:30PM Friday!  
LADY CRUSADERS vs LADY ROCKETS ACTION PICS 012617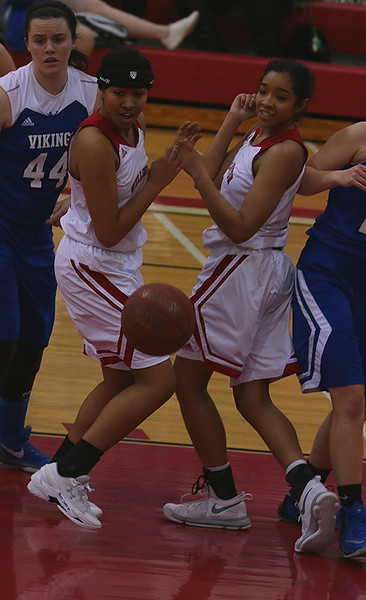 LADY CRUSADER BASKETBALL vs WINFIELD
TUESDAY RESULTS 01.17.17
"C" TEAM GIRLS: Winfield 47 Wellington 18
McKenna Jones 8, Delaney Parkey 4, Kylie Aufdengarten 2, Natalie Henning 2, Ellie Buresh 2
JV GIRLS: Winfield 48 Wellington 32
Chloe Wilson 7, Taylor Meyer 5, McKenna Jones 4, Taryn Stoddard 4, Ellie Buresh 4, Gracie Fink 2, Kylie Auftengarten 2, Jacelyn Buck 2, Natalie Henning 2
VARSITY GIRLS: Winfield 27 Wellington 49
(Move to 7-3 on the season - 5th WIN in a row!)
Lauryn Snipes 15, Avery Rusk 14, Tayland French 6, Shayland French 6, Chloe Wilson 5, Mekenna Adams 3
LADY CRUSADER ACTION PICS vs WINFIELD 011717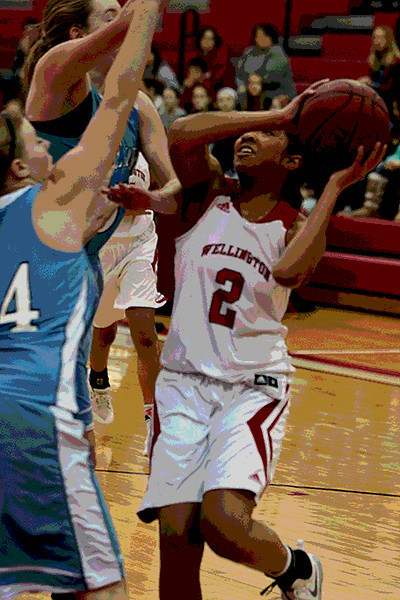 VARSITY GIRLS
Clearwater 17 Wellington 59 (Now 4-3 on the season)
Tayland French 16, Lauryn Snipes 15, Shayland French 14, Mekenna Adams 3, Jacelyn Buck 3, Gracie Fink 2
LADY CRUSADER VARSITY ACTION PICS vs CLEARWATER
JV GIRLS
Clearwater 00 Wellington 00 (No Report)
"C" GIRLS
Clearwater 22 Wellington 37
Natalie Henning 9, Delaney Parkey 8, Ellie Buresh 7, McKenna Jones 5, Hope Maxwell 4, Kylie Aufdengarten 4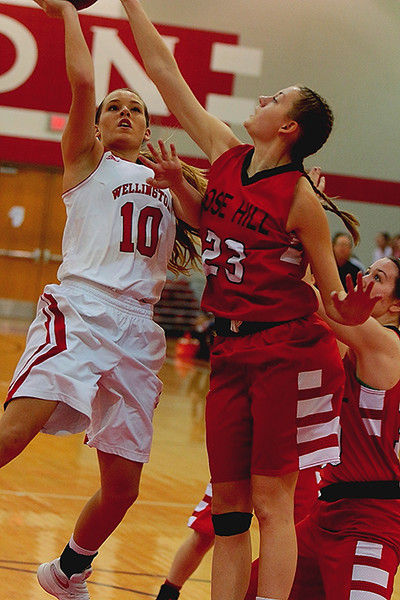 VARSITY GIRLS
RHHS 44 WHS 42 (OT) (2-3 on the season)
Avery Rusk 17, Lauryn Snipes 8, Tayland French 6,
Mekenna Adams 6, Chloe Wilson 4, Shayland French 1
LADY CRUSADER ACTION PICS vs ROSE HILL 121616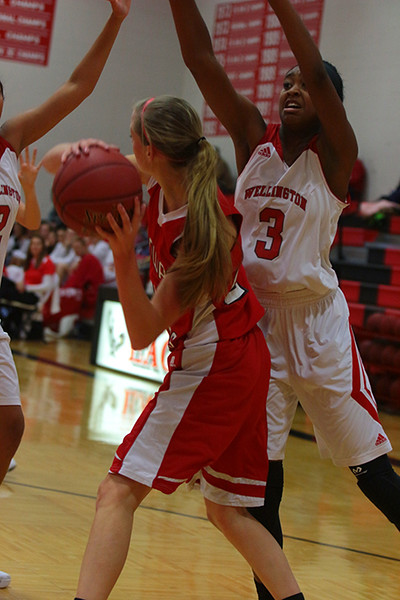 In a contest much closer than the score would indicate, the Lady Crusaders are off to a 1-0 start on the 2016-17 basketball season, downing Conway Springs in round 1 action at the 15th annual Kingman Eagle Classic, 46-39. Wellington trailed the Lady Cardinals at halftime 18-19 but a strong 4th qtr rally secured the victory. Scoring: Lauryn Snipes 16, Avery Rusk 14, Shayland French 12, Tayland French 4 // Next up - HAVEN HS @ 3:00PM Friday (@ Kingman) SIDE NOTE: The JV Girls came up short against Conway Springs 42-27! 
LADY CRUSADERS vs CONWAY SPRINGS ACTION PICS 12.06.16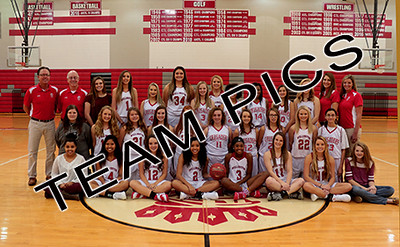 Thursday was MEDIA DAY at WHS / the 2016-17 Boys Basketball, Girls Basketball and Wrestling squads were in official game/match attire and the camera's clicked away. Here are most of the GIRLS BASKETBALL PICS!
2016-2017 WHS GIRLS BASKETBALL TEAM - LARGE PIC 120116