2018 SEASON
VOLLEYBALL 2018 / AVCTL LEAGUE HONORS
Tuesday, November 6, 2018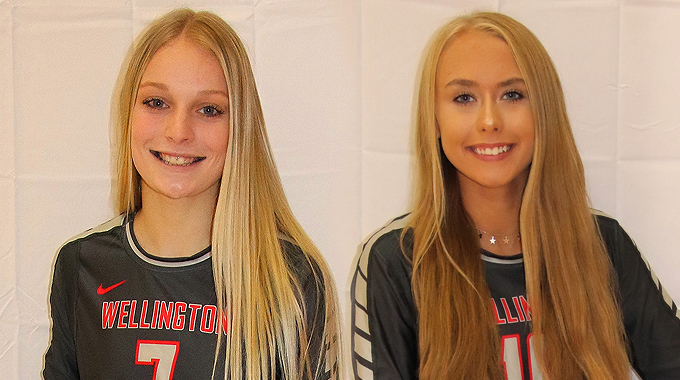 Volleyball League Honors (AVCTL DIV III & IV) were released today! Congratulations to WHS Senior Adrienne Norris for her 1ST TEAM honors and also congrats to WHS Junior Jennifer Jensen for her 2ND TEAM honors!! Great Job Ladies!!!
**************************
WHS VARSITY VOLLEYBALL
@ Rose Hill vs Nickerson
(4A SUB-STATE)
Saturday, October 20, 2018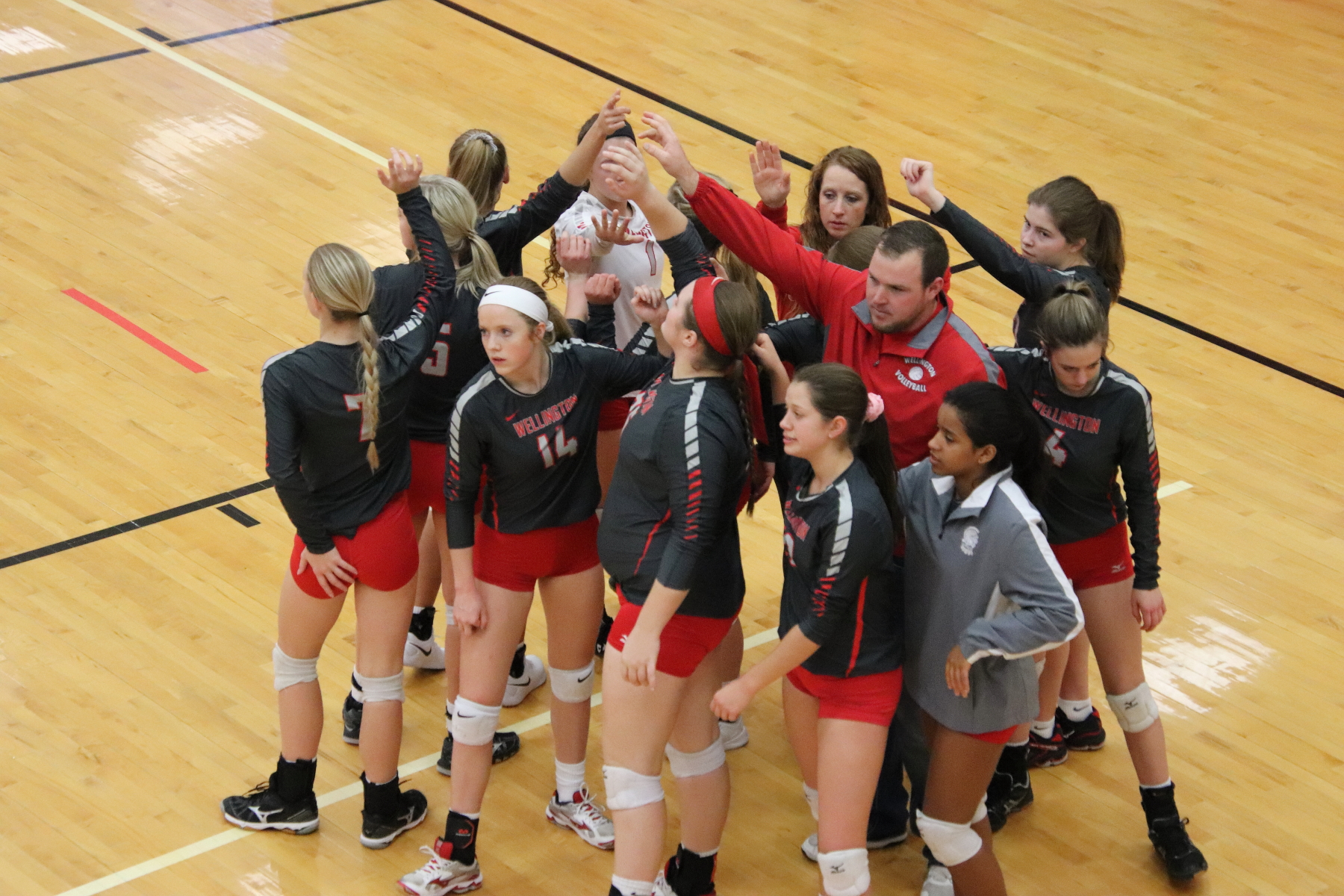 The 2018 WHS Volleyball Season came to a close on Saturday @ Rose Hill HS. 4A Sub-State action vs Nickerson didn't produce the "W" needed to advance - the Lady Crusader underclassmen will say good-bye to the courts until the 2019 season rolls around - 7 Seniors will say good-bye forever. It's always difficult when season's end, especially for the graduating Seniors. Saw several recent graduates at Sub-State 4A action in Rose Hill - the ladies have a love for the game and as their predecessors, they will be missed.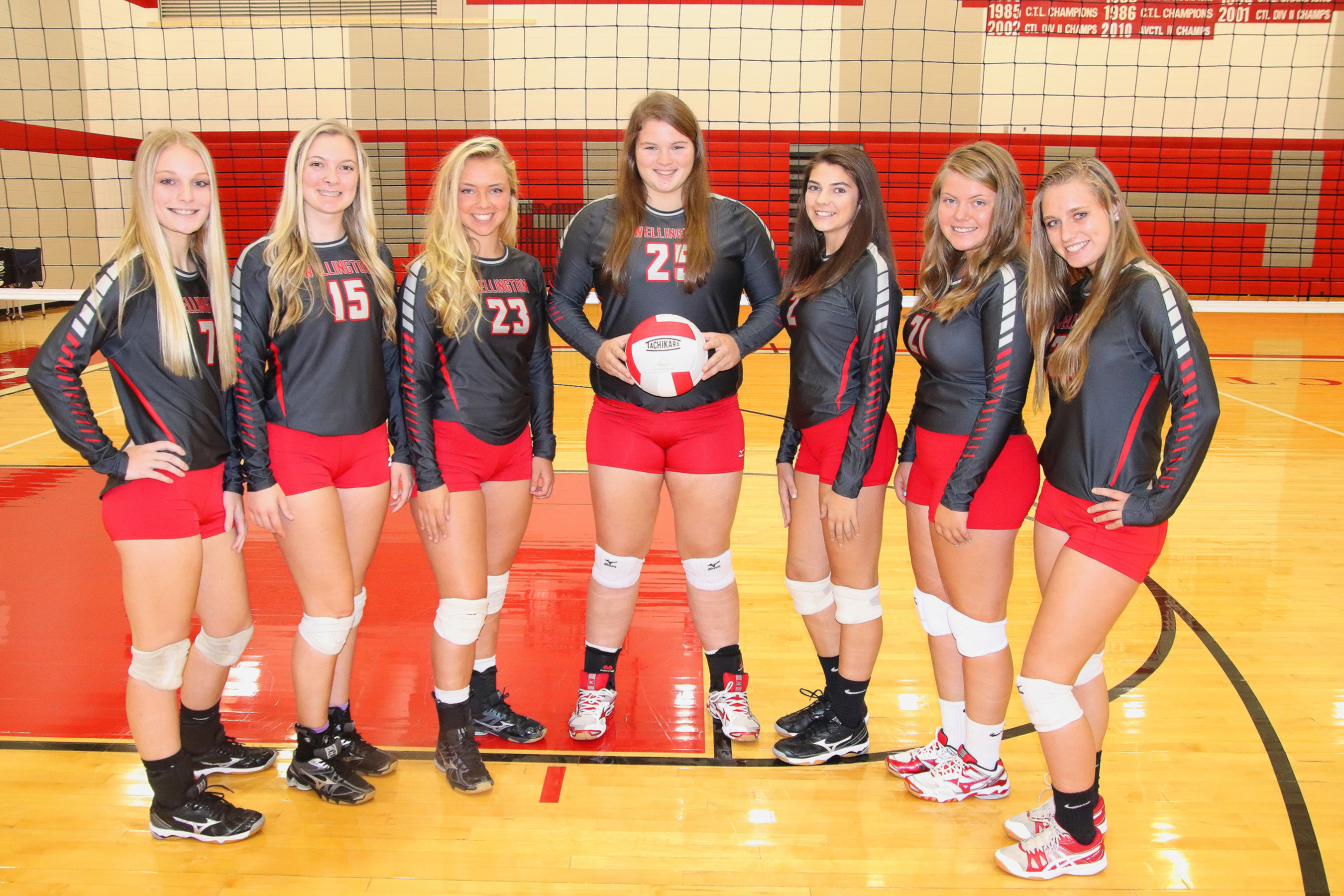 SENIORS (L to R) - Adrienne Norris, Reese Heasty, Taylor Meyer, Brooke McCorkle, Chailyn Dickinson, Delaney Parkey, & Sierra Rademacher
Rose Hill, with a season record of 31-6, emerged as 1 of 8, 4A Sub-State Champions, and will be the #4 seed in the TOP BRACKET, along with #1 seed Independence (37-2), #8 seed Topeka-Hayden (21-17), #5 seed Louisburg (32-8). 
In the BOTTOM BRACKET, the "4" Sub-State Champs include #2 seed Chanute (33-6), #7 seed Bishop Miege (21-16), #3 seed Andale (32-6), and Wichita Trinity (22-15). 4A State Volleyball this year will be at Hutchinson Community College, this coming Friday & Saturday (26th & 27th).

At Sub-State @ Rose Hill, Nickerson downed Wellington 25-16, 25-19 to advance. Rose Hill downed Buhler and then in the Championship match, downed Nickerson to advance.

Thanks for a great season Lady Crusaders - the squad finished 19-17 overall.
*************************
WHS V/JV VOLLEYBALL
HERE vs Andale/Rose Hill
Tuesday, September 25, 2018
It was VOLLEYBALL action time Tuesday at WHS, the last home stand for the 2018 Lady Crusader Volleyball Squads. "7" Seniors and their parents were honored...this is a group that has played together a long time - very familiar faces that will be missed. Andale dominated the action on the courts, downing Wellington and Rose Hill, each in 2 sets. Rose Hill came out on top of Wellington in 2 sets also. In JV action, same outcomes.
Varsity
Andale beat Wellington
10-25
15-25
Andale beat Rose Hill
25-21
25-16
Rose Hill beat Wellington
15-25
14-25
JV
Andale beat Wellington
25-27
15-25
Andale beat Rose Hill
25-17
25-16
Rose Hill beat Wellington
18-25
5-25
*****************************
WHS VARSITY VOLLEYBALL
@ Cheney HS Tournament
Saturday, September 22, 2018
The Varsity Lady Crusader Volleyball squad found success Saturday at the Cheney Tournament, finishing 2nd, behind the host. 

The Lady Crusaders finished 2nd in their pool, defeating Hutch Trinity 2-1, Chaparral 2-0 and lost to Cheney 0-2. Wellington then went up against the #1 seed from the other "pool" (Wichita Trinity) and beat them 2-1! That win placed them in the Championship Final vs. the host again and unfortunately came up short 0-2. Coach Brewster was pleased with the team's performance, felt they played well and was proud of them for that. Brooke McCorkle and Jennifer Jensen were named to the all-tourney team. One unfortunate note, Senior Adrienne Norris sprained her ankle in the pool play match vs Cheney. They are hoping for a speedy recovery!! 

Adrienne and 6 other seniors will be playing on the HOME COURT just one more time and that will be this coming Tuesday. (Senior Night) Come out and show your support for all their efforts over the years - let's give them a raucous sendoff. They will be missed. In addition to Adrienne Norris, there's Brooke McCorkle, Chailyn Dickinson, Taylor Meyer, Delaney Parkey, Reese Heasty, and Sierra Rademacher! Best wishes to all of you as your lives continue onward and upward!
*************************
WHS VARSITY/JV VOLLEYBALL
@ Collegiate Triangular (w/ Winfield)
Tuesday, September 18, 2018
The Varsity and JV Volleyball squads were in triangular action @ Collegiate as well, (w/ Winfield). Here's how both squads finished up:

VARSITY GIRLS
vs Winfield (WIN)
25-11, 25-7
vs Collegiate (WIN)
22-25, 25-13, 25-21
JV GIRLS
vs Winfield (LOSS)
24-26, 22-25
vs Collegiate (WIN)
25-18, 25-12
On the season now, the Varsity Volleyball squad is 11-7. Next action for the Varsity will be Saturday in Cheney. Next TUESDAY (the 25th) will be the last home stand for the season for the ladies, special activities are planned for that night to honor the "7" seniors.
*******
********************
WHS VARSITY VOLLEYBALL
@ Chaparral HS
Saturday, September 15, 2018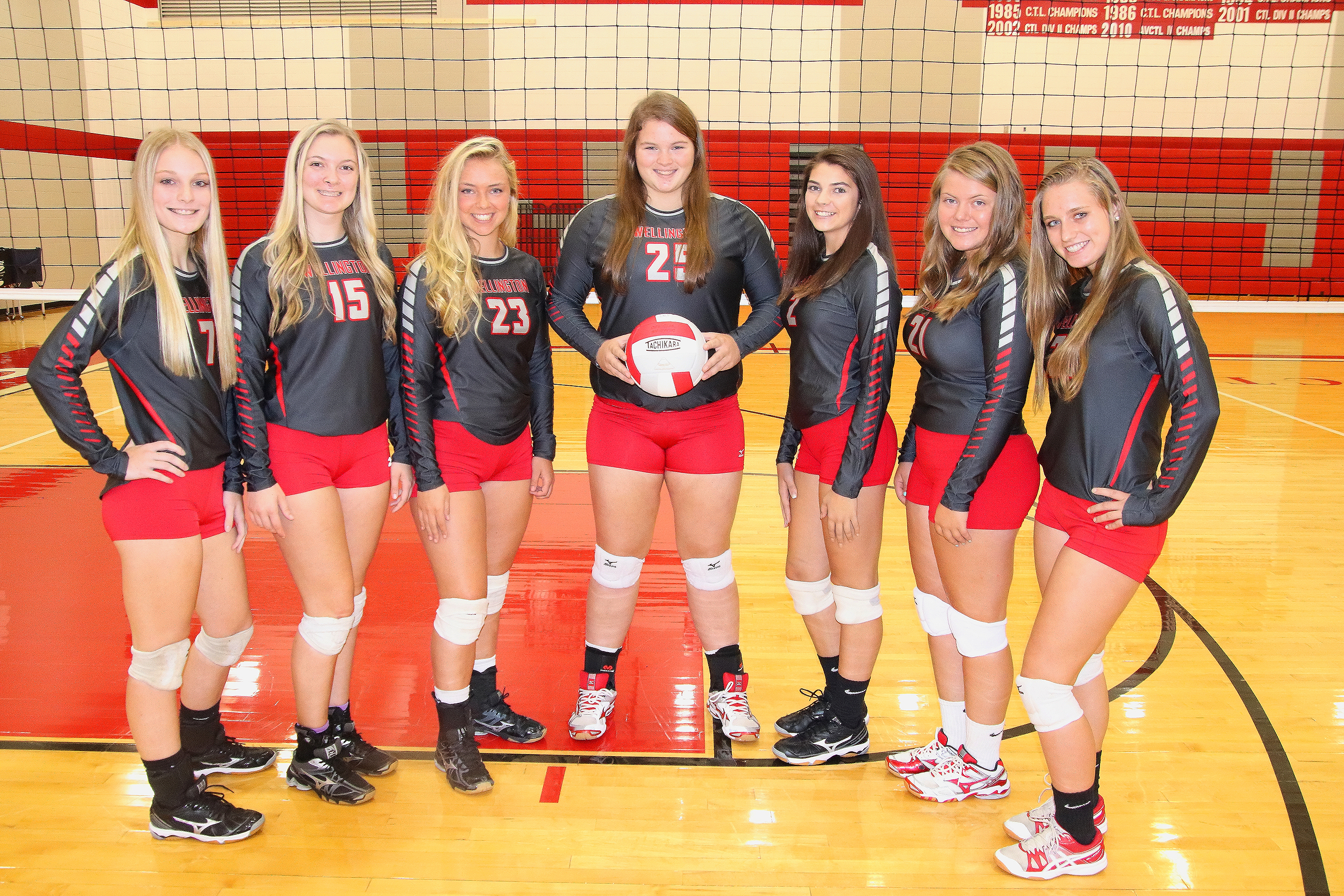 Congratulations to the WHS Varsity Volleyball squad - today, at Chaparral, the Lady Crusaders went undefeated in pool play, beating Conway Springs in 2, Chaparral in 2, and Medicine Lodge in 2. This landed the Lady Crusaders in the Championship Game vs the other undefeated team in pool play, Clearwater. Wellington won the 1st set in the Championship Final but came up short unfortunately in the 2nd and 3rd sets to finish 4-1 on the day and in 2nd place overall. Way to represent Ladies!!
VARSITY LADY CRUSADERS 7-4 on the season
Congratulations to Seniors Reese Heasty & Brooke McCorkle and Junior Jennifer Jensen - all "3" were all tournament team selectees!! Great Job Ladies!
*********************
WHS V/JV VOLLEYBALL 
@ Clearwater (w/ Circle)
Tuesday, September 11, 2018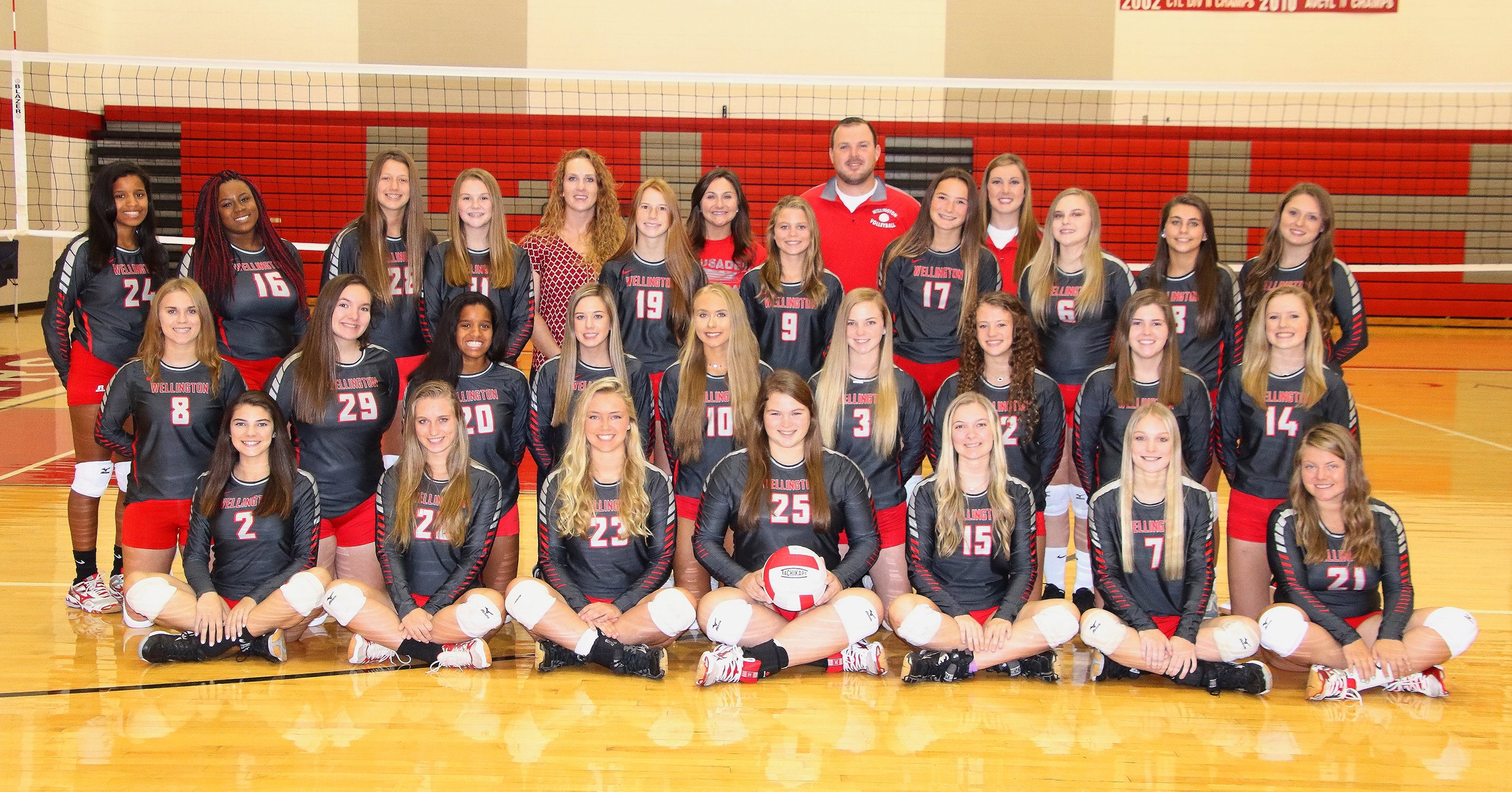 VARSITY vs CIRCLE (WIN)
25-20, 26-24
VARSITY vs CLEARWATER (LOSS)
25-19, 14-25, 20-25
VARSITY LADY CRUSADERS 3-3 on the season
JV vs CIRCLE (LOSS)
23-25. 9-25
JV vs CLEARWATER (LOSS)
15-25, 15-25
JV LADY CRUSADERS 4-2 on the season
NEXT ACTION: Varsity @ Chaparral SATURDAY (9AM) 
vs host, Belle Plaine, Clearwater, Conway Springs, Medicine Lodge, Pretty Prairie, Wichita Independent
******************************
WHS VARSITY/JV VOLLEYBALL
@ Rose Hill Triangular (w/ Collegiate)
Tuesday, Sep. 4, 2018
Defending State 4A Volleyball Champion Rose Hill was too much to handle, this go-round for our Lady Crusaders...the Lady Rockets (in Triangular action at Rose Hill w/ Collegiate), downed the Varsity Lady Crusaders in 2 sets in the opening match, 11-25, 13-25. Varsity Wellington rallied in the nightcap vs Collegiate, winning  in 3 sets, 25-20, 17-25, 25-9. It was "2" big W's for the JV Lady Crusaders, vs Rose Hill won in 3, 21-25, 25-12 , 15-10 and won in 2 vs Collegiate, 25-20, 25-7. Great job Ladies!

Next V/JV action @ Clearwater, Tuesday, Sep. 11th, beginning at 5PM!

Lady Varsity Crusaders are 2-2 in regular season action now, the JV Ladies, 4-0!
LADY CRUSADER vs LADY ROCKET PICS 090418
*******************
WHS VARSITY/JV VOLLEYBALL
Triangular HERE vs. Mulvane/Clearwater
Tuesday, Aug. 28, 2018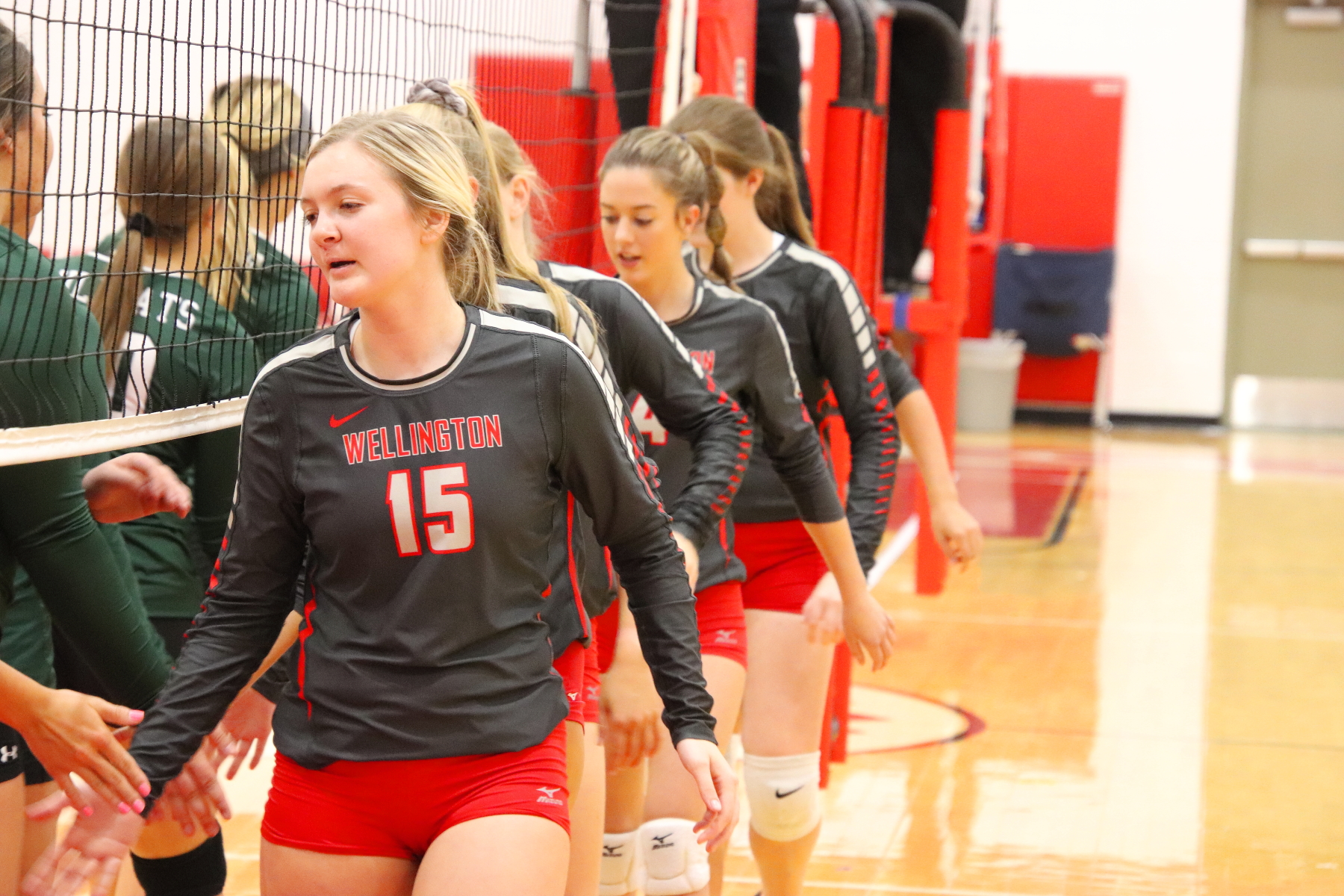 The WHS Varsity and JV Volleyball squads opened their regular season action at HOME on Tuesday, hosting both Clearwater and Mulvane in triangular action on the main court at WHS. In the end, everyone (Varsity-wise), went home with a match win and a match loss - (JV Lady Crusaders swept in "2" 3 set battles and are 2-0) - here were the overall outcomes at both ends of the court.
VARSITY/JV COURT ACTION PICS 081818
VARSITY
Wellington vs Mulvane
19-25, 25-16, 24-26
Mulvane won
Mulvane vs Clearwater
15-25, 19-25
Clearwater won
Clearwater vs Wellington
25-27, 25-27
Wellington won
JR. VARSITY
Wellington vs Mulvane
11-25, 25-16, 25-20
Wellington won
Mulvane vs Clearwater
14-25, 11-25
Clearwater won
Clearwater vs Wellington
25-21, 19-25, 23-25
Wellington won
Next Varsity/JV action @ Rose  Hill on Tuesday, Sep. 4th!(Freshmen host this Thursday at WHS!)
/*/*/*/*/*/*/*/
WHS VARSITY VOLLEYBALL
@ Winfield HS / Pre-Season Warm-up
Saturday, Aug. 25, 2018
The season got underway Saturday at Winfield HS for the Lady Crusader Varsity Volleyball Team. The "pre-season" warm-up event for several teams started at 8AM and ran throughout the day. When it was over, the Lady Crusaders had won two matches and lost three.

WIN vs Wichita Trinity
27-25, 25-18
WIN vs Conway Springs
25-13, 19-25, 25-22
LOSS vs Buhler
22-25, 17-25

Crusaders vs Crusaders Action Pics 082518
LOSS vs El Dorado
21-25, 20-25
LOSS vs Winfield
20-25, 25-20, 22-25
*****************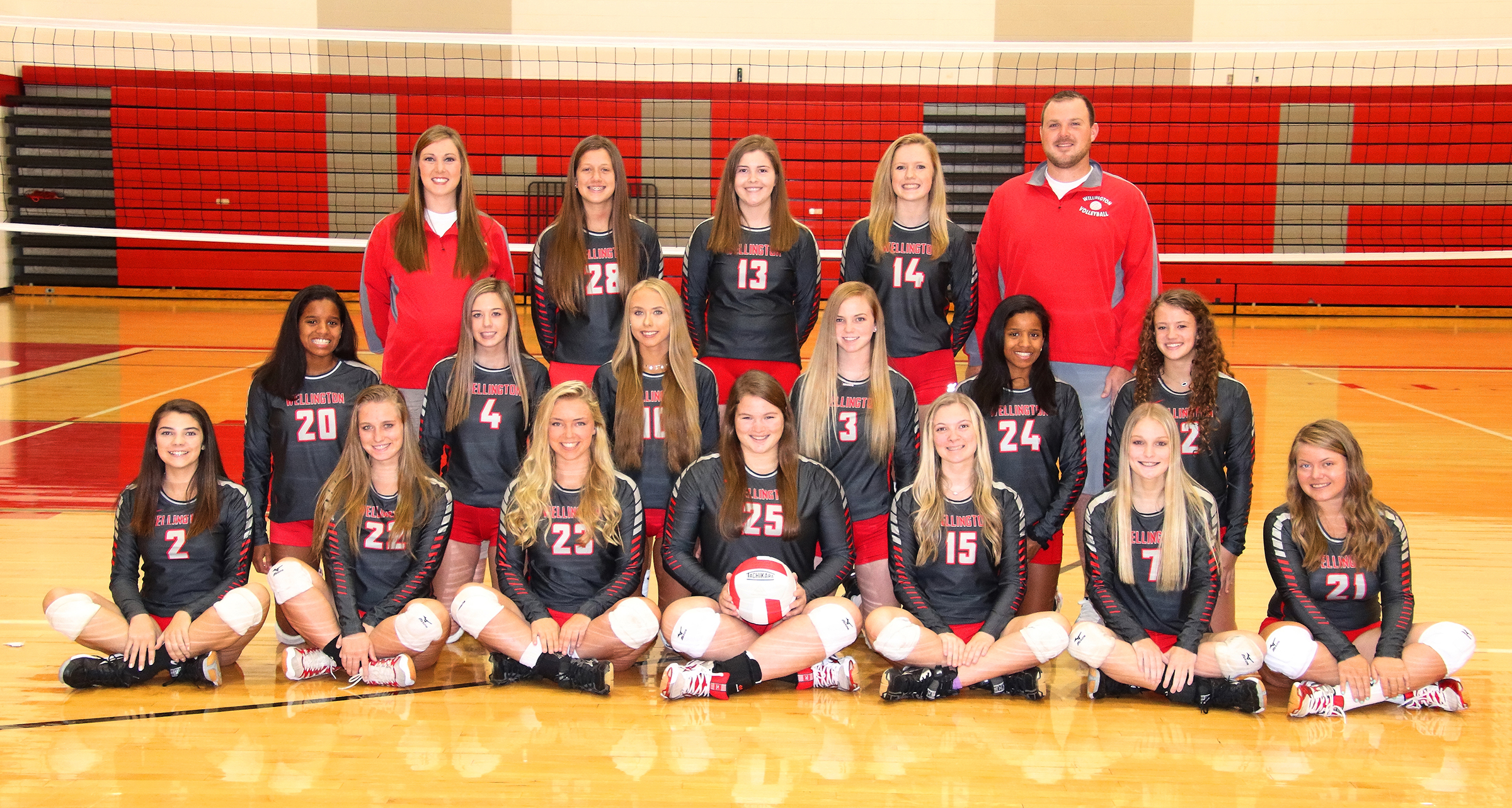 It's time to meet your 2018 Lady Crusader Volleyball Team! Action gets underway this Saturday in a pre-season warm-up tournament at Winfield HS. The Lady Crusaders will be at HOME next Tuesday! Come out and support!! 
2017 SEASON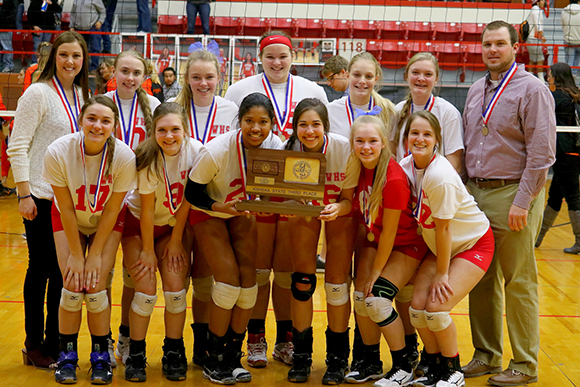 It cannot be overstated in any way, shape or form. The WHS Lady Crusader Volleyball squad achieved great things this weekend at the State 4A D1 Tournament in Salina.

This is a program that has gone through numerous coaching changes over the past 4-5 years. This is a team that had a .500 record for the season leading up to the big show in Salina. This is a group of young ladies that could look very good in match action, and then at times not as much. There was never any doubt though the underlying talent & desire was solid, the chemistry was good, and the commitment to their teammates, real and lasting.

There were 8 teams this weekend in 4A D1 competing for the State Crown, including defending champion and #1 seed Rose Hill Rockets. Additionally, #2 seed Independence, #3 seed Ulysses, #4 seed Louisburg, #5 seed Basehor-Linwood, #6 seed Wellington, #7 seed El Dorado and #8 seed Bishop Miege. The Lady Crusaders had fewer wins than any of these other 7 teams...and then POOL PLAY began.
The Lady Crusaders quite frankly, came out sluggish and lost in two sets on Friday in opening pool play action to Ulysses. (19-25, 15-25) So, out of the starting blocks their backs were against the wall and if they were to have any chance at all to advance out of pool play into bracket play on Saturday, they could lose no more. In match 2 on Friday, #2 Independence took to the court with our Lady Crusaders and dominated. Set 1 to Independence. (14-25) Now it is truly nitty gritty time. Buckle down and get it going or on Saturday you won't be showin'! 

Independence continued to exhibit control in Set 2 and the Lady Crusaders found themselves down 10-20. 10-20! 10-20!!! Desperate times had arrived but not alone. You never see CRUSADER MAGIC coming but you know when it's on scene and on scene it was as Set 2 looked like it was heading to a definite loss and match loss and opportunity loss to advance. The Lady Crusaders got down to business though and the MAGIC took over. How often does a team come back to win from a 10-20 deficit in such a pressure packed environment? Gotta be very slim chances overall - it is just too difficult to do and our ladies did it, pulling out a 25-22 win and forcing a 3rd set against the #2 seed so they weren't out of danger just yet. The battle was on. Independence couldn't lose, they were the #2 seed! Wellington wouldn't lose because their 'MO" was a "GO" and when the 3rd set dust settled - WHS 25 IHS 23 - the Lady Crusaders were still in the hunt! Whew! Double Whew!

The 3rd and final pool play match, also a must-win was up vs El Dorado. If you don't finish pool play at 2-1 or better, your chances of moving on are slim or non-existent. So, the pressure didn't decrease nor did the drama. In Set 1, nothing in life is easy and this set went on for quite some time - perhaps longer than any set I've ever witnessed. Finally, the Lady Crusaders would prevail, after a back & forth battle - the score? 34-32! What a set!!! Just one more to go and HELLO SATURDAY (hopefully). The MAGIC continued and in Set 2, El Dorado succumbed to the pressure and the girls in Crusader Red pulled out a relatively easy set win and consequently match win, 25-16. Now they had to wait for tie-breakers, etc..to be analyzed and implemented as not one, not two, but three of the four teams in their pool had ended up with 2-1 records but only 2 slots awaited filling for Saturday action.  Ugh!

MAGIC works on and off the court when your a Crusader and MAGIC was at work with the tie-breaker. Too complicated and mathematically boring to share so suffice it to say, INDEPENDENCE and EL DORADO packed their bags, WELLINGTON AND ULYSSES were heading to SATURDAY semi-final action and a shot at the State 4A D1 Championship Title. It's time to get some rest and get ready for the biggest volleyball day of their lives.

The two semi-finals on Saturday would pit Rose Hill against Ulysses and Wellington against Louisburg. Louisburg had actually defeated Rose Hill in pool play so we knew they were formidable. The 2 winners would then face-off for the State Championship, the 2 losers would face off for 3rd place consolation honors. 

Louisburg came out on fire and exhibited a high degree of Volleyball expertise and took care of business. In the first set, Wellington lost 11-25. The Lady Crusaders did pick it up some in Set 2 but again, Louisburg proved to be too much for WHS and they took the 2nd set as well, this one 17-25. Rose Hill by similar scores downed  Ulysses so the final two stages were set. On Court A - defending State Champion Rose Hill would go up against Louisburg for all the marbles. On Court B - Wellington and Ulysses would have a rematch from pool play on Friday and one of them would emerge with 3rd place honors.

Wellington was a different team Saturday when they took the court with Ulysses than Friday when Ulysses as mentioned above, downed WHS in two sets (19-25, 15-25). And that flustered Ulysses in the end, the first set very close, WHS 25 UHS 23 but the MAGIC was too much for the Lady Tigers in Set 2 and WHS won easily 25-16 to claim the 3rd place hardware and just an unbelievable end to a fun season. This was Seniors Valerie Ast, Keelie Cunningham, Jenna Rausch, Shayland French, Jill Wiley and Gracie Fink's last hurrah in Volleyball. Their long and storied careers were over but the hardware was theirs! Teammates Reese Heasty, Brooke McCorkle, Adrienne Norris, Jennifer Jensen and Taylor Meyer will be back and will be joined by some outstanding younger Crusaders coming through the pipeline. Lady Crusader Volleyball is moving up! Congratulations again to a fine, fine group! Congratulations to 1st year head coach Blake Brewster as well! Blake and his assistants made it happen and are to be commended. The Lady Crusaders move on now, continue to work on their academics (nearly every team member at Salina is on the academic honor roll) and of course for some, pursue their winter and then spring sports activities as the  2017-18 school year continues on. 

When they reflect back though on the FALL of 2017, the memories will be fond, their smiles will be big and all of us will perhaps be better persons ourselves, having witnessed so much tenacity and composure and team oneness from a group of girls that exceeded all expectations and left their mark on the history of WHS Volleyball for all to see! Awesome job ladies - just totally dang awesome!! Thank you for the great ride!!

SATURDAY MATCH ACTION PICS / TROPHY PICS
One Last Tournament Note: On Court A, the battle between Louisburg and Rose Hill was nothing short of CLASSIC. Louisburg jumped out early on the defending champs and took Set 1. In Set 2, Rose Hill dominated so to final Set 3 they went to determine who the 2017 State Champ would be. Talk about drama, it was a back and forth battle with large contingents of fans on both sides screaming and yelling. In the end, our AVCTL sister team if you will, Rose Hill prevailed, securing the State Title for the 2nd year in a row - a phenomenal achievement against a VERY SOLID Louisburg team. During the trophy presentations, the Rose Hill Lady Rockets cheered and applauded loudly when Wellington was announced and awarded 3rd place medals and plaque. It was extremely cool. The Lady Crusaders returned the gesture when Rose Hill was presented as the champion - the two teams afterwards, showing their friendship and their AVCTL connection, took pics with each other and all savored in their accomplishments and comradery. Great day to be a human being. CONGRATS TO ALL!
******************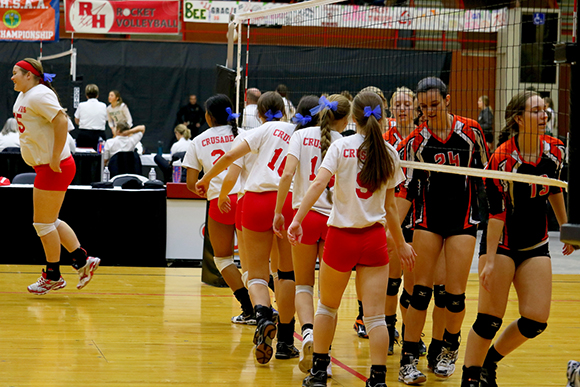 A big, big event in Salina Friday for our Lady Crusader Volleyball squad and their coaches. It was State 4A Volleyball Tourney time and the stage was set. In one Pool, the Lady Crusaders (#6 seed), Ulysses (#3 seed), Independence (#2 seed) and El Dorado (#7 seed).

In the other Pool, Rose Hill (#1 seed), Louisburg (#4 seed), Basehor Linwood (#5 seed) and Bishop Miege (#8 seed).

In first match action, Ulysses defeated the Lady Crusaders in two sets, 19-25, 16-25.

In their 2nd match vs Independence it wasn't looking good for the team in red, lost the first set to Indy 14-25 and was down in the 2nd set 10-20 at one point. This match was a must-win match for the Lady Crusaders to have any chance of advancing to semi-final play on Saturday. And then it happened. Crusader Magic came a callin'! and a callin'! and a callin'! Don't look now but the 10-20 deficit was suddenly a 25-22 set victory, followed by a 25-23 set victory - match! The Lady Crusaders defeated the #2 seed Independence. It was awesome.
The third and final game in pool play Friday was against El Dorado. The Lady Crusaders came out flat after that unbelievable comeback on Independence but battled the Lady Wildcats to a 34-32 first set victory! They kept pouring it on and in no time it was a two set win for Wellington, downing El Dorado in the 2nd set 25-16. It was an amazing feat accomplished by some very amazing young ladies from Wellington. They are guaranteed no worse than 4th in the State and have a shot at even higher status. 

At 10AM Saturday, the Lady Crusaders will go up against Louisburg, who defeated Rose Hill Friday (Rose Hill was defending their State Crown from last season!). It will be a tough match for Wellington but hey, it's STATE - ain't supposed to be easy! The winner of that game will go on to face the winner of Rose Hill vs Ulysses in the Championship finale. The losers of those two semi-finals will play in a consolation match for 3rd place and a nice plaque!!

A great day for Lady Crusader Volleyball - never say die...just keep pluggin' away...congrats again to the Ladies and their coaches. You represented well and made our community very proud...good luck Saturday!!!

MATCH ACTION PICS FROM FRIDAY
***********************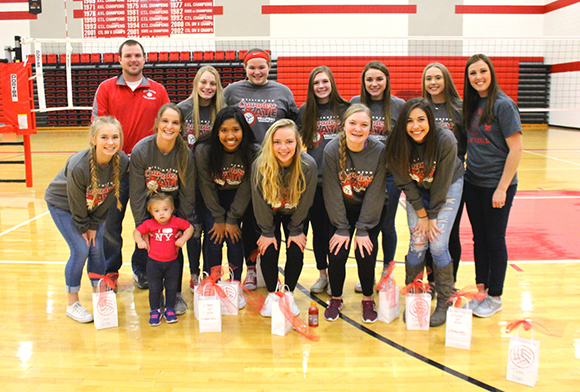 The 4A Sub-State Volleyball Champions, a.k.a. the WHS Lady Crusaders were given a big sendoff Wednesday at WHS (although they aren't leaving for the State Tournament in Salina until today (Thursday). There is no school today so Wednesday was it!! Good Luck to the Lady Crusaders! 

State Tournament action begins at 8:30AM Friday at the Bicentennial Center in Salina (now called Tony's Pizza Event Center) vs Ulysses in match #1 of 3 of pool play on Friday. There are 4 teams in each pool, the top 2 from each pool on Friday will advance to bracket play on Saturday beginning at 10AM!

GO LADY CRUSADERS!!

MORE POOL PLAY INFO
Photo courtesy of WHS Yearbook Staff! Thanks!
************************
WHS VARSITY VOLLEYBALL
@ 4A Sub-State (Winfield HS)
Saturday, Oct. 20, 2017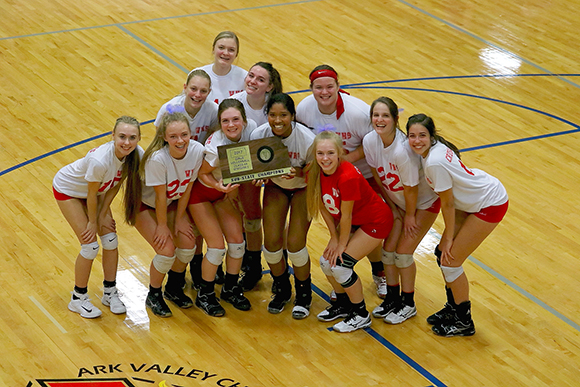 4A SUB-STATE CHAMPIONS 2017!!
The Lady Crusader Volleyball squad was on fire Saturday at the 4A Sub-State Volleyball Tournament being held at Winfield High School. 

In opening action, the #1 seeded Wellington girls defeated #4 seeded Winfield 25-22, 25-11. In the Championship Final vs a very good #2 seeded Ark City team, (who defeated #3 seeded Mulvane, in the semi's); the WHS Lady Crusaders, like in the first match, won it in just 2 sets, 25-14, 25-19 to walk away with the sub-state championship and all tickets punched for Salina and the State 4A Tourney this coming Friday and Saturday!

CONGRATULATIONS LADIES - THAT IS AWESOME!!!
4A SUB-STATE MATCH ACTION PICS
****************************
WHS VARSITY/JV VOLLEYBALL
HOME Triangular vs Circle/Winfield (SR. NIGHT)
Tuesday, Oct. 17, 2017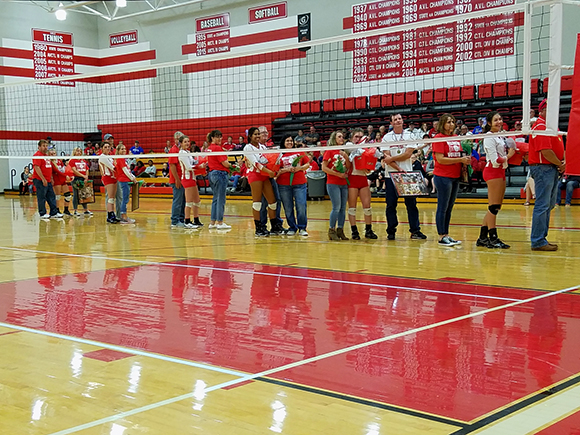 Hard to believe but Tuesday evening out at WHS was SENIOR NIGHT for the Girls Volleyball Program. "6" Seniors played their last games and matches on the home court before a good crowd of family and fans. They did it in style as well, sweeping their Varsity counterparts from Circle and Winfield and in only 2 sets each! 

vs CIRCLE
25-18
25-17

vs WINFIELD
25-13
25-19
VARSITY ACTION/SENIOR NIGHT PICS

This season's seniors are Valerie Ast, Keelie Cunningham,  Gracie Fink, Shayland French, Jenna Rausch and Jill Wiley! Their contributions to the team will be sorely missed next season. This season isn't over yet though - today (WEDS) the sub-state bracketing was announced - our Lady Crusaders are the #1 seed at Winfield this Saturday, beginning at 2PM. More about that below - so scroll away!

The JV squad were in action as well Tuesday, for the final time this season. They started off the the night with a 2 set sweep over Circle JV 25-19, 25-22 but in the nightcap, Winfield took it to 3 sets and winning, 22-25, 26-24, 21-25.
These may not be exactly right but I hope close - the Varsity Ladies end regular season @ 16-14. The JV Ladies end the season @ 11-10. A very good showing by both!!

SUB-STATE @ WINFIELD SATURDAY!

The 4A Sub-State Volleyball Tournament schedule for this Saturday in Winfield was announced this morning (WEDS). As predicted, Wellington will be the #1 seed - here's the line up beginning at 2PM Saturday at Winfield High School.
2:00 -  #1 Wellington vs #4 Winfield (Loser is out)
3:00 -  #2 Ark City vs #3 Mulvane (Loser is out)
4:00 - CHAMPIONSHIP MATCH (Above winners)
***********************
The VARSITY WHS Volleyball Girls as well as the FRESHMAN squad, were both in action on Saturday at two different venues. Both squads performed well and came home with 2nd Place Hardware - Congratulations Ladies!!

WHS VARSITY VOLLEYBALL
@ Cheney HS (Red & Blue Classic)
Saturday, Sep. 23, 2017
Pool Play Results
WELLINGTON DEF. HAVEN 25-15, 25-9
CHENEY DEF. WELLINGTON 25-12, 25-19
WELLINGTON DEF. COLLEGIATE 22-25, 25-18, 26-24
Bracket Play
TRINITY CATHOLIC DEF. WELLINGTON 26-24, 21-25, 25-23
Wellington finished 2nd.
ALL TOURNAMENT TEAM

Congratulations to SENIOR SHAYLAND FRENCH 
Selected to All Tournament Team!!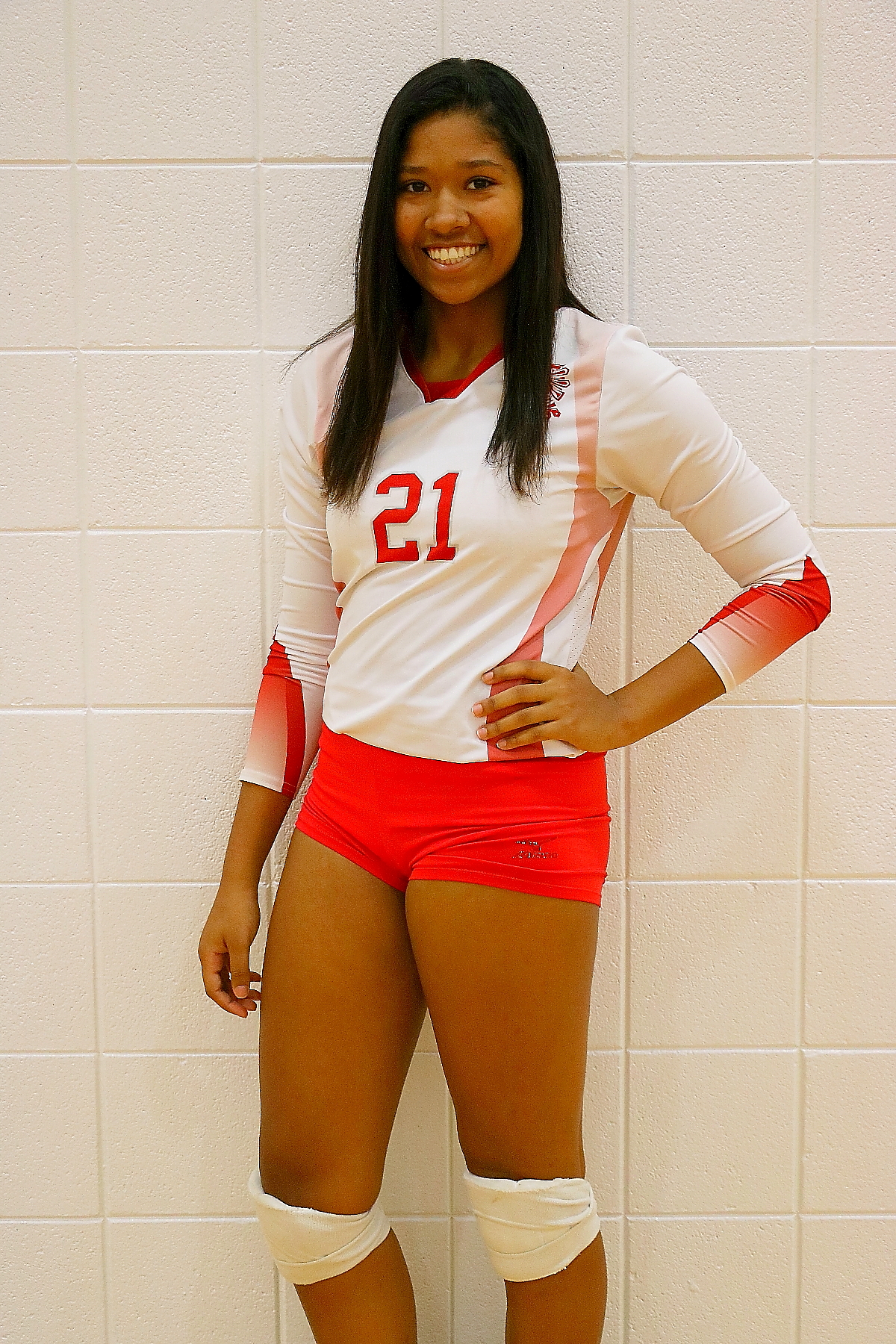 Varsity Lady Crusaders are now 12-10 on the season!
**************************************
WHS FRESHMAN VOLLEYBALL
@ Clearwater C-Team Invitational
Saturday, Sep. 23, 2017
BRACKET PLAY
Andover vs Andover Central - Andover WINS 26-24, 29-27
Wellington vs Circle - Wellington WINS 25-19, 25-14
CHAMPIONSHIP GAME
Andover vs Wellington - Andover WINS 25-14, 25-21

3RD/4TH GAME
Andover Central vs Circle - Circle WINS 25-22, 25-14
POOL PLAY
WHS Freshmen went 2-1 in Pool Play

Defeating Clearwater 25-13, 25-12
Defeating El Dorado 25-16, 25-13
Lost to Andover 24-26, 15-25
3-2 on the day / on the season now: 16-2!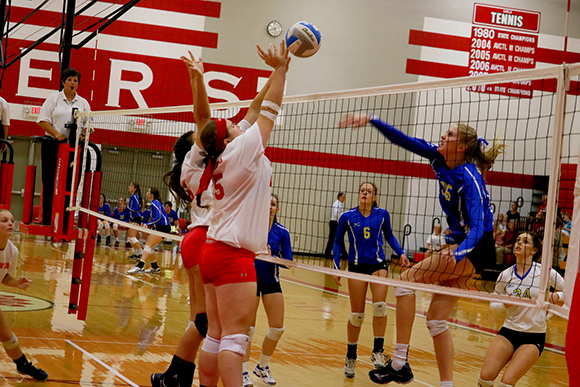 The Varsity Lady Crusaders after a slow first set with Circle, turned on the after burners and won the next "4" sets on the evening (2 vs Circle, then 2 vs Clearwater) to sweep and  move their season record to 10-8! Congratulations!!  The JV battled hard and after losing 26-28 in their first set vs Circle, came back to win the final 2 sets for the match win. In their match up with Clearwater, the JV girls were on fire that first set but the Lady Indians turned the table and finished out with the match win. Here's the scores from each and also scores between Clearwater and Circle from Tuesday night's TRIANGULAR @ WHS:

VARSITY (2-0 on the night / 10-8 on the season)
Wellington vs Circle
14-25, 26-24, 27-25
Circle vs Clearwater
25-23, 25-13
Clearwater vs Wellington
25-17, 25-16
JR VARSITY (1-1 on the night / 5-3 on the season)
Wellington vs Circle
26-28, 25-13, 25-23
Circle vs Clearwater
25-22, 25-17
Clearwater vs Wellington
25-14, 20-25, 18-25
VARSITY & JV ACTION PICS 091917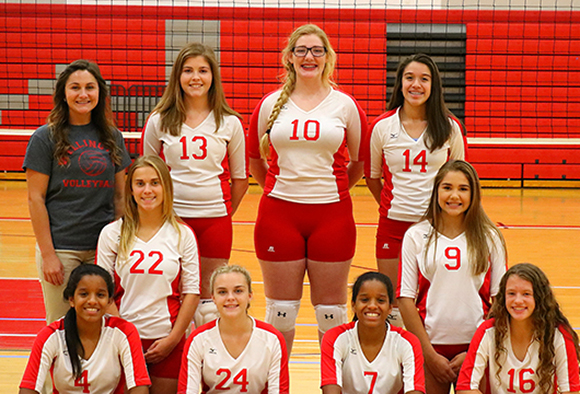 WHS FRESHMAN VOLLEYBALL
@ Garden Plain Invitational
Saturday, Sep. 16, 2017

The undefeated freshmen Lady Crusaders remained so after 5 more wins out of 5 matches (all 2 set wins!) vs. Mulvane, Pratt, Cheney, Conway Springs and in the Championship Final, host Garden Plain.CONGRATULATIONS LADIES!! Keep it going! Now 13-0 on the season!!
**************************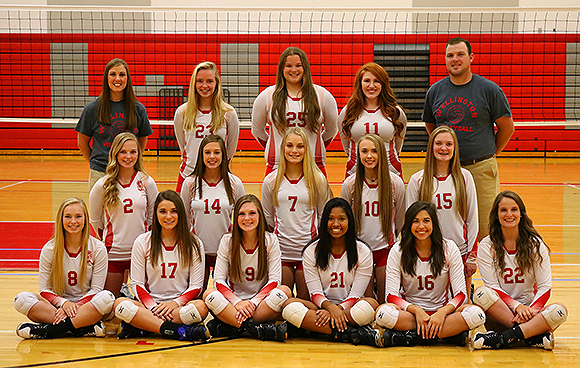 WHS VARSITY VOLLEYBALL
@ Chaparral Invitational
Saturday, Sep. 16, 2017

Defeated Chaparral 25-15, 25-18
Defeated Independent 25-13, 22-25, 25-23
Defeated Belle Plaine 25-13, 25-18
Lost to  Conway Springs 26-24, 16-25, 22-25
Lost to Belle Plaine 25-22, 25-27, 20-25

Finished 4th / Now 8-8 on the season!




CONGRATULATIONS TO SENIOR JENNA RAUSCH
she made the ALL TOURNAMENT TEAM as a MOST OUTSTANDING PLAYER!
AWESOME!!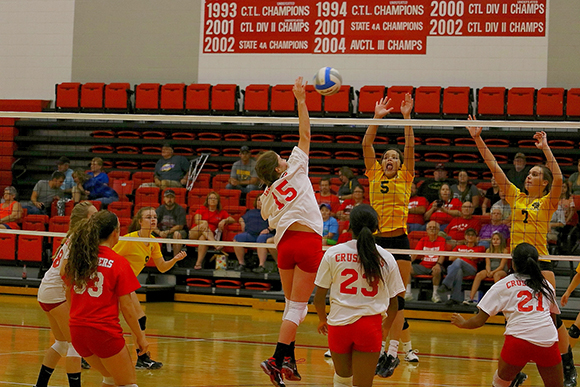 The 5-0 Lady Crusader Freshman Volleyball Team hosted a QUAD Thursday at WHS vs Andale, Circle and McPherson...here are the outcomes and they are awesome - they are now 8-0 on the season!) 
vs ANDALE
Set 1: AHS 23 WHS 25 - the Lady Crusaders were down 3-14 in this first set and fought back for the WIN!!
Set 2: AHS 22 WHS 25 - the Lady Crusaders were down 5-11 in this 2nd set and fought back for the 2 set match WIN!!
vs CIRCLE
Set 1: CHS 25 WHS 21
Set 2: CHS 22 WHS 25
Set 3: CHS 09 WHS 15
vs McPHERSON
Set 1: MHS 23 WHS 25
Set 2: MHS 20 WHS 25
Outstanding! GREAT JOB LADIES!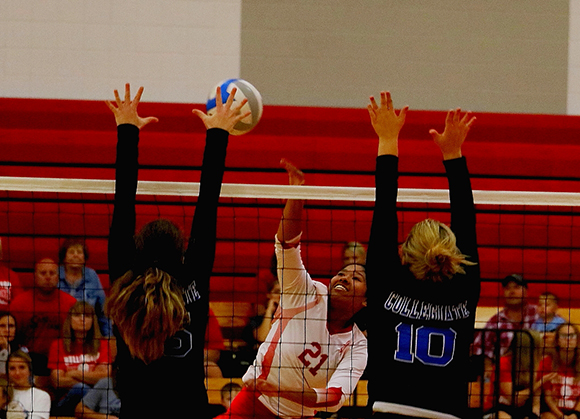 Our Varsity and Jr. Varsity Volleyball squads were in action at HOME for the first time this season on Tuesday. The Triangular featured host Wellington and also Wichita Collegiate and Rose Hill. The Lady Rockets were 4A State Champs last season and are ranked #1 at the present time. In the first varsity game vs Rose Hill the Lady Crusaders jumped out to a 6-1 lead but couldn't hold it as the action progressed. Here are the Wellington outcomes from Tuesday evening:
VARSITY
vs COLLEGIATE:  25-23 / 25-20 WIN
vs ROSE HILL: 19-25 / 14-25
Varsity Girls are now 5-6 on the season
JR. VARSITY

vs COLLEGIATE: 25-13 / 25-17 WIN
vs ROSE HILL: 24-26 / 24-26
Jr. Varsity Girls are now 4-2 on the season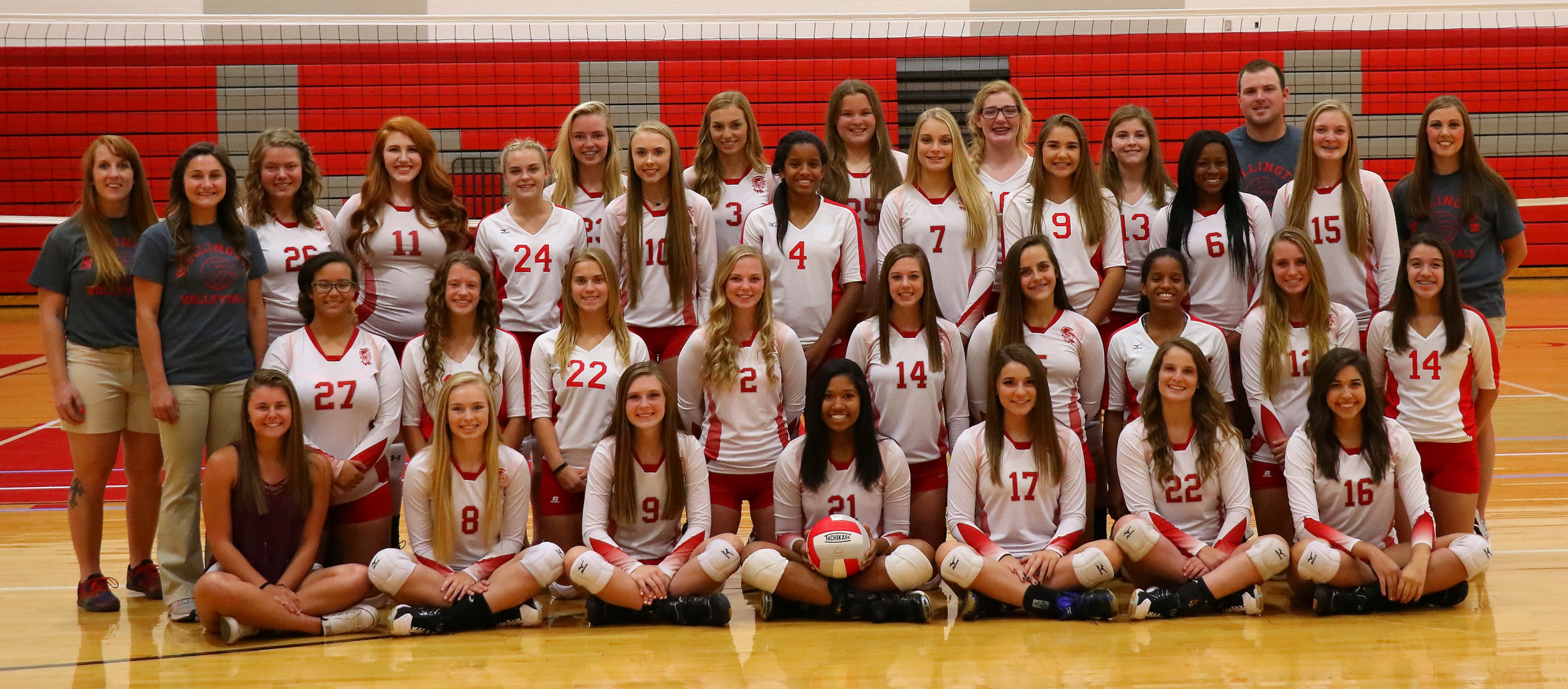 The Lady Crusader Volleyball Teams (Varsity and JV) swept both Mulvane and Clearwater Tuesday evening at Mulvane in triangular action with Clearwater!
WHS VARSITY vs Mulvane 
25-18, 25-20
WHS VARSITY vs Clearwater
25-22, 25-13
VARSITY NOW 4-5 ON THE SEASON!
JV GIRLS vs Mulvane
25-13, 21-25, 25-10
JV GIRLS vs Clearwater
25-14, 25-21
JR. VARSITY NOW 3-1 ON THE SEASON!
WAY TO GO LADIES!!!
****************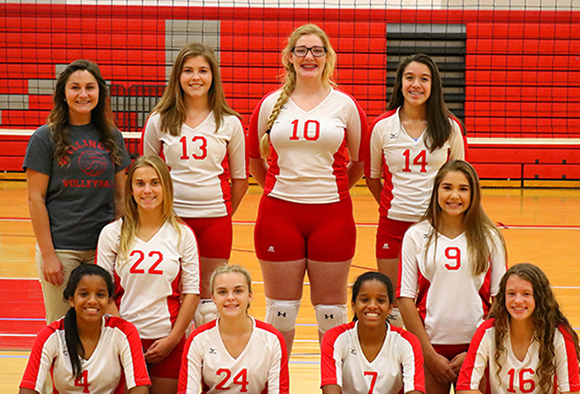 What a great night for Wellington Volleyball on Thursday! The Freshman girls were on the road at Rose Hill in triangular action with the host, McPherson and Mulvane. Our WMS 7th and 8th grade girls were here at HOME, playing host to Haysville MS....drum roll please...!

FRESHMAN VOLLEYBALL @ ROSE HILL
The Lady Crusaders defeated Rose Hill in 3 games, defeated McPherson in 3 games and defeated Mulvane in 2! 3-0 on the night - great start to the season ladies!!
*/*/*/*/*
The following results are from Varsity and JV Volleyball triangular action vs McPherson and Mulvane @ McPherson, TUE AUG. 29th.
VARSITY
McPherson over Wellington: 16-25, 11-25
Wellington over Mulvane: 25-14, 17-25, 25-23 
McPherson over  Mulvane: 25-9, 25-15
JR. VARSITY
McPherson over Wellington: 18-25, 25-22, 17-25
Wellington over Mulvane: 25-19, 25-8 
McPherson over Mulvane: 25-21, 25-19
VARSITY GIRLS move to 2-5 on the season, JV GIRLS are 1-1.
NEXT UP:
Freshmen @ Rose Hill - AUG. 31 - 5PM (w/ McPherson & Mulvane)
Varsity/JV @ Mulvane - SEP. 5 - 5PM (Triangular w/ Clearwater)

FIRST HOME ACTION
Varsity and JV - TUE SEP 12
Freshmen - THU SEP 14
The WHS Varsity Volleyball Squad opened their season Saturday at the EARLY BIRD VOLLEYBALL TOURNAMENT at Winfield HS. Don't let the overall 1-4 record for match wins on the day over-alarm you...of the "9" overall sets lost by the Lady Crusaders, "5" of those set losses were by only 2 points. Had the Lady Crusaders pulled out those 5 "close set" battles, the match record for the day could have been as good as 4-1, (depending on subsequent 3rd set outcomes in a couple of the losses). Here are the MATCH OUTCOMES for the day:

Wichita Trinity over Wellington: 25-23, 12-25, 8-25
Conway Springs over Wellington: 16-25, 24-26
Buhler over Wellington 20-25, 27-29
El Dorado over Wellington 23-25, 25-23, 24-26
Wellington over Winfield 25-13, 23-25, 25-13
Other teams participating in the Early Bird event were Chanute, Ark City, Augusta,  Mulvane, Collegiate, and Andale.
MORE EARLY BIRD TOURNEY PICS 082617
The WHS Volleyball girls and their coaches hosted their annual Gatorade/Water Scrimmage at WHS Thursday afternoon. Both courts were action-packed as fans, parents and friends watched on! The season gets underway Saturday early at Winfield...look for some exciting Volleyball action Saturday and beyond! GO LADIES GO!!
VOLLEYBALL SCRIMMAGE PICS 082417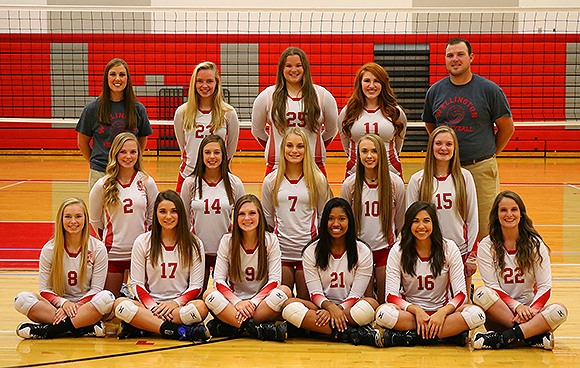 The 2017 Volleyball season gets underway this Saturday at Winfield HS - today (WEDS) was "picture" day for the Lady Crusaders...a chance now for all to see who is out for this year's squad. It's a solid group, lots of athletes, they will battle hard! This year's coaches are:

HEAD COACH: Blake Brewster
VARSITY ASST: Ali Hopper
JR. VARSITY: Audrey Gill
FRESHMAN: Kellyn Holt
2016 SEASON
Congratulations to Lady Crusaders Tayland French (SR.), Shayland French (JR.) and Adrienne Norris (SO.) for their league recognition for the 2016 season - great job ladies!!
AVCTL DIV III / IV LEAGUE HONORS 2016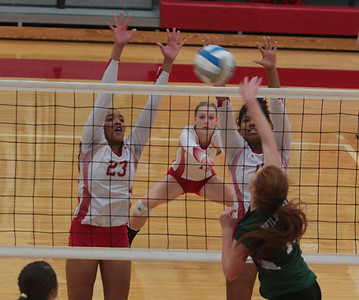 The WHS Varsity Lady Crusader Volleyball squad was in 4A Sub-State action Saturday afternoon at Rose Hill. In the semi-final,it was Wellington over Mulvane in 3 sets, 25-13, 13-25, 25-19 and in the Championship Final, host Rose Hill controlled the day, downing our Lady Crusaders in 2 sets, 10-25 and 9-25. Going in, the Lady Rockets were 32-6 on the season. A very talented team. The Varsity Lady Crusaders end the season at 10-23. They are a young squad with "2" graduating seniors - look forward to great Volleyball action in the future!!
WHS 4ASUB-STATE VOLLEYBALL PICS 102216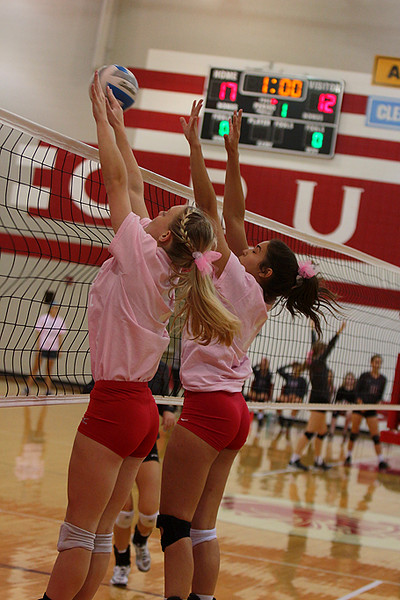 The Varsity and JV Lady Crusaders hosted both Andale and Buhler Tuesday evening out at WHS - it was also Senior Night!
VARSITY: 
Wellington beats Buhler 29-27, 25-16
Andale beats Buhler 19-25, 25-9, 25-17
Andale beat Wellington 26-28, 25-18, 25-13
JR. VARSITY:
Buhler beats Wellington 16-25, 25-18, 18-25
Andale beats Buhler 19-25, 25-18, 25-21
Andale beat Wellington 25-14, 25-12
WHS VOLLEYBALL TRIANGULAR PICS 101816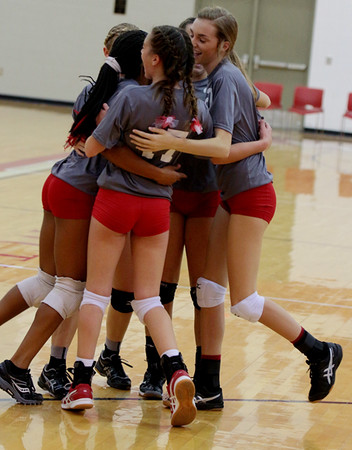 The WHS Freshman Volleyball Team hosted a QUAD Thursdayevening at WHS with Clearwater, Augusta and El Dorado, coming away 1-2 on the evening.
WHS vs Augusta 15-25, 26-28 (LOSS)
WHS vs Clearwater 14-25, 17-25 (LOSS)
WHS vs El Dorado 25-10, 10-25, 15-8 (WIN)
The Frosh Lady Crusaders are now 14-9 on the season!
FRESHMAN MATCH PICS 092916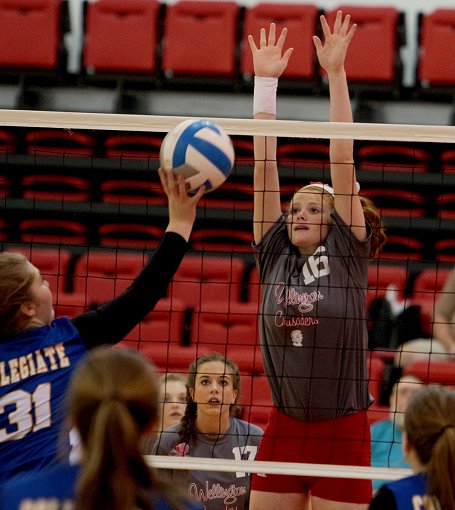 It's a SWEEP for the young Lady Crusaders here at HOME Thursday in QUAD action at WHS!
WHS vs Collegiate 25-11, 25-5 (WIN)
WHS vs Mulvane 25-16, 25-16 (WIN)
WHS vs El Dorado 19-25, 25-22, 15-12 (WIN)
FRESHMAN VOLLEYBALL PICS 091516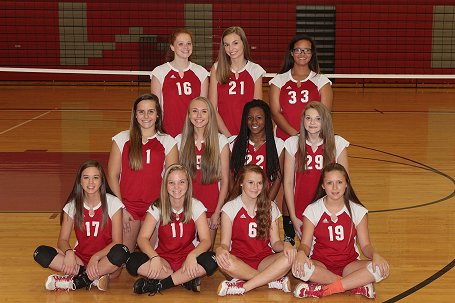 The Freshman Girls Volleyball Squad were in action on the road Thursday at McPherson and are off to a solid start!
young ladies move to 4-2 on the season, winning 2 of 3 at the QUAD – here are those results:
WHS vs Rose Hill 23-25, 26-24, 23-25 (Loss)
WHS vs Mulvane 23-25, 25-22, 25-21 (Win)
WHS vs. McPherson 25-9, 26-24 (Win)
Awesome Job Lady Crusaders!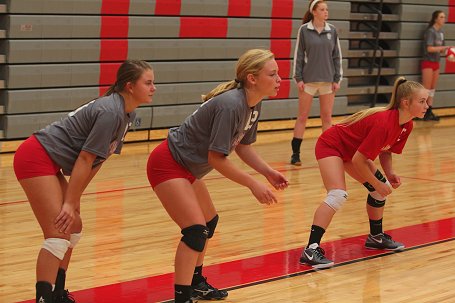 Our Varsity and JV Lady Crusader Volleyball squads were in action at HOME on Tuesday, well almost home…the matches were held at WMS due to a bleacher malfunction at WHS…that malfunction has since been fixed so all matches will be at WHS from this point on for the Lady Crusaders this season. The Varsity Squad "split" against McPherson and Mulvane. In opening action it was McPherson in "2" sets 20-25 and 21-25. In the nightcap, the Lady Crusaders battled back and defeated Mulvane in "3" sets 20-25, 25-19, 25-19. That is determination – awesome job ladies! The JV Girls battled hard as well – they fell to McPherson in "3" sets but like their Varsity counterparts, defeated Mulvane in "3" sets to "split" on the evening.
The Varsity Girls are 4-5 now – congrats!!
McPHERSON vs WELLINGTON MATCH PICS 090616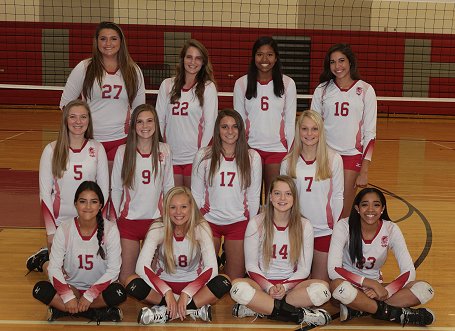 The Varsity/JV Lady Crusader Volleyball teams were on the road Tuesday evening to Circle and came away with some good results! In the opener with the Lady Thunderbirds, the Lady Crusaders battled them to a 30-28 win in the first set but came up short in the last 2 sets and couldn't pull out the match win. In the nightcap with Winfield however, it was Lady Crusaders in 2 sets, 25-12 and 25-14. Winfield defeated Wellington this past Saturday at the Early-Bird Invite in Winfield so awesome job Ladies - early season redemption!! (No JV Scores reported)
The Varsity Girls are now 3-4 on the very young season!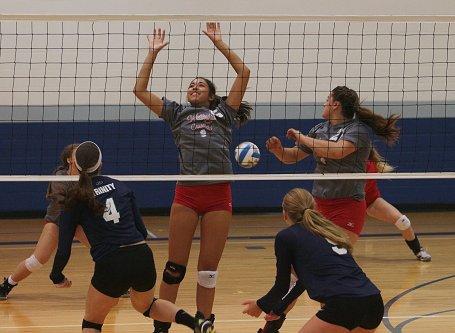 At the Winfield Varsity Volleyball Invitational Saturday... the Lady Crusaders ended up 2-3 on the day, winning against Conway Springs and Buhler, losing to Wichita Trinity, El Dorado and Winfield: vs Trinity: 19-25, 20-25 * vs Conway Springs: 25-13, 19-25, 25-20 * vs Buhler: 25-23, 25-22 * vs El Dorado: 13-25, 20-25 * vs Winfield: 11-25, 20-25 * Next action - TUESDAY, Aug. 30th - Triangular (Varsity / JV) at Circle w/ Winfield. THURSDAY, Sep. 1st - Quad (Freshmen) at Augusta with Mulvane & Winfield. GO LADIES GO!!!
VARSITY VOLLEYBALL @ WINFIELD PICS 082716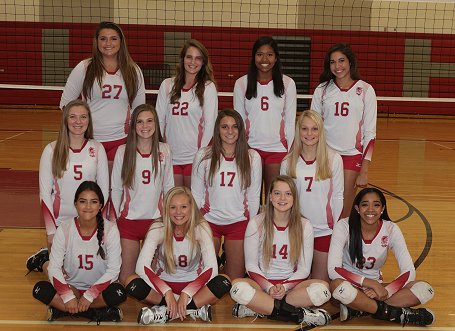 The 2016 WHS Volleyball Team took time out Wednesdayafternoon for some TEAM & INDIVIDUAL PICS! Action for the Lady Crusaders begins this Saturday in Winfield, an annual "pre-season" tournament featuring several teams from around the area. A great warm-up event for all the teams involved.
GOOD LUCK LADIES!!