DEBUT SEASON - FALL 2017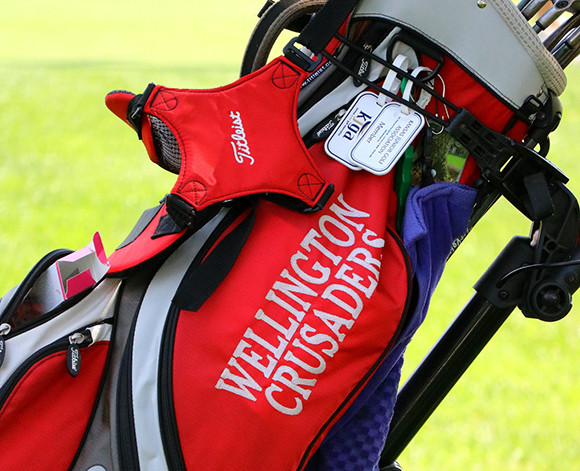 ***************************
It was AVCTL League Tournament time Tuesday for our pioneering Varsity Girls Golf Team, experiencing their first year in existence and doing quite well thank you!

Today at Hesston, all of our Lady Crusaders improved on their scores from previous tournaments. Payton Ginter (a freshman), shot a career best 88 to finish 6th for the Tournament and be named First Team All League!! Is that exciting or what? Congratulations Payton - outstanding!!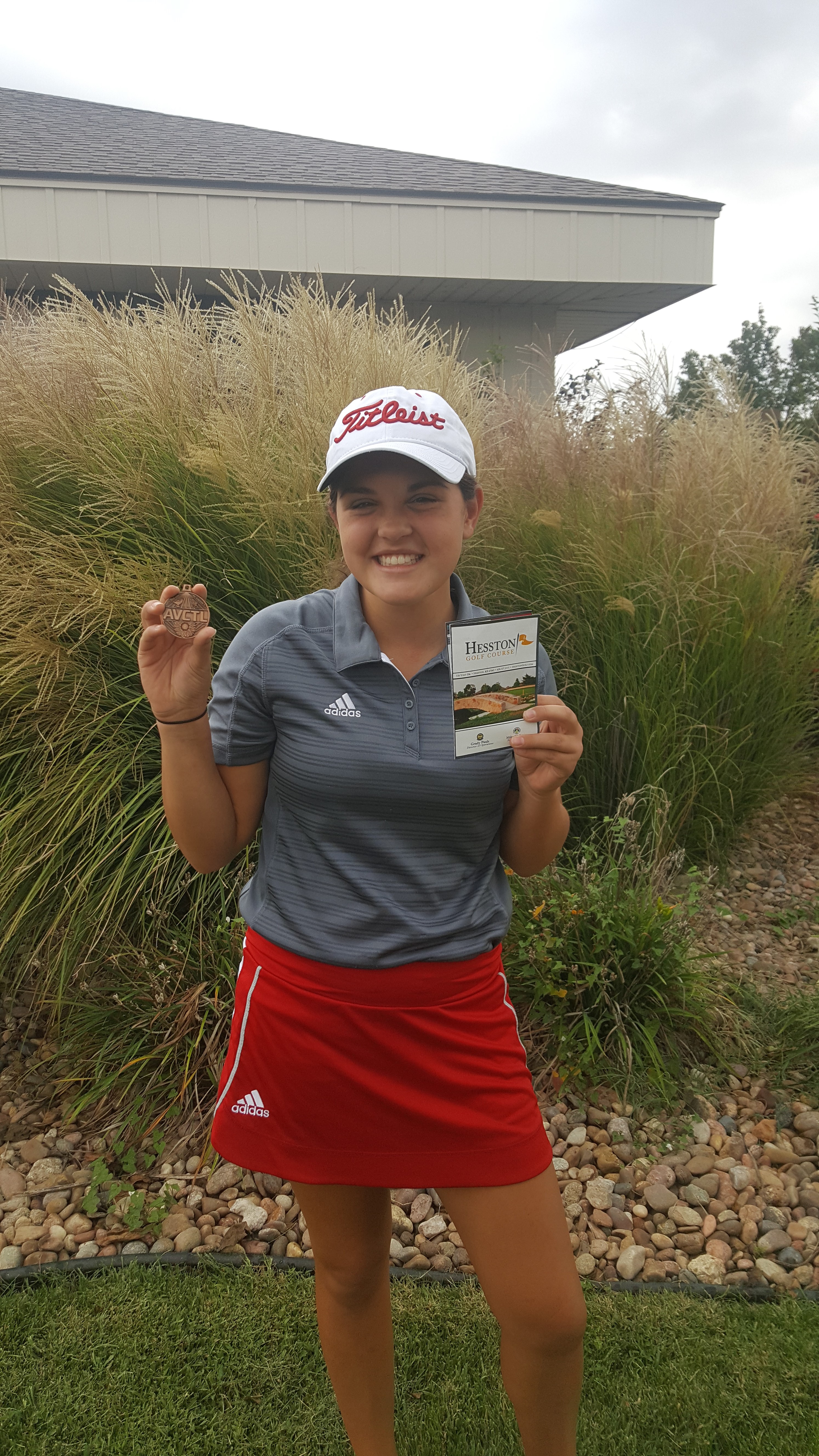 Payton Ginter - 88
Lisa Walter - 116
Taylor Heasty - 120
Kaity Kreifels - 140

Regionals are coming up on Monday in HAYS! Good luck ladies!!
************************
The WHS Girls Varsity Golf Team hosted their first ever Tournament on Monday out at Wellington Golf Club. Here are both the TEAM and INDIVIDUAL TOP 10 Finishers:
 
TEAM (9 holes)
1st Winfield - 196
2nd Buhler - 225
3rd Andover Central - 229
4th Mulvane - 244
5th Wellington - 261
INDIVIDUAL 
1st Berholf - Winfield - 46
2nd Biddle - Winfield - 47
3rd Revell - Winfield - 49
4th Miles - Buhler  - 52
5th Dial - Mulvane - 53
6th Zoglemann - Winfield - 54
7th Ginter - Wellington - 54
8th Miles - Andover Central - 54
9th Mitchell - Mulvane - 54
10th Adams - Winfield - 54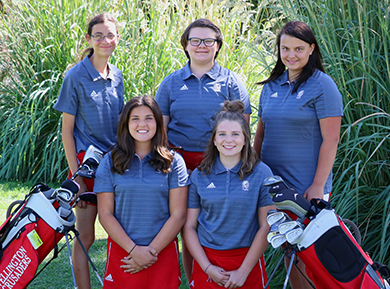 Some sports history this Fall at WHS - a GIRLS GOLF TEAM! With the popularity of golf for both boys and girls at the middle school level and the introduction of their golf program 3 years ago or so, the high school team was started this year with 5 members (4 freshmen and 1 sophomore) with more "Lady Knight Golfers" in the pipeline. Exciting stuff! GO BIG RED!
Meet your 2017 WHS Girls Golf Team!
L to R: Alisa Walters, Payton Ginter, Taylor Heasty, Lauren Bales and Kaitlynne Kreifels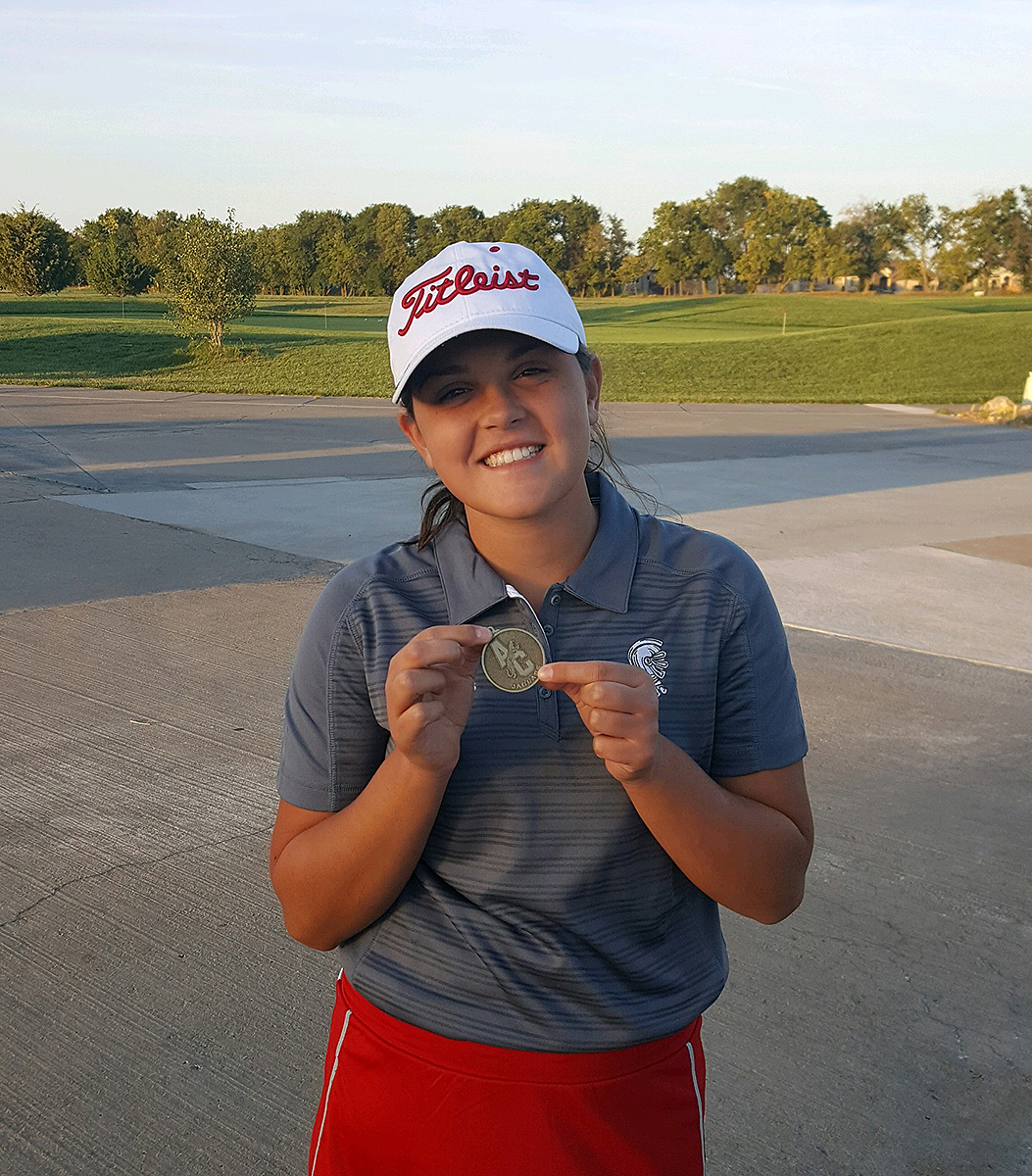 The WHS Varsity Girls Golf Squad was in action Tuesday at Sierra Hills Golf Course against some larger schools and tougher competition. As a team WHS finished 9th out of 10 and Payton Ginter, a WHS Freshman, finished 8th individually which is quite good!! Some of the other schools in competition included Andover Central, Andale, Buhler, Eisenhower, Maize, Valley Center and others. Here were the individual scores for WHS: (is a par 3 course, par was 58)

Payton Ginter 77
Alisa Walters 91 
Lauren Bales 94
Taylor Heasty 109

Congratulations - next up for Wellington's girls golf team is another road trip, this time to the Winfield Country Club on Thursday with a 1:00PM tee-off! Good Luck Ladies!
*/*/*/*/*/*
The WHS Girls Golf Team played in their first tournament EVER Thursday at Augusta. Congratulations to Freshman Payton Ginter who shot a 49 (PR) and finished 7th individually!! The Lady Crusaders in their DEBUT finished 5th, just behind Circle and just ahead of Andover and Andover Central. Congratulations on an awesome first outing to these 3 Freshman and 1 Sophomore!!

VARSITY GIRLS GOLF

This was the WHS Girls Golf Team debut - check out the fine results!
(@ Augusta Country Club)

Payton Ginter 49 (PR) 7th Place
Lauren Bales 57
Alisa Walters 69
Taylor Heasty 71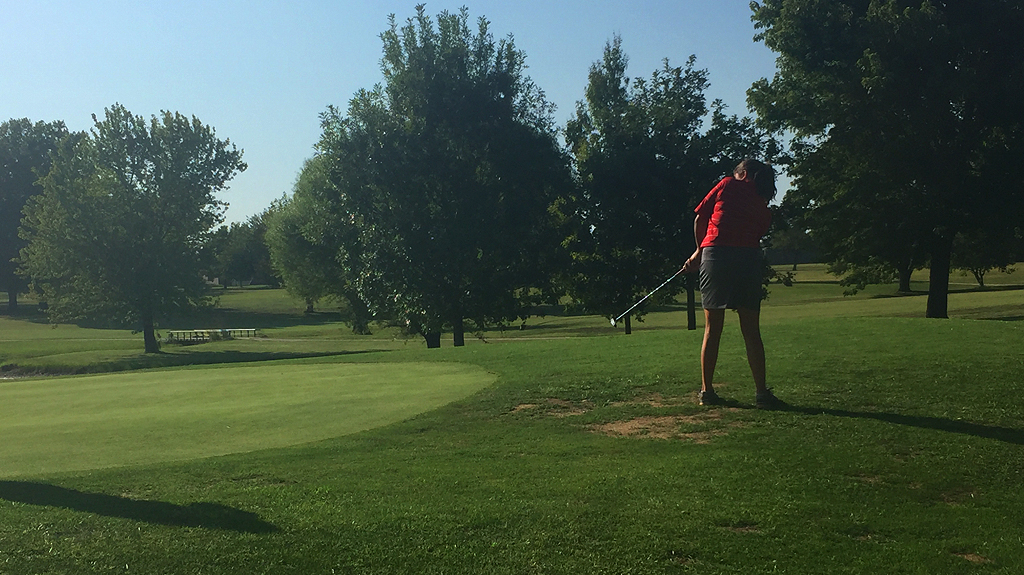 Payton putting on final hole!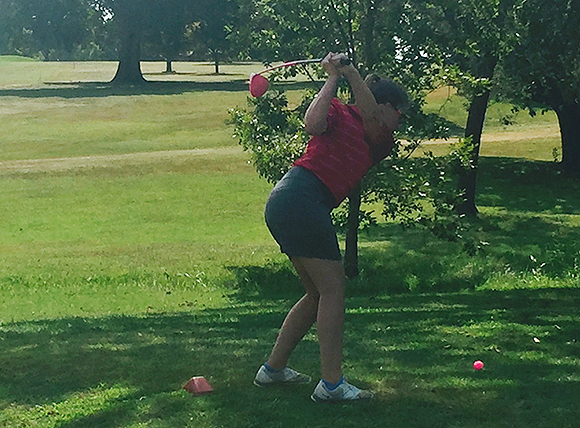 Lauren Bales teeing off!
TEAM FINISHES
Wichita Trinity 170
Augusta 196
Valley Center 232
Circle 245
Wellington 246
Andover 247
Andover Central 263
Maize South (No Team Score)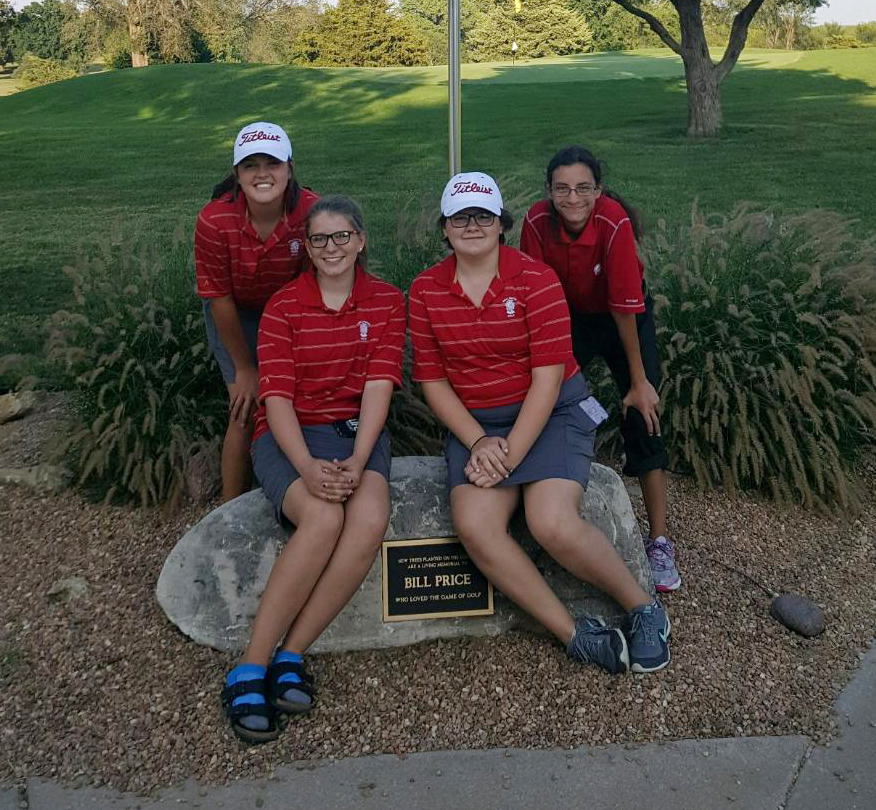 Payton * Lauren * Taylor * Alisa
Next action for the Varsity Girls Golf squad is September 5th @ Wichita (Sierra  Hills).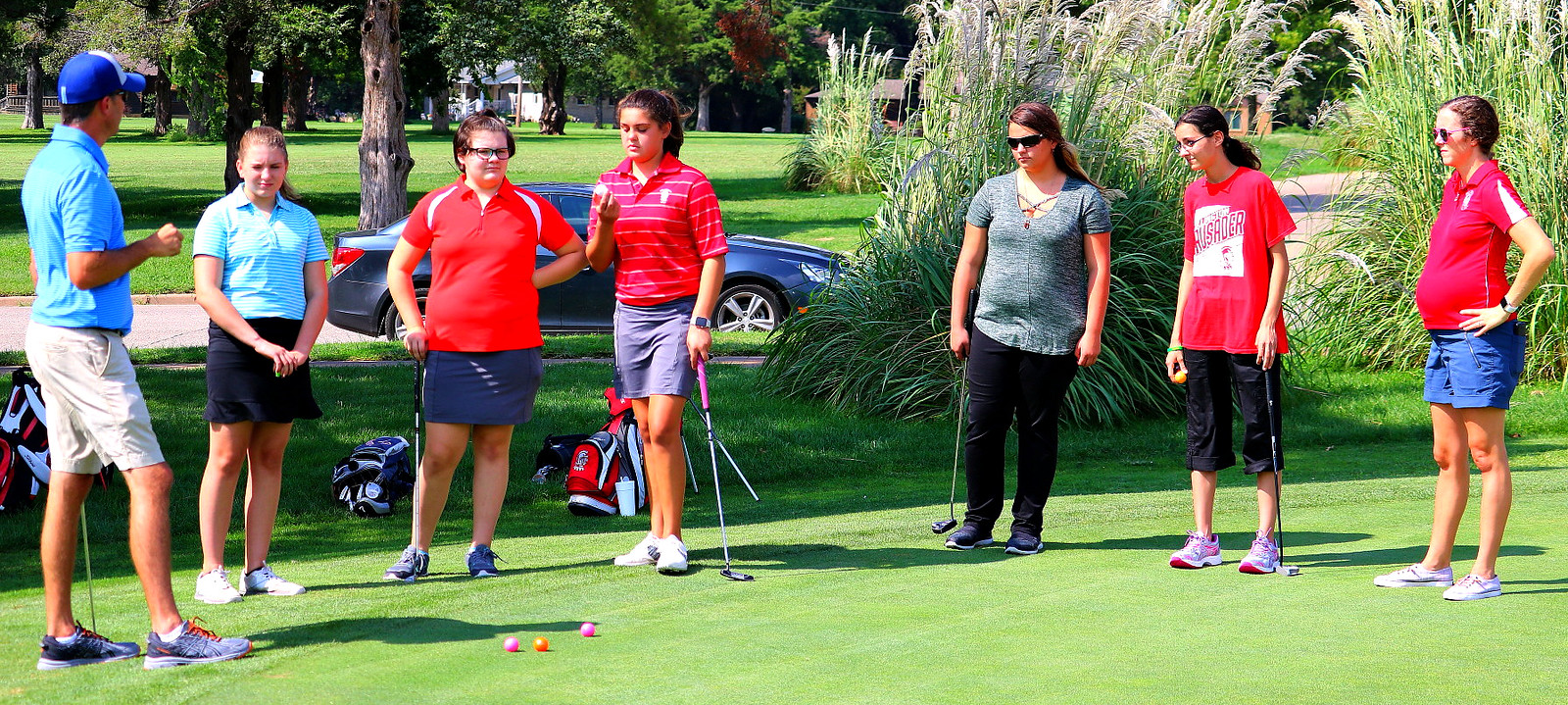 WHS Lady Crusader SPORTS HISTORY was made Wednesday, Aug. 17, 2017 at the Wellington Golf Club. After "2" days of watching "rules videos", etc. the first ever Girls Golf Team took to the course for their first outside OFFICIAL PRACTICE in the history of the school. Coaches James Ginter and Vanessa Sawyer took charge of the team after a welcome to the Wellington Golf Club by our very own WHS Graduate and now Director of Golf at Wellington's phenomenal course, Mr. Derek Harrison.

Practice began where tournaments are won and loss - on the putting green. Good Luck to these fine ladies and coaches - you are PIONEERS for sure!!

WHS Girls Golf Team / FALL 2017

Lauren Bales - 9th grade
Payton Ginter - 9th grade
Taylor Heasty - 9th grade
Kaitlynne Kreifels - 9th grade
Alisa Walters - 10th grade
GOOD LUCK THIS SEASON!!