2018
LARGE 2018 WHS TRACK TEAM PIC
Click, then click again
*************************************
WHS TRACK & FIELD
@ Clearwater
Friday, APR 20, 2018
TOP 3 FINISHES (Wellington)
1st Place Time/Distance in  (  )

Women's Discus (116-04)
Brooke McCorkle 2nd 114-02

Women's Javelin (132-03)
Taylor Meyer 3rd 111-09

Women's 400M Run (1:02.14)
Taylor McGlothlin 1st 1:02.14
Women's 200M Run (26.88)
Taylor McGlothlin 2nd 27.19
WOMEN'S TEAM SCORES
Andale 209
Circle 105
Garden Plain 74
Augusta 68
Clearwater 63.5
WELLINGTON 59
Rose Hill 45.5
Winfield 36
Belle Plaine 15
Chaparral 7
Mulvane 2

/*/*/*/*/*/
Men's 100M (11.07)
DeAndre Washington 2nd 11.31

Men's 110M Hurdles (15.16)
Eric Kop 2nd 15.53
Men's 4x100M Relay (44.59)
Wellington 3rd 45.01
DeAndre Washington, Christian Buckman, Michael Ledbetter, Blake Rausch
Men's 400M (1:02.14)
Taylor McGlothlin 1:02.14
Men's 200M (23.21)
Christian Buckman 3rd 23.79
Men's 3200M Run (10:49.66)
Tyler Brown 3rd 11:03.62
MEN'S TEAM SCORES
Andale 167.5
Garden Plain 98
Circle 84
WELLINGTON 70
Mulvane 66
Clearwater 54
Winfield 52.5
Augusta 42.5
Chaparral 39.5
Rose Hill 22
Belle Plaine 1
NEXT ACTION - Friday, April 27th - HERE 
***********************************
WHS TRACK & FIELD
@ Augusta HS
Friday, Apr 13, 2018
TOP 3 FINISHES (MEN'S)
1st Place Time/Distances in ( )
100M RUN (11.18)
DeAndre Washington 2nd 11.26
200M RUN (23.50)
DeAndre Washington 3rd 23.80

400M RUN (51.30)
Christian Buckman 2nd 54.50
4x100M RELAY (45.00)
Wellington 1st 45.00
OVERALL MEN'S RESULTS
1 Andover 127.5
2 Andover Central 75.5
3 Augusta 74
4 El Dorado 60
5 Towanda-Circle 53.5
6 Pratt 51.5
7 Wellington 39
8 Maize South 26
9 Winfield 10
TOP 3 FINISHES (WOMEN'S)
1st Place Time/Distances in ( )
200M RUN (27.60)
Amber Cubbage-Williams 3rd 28.60
4x100M RELAY (52.20)
Wellington 3rd 55.00
DISCUS (118' 2")
Brooke McCorkle 2nd 105' 7"
OVERALL WOMEN'S RESULTS
1 Augusta 101
2 Andover 90
3 Andover Central 88
4 Towanda-Circle 55
5 El Dorado 33
6 Wellington 31.5
7 Pratt  28
8 Goddard  23.5
9 Nickerson  22
10 Maize South 20
11 Clearwater 16
12 Winfield 14
Next Action @ Caldwell 04.17.18 3PM
*******************************************
WHS TRACK & FIELD
@ Belle Plaine HS
Tuesday, Apr 10, 2018
Girls-1st Place 126 pts
100M
Taylor McGlothlin 2nd
Jordan Young 4th
Amber Cubbage-Williams 5th
200M
Amber Cubbage-Williams 2nd
Jennifer Jensen-3rd
Camryn Ricke-6th
400M
Taylor McGlothlin-1st
800M
Mackenzie Heacock 2nd
1600M
Mackenzie Heacock 1st
100 Hurdles
Elise LeGrand 1st
4X100- 2nd
Taylor McGlothlin
Jordan Young
Amber Cubbage Williams
Jennifer Jensen
4X400- 3rd
Camryn Ricke
Jordan Young
Skylar Troutman
Kylie Audfengarten
4X800- 2nd
Kylie Audfengarten
Emma Rains
Sierra Radamacher
Mikayla Washington-Adkins
Pole Vault
Elise LeGrand-1st
Kylie Audfengarten 2nd
Long Jump
Taylor McGlothlin-1st
Javelin
Taylor Meyer 1st
Boys-2nd Place 99 pts
100M
De Andre Washington 1st
Michael Ledbetter 3rd
200M
De Andre Washington 1st
Christian Buckman 2nd
Michael Ledbetter 5th
400M
Christian Buckman 4th
800M
Chase Pfalzgraph-2nd
1600M
Toby Henning 6th
110 Hurdles
Eric Kop 2nd
Nic Reyes 5th
300 Hurdles
Eric Kop 2nd
4x100 2nd
Trayson probst
Blake Rausch
DeAndre Washington
Michael Ledbetter 
4x400 3rd
Caleb Reichenberger
Isaac Hilt
Tayshaun Washington
Jacob Ewing
4x800 1st
Jacob McDonald
Chase Pfalzgraph 
Tyler Brown
Billy Walker
Pole Vault
Nic Reyes 2nd
******************************************
WHS TRACK & FIELD
@ Mulvane HS
Wednesday, Apr 4, 2018
Originally scheduled for this Friday, the weather forecast prompted Mulvane school officials to move their track meet up 2 days - here are the overall results as well as the TOP 3 finishes for WHS!
"TOP 3" WHS FINISHES
GIRLS POLE VAULT
Elise Legrand 1st  8-00.00
Kylie Aufdengarten 2nd 7-06.00

BOYS POLE VAULT
Nic Reyes 2nd 11-00.00
GIRLS LONG JUMP
Taylor McGlothliln 1st  15-09.25
GIRLS TRIPLE JUMP
Taylor McGlothlin 1st 33-06.75
GIRLS DISCUS
Brooke McCorkle 3rd 92-05
GIRLS JAVELIN
Taylor Meyer 1st 118-02
GIRLS SHOT PUT
Elise LeGrand 31-05.00
BOYS 4x800M RELAY
Wellington  2nd  9:14.39
Tyler Brown, Jacob McDonald,
Chase Pfalzgraf, Billy Walker
GIRLS 100M HURDLES
Elise LeGrand 3rd  18.36
BOYS 110M HURDLES
Eric Kop 3rd 17.48
GIRLS 100M DASH
Taylor McGlothlin 2nd  13.19
BOYS 100M DASH
DeAndre Washington 3rd 11.37
GIRLS 4x100M RELAY
Wellington 2nd  54.00
Jordan Young, Jennifer Jensen,
Taylor McGlothlin, Amber Cubbage-Williams
BOYS 4x100M RELAY
Wellington 3rd 45.90
DeAndre Washington, Michael Ledbetter
Caleb Reichenberger, Nic Reyes
BOYS 300M HURDLES
Drake Hendrix 3rd  46.25
BOYS 800M RUN
Chase Pfalzgraf  2nd  2:15.59
GIRLS 200M RUN
Amber Cubbage-Williams 3rd 28.53
GIRLS 4x400M RELAY
Wellington 3rd  4:32.55
Amber Cubbage-Williams, Jordan Young
Camryn Ricke, Kylie Aufdengarten

TEAM SCORES (GIRLS)
1st - Augusta 67
2nd - Wellington 63
3rd - Towanda Circle 62
4th - Mulvane 49
5th - Winfield 27

TEAM SCORES (BOYS)
1st - Winfield 77
2nd - Towanda Circle 69
3rd - Mulvane 65
4th - Augusta 34
5th - Wellington 31
*****************************
WHS TRACK & FIELD
@ Clearwater Invitational (Participation)
Thursday, Mar 29, 2018
The WHS Track Squad road tripped to Clearwater HS Thursday for their 2018 Season Opener...results below.  WHS Yearbook shared a few pics from the event - thank you Mackenzie Heacock and Emberly Gonzalez for your assist! (Both participated in the meet as well!)

COURTESY PICS WHS TRACK @ Clearwater 032918

OVERALL RESULTS (all)
WELLINGTON "TOP 3" FINISHES
WOMEN'S JAVELIN
1st Taylor Meyer 121' 11"

MEN'S JAVELIN
3rd Trayson Probst 132' 11"

WOMEN'S TRIPLE JUMP
1st Taylor McGlothlin 34' 10"

WOMEN'S LONG JUMP
2nd Camryn Ricke 14' 4 1/2"
WOMEN'S POLE VAULT
1st Elise LeGrand  7'8"
2nd Kylie Aufdengarten 7' 2"
MEN'S POLE VAULT
2nd Nic Reyes 11' 8"

MEN'S 4x800m RELAY
2nd Place  9:23.20
Chase Pfalzgraf, Jacob McDonald,
Tyler Brown, Billy Walker

MEN'S 100M HURDLES
1st Eric Kop 15.85

WOMEN'S 100M RUN
2nd Taylor Meyer 13.36
3rd Jennifer Jensen 13.60
MEN'S 100M
2nd Blake Rausch 12.08
MEN'S 1600M
3rd Tyler Brown 5:14.99
WOMEN'S 4x100 RELAY
3rd Wellington (D) 55.52
Jordan Young, Amber Cubbage-Williams
Michaela Washington-Adkins, Maria Grable
MEN'S 4x100 RELAY
2nd Wellington (B) 47.85
Christian Buckman, Blake Rausch,
Isaac Hilt, Tayshaun Washington
WOMEN'S 400M
3rd Jordan Young 1:10.88
MEN'S 400M
1st Christian Buckman 54.64
MENS 300M HURDLES
1st Drake Hendrix 44.90
MEN'S 800M
2nd Chase Pfalzgraf 2:15.40
WOMEN'S 200M
2nd Taylor McGlothlin 27.39
3rd Amber Cubbage-Williams 28.24
MEN'S 200M
2nd Christian Buckman 24.67
3rd Blake Rausch 24.87
MEN'S 4x400 RELAY
3rd Wellington (A) 3:56.94
Chase Pfalzgraf, Jacob McDonald,
Tyler Brown, Billy Walker
**********************************
2017
STATE 4A TRACK @ WSU!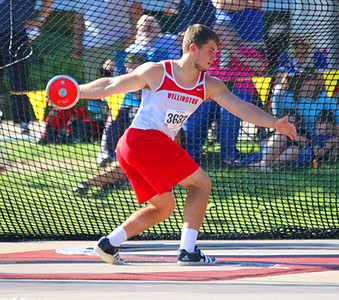 A big day Friday for WHS TRACK! Senior Chris Kop (DISCUS) and Sophomore Taylor Meyer (JAVELIN) made their marks at the 2017 STATE 4A Track Meet (State 1A-6A Meet @ W.S.U.) Chris finished 4th in the DISCUS and medaled! Taylor finished 5th in the JAVELIN and medaled! Additionally, Taylor broke her own record from just 8 days ago ( when she broke a 29 yr. old record) by 4 feet at the 4A Regional in Winfield. (122.10) Her 128.02 ft throw today at STATE broke her 8 day old record by nearly 6 feet!!! Awesome. Congratulations to TWO FINE CRUSADERS - way to represent - we are proud of you both!!
REGIONAL 4A TRACK RESULTS - WINFIELD 051817
Senior Chris Kop qualified for STATE 4A Meet in Boys Discus, Sophomore Taylor Meyer for Girls Javelin (Taylor's throw of 122' surpassed 1988's Sarah Horn's record at WHS by 4 feet! Awesome!)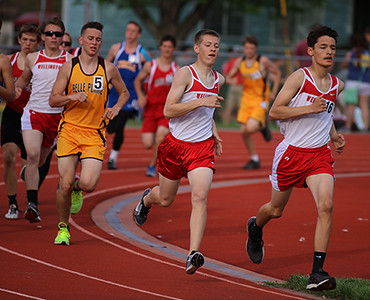 Wellington High School hosted their annual TRACK MEET on Friday but at a different location due to TRACK issues here (that are being addressed)...Belle Plaine allowed the Crusaders and Staff to use their facility - a big thank you to them. The results are in, several first place finishes in the 8 team participation competition, several medalists in several events. GREAT JOB CRUSADERS! Next action this FRIDAY @ Chaparral!
WELLINGTON TRACK & FIELD PICS 042817

LARGE VIEW - MASON POLE VAULT
Double Click Photo for largest view.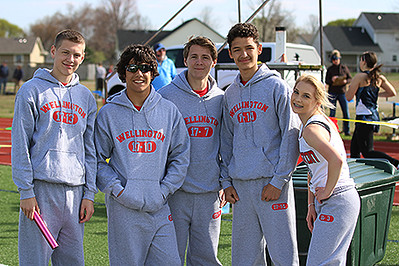 The WHS TRACK TEAM had their opening season action Friday at the Clearwater HS Participation Meet. It was a "bit" chilly and windy but not too bad - our athletes performed well - the Crusaders earned "7" 1st place finishes and several 2nd place - (Seniors Matthew Mason (3) and Chris Kop (2) accounted for "5" of the "7" GOLDS) - enjoy the pics!
WHS TRACK & FIELD ACTION PICS 03.31.17
WHS TRACK TEAM 2017 PIC
Double Click for largest view!
200M HEAT w/ "6" CRUSADERS PIC
Double Click for largest view!