WHS JR. AARON SCHOEMANN MEDALS @ State 4A Tournament!
WHS Crusaders have completed their action at the State 4A Wrestling Tournament in Salina this weekend. Junior Aaron Schoemann is returning home with 5th Place hardware after going 4-2 over the 2 day event. No Crusader has won "4" matches at State since 2007 when Kody Page won the 215 lb. State Championship! Freshman Kanden Young and Junior Ian Groom were also in action on Friday, both ended up 0-2 but both battled hard and represented well! Congrats to all 3 - special congrats to Aaron - you are a medalist CRUSADER and still have 1 more year to go - dare to dream - all of you!!
STATE 4A WRESTLING PICS 022417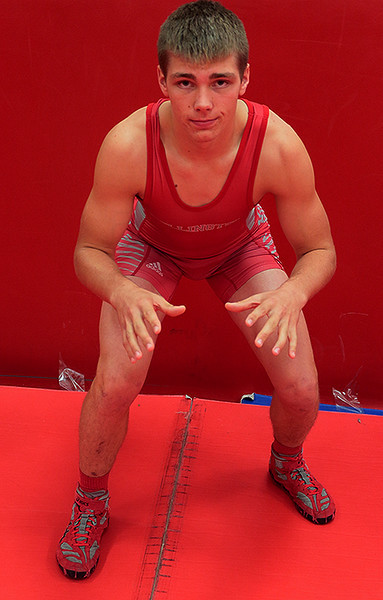 The Crusaders had "5" wrestlers competing at the annual 2 day/23 team Rose Hill Invitational this past Friday and Saturday. Congratulations to Jr. Aaron Schoemann who went 2-1 and finished 2nd after being defeated by Peters of Salina Central in the 182 lb. championship match. Schoemann lost by decision. Awesome job Aaron! 126 lb. Daniel Schmidt went 2-2, 132 lb. Kyle Clem 1-2, 138 lb. Andrew Wolf 1-2 and 220 lb. Matt McComb 1-2.
WICHITA SOUTH (9/10) Invitational
Saturday / Feb. 4th
106 - Brennan Cantrell (2-1) 2nd Place
113 - Austin Harriger (1-2)
126 - Quinton Redford (3-0) 1st Place
132 - Rylan Blasi (0-4)
152 - Drake Alcorn (0-2)
160 - True DeJarnett (3-0) 1st Place
170 - Kenny Farley (2-1) 2nd Place
182 - Hunter Greenlee (bye, 2-0) 1st Place
285 - Kyle Parsons (bye, 0-2)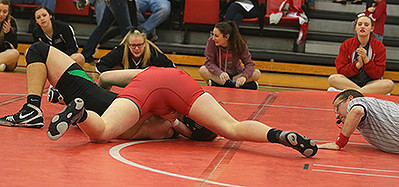 220 lb. MATT McCOMB SEALS THE DEAL!
Exciting wrestling action out at WHS Thursday evening - league dual action with Mulvane with the league title still up for grabs. Mulvane jumped out early on the Crusaders, winning 3 of the first 4 matches (all by pins) before the Crusaders would begin their rally to victory, secured by 220 lb Matt McComb who unexpectedly and heroically, pinned his opponent to the joyous outcry of fans and teammates - really great stuff! In the end it was Wellington 39 Mulvane 34. Wellington and Mulvane are now both at 3-1 in league, Rose Hill is 1-1 and has duals with Andale and Clearwater soon, those results will determine league results in the end. At worse though, the Crusaders have sealed up at least a CO-CHAMPIONSHIP for 2017. Here are Thursday's results:
106 - Montana Heacock (pin - loss) 0-6
113 - Tim Schmidt (13-9 dec - win) 3-6
120 - Malachi Macias (pin - loss) 3-12
126 - Daniel Schmidt (pin - loss) 3-18
132 - Blake Bales (open - win) 9-18
138 - Kyle Clem (pin - win) 15 - 18
145 - Kadin Heacock (pin - win) 21-18
152 - Kanden Young (pin - loss) 21-24
160 - Seth Tunnell (12-0 dec - loss) 21-28
170 - Dylan Ferguson (4-0 dec - win) 24-28
182 - Aaron Shoemann (7-2 dec - win) 27-28
195 - Ian Groom (pin - win) 33-28
220 - Matt McComb (pin - WIN) 39-28
285 - Kyle Parsons (pin - loss) 39-34
UPDATE: The Andale Varsity Wrestlers defeated Rose Hill Thursday evening 43-33. The Andale victory handed theAVCTL DIV IV LEAGUE CHAMPIONSHIP to the CRUSADERS!
WELLINGTON vs MULVANE DUAL PICS 011917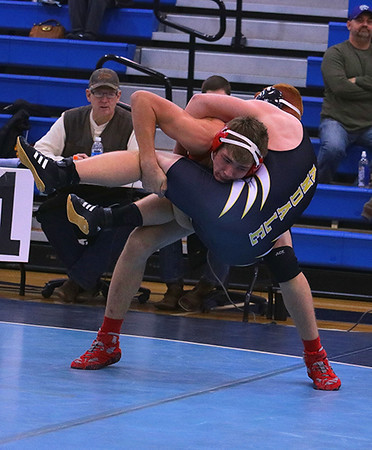 There was Double Dual wrestling action at Clearwater HS Thursday w/ host Clearwater, Andale and Mulvane. The Varsity Wellington Crusaders pulled out 2 league wins, downing Andale 72-10 and downing Clearwater 43-33. Andale is in a 2 day large invitational at Basehor-Linwood today and Saturday so they opted to send mainly JV wrestlers and "6" open weights to Clearwater thus the unusually lopsided outcome in the opener. Andale lost by a similar margin to Mulvane. In Wellington's 2nd dual Thursday, a close and competitive faceoff.In the end our Crusaders secured their 2nd win on the evening 43-33. Clearwater lead early on but the "mo" changed and the big red machine chalked up the 2 league victories in one night. Great Job Crusaders - Good Luck Saturday as they return to Clearwater for a 13 team invitational which will get underway at 9AM. Weather could be a concern however and Clearwater will make a decision today as to whether the Saturday tournament will be held or not.
DOUBLE DUAL ACTION PICS @ CLEARWATER 011217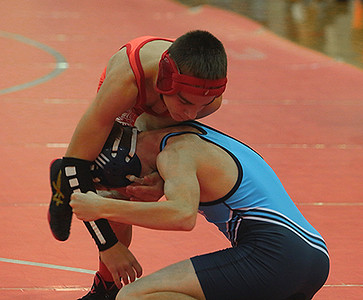 Wellington Invitational Tournament
WELLINGTON INVITATIONAL PICS 12.10.16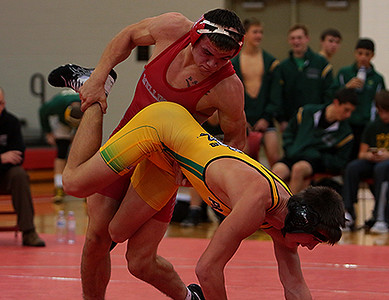 The Wellington Crusader Wrestling Team hosted Pratt Thursday in dual action out at WHS. In the end it was Pratt 59 Wellington 24 and the visitors (who are ranked #2 in State 4A) would win 10 of the 14 matches wrestled and 8 of those 10 by pin. Sounds bad perhaps but actually the Crusaders gave up just a couple of "quick" pins, most of the other matches were battles to varying degrees that swung the wrong way nearer to the end than the beginning. Congrats to 126 lb. Daniel Schmidt, 138 lb. Kadin Heacock and 220 lb. Matt McComb - all "3" pinned their Pratt opponents. Pratt was open at 170 lbs. giving Isaac Hilt that victory. Next up - Wellington Invitational (JV and Varsity) this Saturday at WHS - action gets underway in both gyms at or around 9AM.
PRATT vs WELLINGTON MAT ACTION PICS 12.08.16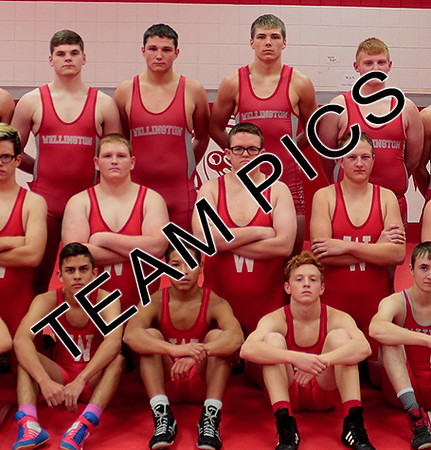 Thursday was MEDIA DAY at WHS / the 2016-17 Boys Basketball, Girls Basketball and Wrestling squads were in official game/match attire and the camera's clicked away. Here are most of the WRESTLING PICS!
2016-2017 WHS WRESTLING TEAM - LARGE PIC 120116