2021 SEASON
***************************
WHS VARSITY BOYS GOLF
Wellington Invitational @ WGC
Thursday, April 8, 2021
Congratulations to our WHS Varsity Boys Golf Team! How does FIRST PLACE sound for your HOME INVITE? It sounds awesome - great job gentlemen!!
Here are the individual final scores for our Crusaders today at the Wellington Invitational Golf Tournament at WGC! There were "70" participants overall:
INDIVIDUAL WHS RESULTS
1st Deitrek Gill 72
8th Laken Smith 84
10th Brett Wyckoff 85
11th Caden Lawrence 85
12th Peyton Linker 85
15th Jace Lawrence 87
JV
34th Kaeden Gill 98
52nd Taylon Ellis 106
66th Braeden Ybarra 121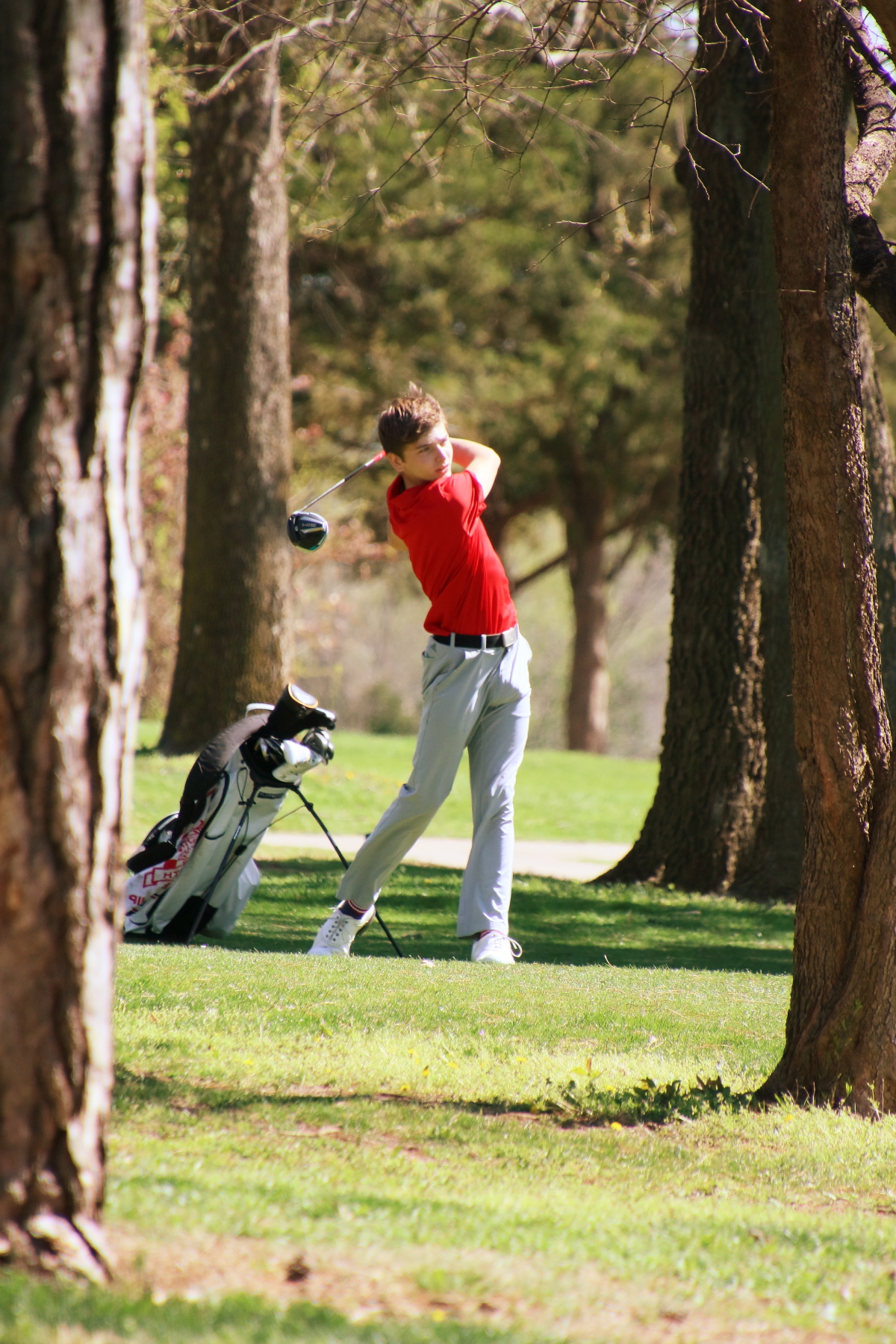 TEAM RESULTS
1st WELLINGTON 326
2nd Andover Central 333
3rd Goddard IKE 348
4th Augusta 357
5th Andover 369
6th Wichita Collegiate 386
7th Rose Hill 390
8th Goddard 401
9th Andale 406
10th Mulvane 407
11th Clearwater 410
12th Circle 415
***************************
WHS BOYS GOLF 
Team Pics / Individual Pics
Wednesday, April 7.2021
WHS GOLF 2021 (BOYS) TEAM PICS / INDIVIDUAL PICS
*************************
WHS VARSITY BOYS GOLF
@ Crestview Country Club (Andover)
Monday, April 5, 2021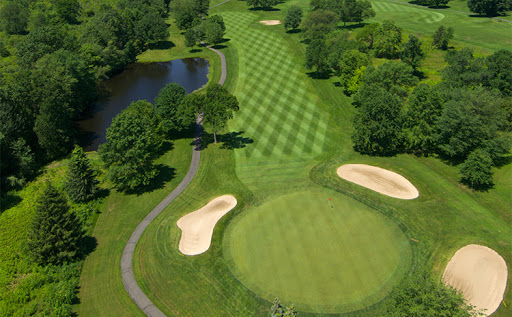 The Wellington Crusader Golf Team was able to capture the team championship with a score of 329, in our first tournament of the season.
Leading the way with an individual first place medal was Deitrek Gill, who fired a one under par 71 to win the tournament. Deitrek shot an amazing 33 (3 under) on the back nine to win by seven strokes. He had an amazing day in less than favorable conditions. His performance led the way but others had great days as well.
Jace Lawrence finished 7th with an 83 followed by Brett Wyckoff who finished 10th with an 85. Rounding out the team score was Laken Smith with a 90. Other scores included Peyton Linker with a 93 and Caden Lawrence with a 93. Great way to start off the 2021 golf season with a victory! We play at home on Thursday hosting 11 other teams in our Wellington Invitational.
Former Wellington golfers, Luke Scheufler (Wichita Trinity) and Austin Goodrum (Andover Central), finished in 2nd and 3rd, 7 strokes and 11 strokes respectively, behind Gill.
Great Job Crusaders - way to represent!! GOOD LUCK THURSDAY!!!
************************
WHS JV BOYS GOLF
@ Andover Municipal Golf Course
Monday, April 5, 2021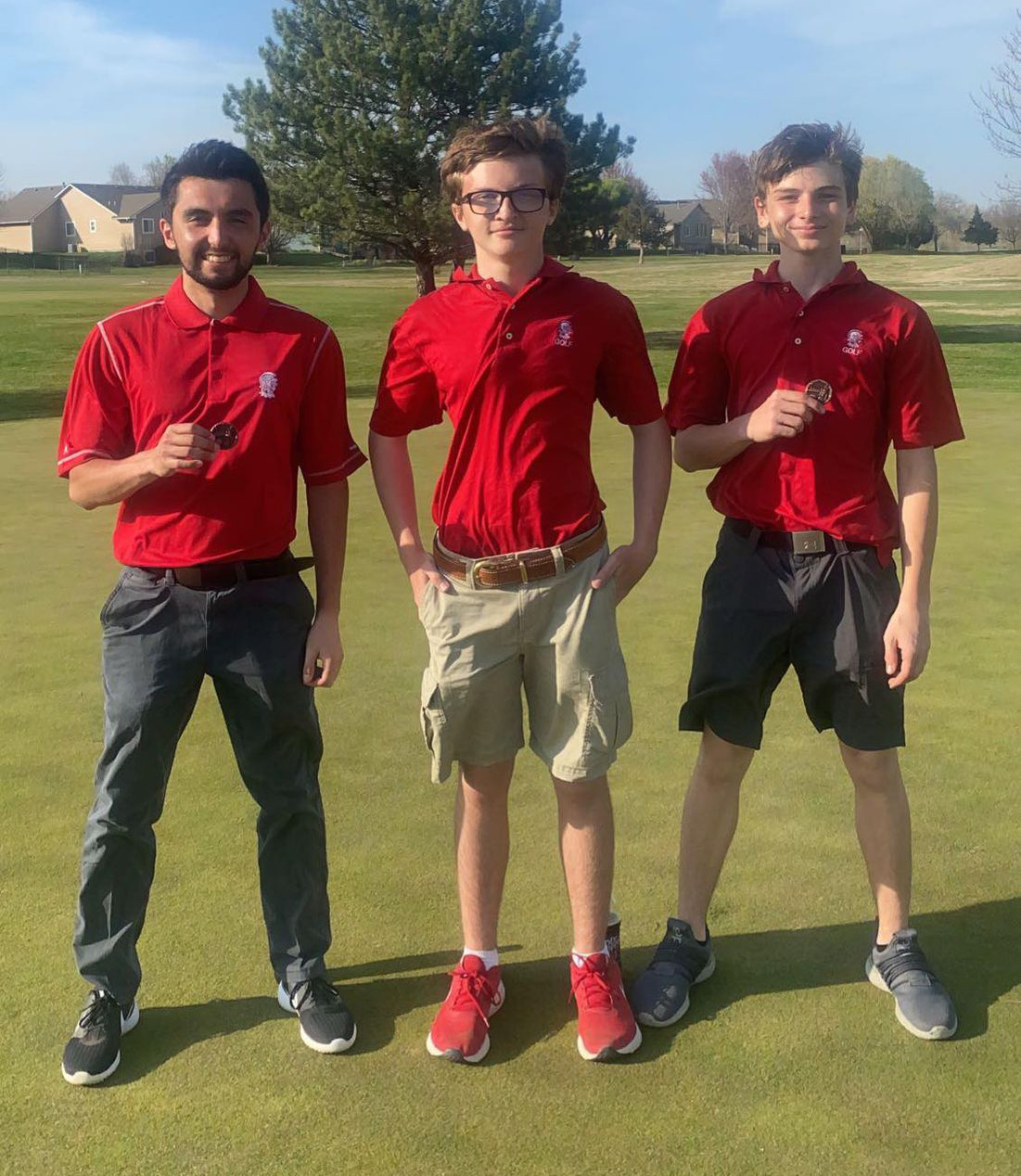 Our JV Golf boys were in action today at a tournament with Andover, Andover Central, Augusta, Eisenhower, Goddard, Hesston, Maize, Mulvane, Rose Hill and Valley Center. Coach Blake Bales reports Kaeden Gill finished 3rd, shooting a 43, Braeden Ybarra finished 8th with a 44. Taylon Ellis, just 4 shots out of a medal, shot a 48. Great Job Crusaders!
Courtesy Pic
*************************
WHS JV BOYS GOLF
@ Winfield Country Club
Thursday, April 1, 2021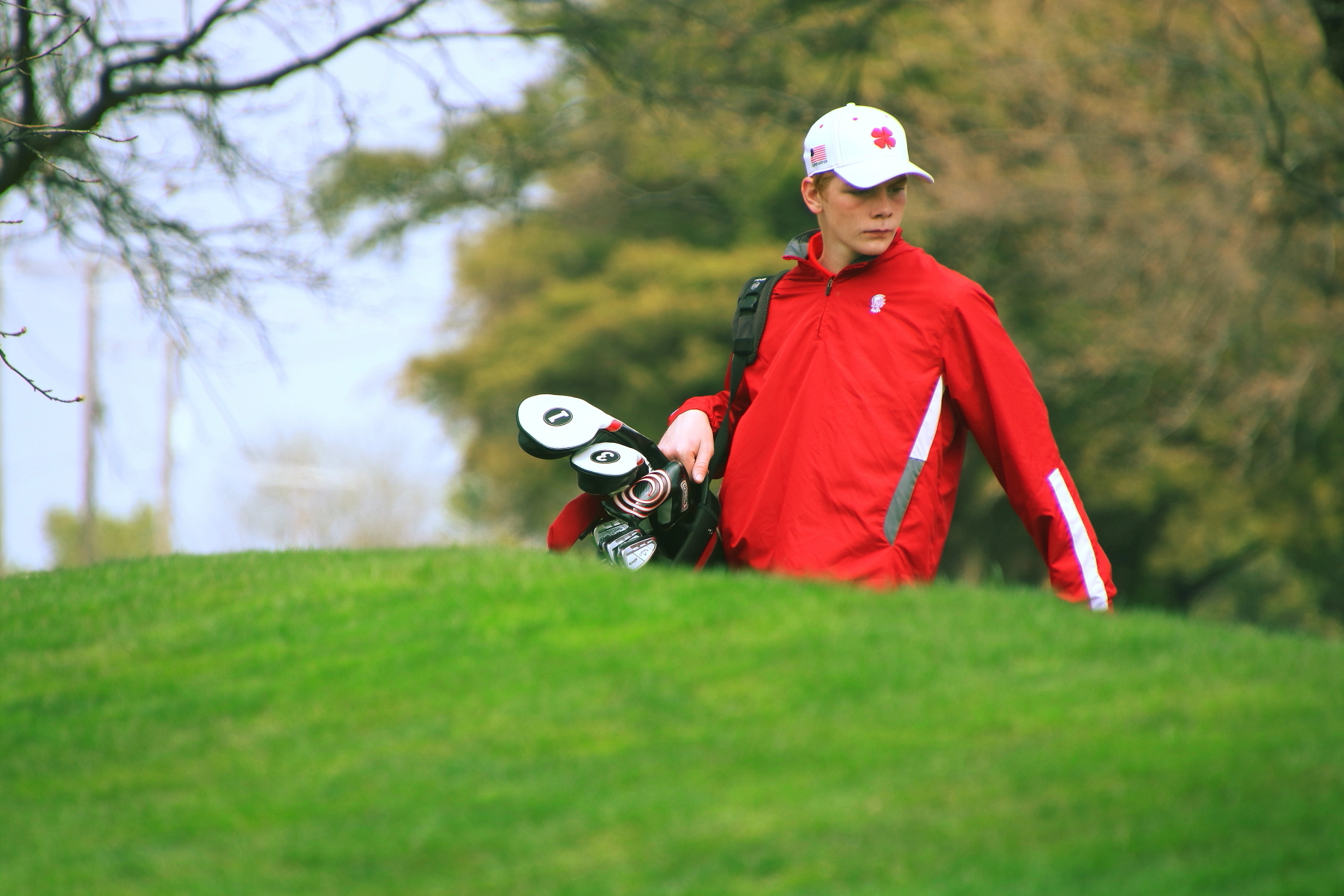 File Pic (2019)
Here are the results for the JV golf tournament at Winfield country Club Thursday. We only had three individual competitors today, but two of the three finished in the top five. Junior Caden Lawrence was the overall individual champion (1st Place);firing a 43 to win by five strokes.  Freshmen Kayden Gill competing in his first high school tournament was able to finish in a tie for 5th firing a 50. Sophomore Taylon Ellis, also competing in his first high school tournament finished with a 65. Coach Blake Bales also coached in his first high school tournament, helping bring home two individual medals. Great start to the season for WHS golf. Looking forward to continued success in the future. Varsity and JV are in action on Monday with the varsity competing at Crestview Country Club in Wichita and the JV competing at Andover municipal in Andover.
**************************

DEITREK GILL WINS @ PINEHURST! 07.26.20
(PHOTO COURTESY CARISSA GILL – Facebook Post)
WHS Class of 2022 Deitrek Gill did something very amazing this weekend, (07.26.20) with his father Chad, at his side as caddie. Deitrek walked away after 2 rounds of stroke play on Thursday and Friday and Championship Play on Saturday, to win the World Teen Championship at Pinehurst Golf Club in North Carolina.
A PINEHURST PROMO says this – "No game is so rooted in history. And no place is so solidly built on memories as Pinehurst. The North Carolina pines whisper the legends of Hogan, Snead, Nicklaus and Palmer. And the fairways of Pinehurst No. 2 offer a walk unlike any other. Create your own history at Pinehurst, a place as timeless as the game itself."
Deitrek did just that this weekend at PINEHURST, where each summer golfers age 13-18 play on seven championship courses in the Pinehurst area. These courses, this event and the community as a whole have provided a stage for golf's next generation of stars to shine. The schedule consists of a parent/child tournament, three rounds of championship play, and the Closing Ceremony. Junior Golf Scoreboard, AJGA and the World Amateur Golf Ranking recognize the U.S. Kids World Teen Championship as a ranked event. CLICK HERE for a listing of this year's participants!
A field of 74 (15-18 yo's) including Deitrek, competed in and completed the 3 day event. Most participants were from the U.S. but Mexico and Cyprus were also represented. Deitrek won it all, with a 3 round total of 215. Solomon Petrie from Akron, OH placed 2nd @ 217, Topher Reed from Fairview Park, OH placed 3rd @ 219. CLICK HERE for the final results from the 15-18 year old world competition at Pinehurst Golf Club in North Carolina this weekend. 
Congratulations Deitrek and father Chad! What an experience and awesome accomplishment gentlemen! Unbelievable performance against many of the best teen golfers in the country! Wellington is very proud! 
This past March, in what turned out to be the last KWHS Newscast at Wellington High School for this past school year, (school was canceled for the remainder of the 2019-2020 school year, a few days after this interview due to COVID-19). WHS Senior Blake Saffell (WHS 2021), interviewed his teammate Deitrek (WHS 2022), about his life and love of golf. I loved this interview then, I love it even more now. These are two fine young men – Deitrek's love of the game and his future as a part of the game seems very bright and he prophetically speaks about that in this interview, another IMPACT MOMENT for KWHS. Congrats again Crusader – and to Crusader fans everywhere, enjoy the short interview between Blake and Deitrek and look forward to some mighty fine golf this coming Spring 2021!
*********
2020 SEASON - cancelled due to COVID-19.
*********
2019 SEASON
WHS VARSITY BOYS GOLF
@ Mariah Hills (Dodge City)
STATE 4A MEET
Wednesday, May 29, 2019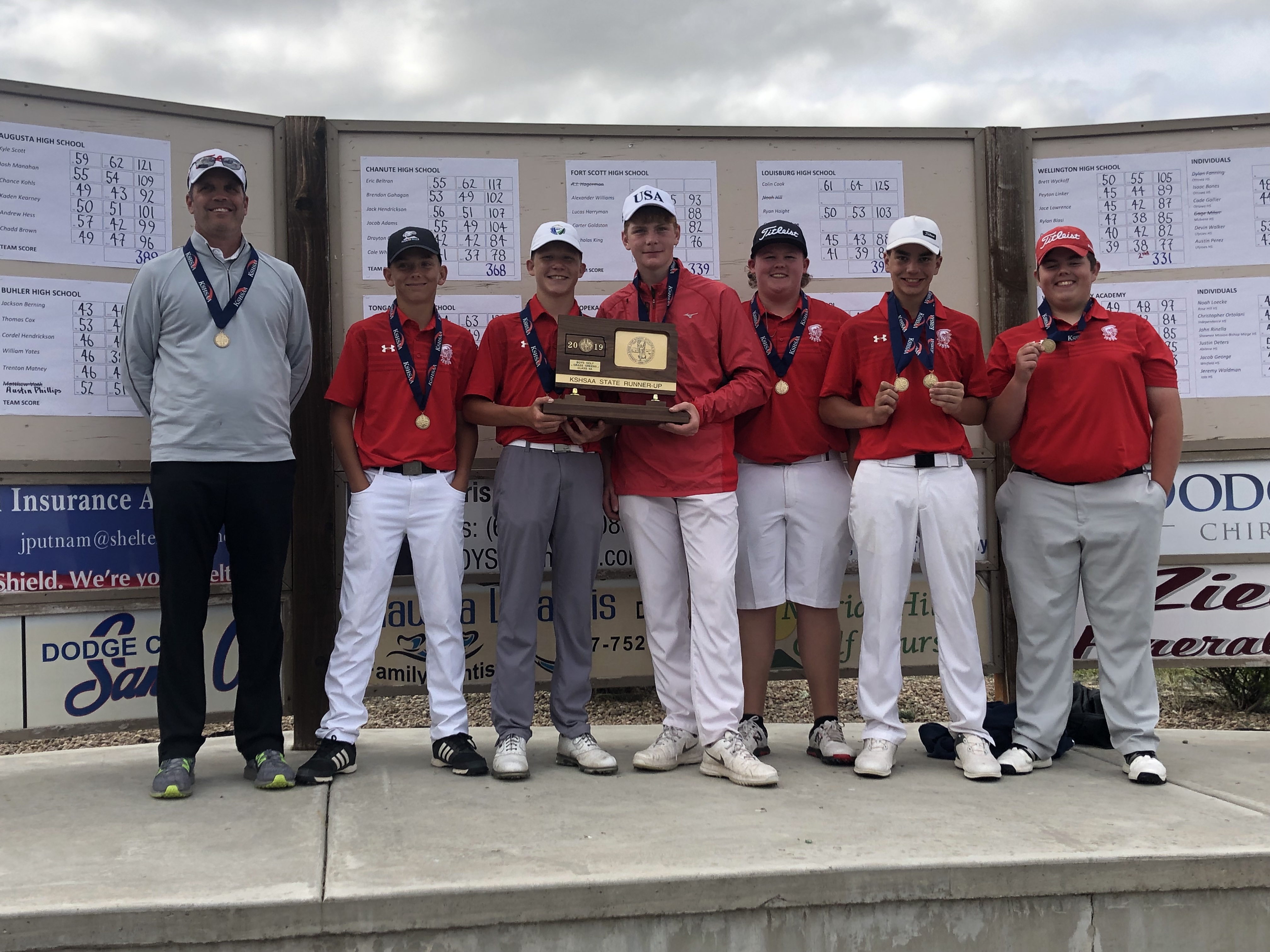 Courtesy Pic - WHS BOYS GOLF
The CRUSADERS are STATE 4A Runners-Up 2019!!
Blake Saffell finished 5th , the Crusaders as a team 2nd!
Awesome stuff!!
INDIVIDUAL RESULTS
(83 Participants)
Blake Saffell - 77 5th MEDAL
Deitrek Gill - 82 15th MEDAL
Rylan Blasi - 85 26th
Jace Lawrence - 87 31st
Peyton Linker - 89 40th
Brett Wyckoff - 105 76th
TEAM RESULTS
Wichita Trinity 315 1st
WELLINGTON 331 2nd
Andale 336 3rd
Fort Scott 339 4th
Wamego 341 5th
Topeka-Hayden 342 6th
Labette Cty 349 7th
Buhler 352 8th
Tonganoxie 362 9th
Chanute 368 10th
Augusta 388 11th
Louisburg 396 12th
CONGRATULATIONS CRUSADERS!!!!
******************
WHS VARSITY BOYS GOLF
@ Wichita Tallgrass
REGIONAL 4A MEET
Monday, May 13, 2019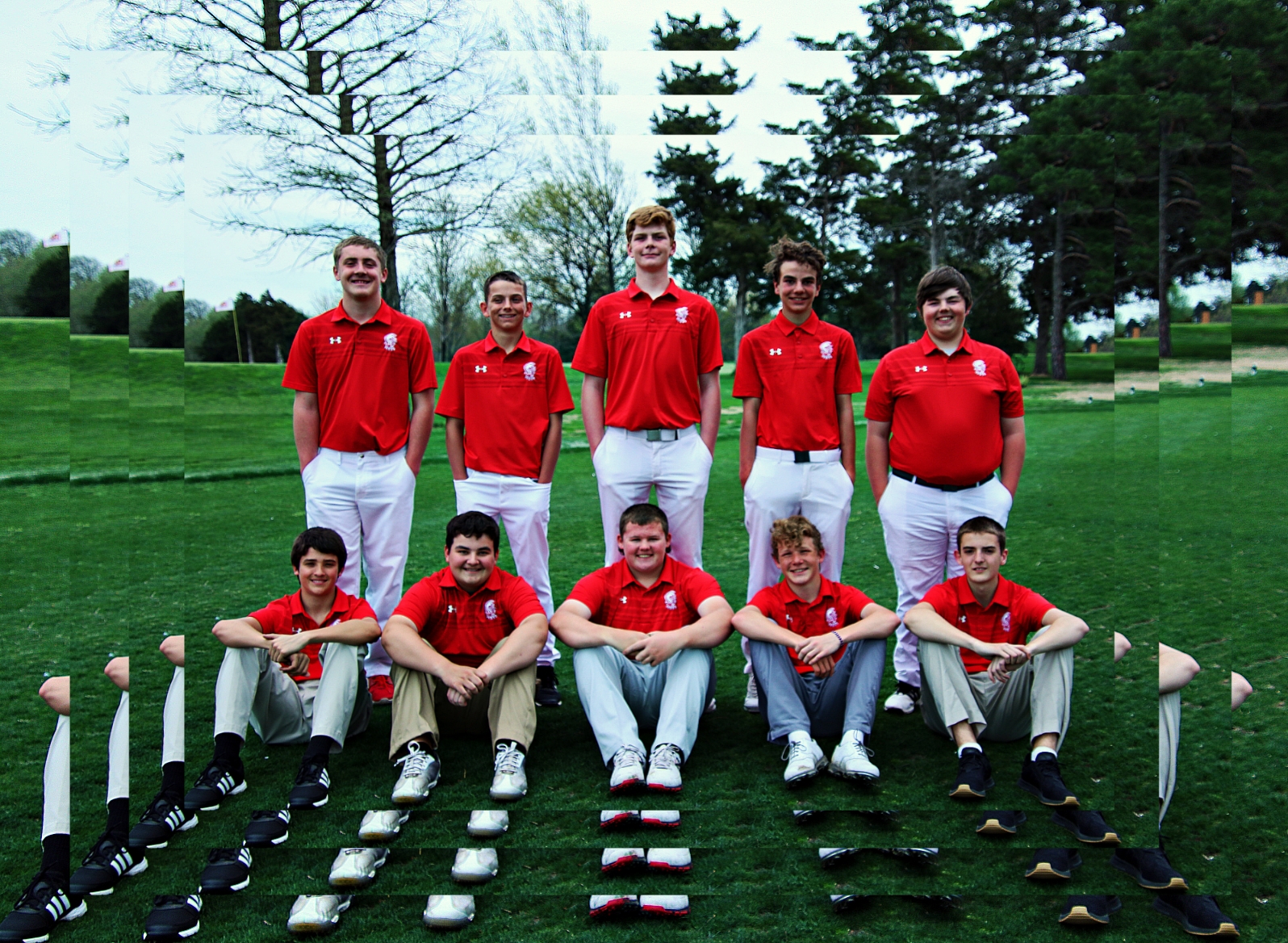 Coach Ginter reports, "today the Crusader golf team finished second at the 4A regional golf tournament at Tallgrass Country Club in Wichita qualifying the team for the state tournament to be held at Quail Ridge Golf Course in Winfield next Monday. I was very proud of our young men today and their performance on a golf course that played very tough. Blake Saffell was the individual 4A Regional Champion for the second consecutive year, winning on the second hole of a sudden-death playoff. After a great drive and beautiful chip, Blake rolled in a 10-foot putt to win the hole and the individual championship. Deitrek Gill and Jace Lawrence finished two strokes out of top 10 medalist contention. We are looking forward to the opportunity to compete next week for the 4A state title."
AWESOME JOB CRUSADERS!!!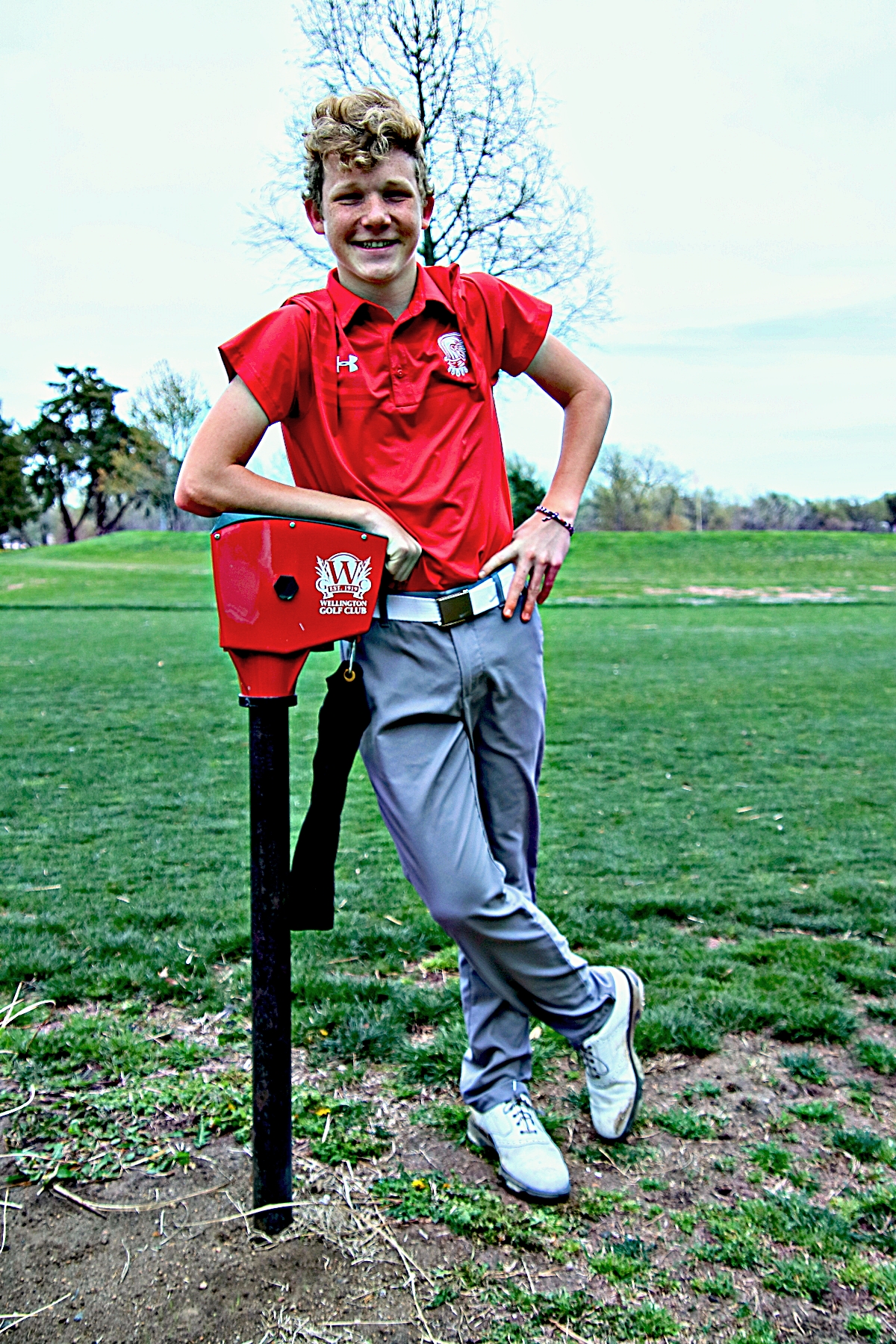 Congratulations Blake Saffell!! 
Regional 4A Champ 2 years running!
TEAM FINISHES
Wichita Trinity 317
Wellington 350
Augusta 382
Circle 395
Mulvane 411
Clearwater 426
Rose Hill 430
El Dorado 489
INDIVIDUAL (47 finishers)
Blake Saffell +5 76 1st 
Deitrek Gill +17 88 12th
Jace Lawrence +17 88 12th
Peyton Linker +27 98 17th
Brett Wyckoff +32 103 23rd
Rylan Blasi +43 114 31st
***********************
WHS VARSITY BOYS GOLF
@ Rolling Hills (Wichita)
AVCTL LEAGUE MEET
Tuesday, May 7, 2019
The WHS Varsity Boys Golf Team captured the AVCTL DIV IV League Championship in a weather shortened 9 hole tournament at Rolling Hills Country Club in Wichita Tuesday!!
Deitrek Gill was the overall DIV 4 Individual Champion with a score of +2 (38). Rylan Blasi finished 3rd with a +5 (41), Blake Saffell finished 4th overall with a +5 (41), Jace Lawrence finished 7th with a +7 (43), Peyton Linker 13th (45), and Brett Wyckoff 20th (49).
1st Team Division 4 Honors go to Deitrek, Blake & Rylan.

2nd Team Division 4 Honors go to Jace!!
CONGRATULATIONS CRUSADERS goes to ALL - Way to represent!!!
**************************
WHS VARSITY BOYS GOLF
@ Eisenhower Invitational
Thursday, May 2, 2019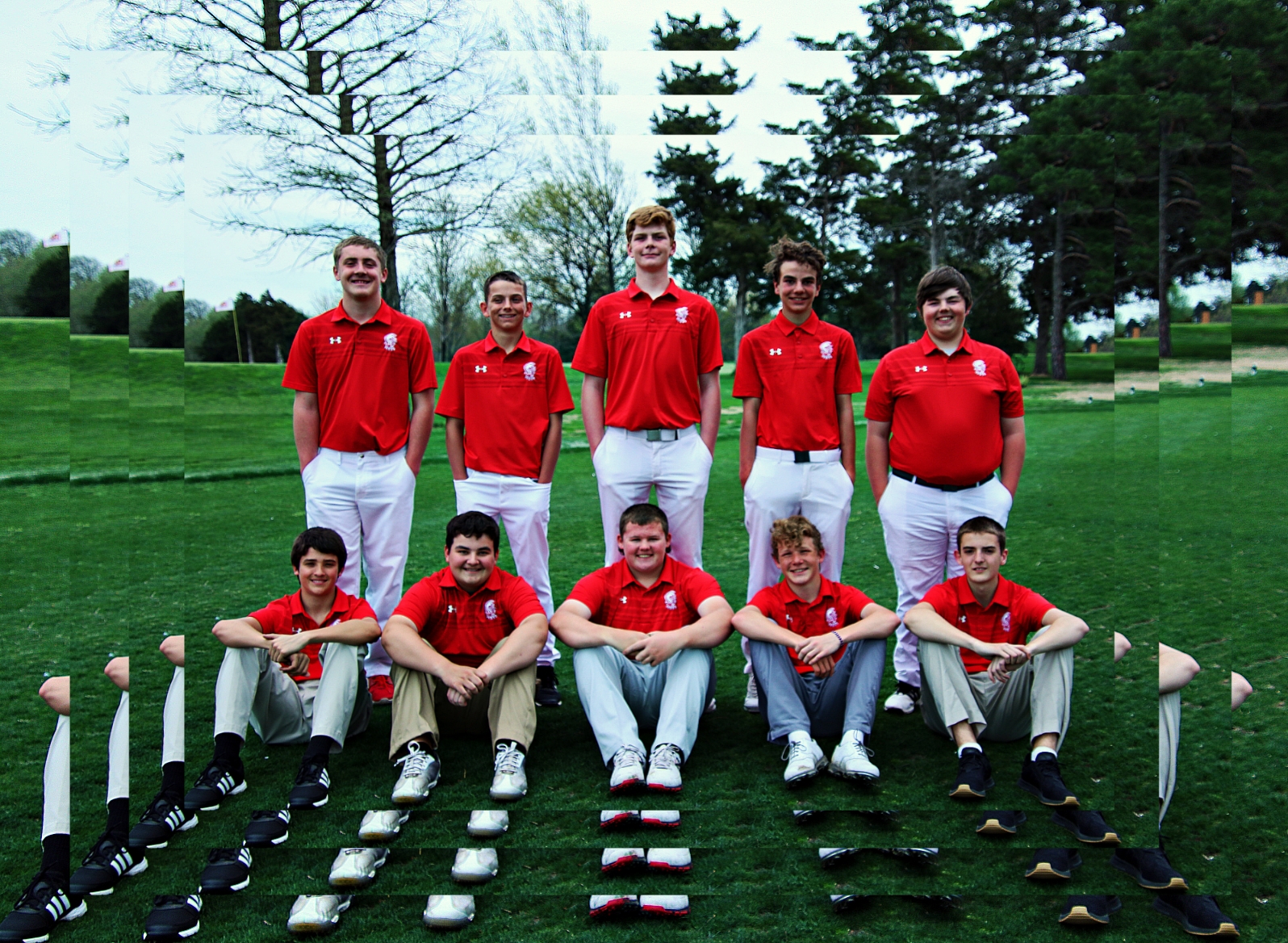 TEAM RESULTS
Andover Central 293
Maize South 316
Andover 323
Eisenhower 323
WELLINGTON 326
Buhler 339
Dodge City 342
Augusta 362
Collegiate 364
Goddard 377
Maize 400

INDIVIDUAL RESULTS
Blake Saffell 73 / 4th
Rylan Blasi 77 / 9th
Jace Lawrence 87 / 35th
Peyton Linker 89 / 42nd
Brett Wyckoff 102 / 60th
Langdon Lack 109 / 64th
NEXT UP: AVCTL MEET Tuesday / May 7th 10:00AM  Rolling Hills Country Club (Wichita)
*************************
WHS JV BOYS GOLF
@ Clearwater
Thursday, May 2, 2019
Caden Lawrence 46 / 3rd
Laken Smith 55 / 9th
Parker Dodds 57 / 11th
************************
WHS VARSITY GOLF
@ Hesston Invitational
Thursday, April 25, 2019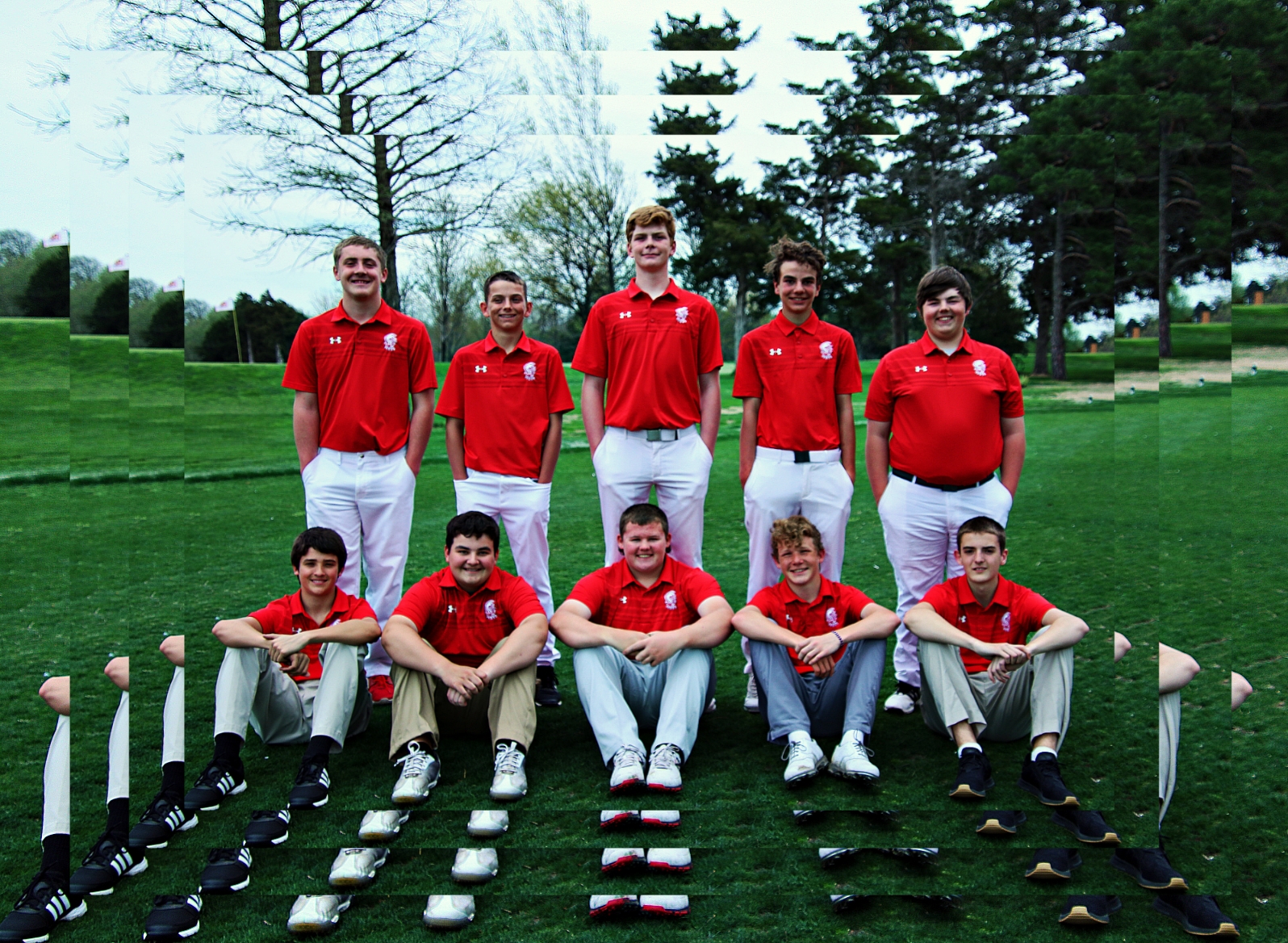 INDIVIDUAL RESULTS

Blake Saffell 73 - 2nd
(presently ranked 1st in 
4A, 4 strokes ahead of 2nd)
Deitrek Gill 74 - 3rd
(presently ranked 4th in 4A)
Rylan Blasi 83 - 17th
(presently ranked 25th in 4A)
Peyton Linker 88 - 31st
(presently ranked 43rd in 4A)
Jace Lawrence 89 - 33rd
(presently ranked 21st in 4A)
Brett Wyckoff 107 - 67th
(presently ranked 81st in 4A) 
TEAM RESULTS
Wichita Trinity - 295
WELLINGTON - 318
Maize South - 322
Cheney - 336
Hesston - 339
Buhler - 346
Collegiate - 349
Sterling - 370
Andover Ctrl - 380
Rose Hill - 388
Winfield - 391
St. John - 397
Valley Center - 433
Newton - 443
************************
WHS VARSITY GOLF
@ Collegiate
Monday, April 15, 2019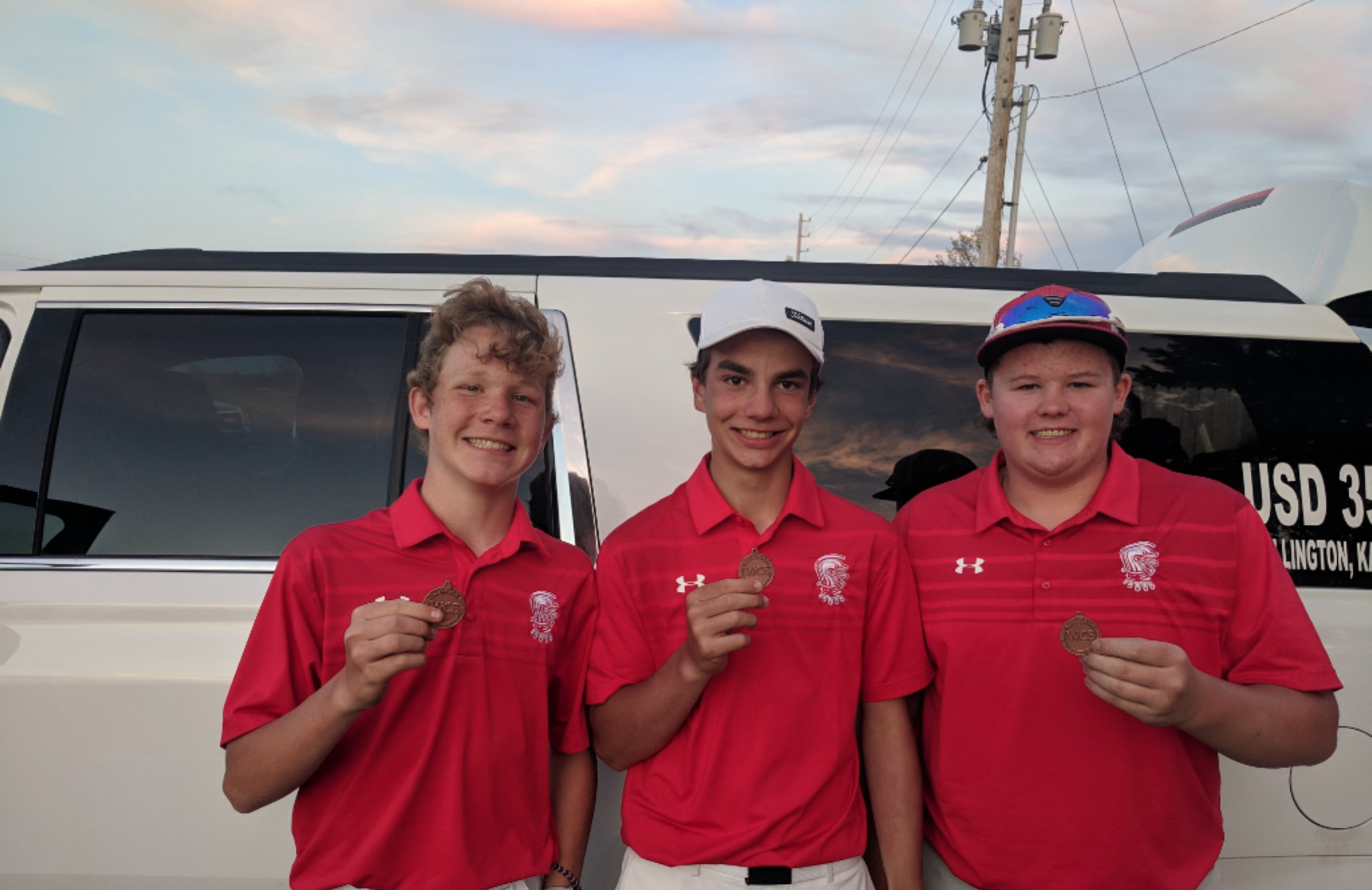 TEAM FINISH - 4TH (306)
Blake Saffell 3rd (71)
Deitrek Gill 4th (73)
Jace Lawrence 8th (75)
Rylan Blasi 87
Peyton Linker 87
Langdon Lack 99
**********************
VARSITY GOLF
@ Terradyne (Andover Ctrl)
Monday, April 8, 2019
TEAM RESULTS
Andover Central 296
Wellington 311
Andover 314
Eisenhower 322
Buhler 330
Collegiate 342
Andale 348
Maize 351
Hesston 361
Augusta 369
Goddard 395
Valley Center 455
INDIVIDUAL RESULTS
Blake Saffell 69 (2nd)
(presently ranked 1st in 4A)
Deitrek Gill 73 (6th)
(presently ranked 5th in 4A)
Jace Lawrence 79 (16th)
Rylan Blasi 88 (36th)
Peyton Linker 97 (55th)
Brett Wyckoff 97 (56th)
*******************
WHS JV GOLF
@ Andover (9 holes)
Monday, April 8, 2019
Parker Dodds 44
Langdon Lack 46
Laken Smith 52
Caden Lawrence 53
******************
WHS GOLF INVITATIONAL
HERE @ Wellington Golf Club
Thursday, April 4, 2019
INDIVIDUAL SCORES
Blake Saffell 64 - 1st
(6 under)
Deitrek Gill 80 - 7th
Rylan Blasi 84 - 13th
Jace Lawrence 84 - 14th
Peyton Linker 95 - 36th
Brett Wyckoff 99 - 45th
Langdon Lack 106 - 54th
Caden Lawrence 107 - 56th
Parker Dodds 112 - 65th
Laken Smith 117 - 68th
TEAM SCORES
Goddard 310
Wellington 312
Andale 341
Hesston 354
Collegiate 357
Augusta 373
Clearwater 375
Mulvane 380
Circle 395
Andover 396
Rose Hill 399
Goddard 400
Andover Ctrl 406
WELLINGTON INVITATIONAL OVERALL RESULTS

WELLINGTON GOLF INVITATIONAL ACTION PICS 040419

*****************
WHS VARSITY BOYS GOLF
@ Andover (Crestview)
Monday, April 1, 2019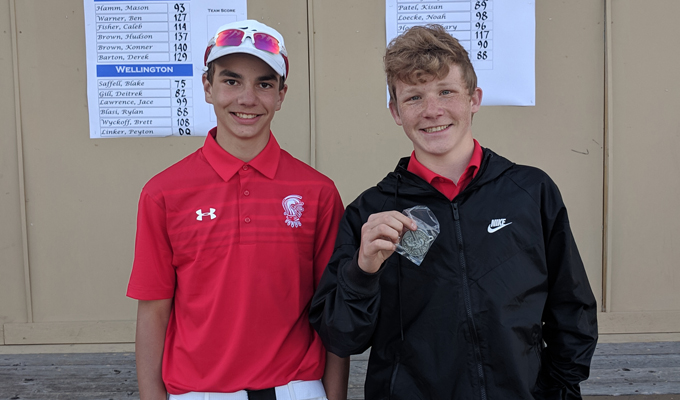 Blake Saffell - 75 (2nd)
Deitrek Gill - 82 (9th)
Rylan Blasi - 88
Jace Lawrence - 99
Brett Wyckoff - 108

TEAM - 4TH (344)
3 strokes out of 3rd

NEXT ACTION: HERE @ Home - THURSDAY, APRIL 4th (1PM)
*****************
2018 SEASON
WHS VARSITY BOYS GOLF
STATE 4A MEET @ Emporia
Monday, MAY 21, 2018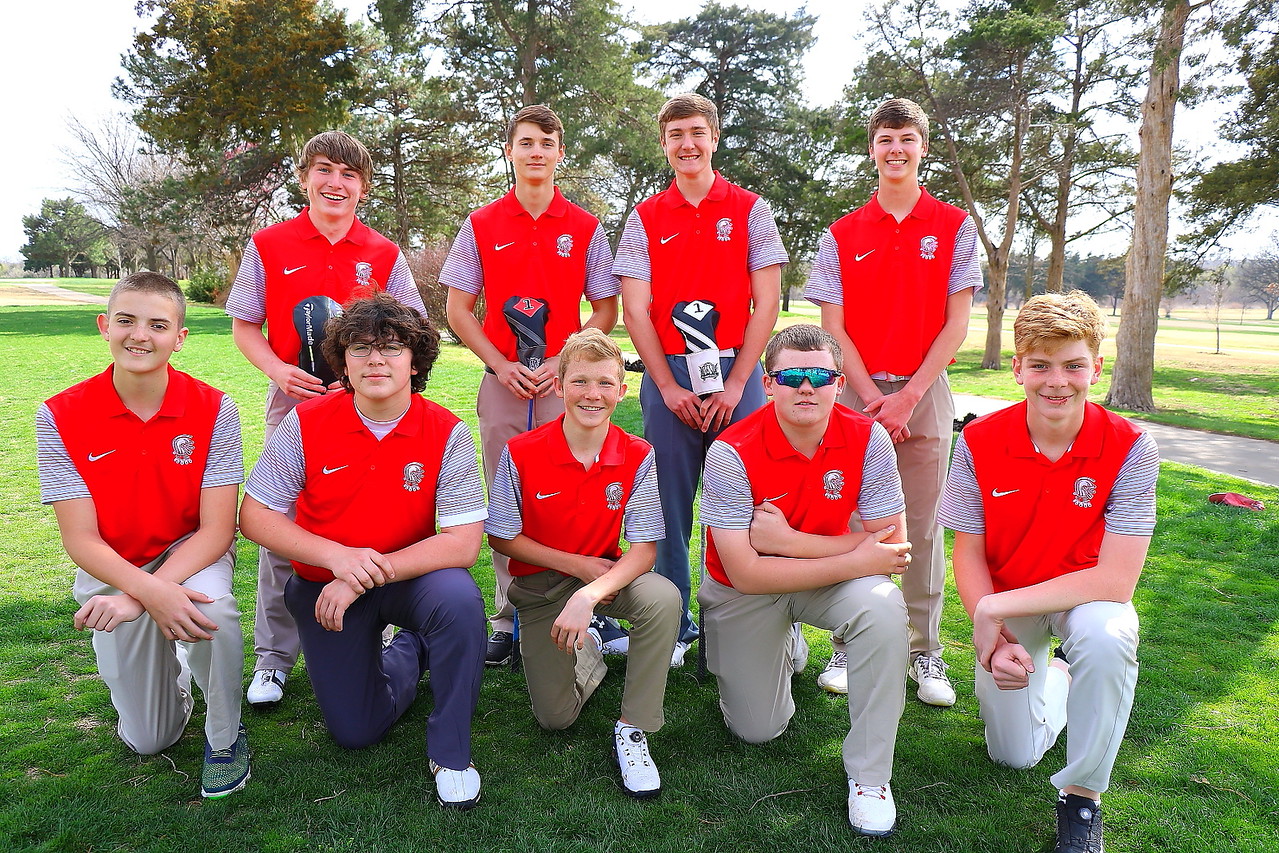 Congrats to Ty Wilson and Blake Saffell - final results are in from State 4A Golf Tournament - Ty finished in 6th (out of 103 golfers), at +1 (72). Blake finished 17th (4 way tie) at +5 (76). Out of "9" freshmen on the course, Blake's 76 (and Freshman Trent Sutherland's from Ark City) were the best "freshman" scores of the day! Great career and finish Ty - 6th out of 100+ golfers - that is awesome- congratulations Crusader!! GREAT JOB! WAY TO REPRESENT!!
INDIVIDUAL SCORES
http://www.kshsaa.org/Publ…/…/StateBoysIndividualScores.cfm…
TEAM SCORES
http://www.kshsaa.org/Public/Golf/StateBoysTeamScores.cfm…
ALL-STATE GOLF HONORS
Kansas Golf Coaches Assn
PRE-TOURNEY REPORT
1 flight of "3" and 25 flights of "4" golfers (104 total) will begin teeing off at 8:30AM this morning on holes #1 and #10. Tee Off times run through 10:30AM.
WHS Senior Ty Wilson is in Group 9 and will tee off from hole #1 at 9:40AM. Playing with Ty today are Sophomore Joey Connor (Topeka-Hayden), Sophomore Alexander Williams (Ft. Scott) and Sophomore Matthew Voth (Buhler).
WHS Freshman Blake Saffell is in Group 14 and will tee off from hole #1 as well, at 10:30AM. Playing with Blake today are Senior Griffin Walker (Topeka-Hayden), Sophomore Nicholas King (Ft. Scott) and Sophomore Jack Leake (Altamont-Labette Co).
In Emporia, clouds are forecast to give way to sunshine beginning mid-morning. Temps from tourney start to tourney end should climb from 60's to mid 70's. Winds will be light, 6-7 mph WNW.
PAIRINGS
http://www.kshsaa.org/Public/Golf/StateBoysFlights.cfm…
*****************************************
WHS VARSITY BOYS GOLF
REGIONAL 4A - HERE 
Monday, May 14, 2018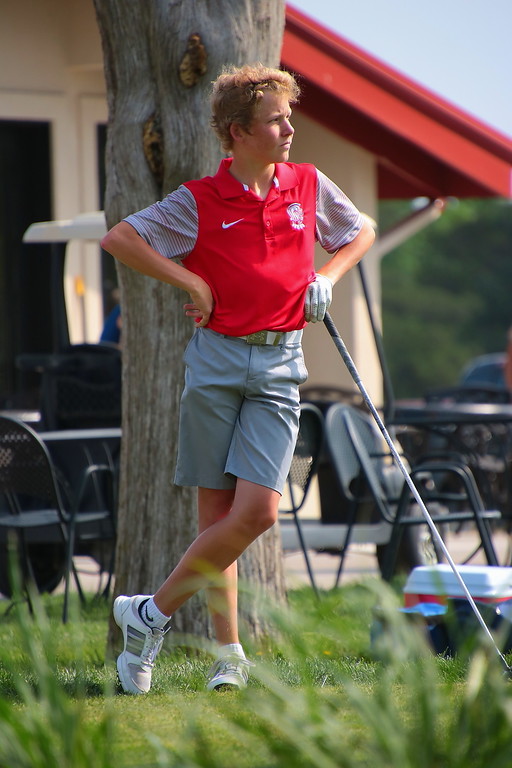 Congratulations to Freshman Blake Saffell and Senior Ty Wilson for their 1st place and 5th place respective finishestoday at the Regional 4A Golf Tournament hosted by WHS at the Wellington Golf Club. Awesome job gentlemen! Both will advance on to the STATE 4A Tournament in Emporia on the 21st.

WHS as a team, finished "tied" at 2nd with Wichita Trinity. (Andover Central finished 1st) - using tie-break criteria, Trinity ended up in 2nd, Wellington 3rd, only the TOP 2 teams advance (as a team) so that was unfortunate for certain for the Crusaders. SO CLOSE!!!!

Here are the overall team results and individual results:

TEAM RESULTS

INDIVIDUAL RESULTS

REGIONAL 4A GOLF PICS 051418
@ Wellington Golf Club
******************************************
WHS VARSITY BOYS GOLF
AVCTL DIV IV LEAGUE TOURNEY @ McPherson
Tuesday, May 8, 2018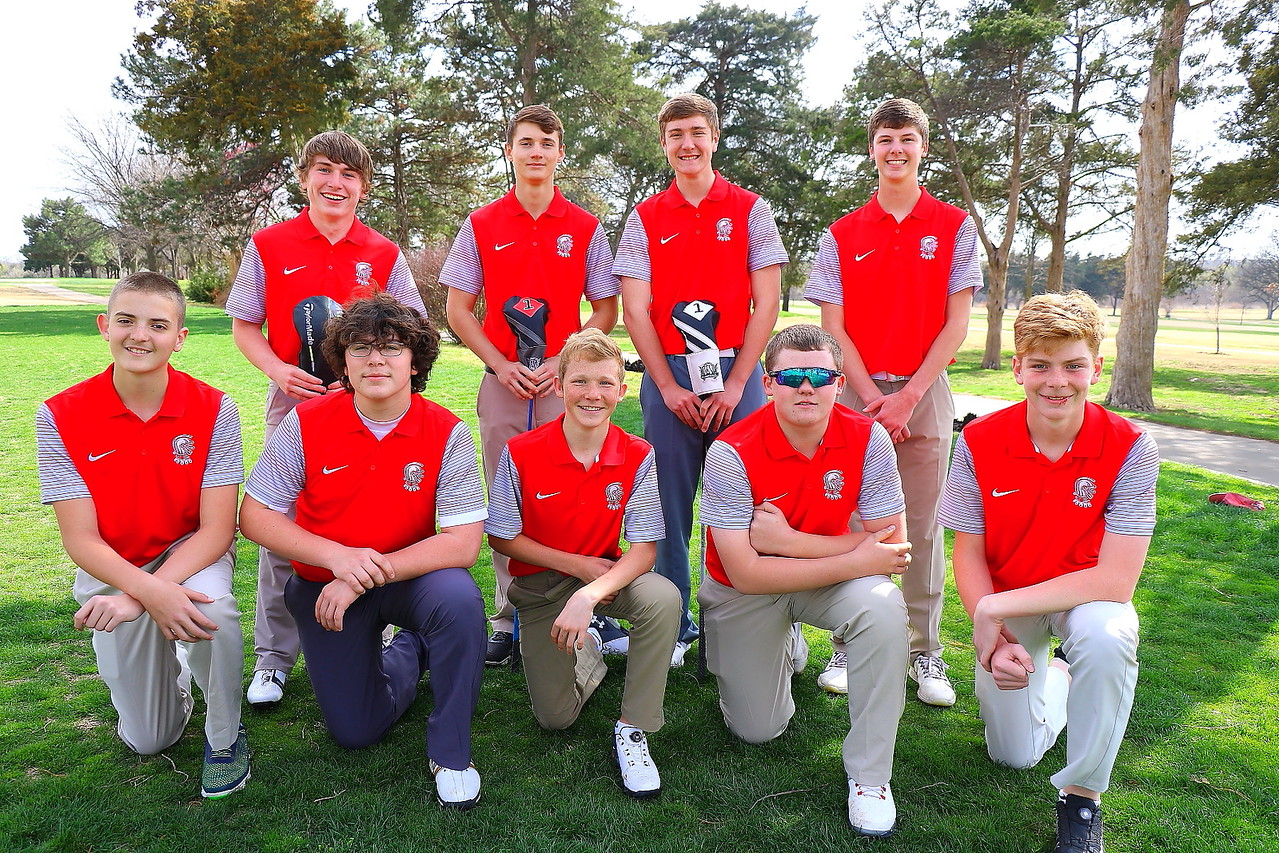 A HUGE day Tuesday for Crusader Boys Golf! Our Varsity finished 1st at the AVCTL DIV IV League Championship @ McPherson, winning by 19 strokes over 2nd place finisher Andale.

Senior Ty Wilson was the overall Division IV Champion, Freshman Blake Saffell finished 3rd, Senior Blake Bales finished 4th and Freshman Jace Lawrence finished 9th! Ty, Blake and Blake were named to the AVCTL DIV IV First Team All-League and Jace Lawrence was second-team All-League! Coach James Ginter was also named COACH OF THE YEAR!! WOW - what a day, what a day!!!!

Congratulations gentlemen! Great primer for Monday's 4A Regional, right here in Wellington. GO BIG RED!!
AVCTL Division IV Golf Championships
Top Ten & Team Results
(complete results can be found at kansasgolfscores.com, places below include playoff results for those that finished tied in top 10)
INDIVIDUAL TOP 10
(1st 5-AVCTL 1st Team, 2nd 5-AVCTL 2nd Team)
1. Ty Wilson-Wellington (74)
2. Peyton Austin-Rose Hill (75)
3. Blake Saffell-Wellington (78)
4. Blake Bales-Wellington (78)
5. Nick Carney-Andale (80)
6. Zach Burgess-Wichita-Collegiate (80)
7. Cooper Eck-Andale (82)
8. Broc Heiskell-Rose Hill (82)
9. Jace Lawrence-Wellington (83)
10. Garrett Winter-Andale (85)
TEAM SCORES
1st-Wellington (313) 
2nd-Andale (332) 
3rd-Rose Hill (336) 
4th-Wichita-Collegiate (358)
5th-Mulvane (395)
6th-Clearwater (408)
Coach of the Year-James Ginter-Wellington
Congrats to Coach Ginter and the entire squad - WAY TO REPRESENT - Wellington is PROUD of you all!!
****************************************
WHS VARSITY BOYS GOLF
@ I-135 Shootout (Turkey Creek GC)
Tuesday, MAY 1, 2018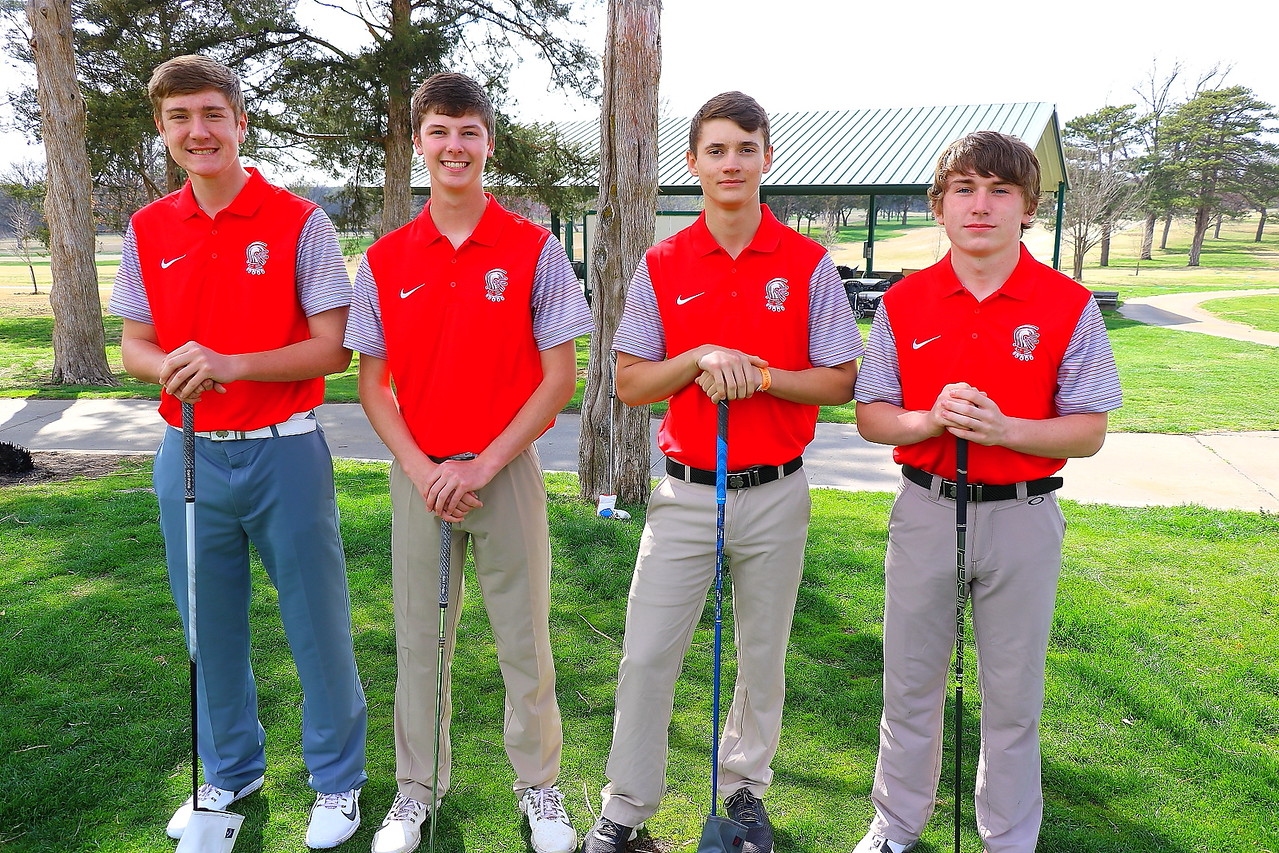 TEAM RESULTS
Salina-Sacred Heart 304
Andover Central 312
Andover 329
Wellington 333
Garden City 340
Maize South 340
Topeka-Hayden 343
Hesston 349
Buhler 375
Augusta 386

INDIVIDUAL
Ty Wilson 76 / 5th
Blake Saffell 78 / 10th
Blake Bales 89 / 29th
Jaylen Harris 90 / 32nd
Jace Lawrence 92 / 38th
Rylan Blasi 112 / 54th
WHS VARSITY BOYS GOLF
@ I-135 Shootout (Hesston GC)
Tuesday, MAY 1, 2018
TEAM RESULTS
Salina-Sacred Heart 303
Andover Central 309
Andover 319
Wellington 324
Maize South 333
Hesston 336
Garden City 341
Buhler 355
Topeka-Hayden 355
Augusta 374
INDIVIDUAL
Ty Wilson 79 / 13th
Blake Bales 80 / 15th
Blake Saffell 81 / 17th
Jace Lawrence 84 / 31st
Rylan Blasi 93 / 47th
Jaylen Harris 103 / 54th
********************************************
WHS VARSITY BOYS GOLF
@ Hesston
Thursday, APR 26, 2018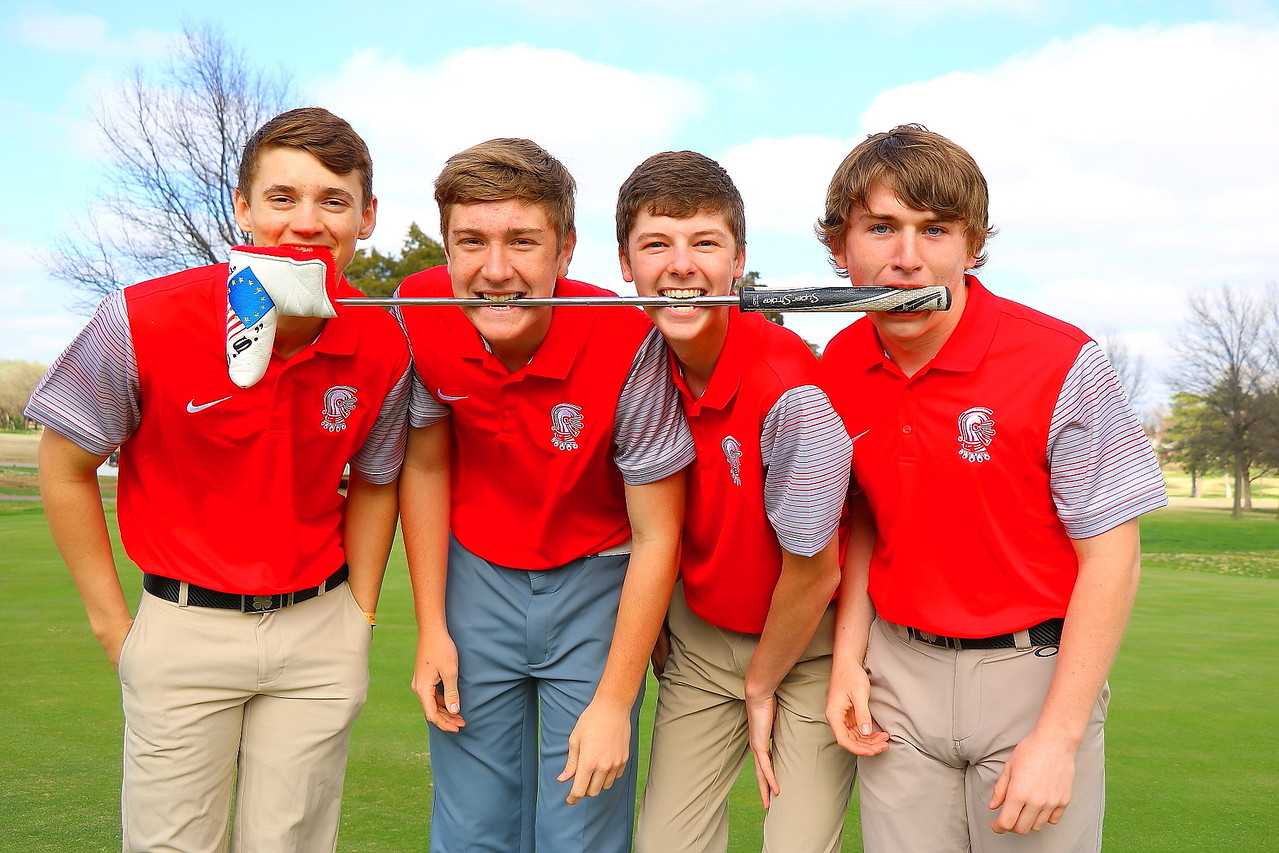 The Varsity Crusader Boys Golf Team did great things today at Hesston. In a 15 team invite, the Crusaders had 14 teams finish behind them! A.K.A. 1ST PLACE! Awesome!
Ty Wilson, Blake Bales and Blake Saffell all ended as part of a 5 way tie for top medalist (72), In a playoff, Wilsonfinished 2nd, Bales fourth and Saffell 5th overall. Jace Lawrence (81) finished 23rd, True DeJarnett (83) 28th, and Jaylen Harris (98) 74th. There were a total of 92 golfers who finished the 18 hole event.
The Crusaders as a team came in at 297, ahead of Wichita Trinity (298), Andale (320), Sterling (328), Hesston (330), Valley Center (330), Maize South (330), Wichita Collegiate (331), Rose Hill (338), Andover Central (348), Buhler (357), Cheney (358), Halstead (366), Newton (376) and St. John-Hudson (382).CONGRATULATIONS CRUSADERS - awesome representation!
The Varsity Crusaders return to Hesston (and Turkey Creek Golf Courses) next Tuesday, May 1st with an 8AM start time. GO BIG RED!
**************************************
WHS VARSITY BOYS GOLF
@ Cheney (hosted by Collegiate)
Friday, APR 20, 2018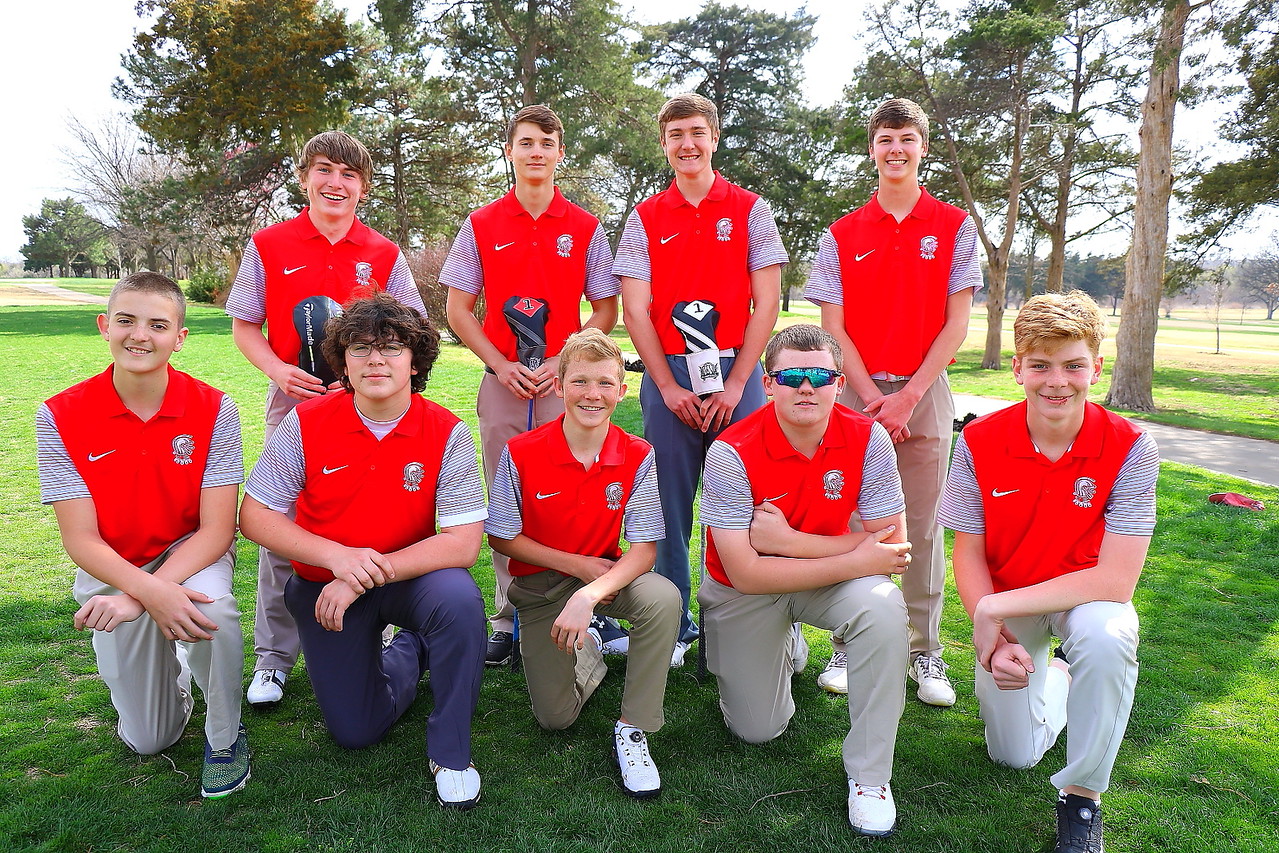 The Varsity Crusader golfers were in action Friday at Cheney (hosted by Collegiate) and finished 4th as a team in a field of 11. Blake Saffell and Ty Wilson finished in the TOP 10, 7th & 8th, neither have ventured out of the TOP 10 this season much, if any.

TEAM SCORES
Andover Central 304
Andale 319
Wichita Trinity 321
Wellington 324
Andover 335
Wichita Collegiate 336
Valley Center 351
Hesston 351
Wichita Kapaun MC - 353
Buhler 360
Augusta 373
Saffell and Wilson both shot 77's, followed by Blake Bales@ 84 and Jace Lawrence @ 86.

True DeJarnett came in at 87, followed by Jaylen Harris @ 105.
In STATE 4A, the Crusaders are ranked 3rd, behind Hays (2nd) and Andover Central (1st). Individually, Wilson is ranked 4th, Saffell 6th, and Bales 11th. AWESOME!

Next Varsity action @ Hesston on Thursday, April 26th @ 1:00PM. JV will be in action that same day at Tex Consolver (3:00PM).
*********************************
WHS VARSITY BOYS GOLF
@ Terradyne (host Andover Ctrl)
Monday, Apr 9, 2018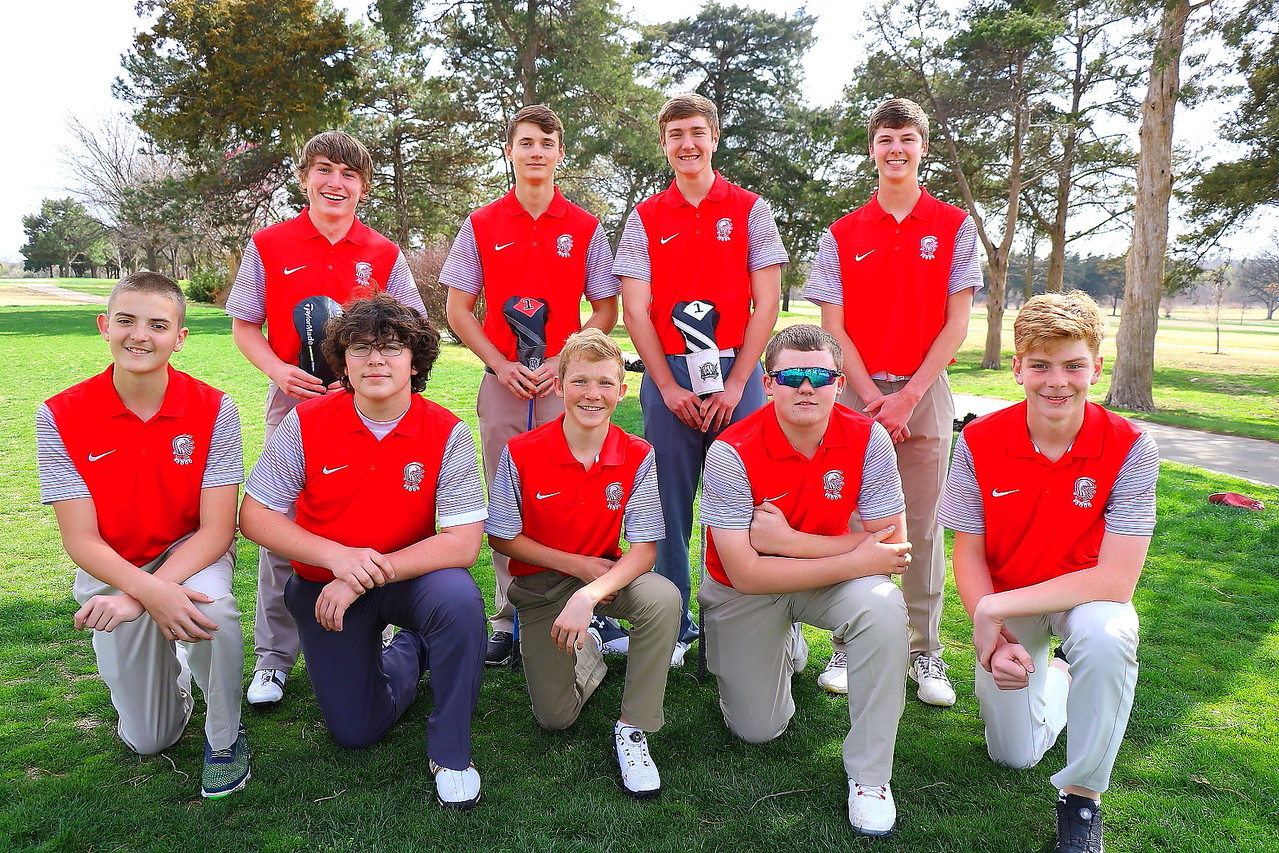 The Crusaders didn't gain the results they were hoping for as a team, but it was a good finish nonetheless according to Head Coach James Ginter. The Varsity Crusaders finished 4th (321) as a team with "2" individual medalists. Ty Wilson and Blake Bales both shot 76 and finished 9th and 10th respectively. Freshman Blake Saffell shot a 79, finishing 18th. Freshman Jace Lawrence finished with a 90 (33rd), True DeJarnett 93 (43rd), and Jaylen Harris 97 (55th). There were a total of 69 participants in the 18 hole event at Terradyne.

Next action for the Varsity Boys - @ Cherry Oaks (Cheney) Friday, Apr 20th - 3:00PM
*************************************
WHS JV BOYS GOLF
@ Andover HS
Monday, Apr 9, 2018
Wellington had only "3" boys at the JV tournament in Andover, so not enough for a whole team score. Hayden Baker, Rylan Blasi, and Langdon Lack all played very well. This was Langdon's debut and he shot a 51. He stayed consistent and did very well according to Coach Vanessa Sawyer. Rylan Blasi had a rough start but brought things around, shooting a 41. Hayden Baker DEFENDED HIS TITLE, as he won this same tournament last year! In 2017, Hayden shot a 37, Monday 040918, he shot a 35, just 2 over par and his 2nd consecutive Andover Tournament win!! Awesome job Hayden!! (and Rylan and Langdon!)
Next action for the Jr. Varsity Boys - @ Sierra Hills Tuesday, Apr 17th - 3:00PM
*************************************
WHS VARSITY GOLF INVITATIONAL
@ Wellington Golf Club
Thursday, Apr 5, 2018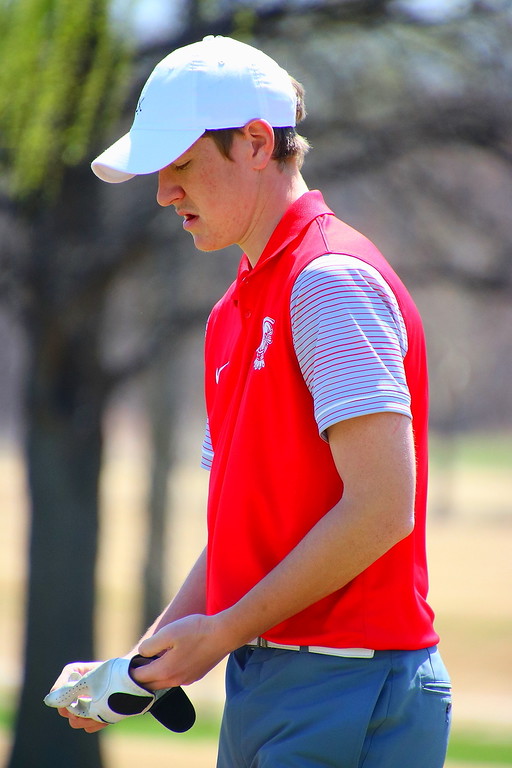 The Varsity Crusaders finish 2nd at Wellington Invitational! (April 5th)
It was cool and windy at the start, but the sun shined brightly and the winds diminished as the invitational proceeded. 11 teams and Wellington, played 18 holes and when it was over, the Crusaders had had a great day.
 
TEAM SCORES
Andover Central 297
Wellington 303
Andover 314
Rose Hill 335
Eisenhower 337
Augusta 342
Hesston 365
Clearwater 373
Goddard 382
Mulvane 392
Towanda-Circle 411
Chaparral 506
INDIVIDUAL SCORES
Ty Wilson 72 (+2) 3rd
Blake Saffell 75 (+5) 7th
Blake Bales 76 (+6) 8th
True DeJarnett 76 (+6) 9th (JV)
Jace Lawrence 80 (+10)  17th
Hayden Baker 88 (+18) 31st (JV)
Jaylen Harris 90 (+20) 34th
Rylan Blasi 91 (+21) 38th
Langdon Lack 120 (+50) 65th (JV)
**************************
WHS VARSITY BOYS GOLF
@ Crestview Country Club (Wichita)
Monday, Apr 2, 2018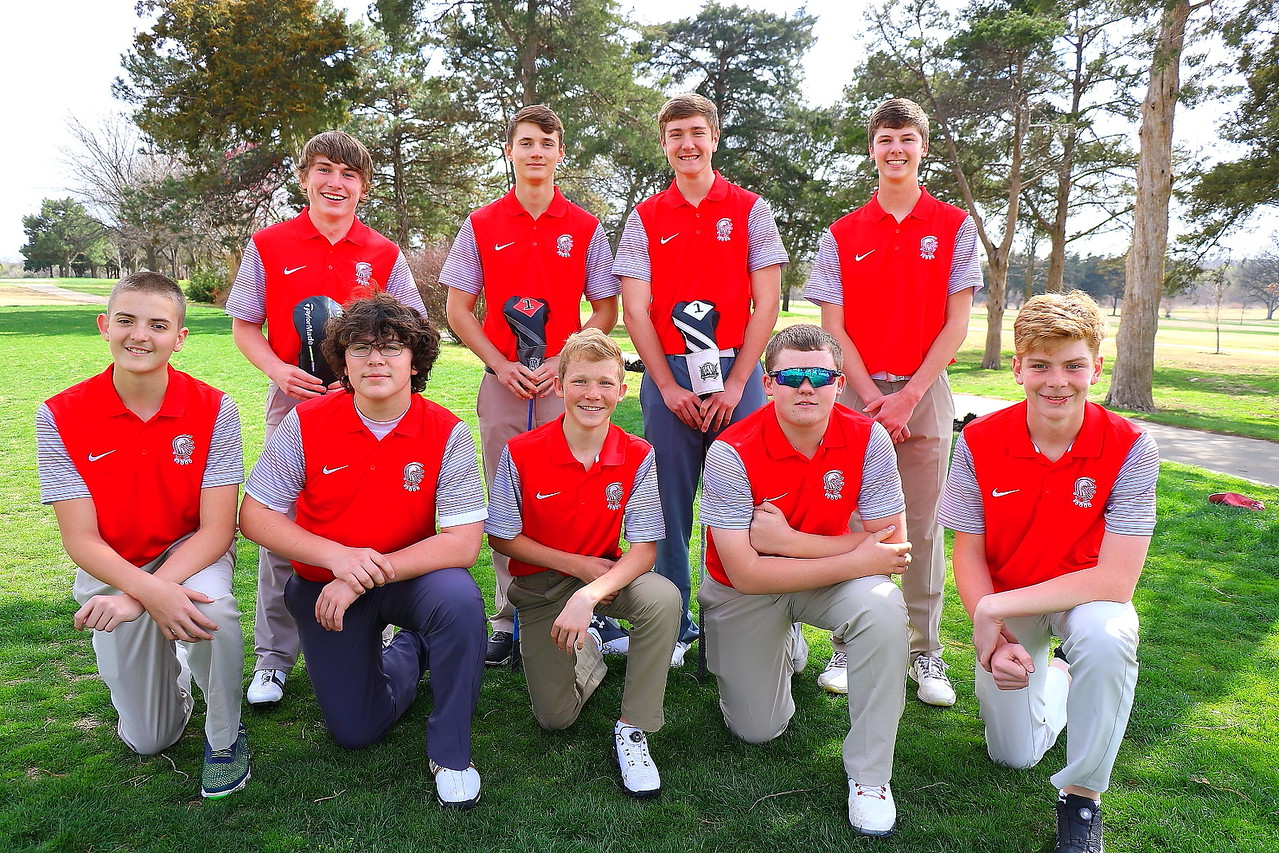 The WHS Varsity Boys Golf Team saw their 2018 first season action Monday at Crestview Country Club in Wichita. Also on the team roster, Andover, Wichita Trinity, Andale, Andover Central, Augusta, Buhler, Eisenhower, Maize, Mulvane, Rose Hill, Valley Center and Wichita Collegiate.

The Crusaders as a team, finished 4th, behind Senior Ty Wilson's 79 (+7) on the day. Ty finished 6th after a 4-way tie at 79, winning the scorecard playoff. Blake Saffellfinished with an 80, after a very tough first hole, Blake leveled out and played well. Senior Blake Bales came in at 83, showing good consistency and steady play. Jace Lawrence played well also, shooting an 85. (Saffell and Lawrence are both Freshman) Senior Jaylen Harris held on well, finishing with a 98. Sophomore Rylan Blasi finished with a 101.

Anyone outdoors Monday knows it wasn't an ideal day for golf. The 1st place finisher came in at 70, which was amazing considering the conditions.

The Crusaders open here at HOME on Thursday, that invitational gets underway at 1pm at the Wellington Golf Club. And, Wellington will be hosting 1 of 6, 4A Regionals this Spring, on May 14th!  Arkansas City HS, Winfield HS, Mulvane HS, Clearwater HS, Rose Hill HS, Wichita-Collegiate HS, Wichita-Trinity Academy, Augusta HS and Andover Central HS will be here for that event.

Good start BIG RED - you're HOME on Thursday - it's going to be a great day! 
********************************
Action gets underway VERY SOON for the WHS Boys Golf Squad - team and individual pics were taken WEDNESDAY. This year's team consists of "4" Seniors (Ty Wilson, Blake Bales, Jaylen Harris and Hayden Baker), "2" Sophomores (True DeJarnett and Rylan Blasi) and "3" Freshmen (Jace Lawrence, Blake Saffell and Langdon Lack). Good Luck to all this season!
BOYS GOLF TEAM & INDIVIDUAL PICS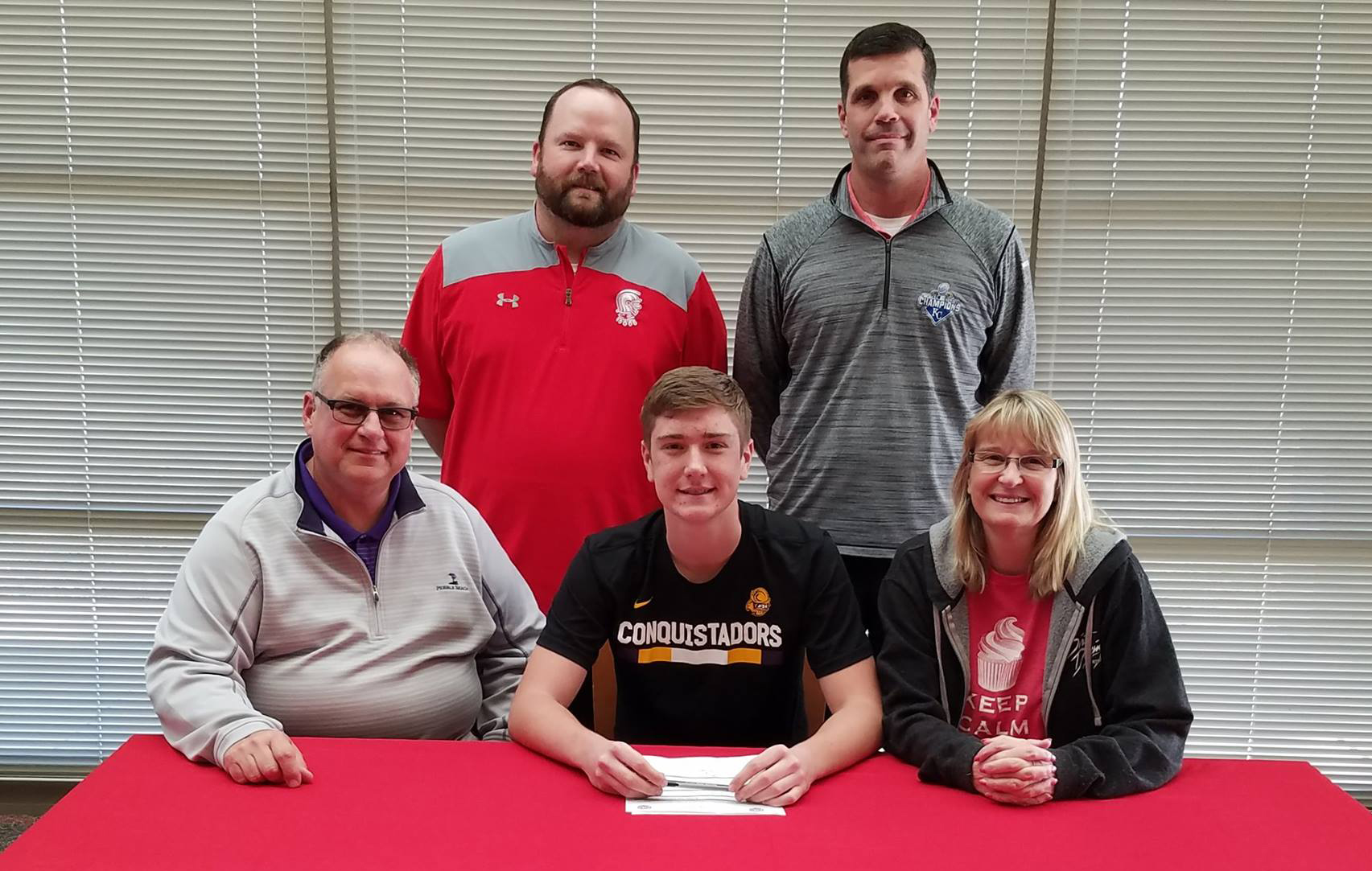 Congratulations to WHS Senior Ty Wilson. With his parents, Bobby and Ginger and his WHS golf coaches, Asst Coach Luke Smith and Head Coach James Ginter at his side, (and a myriad of teammates/friends!), Ty signed a letter of intent Thursday afternoon at WHS to play golf for the Conquistadors @ Dodge City Community College this coming school year 2018-2019.
Way to go Ty, that is awesome!


*****************************
2016-2017
STATE 4A GOLF TOURNAMENT RESULTS from Wamego
TEAM FINISHES: Andover Central 329, Wichita Trinity 329, Wamego 332, Hays 336, Chanute 339, Topeka-Hayden 352, Larned 362, Ottawa 364, Girard 367, Burlington 369, Tonganoxie 387, Wellington 393.
INDIVIDUAL FINISHES: (128 participants overall) Ty Wilson 92 55th, True DeJarnett 98 69th, Blake Bales 101 78th, Rylan Blasi 102 79th, Jaylen Harris 106 87th, Hayden Baker 113 97th

Congratulations to our Varsity Boys Golf Team who finished 2nd as a team Monday at the 4A Regional in Independence, qualifying for the State 4A Tournament next Monday. Congrats to Ty Wilson who shot a 75 and placed 2nd individually!! Other Individual Scores: Blake Bales 94, Rylan Blasi 95 True DeJarnett 96, Jaylen Harris 104 and Haydon Baker 107. Team Scores: Chanute 330, Wellington 360, Labette Co. 391, Coffeyville 400, Mulvane 437. Coach Ginter said: "Ty Wilson was our loan Medalist, finishing second with a 75. Proud of the team and the Improvement we've made this year. A great reward for a great bunch of young men. Very proud of Ty as well and the improvements he's made weekly during the season. He helped this team accomplish something that hasn't been done in a few years. We look forward to the week of practice ahead and the state tournament next Monday." Congratulations again Crusaders!! Way to represent Ty! (courtesy pic)

Coach James Ginter reported a "Great day at Hesston today. Team finished 3rd with a 346, just 3 strokes out of second. We also had two All League Golfers today. Ty Wilson shot a tournament PR (​personal record) today, firing a 74 and finishing 2nd to Peyton Austin of Rose Hill. What a great round for Ty today. He has really made great strides this season. Blake Bales finished 10th with an 88 today to also gain All League honors. Very proud of Blake as well. Probably the most improved golfer from last season to this one. Regionals are Monday at Independence Country Club with tee times starting at 9am.​" GREAT JOB CRUSADERS 

OVERALL AVCTL DIV IV GOLF RESULTS 050917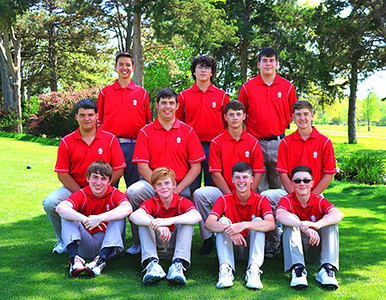 Meet your 2017 WHS Golf Squad / Back L to R: Skyler Crittenden, True DeJarnett, Chance Rogers Middle L to R: Jack Heimer, Ethan Rowley, Jaylen Harris, Ty Wilson Front L to R:Blake Bales, Rylan Blasi, Hayden Baker, Doug Garton. 

INDIVIDUAL GOLF TEAM PICS 041917 

2017 WHS GOLF TEAM - Large View 
Double-Click for largest view.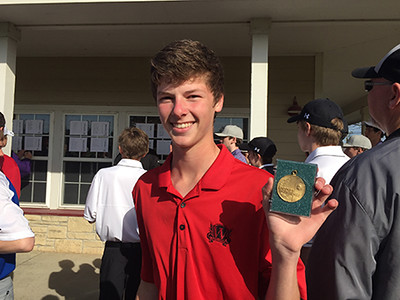 WHS Junior Hayden Baker, former baseball player in the SPRING until this season, finished FIRST at the Andover JV 9-Hole Golf Invitational on Monday, shooting an awesome 37! Congratulations Crusader!!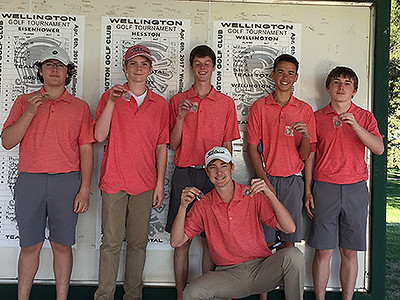 The WHS Crusaders Golf Squad hosted a dozen teams or so on Thursday out at Wellington Golf Club with great weather and great results. Andover finished 1st as a team (300), Wellington and Augusta came in at (342), the latter winning a scorecard playoff and 2nd place. WHS's Ty Wilson finished 5th with a 77. Other Crusader totals: Skyler Crittenden 12th (83), True DeJarnett 17th (87), Blake Bales 29th (95), Rylan Blasi 45th (104) and Hayden Baker 54th (111). All totaled there were 63 golfers on the course for the 18 hole event. Check out the 300 or so tournament action pics below and the"COMPLETE" results from Wellington Golf Club Thursday. GO BIG RED! OVERALL COMPLETE RESULTS WELLINGTON GOLF INVITATIONAL ACTION PICS 040617