STATE 4A TRACK @ WSU!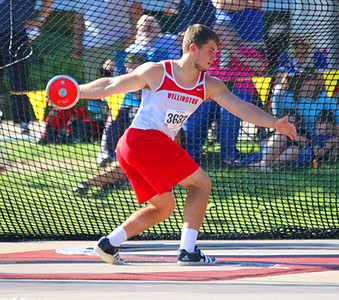 A big day Friday for WHS TRACK! Senior Chris Kop (DISCUS) and Sophomore Taylor Meyer (JAVELIN) made their marks at the 2017 STATE 4A Track Meet (State 1A-6A Meet @ W.S.U.) Chris finished 4th in the DISCUS and medaled! Taylor finished 5th in the JAVELIN and medaled! Additionally, Taylor broke her own record from just 8 days ago ( when she broke a 29 yr. old record) by 4 feet at the 4A Regional in Winfield. (122.10) Her 128.02 ft throw today at STATE broke her 8 day old record by nearly 6 feet!!! Awesome. Congratulations to TWO FINE CRUSADERS - way to represent - we are proud of you both!!
REGIONAL 4A TRACK RESULTS - WINFIELD 051817
Senior Chris Kop qualified for STATE 4A Meet in Boys Discus, Sophomore Taylor Meyer for Girls Javelin (Taylor's throw of 122' surpassed 1988's Sarah Horn's record at WHS by 4 feet! Awesome!)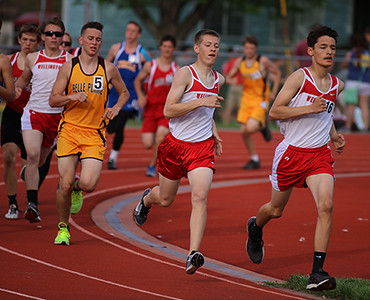 Wellington High School hosted their annual TRACK MEET on Friday but at a different location due to TRACK issues here (that are being addressed)...Belle Plaine allowed the Crusaders and Staff to use their facility - a big thank you to them. The results are in, several first place finishes in the 8 team participation competition, several medalists in several events. GREAT JOB CRUSADERS! Next action this FRIDAY @ Chaparral!
WELLINGTON TRACK & FIELD PICS 042817

LARGE VIEW - MASON POLE VAULT
Double Click Photo for largest view.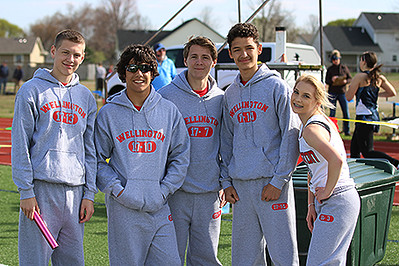 The WHS TRACK TEAM had their opening season action Friday at the Clearwater HS Participation Meet. It was a "bit" chilly and windy but not too bad - our athletes performed well - the Crusaders earned "7" 1st place finishes and several 2nd place - (Seniors Matthew Mason (3) and Chris Kop (2) accounted for "5" of the "7" GOLDS) - enjoy the pics!
WHS TRACK & FIELD ACTION PICS 03.31.17
WHS TRACK TEAM 2017 PIC
Double Click for largest view!
200M HEAT w/ "6" CRUSADERS PIC
Double Click for largest view!