Powerlifters Bring Home Some GODDARD Hardware
The Crusader and Lady Crusader Powerlifters were in action today at Goddard - and because of that, more hardware in Wellington this evening for sure!!

All WHS results are listed below - additionally:
WHS Senior Blake Rausch at Goddard today was presented the "ROGER ROBBEN AWARD" which is an award presented in memory of Roger Robben - former head coach at Goddard High School. Without his support and vision, Goddard Powerlifting would not exist. The award is presented to a lifter who displays characteristics that embodied Coach Robben's daily life; passion, empathy, discipline, selflessness, trustworthiness, generosity, character and integrity.
That is awesome Blake - proud of you - way to represent Crusader! (Courtesy Pic)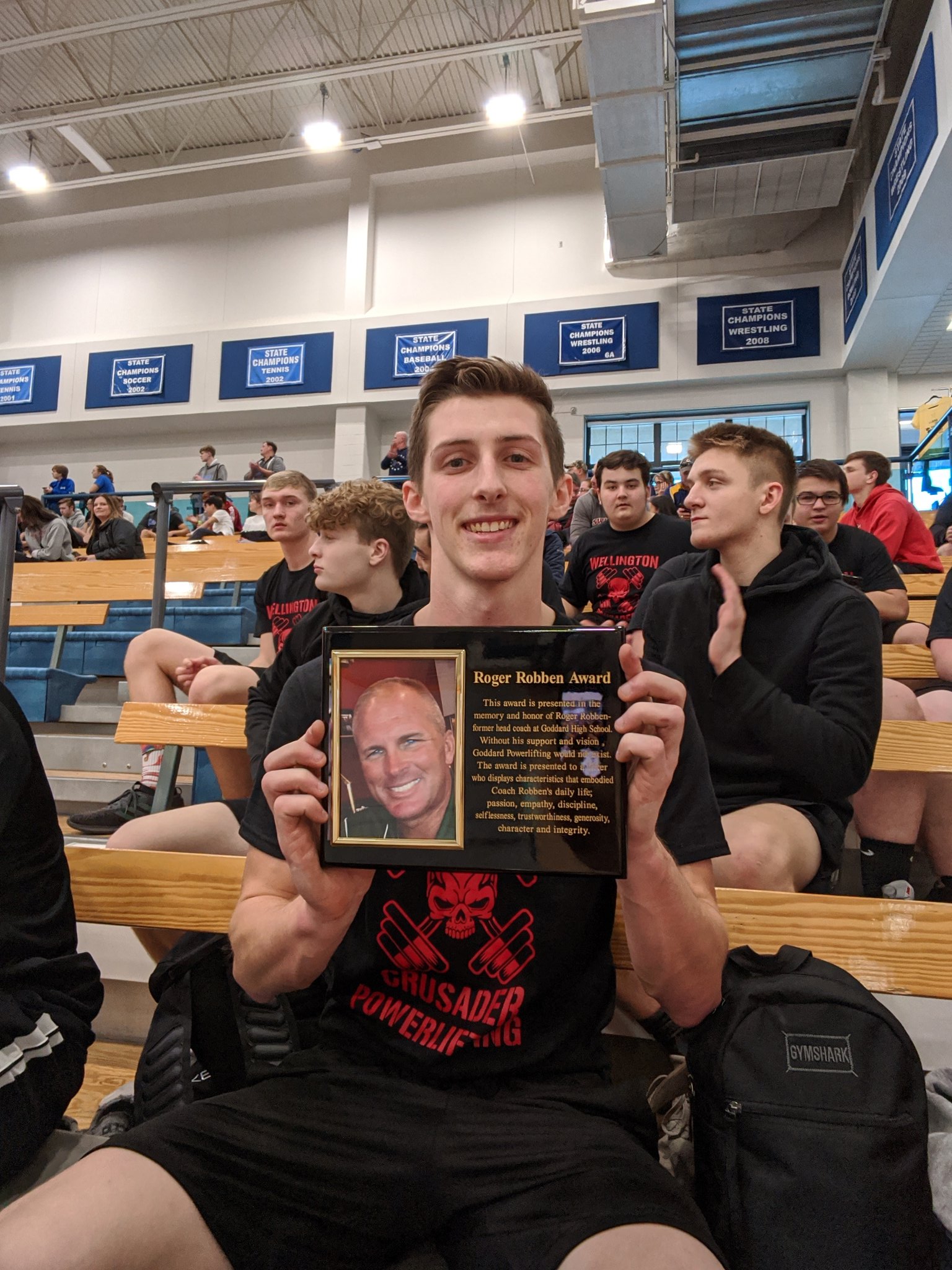 Goddard Powerlifting Results (WHS) 012520

JR MEN

132.0 lbs
BENCH
Justin Norris 5th 150.0
SQUAT
Justin Norris 5th 180.0
CLEAN
Justin Norris 3rd 150.0
OVERALL
Justin Norris 5th 480.0 (2 pts)
140.0 lbs
BENCH
Braden Ybarra 1st 185.0
SQUAT
Braden Ybarra 4th 230.0
CLEAN
Braden Ybarra 1st 180.0
OVERALL
Braden Ybarra 1st 595.0 (10 pts)
156.0 lbs
BENCH
Dylan Dickinson 1st 195.0
Camden Parkey 5th 130.0
SQUAT
Dylan Dickinson 3rd 245.0
Camden Parkey 6th 180.0
CLEAN
Dylan Dickinson 2nd 185.0
Camden Parkey 5th 120.0
OVERALL
Dylan Dickinson 2nd 625.0 (8 pts)
Camden Parkey 6th 430.0 (1 pt)

198 lbs
BENCH
Dustyn Schettler 3rd 235.0
SQUAT
Dustyn Schettler 6th 315.0
CLEAN
Dustyn Schettler 1st 275.0
OVERALL
Dustyn Schettler 4th 825.0
220.0 lbs
BENCH
Dalton Bishop 2nd 190.0
SQUAT
Dalton Bishop 1st 325.0
CLEAN
Dalton Bishop 2nd 170.0
OVERALL
Dalton Bishop 2nd 685.0 (8 pts)
242.0 lbs
BENCH
Caden Lawrence 5th 180.0
SQUAT
Caden Lawrence 4th 315.0
CLEAN
Caden Lawrence 5th 155.0
OVERALL
Caden Lawrence 5th 650.0 (2 pts)
PWR
BENCH
Caleb Self 3rd 200.0
Kylen Smith 6th 170.0
Cole McCorkle 10th 135.0
SQUAT
Caleb Self 4th 300.0
Cole McCorkle 8th 165.0
Kylen Smith 9th 115.0
CLEAN
Kylen Smith 6th 135.0
Caleb Self 7th 135.0
Cole McCorkle 9th 105.0
OVERALL
Caleb Self 4th 635.0 (4 pts)
Kylen Smith 8th 420.0
Cole McCorkle 9th 405.0

JR. MEN TEAM RESULTS

Goddard 86
Eisenhower 67
WELLINGTON 39
Pratt 34
Nickerson 32
Kapaun 30
Halstead 26
Maize South 21
Conway Springs 13
Pittsburg 10
Parsons 6
Hesston 6
Herington 1
Clearwater 1
MEN

156.0 lbs
BENCH
Blake Rausch 5th 185.0
SQUAT
Blake Rausch 4th 295.0
CLEAN
Blake Rausch 3rd 240.0
OVERALL
Blake Rausch 3rd 720,0 (6 pts)

220.0 lbs
BENCH
Nevin Gageby 5th 260.0
SQUAT
Nevin Gageby 4th 355.0
CLEAN
Nevin Gageby 4th 220.0
OVERALL
Nevin Gageby 4th 835.0 (4 pts)
MEN TEAM RESULTS

Goddard 84
Kapaun 68
Larned 55
Pittsburg 46
Eisenhower 39
Maize South 17
Halstead 16
WELLINGTON 10
Hesston 9
Falcons 8
Parsons 8
Pratt 6
Clearwater 6
St Mary Colgan 5
Conway Springs 2

WOMEN

105.0 lbs
BENCH
Jennifer Jensen 2nd 95.0
SQUAT
Jennifer Jensen 2nd 145.0
CLEAN
Jennifer Jensen 1st 145.0
OVERALL
Jennifer Jensen 1st 385.0 (10 pts)

165.0 lbs
BENCH
Elise LeGrand 1st 150.0
Heidi Gulick 3rd 120.0
SQUAT
Heidi Gulick 1st 215.0
Elise LeGrand 2nd 215.0
CLEAN
Elise LeGrand 1st 170.0
Heidi Gulick 3rd 125.0
OVERALL
Elise LeGrand 1st 535.0 (10 pts)
Heidi Gulick 3rd 500.0 (6 pts)

WOMEN TEAM RESULTS

Goddard 110
Eisenhower 37
WELLINGTON 26
El Dorado 20
Halstead 16
Clearwater 16
Larned 15
Falcons 14
Pratt 10
Nickerson 8
Pittsburg 6
Conway Springs 4