Lady Crusader Tennis Fares Well @ AVCTL LEAGUE Monday!
Reported by Coach Brian Aufdengarten
RUSK & HATFIELD - 3 seeds, finish 1st in #1 Doubles!!

Wellington traveled to Buhler for the varsity league tennis tournament and had some really good outcomes.  Wellington placed 4th overall as a team behind McPherson, Collegiate, and Buhler.
Playing at #1 singles was Ashlyn Gerten who was the #6 seed in a very deep singles field.  Gerten dropped her first match to Huerta from McPherson who was the #2 seed and finished 2nd overall.  In her next match she beat Pennycuff from Augusta, then lost to Camp from Winfield 5-9 to finish 6th.  Ashlyn continues to battle; she got some games on Camp who is a 3 year state qualifier.  
Playing #2 singles was Olivia Brand who was seeded 5th overall.  Brand lost to the #4 seed from McPherson Kuhn.  In her next match she had the overall #1 seed who got upset in the opening round and dropped the match to the 3 time state qualifier Chase from Circle.  Brand beat Sullivan from Augusta 9-7 to finish 7th overall.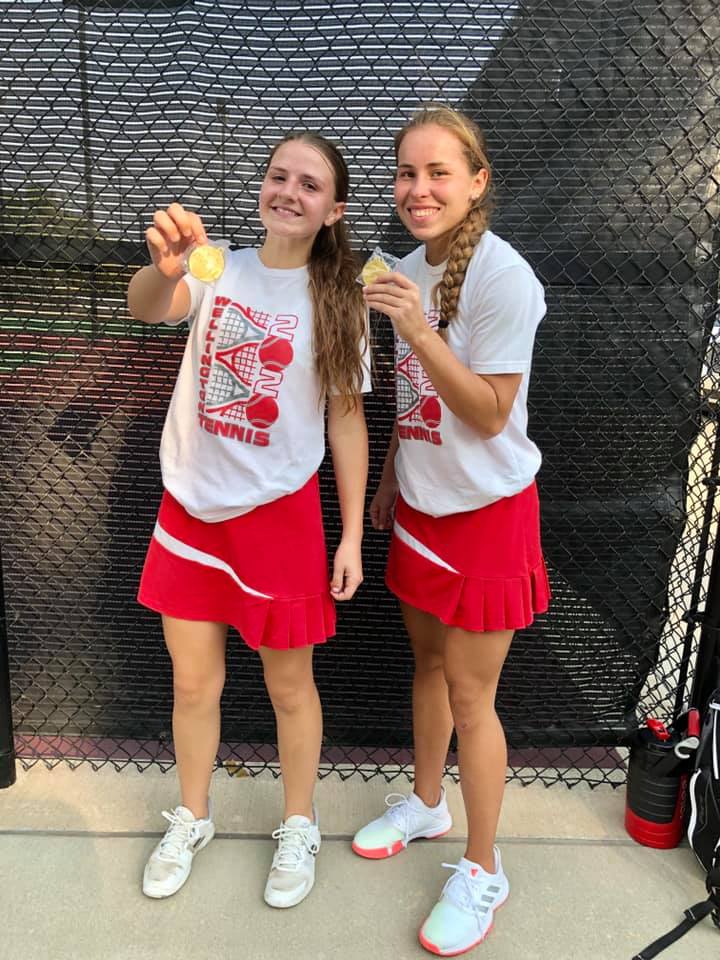 courtesy pic
One of the biggest highlights of the day or season if you want to say was the #1 doubles team of Rylee Rusk & Calli Hatfield.  The pair were seeded #3 overall and won their opening match over Winfield 6-1,6-2.  The pair then played a very good Buhler team that Rusk has lost to twice this season when she was paired with a different player.  Wellington dropped the first set 7-5, but then came back to win 6-3 in the second set.  Then it went to a thrilling third set super tiebreak.  Wellington trailed much of the time by a game but tied it at 7-7, then Rusk and Hatfield won the next 3 points to win 10-7, which sent them to the championship match.  In the championship, Wellington met up with the #1 seed McPherson team.  McPherson had half the state championship team in 5A paired with another state qualifier much like the Wellington team.  McPherson came out on fire making shot after shot winning the first set 6-2.  Rusk and Hatfield jumped out to a 3-1 lead and then held on to win the second set 6-4.  Then came another crazy super tiebreak.  It was back and forth with Wellington trailing by as much as 3 points.  McPherson was up 12-11, then double faulted twice and the Wellington pair took a 13-12 lead then won the last point to win 14-12 in the super tiebreak.  This is Wellington's first #1 doubles league championship since the new league formed in 2010.  
The #2 doubles team of Jensen Lynnes & Lyric Cornejo received the #4 seed which paired them against Circle to start and the pair won 6-2,6-2.  In their next match they played the undefeated Buhler team and lost 2-6,2-6.  In their final match they played a very good Collegiate team and battled hard winning the first set 6-4.  Collegiate came back and took the 2nd set 6-4, then it went to a super tiebreak for the third set.  Wellington jumped up 5-3, but Collegiate won 7 straight points to win the match 10-5.  Lynnes and Cornejo finished in 4th place.
Quick facts league tournament since we started league with Wichita Collegiate in 2010 and 8 teams.
4 League Champions
2016 #2 Doubles Avery Rusk & Lauryn Snipes
2017 #2 Singles Rylee Rusk
2018 #1 Singles Kylie Aufdengarten
2020 #1 Doubles Rylee Rusk & Calli Hatfield
Rylee Rusk's 2nd league championship
Rusks 4th league medal  2017-1st at #2 singles, 2018 - 2nd at #2 singles, 2019- 3rd at #1 doubles, and 2020 - 1st at #1 doubles.
Hatfield's first league medal and a good one!!!
Very proud of these girls today, we will get ready for regionals in Pratt on Saturday.