A Night For Stephen, A Night For Football
Article courtesy of www.sutv.com

It was Week #5 Friday night across the football lands of Kansas, the (3-1) IRONDUKES were at HOME after an unsuccessful road trip Week #4 to Andale. The Wichita Collegiate Spartans were in town, the evening was perfecto, no wind, nice temps and with that sense of community always present on Friday nights at Sellers. This Friday was different and that sense was intensified several times over as we together grieved and honored the passing of WHS Junior Stephen Jamerson. Stephen was tragically lost in a motorcycle accident Thursday evening west of Wellington.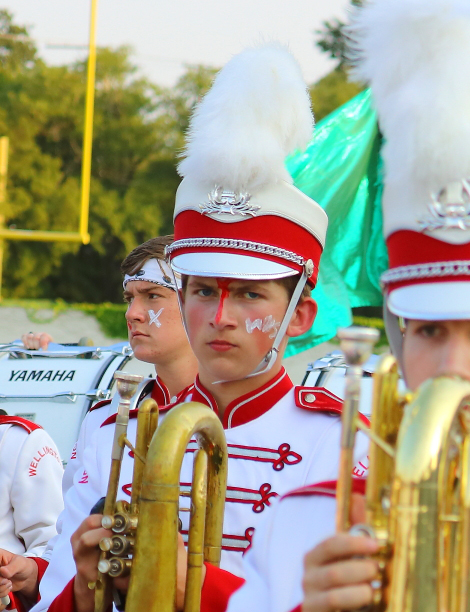 Stephen was a cherished member of the WHS Marching Band, his band-mates and many others have been hit hard by the loss, together though they have demonstrated strength, love and loyalty. As the football team entered the field, scores of BLUE BALLOONS (Stephen's favorite color I am told) were released into the calm, peacefully blue, autumn sunset sky - quite frankly, a very moving moment...even now just recalling it. Rest in peace Stephen, we will miss you. I would also like to commend the numerous Collegiate fans who participated in the balloon launch, there are just some things bigger than winning or losing every once in a while and everyone present Friday seemed to grasp that.
The Crusaders were able to generate more offense this week than last and until the 4th qtr left you with the impression they could win this thing. Collegiate always seemed to answer though and the IRONDUKES couldn't get it over the hump. The Spartans jumped out early with two first qtr. TD's and lead after 1, 14-0. The Crusaders regained the "MO" and were most of the show during the 2nd qtr, shutting down Collegiate and posting 7 points of their own to boot. You had a sense at halftime that this game could still go either way. It was a back and forth affair with LOTS OF PENALTIES - (19 total on the night for both squads combined), the Crusaders closed the margin (21-13 early in the 4th) but again, the Spartans answered, scoring a TD to pull away with the 28-13 victory.

RUSHING
Grey Hatfield - 10/61 yds (TD)
Joe Ybarra - 16/42 yds
Cade Phelps - 5/21 yds (TD)
DeAndre Washington - 1/1 yd
Deyton Araujo - 1/1 yd

PASSING
Cade Phelps - 26/142 yds (2 INT)
Michael Ledbetter - 1/0 yd

RECEIVING
DeAndre Washington - 5/62 yds
Joe Ybarra - 2/38 yds
Gage Cunningham - 1/21 yds
Grey Hatfield - 1/15 yds
Zander Vargas - 1/6 yds
FIRST DOWNS
WHS 13 CHS 8

PAT'S / FG'S
Karsten Gill 1/2 PAT'S / (NO FGA)
PUNTS
Trayson Probst 3/104 yds (35 yd avg)

TOTAL OFFENSE
Rushing - 126 yds
Passing - 142 yds
TOTAL - 268 yds
OTHER AREA SCORES
Andale 50 Clearwater 00
Buhler 40 Winfield 00
Maize South 42 Mulvane 6
McPherson 62 Circle 7
Rose Hill 21 El Dorado 14
Conway Springs 62 Trinity 35
Garden Plain 71 Belle Plaine 14
Attica-Argonia 54 Pratt-Skyline 18
Caldwell 63 Burrton 6
Hartford 78 South Haven 54
Udall 50 Oxford 30
Scott City 42 Ulysses 11
GAME ACTION PICS

Next Up - ROOOOOOOOOOAAAAAAAAAADDDDDDDDD TRIP to Scott City - Friday October 6th - Kickoff @ 7PM Pacific Time (Just kidding, it's not that far west - it's CDT!) Here's an invite from SCOTT CITY HS as well - "For any of your fans who make the trip out, the booster club will provide a  hamburger feed on the east side of the football field by your stands before the game free of charge". Thank you Beavers!