WHS.CC Laptop College Fund
TOTAL $$ SINCE SPRING 2000
WHS.CC SCHOLARSHIP FUND - $200,199.32
2017-2018 FUND 
$28,093.74 as of May 21, 2018
(Click for additional info)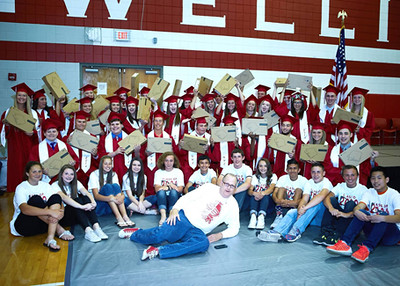 Since 2005, the Crusader Website has been distributing laptops to eligible** graduating seniors at WHS, using monies raised via the website including ad revenues and other fundraising activities. We are elated that over the past decade plus, the website has awarded over 225 laptops to seniors (and numerous cash scholarships) but also sad that all that were eligible for the laptops could not be assisted.
Each year there are usually 55-70 graduating seniors eligible for college assistance through the guidance office and each year we generally can assist about 1/2 of those that are eligible with laptop awards. **OUR GOAL IS TO ASSIST MORE AND ULTIMATELY ASSIST ALL THAT ARE ELIGIBLE** So this year we are continuing the LAPTOPS FOR COLLEGE PROGRAM through this website. For each donation of $300, a laptop will be awarded - the donor will be listed below and when the laptop is handed out at Class Night in May 2018 to an eligible** graduating WHS Senior, it will be announced then as well who the donor was for each!
I am often asked by ALUMS and others what they can do to help...here's your chance! (Smaller donations are also encouraged and accepted and will be combined with other smaller donations to achieve the same purpose). Check below for your graduating class! If you don't see a "drive" started yet for your class, start it!! If you want to assist, send your donation to the Laptop Program to: Steve Sturgis, PO BOX 556, Wellington, KS 67152-0556 ... (MAKE CHECKS PAYABLE to "Wellington Community Foundation" and be sure to write on your check your graduating class and also "For WHS.CC Scholarships"! Advertisers on the website will be listed below as well, noting their level of involvement with the LAPTOP PROGRAM. The advertisers on wellington.cc have literally provided tens of thousands of dollars over the years and are greatly appreciated for their support - they really do care about Wellington and the students at WHS!!
The GOAL is 84 laptops this year (2017-2018) - we found an educational outlet out of Chicago last year that are able to provide us with laptops at a very economical price, couple that savings with additional donations from all of you and we can make this goal again!! Nothing would make me happier than to award EVERY ELIGIBLE** SENIOR AT CLASS NIGHT WITH A LAPTOP (and we did just that in 2017 thanks to many of you) - this assists the parents as well - sending kids off to college or vocational schools can be VERY EXPENSIVE - the Crusader Website is proud to help in that regard on behalf of all who are involved!
NOTE: In the event, there are more eligible seniors than laptops, (as has been the case every year through 2016 since the laptop program began in May 2005), a "laptop" committee including myself, teachers and others will determine the recipients based on a myriad of info (including community input where applicable) - GPA, Class Standing, ACT scores, financial need etc...all important as are attitude, classroom behavior and behavior in the community and basically being a positive role model for underclassmen, etc. The laptops are meant to reward those students who are known to meet as many of those standards as possible based on the observations of the committee over time as well as documentation provided through the application process.
An attempt to be fair, has been and always will be made.The following ADVERTISERS / INDIVIDUALS / OTHERS have committed to the LAPTOP PROGRAM as noted for this past school year - their support was greatly appreciated! We hope to see your name on that list sometime soon (for the 2018 Seniors) and look forward to presenting "YOUR" laptop(s) to very deserving WHS Graduate(s) in May 2018 at Class Night!

**Seniors are aware of the eligibility requirements for laptop consideration. (involves an application process through the WHS Guidance Office)

GO BIG RED!! TOGETHER OUR CRUSADER HEARTS BEAT LOUDLY!
*************************
2017 LAPTOP GIVE-A-WAY DONOR RECOGNITION

Click for an overview of the FINAL TALLY for this past year's contributors to the WHS.CC LAPTOPS FOR COLLEGE Program!
THANK YOU ALL!!!!
*************************
Below is the running total kept through the 2016-2017 school year - in the end, this year's Laptops cost slightly less than expected so #'s of LAPTOPS donated per individual or business may have increased slightly based on the total $$ they had donated initially. Please appreciate these fine businesses and folks in general who combined their efforts to make the end result possible!!! AWESOME!
*********


PAID IN FULL - Kansas Star Casino
*********


PAID IN FULL - Josh, Andrea & Sharon Sturgis
*********


PAID IN FULL - Josh, Andrea & Sharon Sturgis
*********


PAID IN FULL - Josh, Andrea & Sharon Sturgis
*********


GOAL: $300 / Shellye Elkins $25,
*********


PAID IN FULL
*********


PAID IN FULL
*********


PAID IN FULL
*********


GOAL: $900 / Anonymous Donor $675,
*********


GOAL: $900 / Anonymous Donor $675,
*********


GOAL: $300 / Charles and Brenda Wallace $200,
*********


PAID IN FULL
*********


PAID IN FULL
*********


PAID IN FULL by Class Treasurer
*********


GOAL: $300 / Marvel Allen McLean $20,
*********


GOAL: $300 / Fred McLean $20, Judy Wiley $15,
Class of 1955 Treasurer $100,
*********


GOAL: $300 / Maggie Fink $23,
*********


GOAL: $300 / Diana Allton-Frazier $50, Heidi Nelson $25
*********


GOAL: $300 / Rebecca Bower $300 - PAID IN FULL
2nd Laptop GOAL: $300 / Tammy Bradbury $50, Tina Walton $25, Janette Moser $25
*********


GOAL: $300 / Darla Hamburg Carroll $300 - PAID IN FULL
2nd Laptop GOAL: $300 / Patrick Fink $52.50,
*********


PAID IN FULL by Class Treasurer / Additional: Joyce Robinson $50,
help us out Class of '77 - let's get enough for another one!! :)
*********


GOAL: $300 / Valerie Ledesma $50, Lynda Vonweller $35, Alan Fish $50,
Charles Goldring $20, Shelly Martin $20, Melinda Sewell $20,
Richard Abasolo $20, Michael Baptist $20, Ret Butler $30, Sheree Yoder $20,
Annette Linnebur $20, Helen Jones $25,
*********


PAID IN FULL
*********


GOAL: $300 / Jeff Defore $30, Judi McEachern Fink $45,
Anonymous Donor $100 - Come on Class of '86 - you are more than
halfway there for a "2nd" laptop!! AWESOME!
*********


PAID IN FULL
*********


PAID IN FULL
*********


PAID IN FULL
*********


PAID IN FULL
*********


PAID IN FULL by Class Treasurer
2nd Laptop GOAL: $300 / Betty Zeka $50,
*********


PAID IN FULL
*********


PAID IN FULL by Class Treasurer
*********


GOAL: $300 / Lori Farley-Branning (Lori's All Season Painting) $100,
Tim Ricke $25, Steve Sturgis $25, Randy Langford $25,
Bob Rader $25
*********


PAID IN FULL
*********


GOAL: $300 / C. John Cochran $50,
*********


PAID IN FULL
*********


PAID IN FULL
*********


GOAL: $300 / Stacy Lyles $25, James Chism $25, Karla Defore $25,
*********
QUESTIONS? INQUIRIES? Contact Steve at shs74@wellington.cc or mail your contribution to: WHS.CC Scholarship Fund / c/o Steve Sturgis / PO BOX 556 / Wellington, KS 67152-0556
**to be eligible for selection, the graduating senior must complete the "LOCAL SCHOLARSHIP APPLICATION PROCESS" through the Guidance Office at WHS. Only those that do will have an opportunity to receive a laptop at Class Night each May. The Class of 2017 had "57" Seniors who did complete the aforementioned process and were eligible to receive a laptop. Thanks to the generosity of all above, ALL "57" were recipients this year of a new laptop - thank you to all who made that possible!!
2017 RECIPIENTS (57 in total!!)
Callie Bannister, Tristan Barragan, Madison Barron, Trevor Bernd, Michael Billington, Khalil Boyer-Mutazammil, Kayma Brand, Stephanie Bristow, Connor Burnett, Brentasia Cramer, Chantz Daugherty, Derek Driskell, Brock Edwards, Hannah Evans, Ashley Ewing, Kalyn Fair, Therin Frame, Tayland French, Morgan Hain, Cassidy Harriger, Kelsie Haydon, Desiree Heller, Kira Hills, DaMoggio Johnson, Laken Kimball, Reece Langford, Brecken Lawrence, Carson LeGrand, Madison Lewellen, William Long, Devin Martens, Matthew Mason, David Matlock, John Mayo, Elizabeth Montenegro, Leanne Neal, Hunter Owston, BayLee Pacchelli, Lonida Parolan, Kailyn Patterson, Regan Pourner, Coewen Rains, Addrien Ramirez, Rylee Raschke, Noah Rinehart, Jaycee Schettler, Demi Shriver, Matthew Sinnett, Brian Smith, Lauryn Snipes, Ashley Soles, Lukas Soria, Cady Thomas, Joanna Tredway, Seth Tunnell, Peighton Westmoreland, Victoria Winger.