2018 SEASON
YOUTH FOOTBALL CAMP 
July 23-24
GROUP PHOTO
WMS FOOTBALL CAMP 
July 25-26
GROUP PHOTO
2018 SEASON
OCT 11th @ CLEARWATER - NO REPORT
OCT. 4th @ MULVANE - NO REPORT
WMS 7/8 FOOTBALL
HERE vs Rose Hill
Thursday, September 27, 2018
7th Grade (2-3 on the season)
RHMS 8 WMS 20

8th Grade (2-3 on the season)
RHMS 8 WMS 34
************************
WMS 7/8 FOOTBALL
@ Haysville West MS
Thursday, September 20, 2018
7TH GRADE (1-3 on the season)
WMS 6 HWMS 46
8TH GRADE (1-3 on the season)
WMS 0 HWMS 38
*************************
WMS 7/8 FOOTBALL
HERE vs Prairie Hills
Thursday, September 13, 2018
The MS Prairie Hills Crusaders (i.e. Buhler/Hutch) Crusaders were in action with our WMS Knights Thursday evening at Sellers Park. Tough night for the KNIGHTS,Prairie Hills 7th and 8th graders were victorious in the end.

FINAL 7th Grade: PHMS 56 WMS 14 (now 1-2 on the season)
FINAL 8th Grade: PHMS 30 WMS 12 (now 1-2 on the season)
*******************
WMS 7/8 FOOTBALL
HERE vs Haysville Hawks
Thursday, September 6, 2018
7th Wellington 32 Haysville 6
8th Wellington 42 Hayville 0
Both move to 1-1 on the season!!
*******************
WMS 7/8 FOOTBALL
@ Winfield
THU Aug 30, 2018
8TH GRADE
WELL 08 WINF 36
The Knights were only 1 score down going into the 4th.

7TH GRADE
WELL 00 WINF 22
***********************
2017 SEASON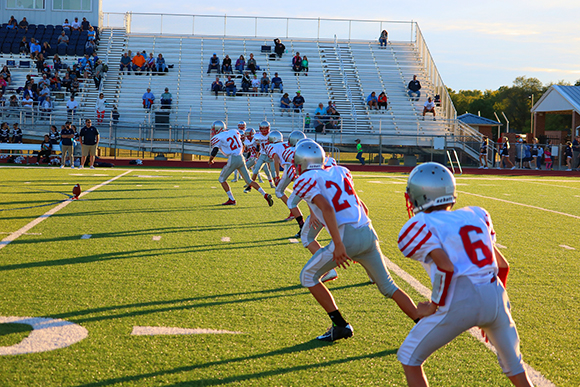 The WMS Knight football squads road-tripped to Clearwater Thursday for some Pioneer League action. The 7th graders had a hard time getting things going on both sides of the ball, coming up short in the 30-0, 7th Grade Clearwater victory.

The nightcap produced a closer contest but a heart breaker in the end...Clearwater scored with just 20 secs. left for their 21-14 triumph. 

Just two weeks left in the season for the Knights, both weeks will be at HOME. Next Thursday the Knights host Winfield...on the 12th, Mulvane.

The 7th graders fall to 1-4 on the season, the 8th graders 3-2. 
7th-8th Grade Football Action Pics 092817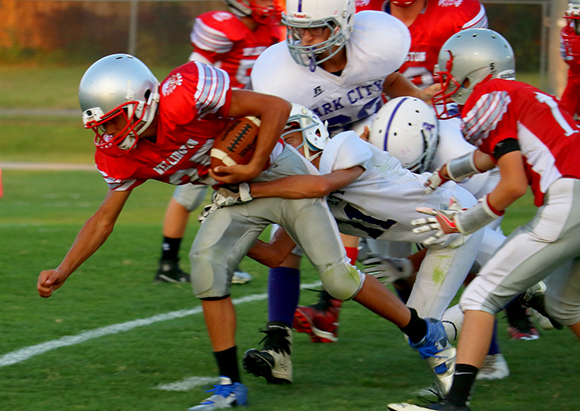 The 7th & 8th grade Football Knights hosted Ark City Thursday at Sellers Park...ended up being a split // the 7th graders struggled against the Bulldogs coming up short 00-36.

In the nightcap, the battle was on and the 8th graders were tied at 20 a piece at halftime. Wellington 8th grade Knights were able to pull away in the 2nd half (against a larger Ark City squad) and the final score was WMS 8th Graders 48 Ark City 34.

One of the Ark City players was injured and taken by ambulance to the hospital. Later Thursday evening he was reported to be much improved which is great news.!

The 8th graders move to 2-1 on the season, the 7th gradersto 1-2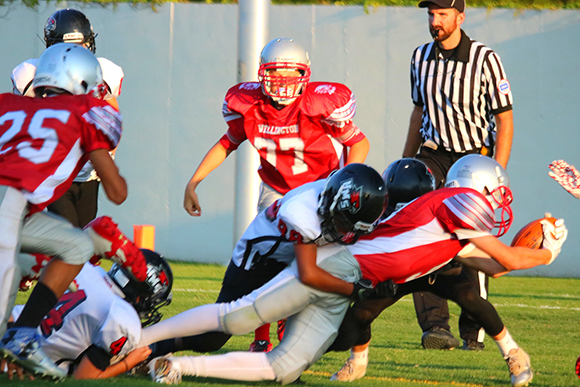 The WMS 7th & 8th Grade Football Knights took care of business Thursday evening down at Sellers Park. Their visiting counterparts from Haysville had no idea of the buzz saws they were about to encounter. Behind the cool, calm and collected hands of QB Cope Henry, the 7th grade KNIGHTS marched up and down the field with relative ease. Mekhi Haskin-Ybarra and Jakob Lira lit it up with numerous gainers behind a strong line and an obvious strong defense in the 42-00 win over the Haysville 7th graders. Jeffery Berryman, Center for the Knights,toughed it out all evening as did others. Truly a team effort and a gutsy effort at that! Awesome job Knights!!
The nightcap, featuring the 8th grade KNIGHTS and Haysville was a romp from the get-go. With only 30 secs. off the game clock Wellington after just 3 plays were up 16-0. By 1st quarter's end that lead would double to 32-0. QB Jay Ybarra covered a lot of ground for the Knights - the extra and sustained effort by many transformed their season opener into a BIG W. Dustyn Schettler was tough, his extra effort to get across the goal line on one occasion was textbook. Running back Michael Cullens has more moves than United Van Lines and out maneuvered Haysville with ease. The Knights' line did their jobs and like the 7th graders, the defense ruled! Neither Haysville team scored but did have a few opportunities to do so without success...again, credit the "D"!!

There are a lot of young men that should be mentionedhere as it was truly "2" team victories on Thursday that put smiles on anyone and everyone wearing red. Congrats to all the KNIGHTS and their coaches for representing so well. Wow...that was fun. Let's do that again...and again! :)
KNIGHT FOOTBALL ACTION PICS 083117
WMS FOOTBALL CAMP 2017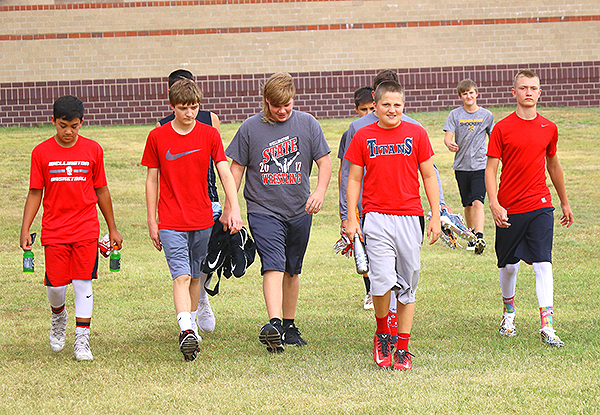 The 2 day WMS Football Camp got underway Wednesday evening out at WHS...the possible threat of rain never materialized, staying to the north and heading east. The cloud cover though made it a bit cooler so that result was most welcome. A couple dozen 7th and 8th graders were put through the rigors of camp, testing their speeds and agility, etc...it's all low key and fun and a great opportunity for coaches to begin their planning with the Knight season openers just a little over a month from now.

Camp concludes tomorrow and official fall sports practices across the State of Kansas get underway on August 14th. All WMS and WHS athletes participating in fall sports activities will need to make sure they have doctor and parent signed athletic physicals and any other related forms on file at their respective school or in their coaches hands by Aug. 14th. No forms, no practice. 
2016 SEASON
7TH GRADE
At the :27 mark of qtr 1...7th grade qb Jay Ybarra busts a 80 yd run to paydirt...add the 2 pt conv (Ybarra)...after 1...7th grade Knights 08 Winfield 00
At 3:40 mark of 2nd qtr - Knight RJ Clift scores on 13 yd run...2 pt conversion fails...KNIGHTS 14 Winfield 00
At 7:45 mark of 3rd qtr...58 yd scamper for 6 by qb Jay Ybarra...2 pt conversion good by Hagan Wright..Wgtn 22 Winfield 00
At 2:09 mark 3rd qtr...RJ Clift 4 yd run for 6...Jay Ybarra the 2 pt conversion. Knights 30 Winfield 00 (FINAL)
7th Graders are 3-3 on the season.
8TH GRADE
Winfield 46 Wellington 14
8th Graders are 0-6 on the season.
KNIGHTS vs VIKINGS PICS 101116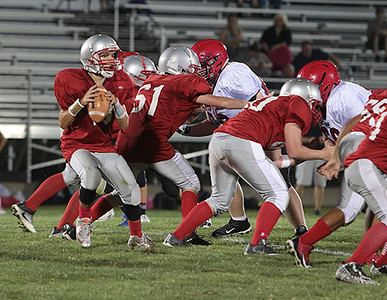 It was a close battle for the 8th grade Knights Thursday evening but in the end, El Dorado would squeak out a victory when a last minute drive by the Knights came up short. The Knights fall to 0-4 on the season as a result of this close contest.
8TH GRADE KNIGHT FOOTBALL PICS 092216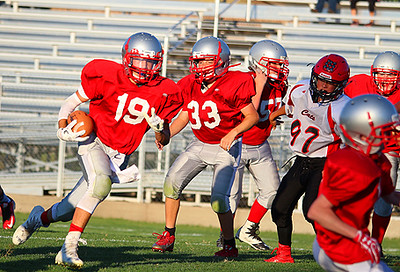 The 7th grade Knights advanced their season record to 2-2 on Thursday, easily downing El Dorado in a 44-18 romp. Kudos to the whole squad and especially to Jay Ybarra who scored "5" TD's and a 2 pt. conversion just for good measure.
Great Job Knights!
Next action is Thursday, HERE vs Clearwater
Keep up the good work gentlemen!
7TH GRADE KNIGHT FOOTBALL PICS 092216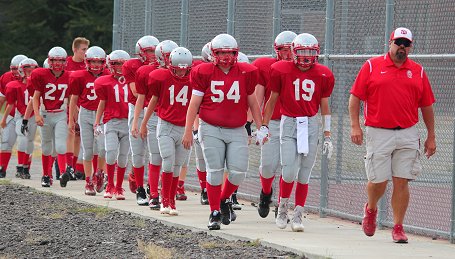 After a big win last week in their opener, the 7th grade Knights went up against a much larger, quicker and determined team this week as they hosted Prairie Hills (Buhler) at Sellers in their first home stand on the season. From scrimmage, PHMS on their first play broke it for 60 yds and pay dirt. The Knights weren't going to lie down, they battled their way up the field and scored and knotted the tally at 8 for each after 1 quarter. The aforementioned attributes of the visiting "Crusaders" kicked in soon after that though and the Knights couldn't sustain the pace. Final score PHMS 42 WMS 24.
WMS 7TH GR FOOTBALL PICS 090816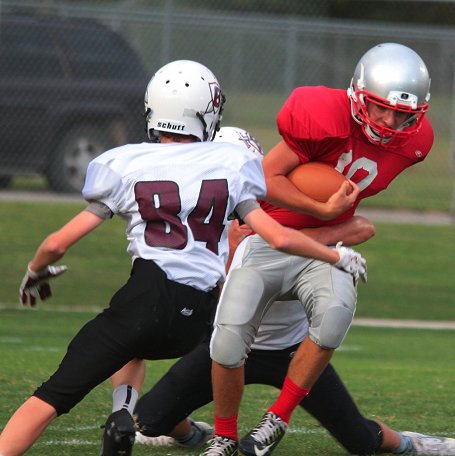 A tough night for the 8th Grade Knights. At halftime, the visitors had chalked up 30 pts.- final score 40-8. Wellington's score came on a pass from Trenton Banister to Bradley Jones and Kenny Fehrman rushed for the 2 pt conversion. Pictured above is Knight Chilson Ybarra for a gainer.