Varsity Tennis Girls See Action @ League Meet! (Updated)
SIDE NOTE: The Seniors on the GIRL TENNIS TEAM, along with their parents, were honored on Friday, prior to the Rose Hill vs WHS football game. An awesome group of young ladies who will be greatly missed, on and off the courts next school year. (Kylie Aufdengarten, Natalie Henning, Alisa Walters, and Jennifer Walters) Click Pics Below
Kylie Aufdengarten, Rylee Rusk, Natalie Henning, Olivia Brand, Calli Hatfield, and Jensen Lynnes saw lots of court action Monday at McPherson HS - it was AVCTL LEAGUE MEET time, this weekend 4A REGIONAL ACTION in Wichita, and then the following weekend, STATE ACTION in Winfield on Oct. 18 & 19.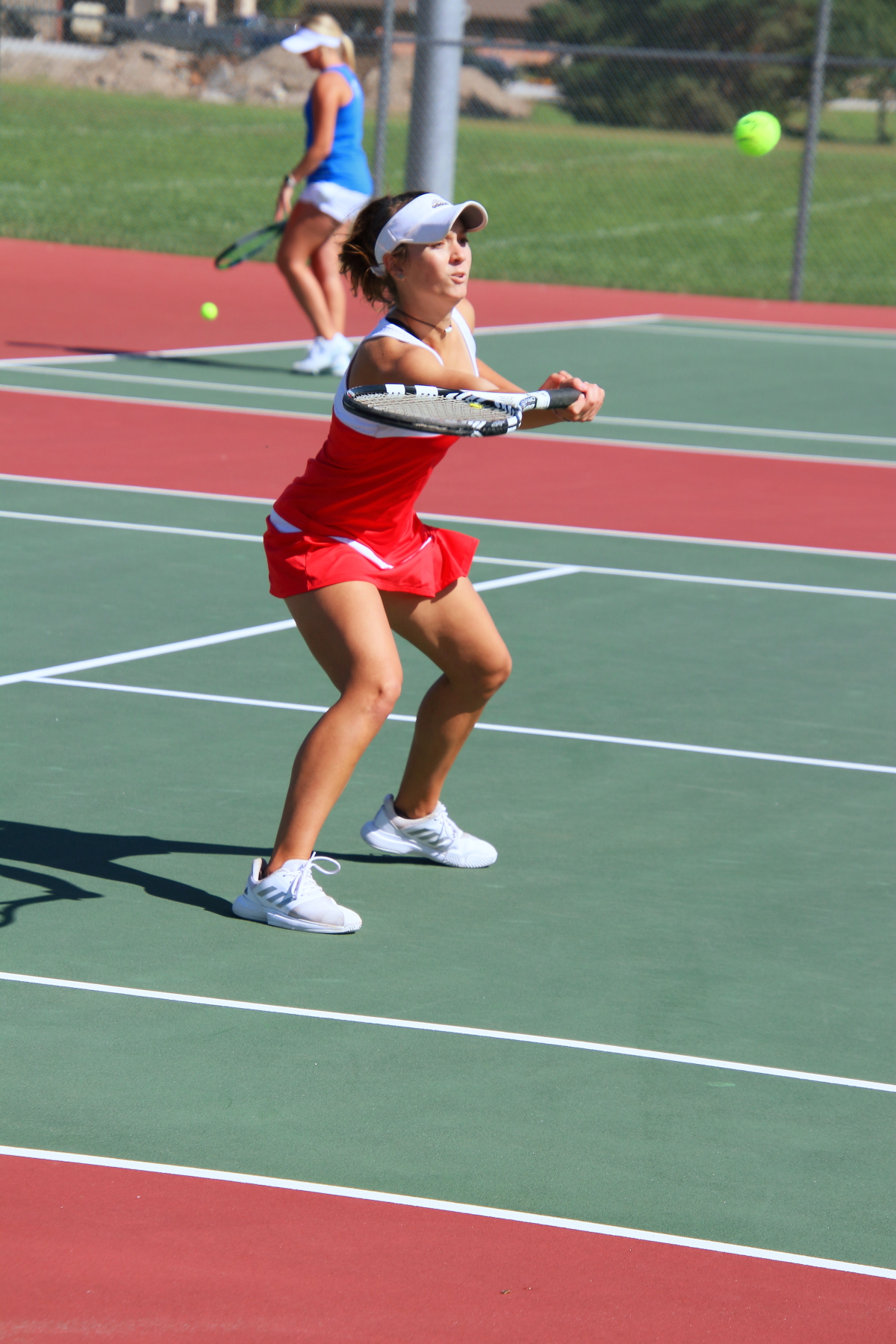 It was an awesome day for tennis, great temps, little to no wind....PERFECTO! Other teams at the league meet competition Monday in McPherson were, Augusta, Buhler, Circle, El Dorado, Collegiate, and Winfield.Here is a recap of the day, provided by Head Coach Brian Aufdengarten:

"The Wellington tennis team competed in the league tournament at McPherson on Monday and finished fifth in the team standings. The top performance was by the number one doubles team of Kylie Aufdengarten and Rylee Rusk who finished third on the day.  The number one doubles bracket was loaded with top teams in the state. Wellington received the number one seed and got upset giving them their first loss on the season in the semi finals by a Collegiate team.  The pair then bounced back and beat Buhler for third place. That loss was hard to take, we won the first set 6 to 1 then lost the second set 5 to 7. We never got going in the super tiebreak, I'm glad the pair bounced back in their last match. Kylie & Rylee improved to 25-1 on the season! 

Playing number two doubles was Calli Hatfield and Olivia Brand who had never played together before and received the fourth seed and finished in fourth place. They almost pulled off an upset over Buhler, losing in a super tiebreak, then they lost in another super tiebreak in the third and fourth place match to McPherson. The pair did well today for never having played together and had a lot of fun out on the court.

Playing at number two singles was Freshman Jensen Lynnes who was the number six seed and nearly pulled off a big upset over McPherson who was seeded third.   Jensen took the match to a third set super tiebreak and lead 8 to 5 but the McPherson girl rallied back and won five straight points to win 10 to 8. The McPherson girl is a three-time state qualifier who is a senior. Jensen bounced back and beat a decent El Dorado player 8 to 1, and then got some revenge on a Winfield player that beat her earlier in the season. Jensen won 9-2 which was good for 5th.  

Playing at number one singles was Natalie Henning in a really tough singles bracket. She received the seventh seed and finished in seventh place. Henning lost to Wichita Collegiate, the number two seed and to Buhler before defeating an Augusta player.  Regionals will be played this Saturday at Wichita Collegiate."