2018 SEASON
WHS VARSITY GIRLS TENNIS
@ Collegiate Tournament of Champions
Saturday, September 22, 2018
Doubles Kylie Aufdengarten & Rylee Rusk had the best finish on the day finishing 13th out of 38 doubles teams.  They went 3-2 on the day.  
Singles player Natalie Henning finished 23rd on the day and went 2-3.  Played well in a very tough tournament.
Doubles Jacelyn Buck & Calli Hatfield finished 1-4 on the day.  Lost two tiebreak matches at the end.  Buck tried playing after she dislocated her finger on Thursday, she just had trouble doing the things that she is good at.  
Wellington didn't have a full team compete.
****************************
WHS VARSITY GIRLS TENNIS
@ Collegiate Invitational
Tuesday, September 18, 2018
Team Standings
Salina Central  30
Goddard   19
Wellington  18
Collegiate   17
Winfield   14
Augusta    8
Newton   7
Classical   3
2 Doubles Jacelyn Buck & Calli Hatfield  2nd Place 
1 Doubles Kylie Aufdengarten & Rylee Rusk  2nd Place
1 Singles Natalie Henning   2-1  5th Place
2 Singles Olivia Brand 2-1   5th Place
Pretty decent day, didn't have the best matches in the finals with both doubles.  #1 Doubles had a close tiebreak win against Collegiate in semifinals.  Their finals match against Salina Central wasn't as good losing 8-1.  #2 Doubles led most of the championship match but fell behind after up 5-4, and lost 8-6.  Natalie had a very good day along with Olivia, both keep improving in singles.
**************************
WHS VARSITY GIRLS TENNIS
@ Ark City
Thursday, September 13, 2018
Varsity at Ark City - 16 teams open draw.  32 singles players, 32 doubles teams
Bishop Carroll   115
Kapaun    113
St. James Academy  83
Campus   80
Ark City   80
Salina South   78
Winfield    53
Independence   52
Wellington  48 - 9th Place
Andover   47
Collegiate   42
Wichita Independent   36
Maize South   32
Goddard   31
Newton   28
Andover Central   24
Coach Aufdengarten had this to say about the day overall:
 
Natalie Henning went 2-3 on the day and finished 20th overall.  Natalie keeps getting better, she had a very nice win over Page from Andover Central 8-0.  
Olivia Brand went 1-4 on the day, had to play the champion from Kapaun in the opening round.  She finished 28th overall and had a couple of other close matches.
Kylie Aufdengarten & Rylee Rusk went 3-2 on the the day also and finished 7th overall.  Lost quarterfinal match to Kapaun 6-8, who had one member of their state champion doubles team last year.  The two played very well at teams and then kind of lackadaisical at times.
Jacelyn Buck & Calli Hatfield went 3-2 also on the day and finished 19th overall.  We lost a tiebreak match in our opening round which could have went the other way.  They bounced back and won two in a row, then lost to St. James Academy, and then beat Winfield 8-2 in their final match.  
Happy with 9th place, only other 4A teams that finished above us by less than 5 points were Independence and Winfield.  Kylie and Rylee were the top 4A doubles placing team.
****************************
WHS GIRLS VARSITY TENNIS
@ Circle HS
Thursday, September 6, 2018
TEAM STANDINGS
Collegiate - 63
Buhler - 49
Andover Central - 42
Circle - 41
Wellington - 40
Wichita Classical - 21
El Dorado - 19
Augusta - 4
Team finish wasn't too bad only 2 points out of 3rd overall.  
Best finish on the day Jacelyn Buck & Calli Hatfield at #2 doubles.  Got the #1 seed and won over Augusta 8-2, over Andover Central 8-2, and beat Collegiate in the finals 8-7(7-5) in tiebreak to take first overall.  The pair are now 6-0 on the season together.
#1 Doubles Kylie Aufdengarten & Rylee Rusk got the #2 seed.  They won their first match over Circle 8-0.  Then they played Andover Central the #3 seed and lost 8-5.  We led 5-4 and lost 4 straight games.  They then bounced back to beat Buhler 8-1, to finish 3rd overall.  The pair are 5-1 on the season.
#2 Singles Oliva Brand got the #5 seed and beat the #4 seed from Augusta in the opening round 8-3.  She lost the #1 seed from Buhler 2-8, and Collegiate 2-8 to finish 4th overall.
#1 Singles Natalie Henning had a tough round at singles with some really good players.  She lost to Circle to start, then lost to Wichita Classical 3-8.  In her final match she played awesome and beat Augusta 8-1.  
Both singles players continue to get better and made progress from our first meet, with very little practice with all the rain we have had.  Kylie and Rylee lost one we didn't think we should have lost, but that happens we just didn't play with as much energy as Andover Central.  Jacelyn and Calli continued to play well, their last match was a little closer than we liked but they held in there against some difficult players.  Wellington will make up their varsity meet on Monday.


/*/*/*/*/*/


The WHS Varsity Girls Tennis Team finished 2nd in Tuesday's (08.28.18) season opener here at HOME. Head Coach Brian Aufdengarten had this to say about the first varsity event of 2018...

"Very pleased to finish 2nd overall, really thought coming in we might be able to take 3rd, so very pleased on the finish.  Singles player Natalie Henning had a great match against Frederick from Buhler who won #1 singles playing her to 8-4.  She battled hard all day and was pleased with her.  Olivia Brand had some very good points in matches, her last match she was tied 4-4 with Bender from Conway Springs and just ran out of energy.  Wish she would have played her earlier in the day.  Both singles players never gave up and will get better, singles is tough and there was very good competition today.  Probably the most impressive players were Jacelyn Buck and Calli Hatfield going 3-0 at #2 doubles and only giving up 1 game of the day.  These two looked very good, Calli was making some great shots, and Jacelyn is so intimidating at the net.  Their net play by both was key.  Kylie Aufdengarten and Rylee Rusk also went 3-0 on the day and played well, but struggled at the net.  We weren't finishing points up there, we have to get better.  There was some good competition at #1 doubles, but I think we can get a lot better."
Action continues for the Lady Crusaders (@ HOME again)on Tuesday, Sep. 4th at 3:00PM. Wellington will host Chaparral, Kingman, Sterling, Wichita Collegiate and Winfield. Here are pics from Tuesday's opener! Congrats on the fine finish!
/*/*/*/*/*/
Meet your 2018 WHS Girls Tennis Team! (Head Coach Brian Aufdengarten and Asst. Coach Daphne Adams)

Season Varsity Opener - TUESDAY - HERE @ 3PM!
2017 SEASON
COACH AUFDENGARTEN'S STATE TOURNAMENT WRAP-UP!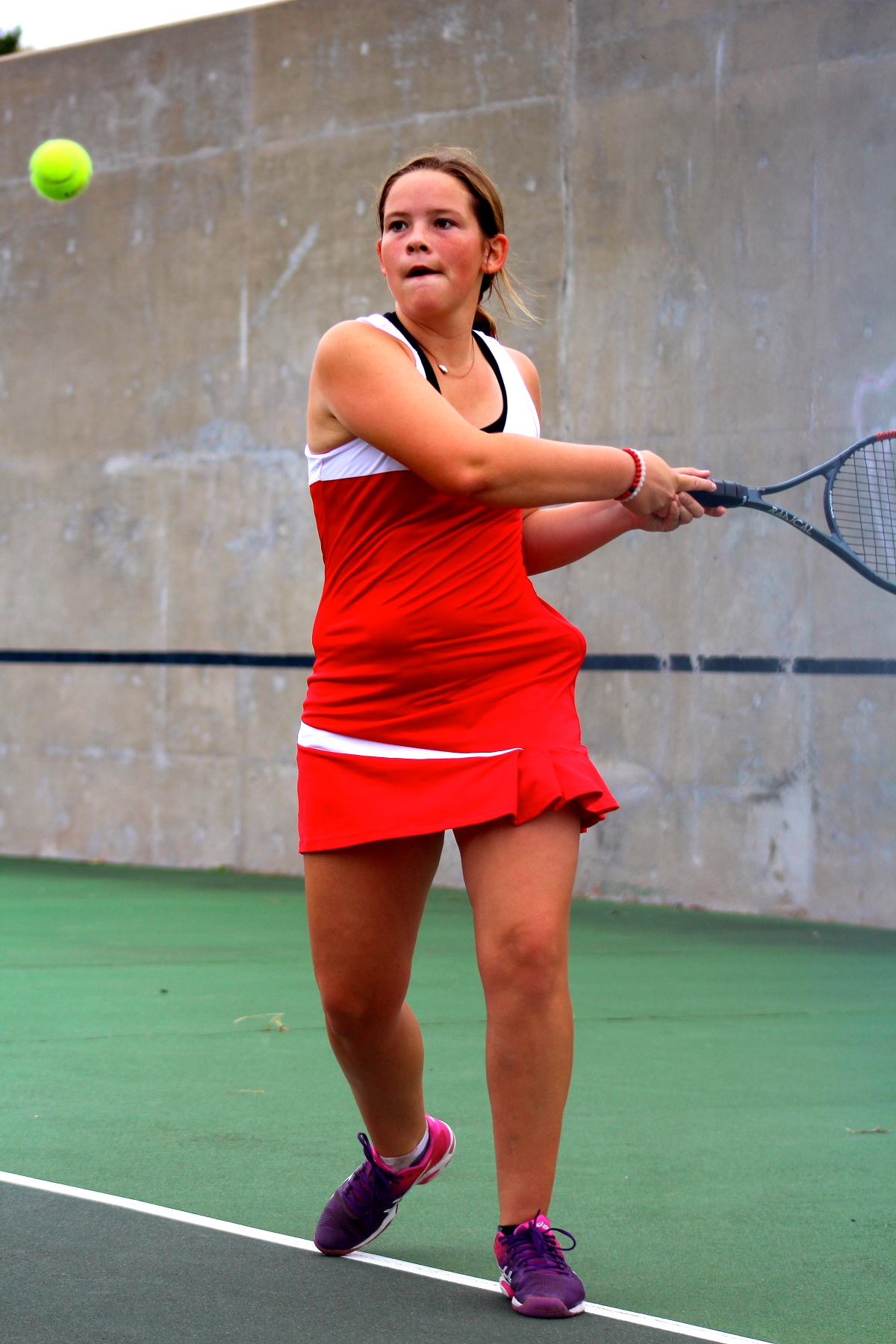 Had a big day the first day, and even bigger day on day 2. Finished 1 point out of second and third, that stung a little, but some of that was out of our control, we did the things we had to do by getting wins on day 2.
Abby Lowe 2nd year being a state qualifier, won her first match 6-1,6-1 over Wyse from Hays, then she lost to the state runner-up Schabel from Independence in a great match that Abby played so well losing 6-3,6-4.  She then won two more over Becker from Marysville 9-1, then in a crazy match when it was getting dark she played Scharenberg from Circle.  Abby was up 8-6 when the girls couldn't see because there were no lights on the court.  They moved courts about about a 15 minute wait.  Scharenberg tied the match at 8-8 and they were in a tiebreak and Lowe was down 2-4, then a breaker went out and the lights went off again, they had to wait another 15 minutes to move to the only two courts with lights.  Lowe lost the first point going down 2-5, then rallied 5 straight points to win 7-5 in the tiebreak.  That guaranteed her a medal at state.  Day 2 Lowe lost to Ruffin from Collegiate 1-9, then lost to Allen from McPherson 2-9.  In her final match she played Trout from Independence and won 9-4, to place 11th.  Lowe finished her career with 81 wins.  
The Rusk sisters had a tremendous state tournament after placing 4th in regionals last week.  The pair opened up with Bishop Miege and won 6-1,6-4,then they ran into Edmonson/Bruce from McPherson who finished 4th overall and lost 3-6,3-6.  This put the sisters on the backside and they faced Parsons and won 9-5.  In their next match they met a familiar opponent who they played at regionals also Withrow/Lair from Collegiate.  The Rusk sister jumped on them early and played one of their best matches at state and won 9-0.  That guaranteed them a medal at state also.  On day 2 they opened up with Maddex/Sagehorn from Andover Central who they lost to at regionals.  Maddex was the state runner-up in doubles last year.  The Rusks won a hard fought battle in a tiebreak winning 9-8(7-2).  They then played Holthaus and Williams the regional winner from Marysville in the Topeka Hayden regional.  The Rusk sister jumped on them early with great net play 7-1.  Marysville charged back a little but the Rusk girls held on to win 9-4.  This put them in the 5th/6th place match against King/Marquez from Independence who the girls lost to earlier this season 2-8.  Again Avery and Rylee came out very strong and got a good lead early.  Independence charged back and even called for a line judge on match point to try and rattle the sisters.  After about 10 match points for Wellington the sisters finally put the match away and won 9-6.  Unbelievable, I knew they could medal and they were good, but they went on a nice run this weekend.  6-1 at the state tournament for these two.  Avery went to state the two years she played.  Rylee ties the Wellington record for the highest place for a freshman with Kylie Aufdengarten taking 5th place.  Rylee also sets the all time single season win mark with 33 wins breaking Lexis Hibbs and Kaitlyn Buck's record with 32.  Avery Rusk is tied for 2nd getting 32 wins this season.  Avery finishes her two years with 51 career wins.  Rylee was also the highest placing freshman in this years state tournament.
Mekenna Adams & Kylie Aufdengarten got a first round bye because they placed 2nd at regionals.  They faced Walker/McChristian from Ark City in the second round and won 6-1,6-0.  This pitted them against Holthaus/Williams from Marysville, a regional winner.  The match was tight at first, but Wellington prevailed 6-4,6-3.  The win in this quarterfinal match guaranteed the pair a top 4 finish.  Day 2 began against Ark City's Burr/Weathers the defending 5A state champions.  Ark City jumped out to a 3-0 lead but Adams and Aufdengarten responded winning 3 in a row to tie it up.  Ark City went up 4-3, and the rains hit delaying things for about 2 hours.  Ark City responded after the break winning 6-4.  In the next set Wellington jumped up 2-0, and then had a 4-3 lead on Ark City and the rains hit again.  After about a 15-20 minute wait Ark City again got it's composure and won again 6-4.  Seemed like every time we got the momentum the rains hit.  After the loss it sent Adams and Aufdengarten to the 3rd/4th place match where they met up with McPherson's Edmonson and Bruce another regional winner.  Wellington had the lead in the first set, but lost it at 5-6, then Wellington tied it up and a tiebreak was played.  Wellington jumped out to a 5-2 lead, but soon it was 5-4.  Wellington questioned a call at that time, so McPherson called a line judge on themselves.  After that the Wellington pair won 2 straight points to win the tiebreak.  In the next set Adams and Aufdengarten jumped up 3-0, but then all of a sudden it was tied at 3-3.  Wellington held the lead each time, and finally put the match away 6-4.  What an awesome weekend, we never talked about it but we wanted to finish higher than last year in a much deeper draw, but we didn't know if it was possible.  So proud of these two, Mekenna has given so much to this program.  Adams is the only Wellington tennis player to medal all 4 years taking 9th with Maggie Fink, 7th with Madison Adams, 5th with Aufdengarten, and now 3rd with Aufdengarten.  She ends her career with 109 wins which ranks 2nd behind Lexis Hibbs and Kaitlyn Buck who had 114.  Aufdengarten was the highest placing sophomore in the state tournament this year, and now has 56 career wins in two years.  We have some very big shoes to fill with us losing Mekenna, Avery, Abby, and Lexi Saffell.  
Wellington finished 4th in 2009.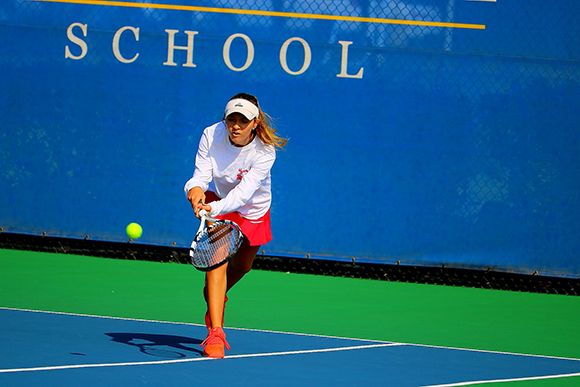 UPDATE: Saturday, Oct. 7, 2017
Coach Brian Aufdengarten's Regional perspective:

"Day 1 was very exciting qualifying 5 of our players and all guaranteed a state trip on the first day.
Mekenna Adams & Kylie Aufdengarten received the #2 seed and won over Trinity and Andover Central putting them in the semifinals.
Avery Rusk & Rylee Rusk got the #4 seed and won over Pratt and in a thrilling three set match over Collegiate.  This put them in the semifinals also.
Abby Lowe seeded #7 probably pulled off the biggest upset on the day in any 4A regional.  She beat a Pratt player, then beat the #2 seed from Circle, an exchange student that came in 17-1.  This put her in the semifinals also.
Jacelyn Buck won her opening match over Augusta, but then lost to a Collegiate player.  This kept her alive for day 2.
Day 2 had its ups and downs, after a great first day.  We finished 1-6 in matches on the day.
Adams and Aufdengarten won their first match 6-0,6-1 over Andover Central.  Half that Andover Central team was state runner up in doubles last season.  This pitted them in the championship against the #1 seed from Collegiate.   We battled hard and played very well just didn't win a lot of deuce points and lost 6-2,6-4.  We played well Collegiate put their singles player that finished 2nd last year at state in doubles, they are pretty darn good.
The Rusk sisters came up short in both of their matches losing to Collegiate 6-1,6-3, and losing to Andover Central 6-3,6-3.  I'm proud of these two sometimes it is tough playing with a sibling and they've done really well.  The pair finished 4th overall.
Lowe also came up short on both her matches as she played against two very good Collegiate players.  Abby had such a nice day Friday, that might be one of the biggest upsets I've had by a singles player.  We didn't think of it as an upset necessarily, but that usually doesn't happen.  Lowe finished 4th.
Buck jumped up early against her player from Andover Central 2-0, but after the Andover Central player won 4 straight games, Buck never really recovered.  She just got frustrated with how things were going in the match.  She came close but with the loss was eliminated.
Team Standings
Collegiate 20
Andover Central 16
Wellington 15
Circle 7
Augusta 0
El Dorado 0
Pratt 0
Ulysses 0
Wichita Trinity 0
This was a tough regional, we are probably a stronger team this year, but we missed the runner-up plaque by 1 point.  We actually had more team points than we did last year when we took 2nd.  Collegiate was the only team to take their entire team out of this regional, all the rest of us knocked each other out."
/*/*/*/*/*/
Regional 4A Tennis concludes at Collegiate - "5" Lady Crusaders finish in TOP 6 and will advance to next weekend's State 4A Tournament in Pratt - congratsto all for their efforts!!!
TEAM FINISHES (TOP 3)
Collegiate - 20
Andover Central - 16
Wellington - 15
INDIVIDUAL FINISHES
Mekenna Adams / Kylie Aufdengarten - 2nd place
Avery Rusk / Rylee Rusk - 4th place
Abby Lowe - 4th place
Jacelyn Buck - missed out on State qualifying by just "1" match - great effort and season Jacelyn!!
GOOD LUCK AT STATE!!
****************************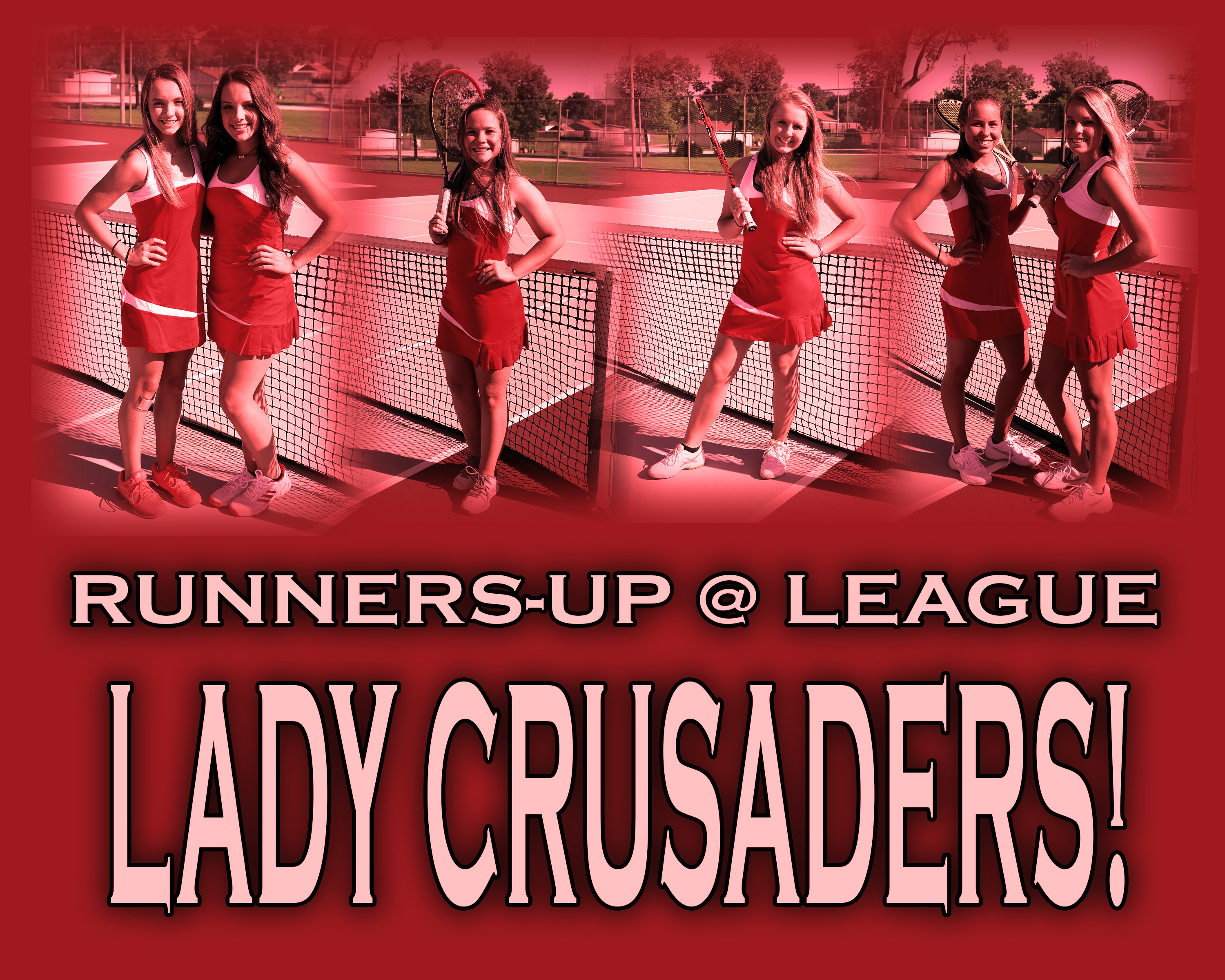 WHS VARSITY GIRLS TENNIS
AVCTL League @ Collegiate
Monday, Oct. 2, 2017
Head Girls Tennis Coach Brian Aufdengarten was very happy after Monday's action at Collegiate. It was AVCTL League Tournament time and our Lady Crusaders finished 2nd as a team - Coach Aufty indicated the team hadn't finished that high since 2010. Way to represent LADIES!!

Finishing 1st, Freshman Rylee Rusk beat a decent Winfield player in her first match, then defeated Scharenberg from Circle who was the #1 seed! In the finals, Rylee beat Withrow from Collegiate. Rylee came in 0-0 (Singles) and was the #4 seed. She had played doubles all season with sister Avery.

Finishing 3rd, Mekenna Adams and Avery Rusk beat the #4 seed from Buhler to open, then lost in the semi-finals to the eventual champion Collegiate, 4-6, 5-7. Mekenna and Avery went on to defeat Winfield in their final match. Mekenna and Avery came in 0-0 (Mekenna had paired with Kylie Aufdengarten and Avery with her sister Rylee all season) and were the #5 seed. 

Finishing 2nd, Kylie Aufdengarten and Jacelyn Buck got the #2 seed and finished where they got seeded. They defeated El Dorado and Circle in their first two matches, but didn't have a lot of answers against the Lair sisters from Collegiate in the final.

Finishing 4th, Abby Lowe who had some long matches on the day after getting the #4 seed. Abby defeated McPherson in a super tiebreak, then lost to the #1 seed from Circle 4-6, 5-7. In her final match she lost in a super tiebreak to Nihart from Winfield.

"I'm very proud of the girls." Coach Aufdengarten

So are all of us in the community Coach!! AWESOME!!
****************************
WHS JV GIRLS TENNIS
AVCTL League @ Collegiate
Thursday, Sep. 28, 2017

Congratulations to the WHS JV Girls Tennis team - the 6 young ladies were in competition Thursday at the JV AVCTL LEAGUE TOURNAMENT @ Collegiate and came away with a strong 3rd place finish! Here's how it all shook out:

JV League at Collegiate
#1 Singles Lexi Saffell 2-1  2nd Place overall
#2 Singles Calli Hatfield 2-1  2nd Place overall
#1 Doubles Natalie Henning & Olivia Brand  1-2  4th Place Overall
#2 Doubles Adaysia Love & Jennifer Walters  2-1  5th Place overall

Team Standings
Collegiate  70
Buhler   55
Wellington  48
Winfield  39
Circle  29
Augusta  17
McPherson  15
El Dorado  7
The Varsity Girls will be in League Action at Collegiate on Monday - GOOD LUCK TO THEM! REGIONALS are next weekend and then STATE, the weekend after that!! It's going to be exciting!
**************************
If this article was about WHS matches lost at the Kingman Invitational on Tuesday by our Varsity Girls Tennis squad, the article would end here. So instead, let's talk about the perfect day for the team and a career benchmark set by Senior Mekenna Adams.

Wellington dominated, 13-0 as a team in match play, 4 "1st" place finishes and of course on top of the team totals, defeating Buhler, Valley Center, Kingman, Haven and Nickerson. Here are the totals:

Wellington 34, Buhler 24, Valley Center 16, Kingman 14, Haven 6 and Nickerson 3.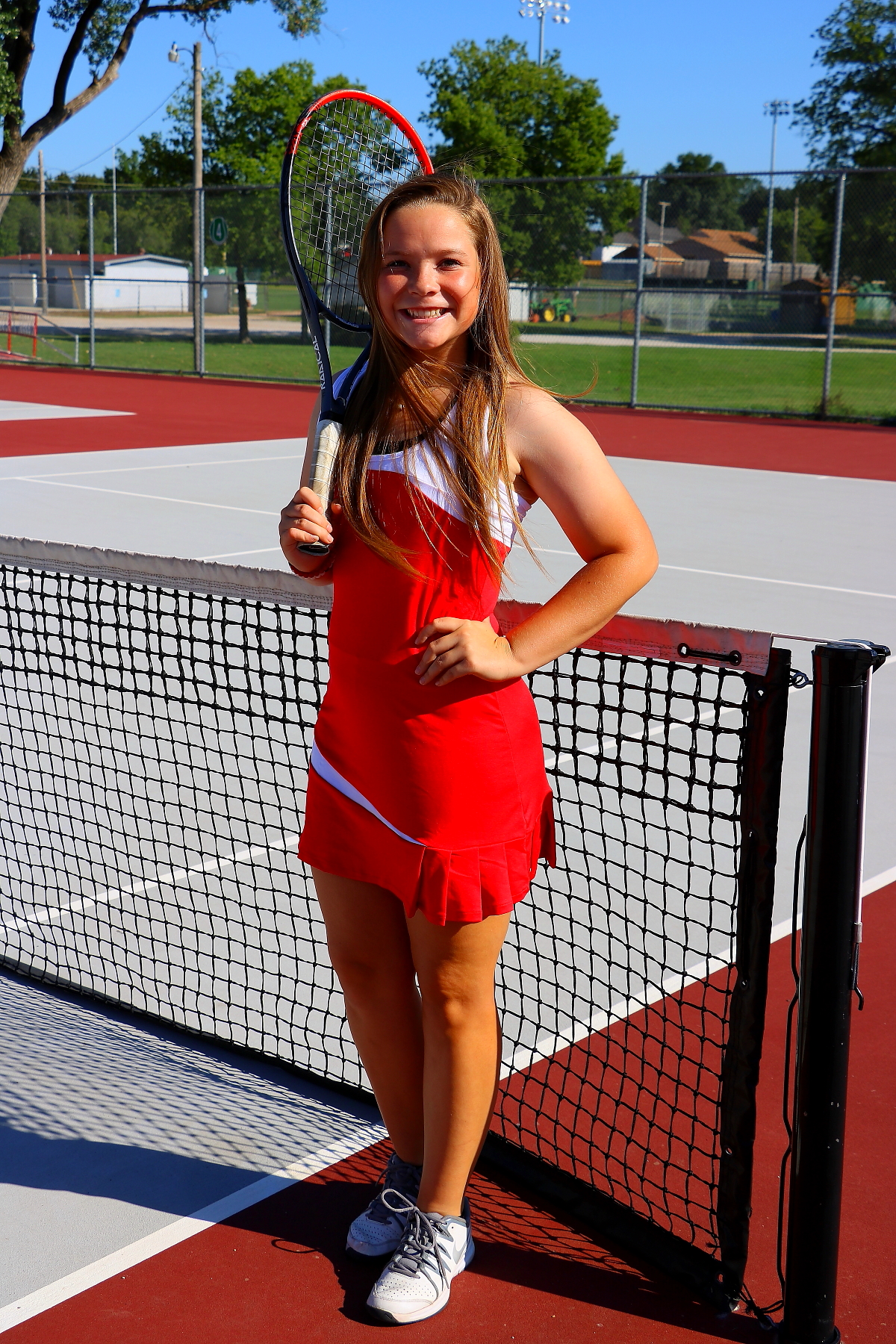 #1 Singles Abby Lowe went 3-0, beat Nickerson 7-4, beat Valley Center 7-0, and won the finals over Roe from Kingman 7-2.  Abby has had two good tournaments in a row for us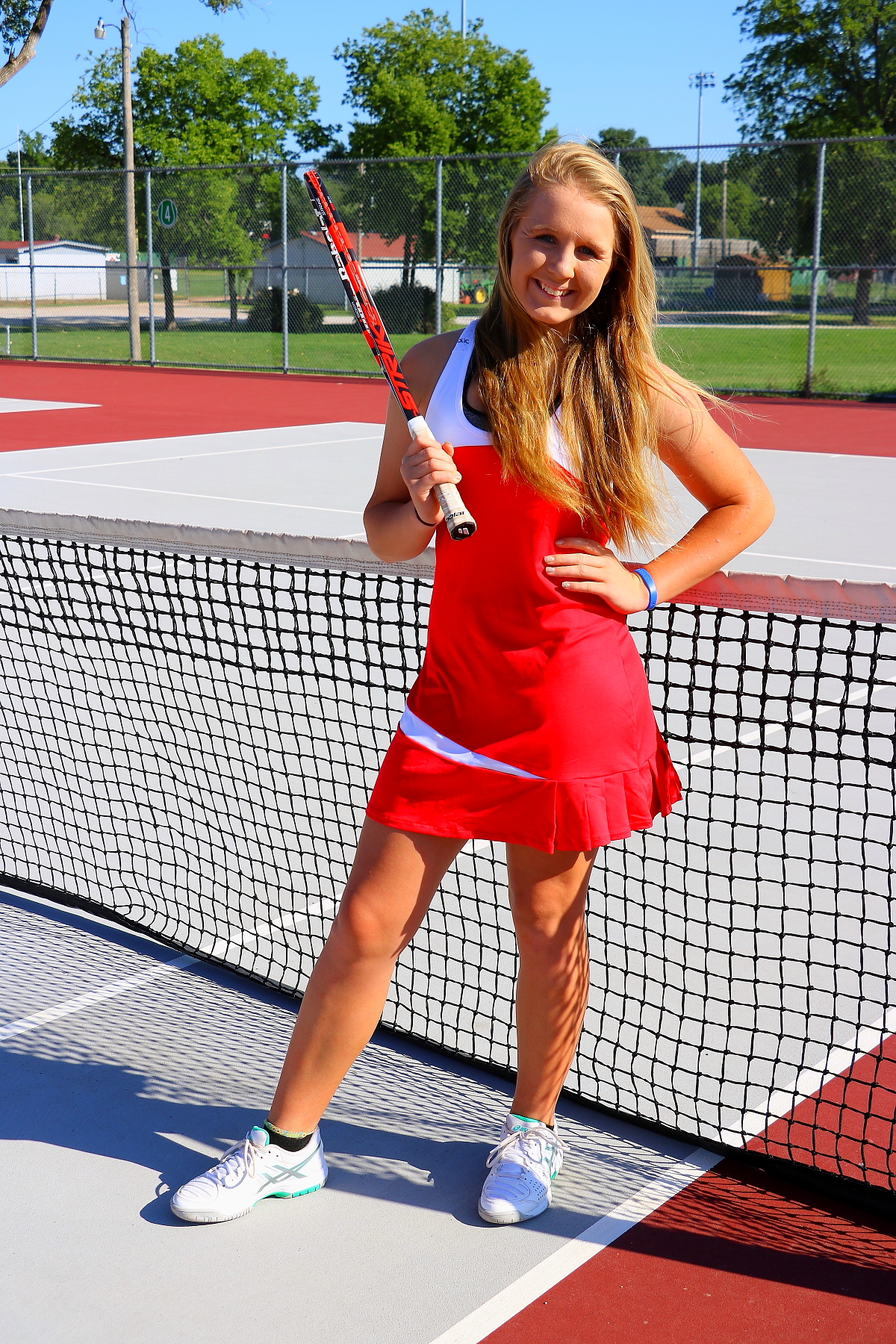 .
#2 Singles Jacelyn Buck went 3-0 also beating Valley Center 7-2, beating Kingman 7-0, and Buhler 7-2.  Jacelyn as well continues to play well for us and is now 19-5 on the season.

#1 Doubles Mekenna Adams (right) & Kylie Aufdengarten (left) went 3-0 also beating Kingman 7-0, then beating a Valley Center team that finished 5th at state in 5A last year 7-3.  In the finals they beat a good Buhler team 7-2.  Adams surpassed the 100 career win mark in her second match. Mekenna ended the day with her 101st career win. just sliding by her first cousin Erianne (graduated in 2012) who had 100 during her storied career too as a Lady Crusader tennis player. Only "5" previously in WHS history have hit the 100 win career mark. We now have 6! (Erianne Adams  100, Mekenna Adams 101, Dani Anderson 105, Kailey Jenkins 107, Kaitlyn Buck 114 and Lexis Hibbs 114).
Awesome job Mekenna! Mekenna has partnered with Maggie Fink, sister Madi and Kylie Aufdengarten during this run.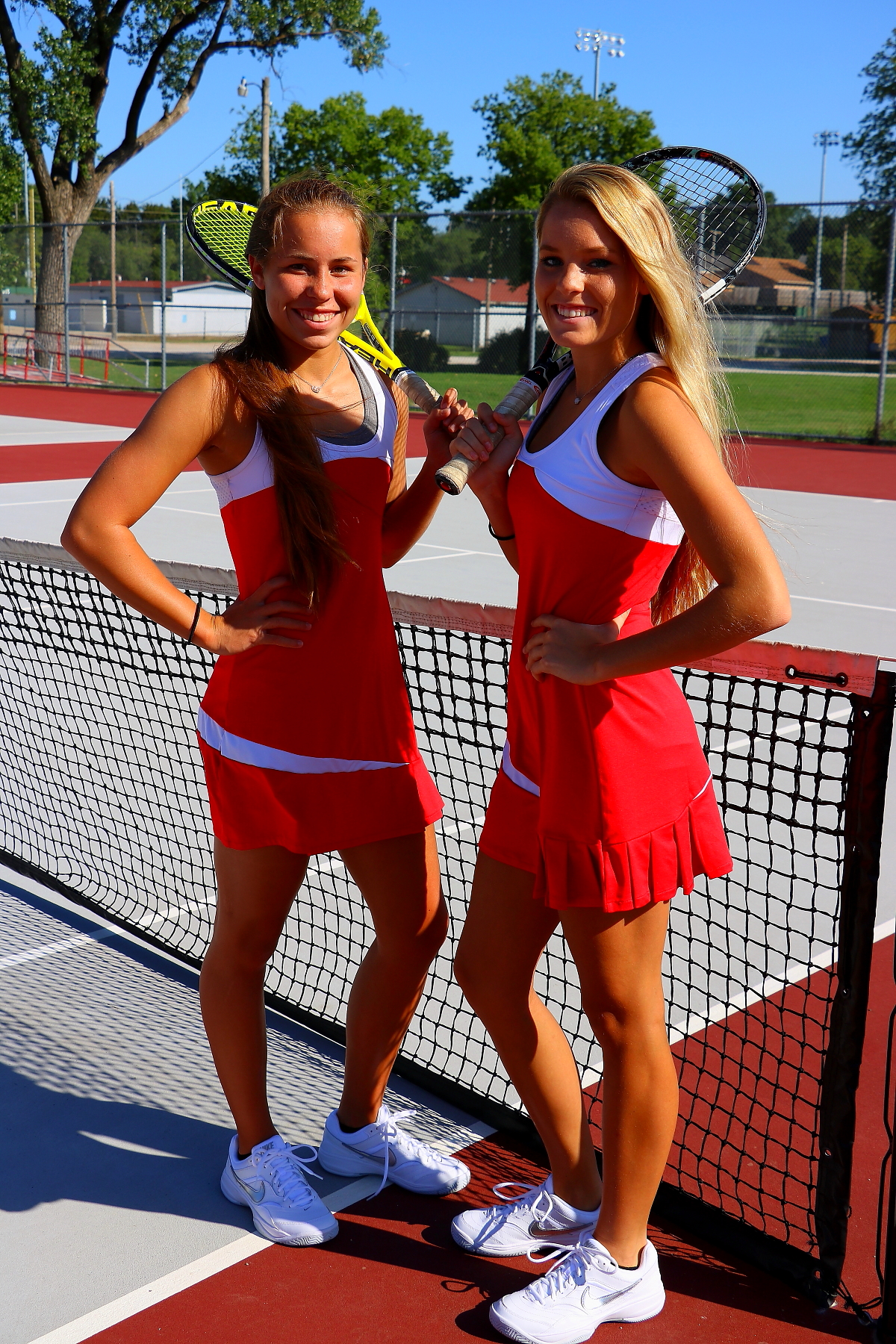 #2 Doubles Avery Rusk & Rylee Rusk went 4-0 in the tournament, beating Haven 7-0, Kingman 7-1, Valley Center 7-1, and Buhler in the finals 7-4.  The wins today moved the sisters to 22-5 on the season.
It's VARSITY AVCTL LEAGUE Tournament time on MondayTBA (Oct. 2nd) @ Wichita Collegiate. JV AVCTL LEAGUE is even sooner,  this Thursday, also at Collegiate, beginning at 10AM. Good Luck to all of our Lady Crusaders at LEAGUE and beyond! 
***************************
Congratulations to our Lady Crusader Varsity Girls Tennis Team!! A strong finish on Saturday and are ranked #4 in 4A by the Kansas Tennis Coaches Association!
The Lady Crusaders finished 7th as a team out of 18 at Saturday's Tournament of Champions at Wichita Collegiate.  Schools that beat us were #1 and #3 teams in 6A rankings, #2, #3, and #4 teams in 5A rankings, and #1 team Collegiate in 4A rankings.  We finished ahead of all other ranked teams #2 Independence, and #3 McPherson.
8th Place - Kylie Aufdengarten and Mekenna Adams 


11th Place - Abby Lowe
21st Place - Rylee Rusk and Avery Rusk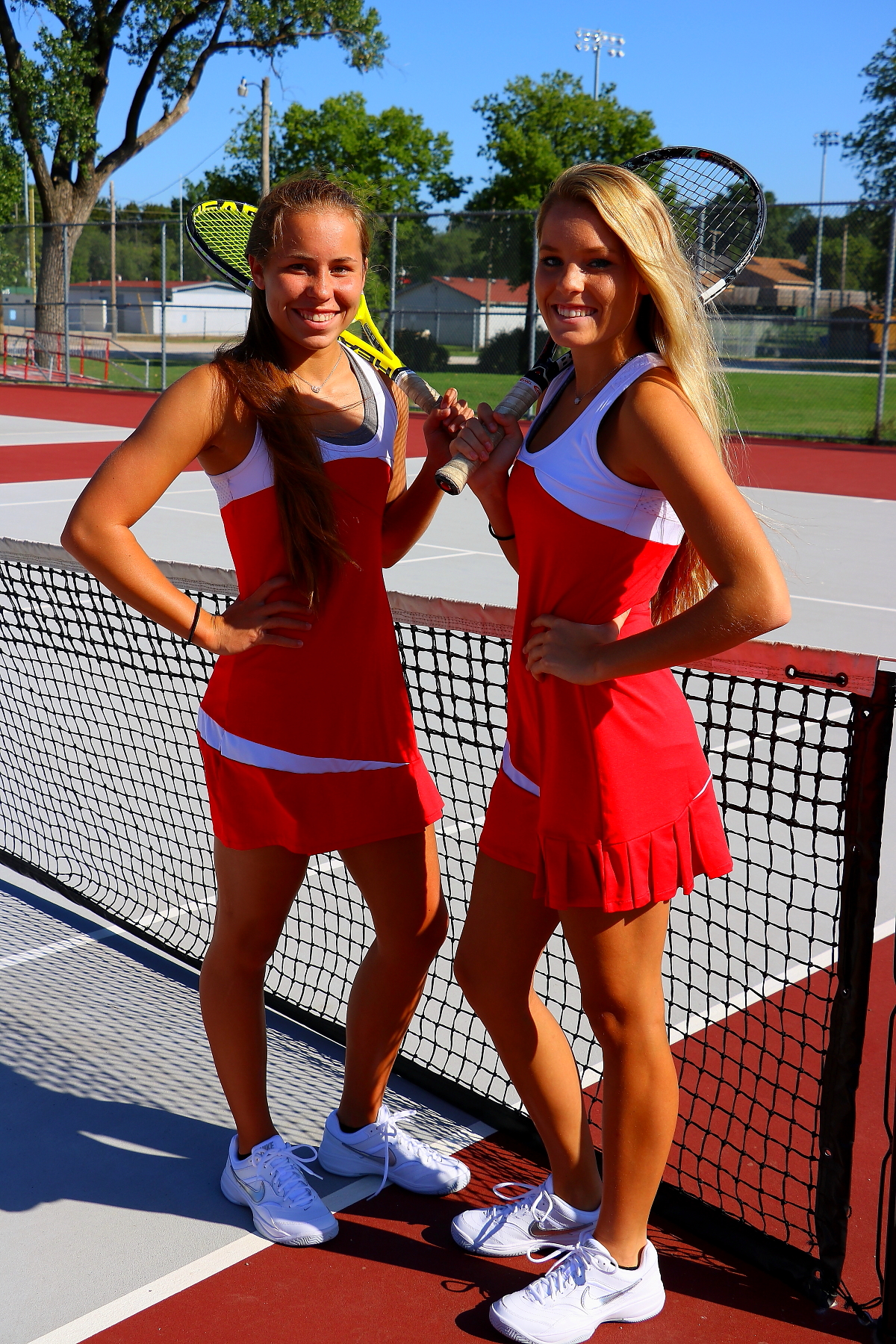 25th Place - Lexi Saffell
Adams/Aufdengarten beat Osner/Mies - Conway Springs 8-0, beat Arnold/Vo - Maize 8-1, lost to Tran/Pasner - Blue Valley North 2-8, lost to House/Baldwin - Kapaun 4-8, lost to Steven/Steven - Bishop Carroll 3-8.
Lowe beat Sutton - Blue Valley 8-1, lost to C. Kuckelman - Blue Valley North 1-8, beat Fury - Kapaun 8-4, lost to Schabel - Independence 3-8, beat Stranghoner - Bishop Carroll 8-6.
Rusk/Rusk lost to Adams/Cunningham - Maize 6-8, beat Walker/McChristan - Ark City 8-5, lost to King/Marquez - Independence 2-8, beat Woelke/Koester - Conway Springs 8-6, beat Allen/Carlson - McPherson 8-3.
Saffell lost to K. Truong - Goddard Ike 7-8(5-7), lost to Hoag - Ark City 6-8, beat Bruce - McPherson 8-7(7-1), beat Tee - Andover 8-5, and beat Hicks - Parsons 8-5. 
 
NEXT ACTION: Tuesday @ Kingman HS - 3:00PM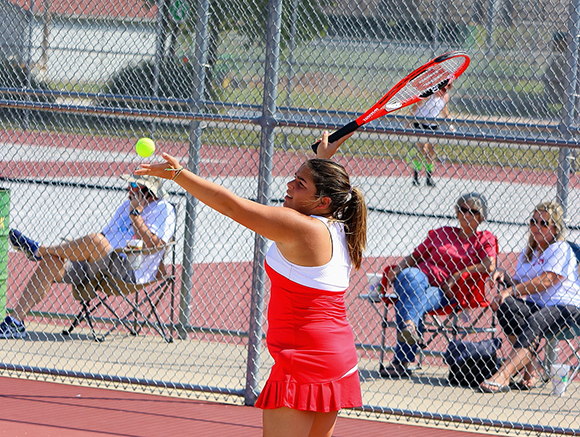 The Wellington JV Girls Tennis Quad was held Thursday afternoon at 9th St, it was hot as we knew September might be after such a pleasant August! The young ladies stayed hydrated and it was a close finish with Eisenhower just edging out the JV Lady Crusaders to claim 1st place team finish. 
#1 Singles Natalie Henning 1-2 / 4th
#1 Doubles Shilynn Gustason & Adaysia Love 3-0 / 1st
#2 Singles Olivia Brand 3-0 / 1st
#2 Doubles Raeawna Nutt & Jennifer Walters 2-1 / 2nd
TEAM FINISHES
Eisenhower - 25
Wellington - 22
Chaparral - 5
Neodesha - 3
Good Job Lady Crusaders!
Our Varsity Girls Tennis Team was in action for the 4th time this season at the Pratt Invitational and they did what they do best - win! 4 Meets 4 Team Victories! This group of young ladies are "4-midable"!!! 

Congratulations to #1 Doubles Mekenna Adams and Kylie Aufdengarten who finished first...on the day cumulatively, the duo played 33 sets of tennis and won 32 of them. 

Congratulations to #1 Singles Jacelyn Buck who finished 2nd. Lost 7-8 (5) in a tie-breaker in the final match.

Congratulations to #2 Doubles Calli Hatfield and Natalie Henning who finished 3rd, winning 8-1 in their final match.

Congratulations to #2 Singles Lexi Saffell who finished 1st. Won 32 of 36 sets on the day.
Other teams at the invitational included host Pratt,Sterling, Ulysses, Chaparral, Kingman, Larned, Greeley County and Lyons.

Next action this coming Tuesday at Conway Springs! (w/ Eisenhower and South Barber) GOOD LUCK LADY CRUSADERS!!
These young ladies ARE GOOD! :)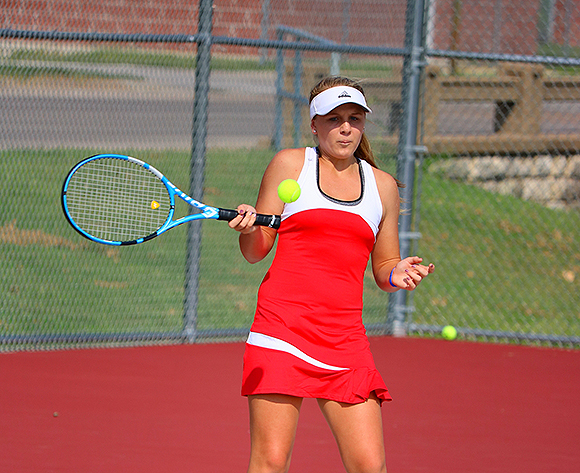 Varsity girls tennis team won it's second straight meet with 34 team points.
#1 Singles Jacelyn Buck took 1st place and played well, best win was over Roe from Kingman who finished 11th at 3A state last season.  She was down 3-4 and came back to win 6-4.  She went 4-0 on the day to win her second straight tournament.
#1 Doubles Avery Rusk and Rylee Rusk went 4-0 and only gave up 2 games on the day.  
#2 Singles Lexi Saffell found herself in a three way tie for 1st place but took home the 3rd place medal on percentage points for the tiebreaker.  She had a great come from behind match against Roth from Kingman being down 1-5, and won 7-5.  
#2 Doubles Calli Hatfield and Natalie Henning went 2-1 on the day good for 2nd place and had a very close loss 5-7 to Chaparral.
Coach Aufdengarten stated, "Girls did well we mixed our lineup up a bit to give some others a chance at varsity.  We have a busy week this week going to Circle on Thursday and Pratt on Saturday".
Our Varsity Girls Tennis team saw their first action of the season Tuesday here at HOME at the 9th St. Courts. The Lady Crusaders hosted Eisenhower HS, Conway Springs (ranked 3rd in 3A) and Buhler (ranked 8th in 4A). Pre-season polls had placed Wellington at 5th in 4A. Obviously some good tennis was going to get played Tuesday and Wellington lead the way in that department, finishing FIRST as a team / check out these numbers:

In #1 Doubles, Senior Mekenna Adams and Sophomore Kylie Aufdengarten went 3-0 (8-3, 8-1, 8-4) on the day after going 1-2 in this same tournament last season. Both were also recently named as 1 of the top 10 Doubles Players in the State by "Varsity Kansas" (kansas.com). In #2 Doubles, Senior Avery Rusk and Freshman sibling Rylee Rusk also placed first, finishing at 2-1. (8-1, 8-2, 2-8) In #1 Singles, Senior Abby Lowe, in the toughest division of the day (with all players making the State Tourney last  year) battled hard and ended up 0-3. (4-8, 4-8, 1-8). In #2 Singles, Junior Jacelyn Buck finished first going 3-0 (8-7, 8-4, 8-4), defeating a couple of pretty good opponents according to Coach Aufdengarten. Coach Aufty called it a "decent start"but added "there are many things to improve on..." 
TEAM SCORES
Wellington 19
Buhler 18
Conway Springs 14
Eisenhower 9

Wellington's Varsity will see action again next Tuesday here at HOME when they host Chaparral, Kingman, Collegiate and Winfield.
AWESOME START LADIES!!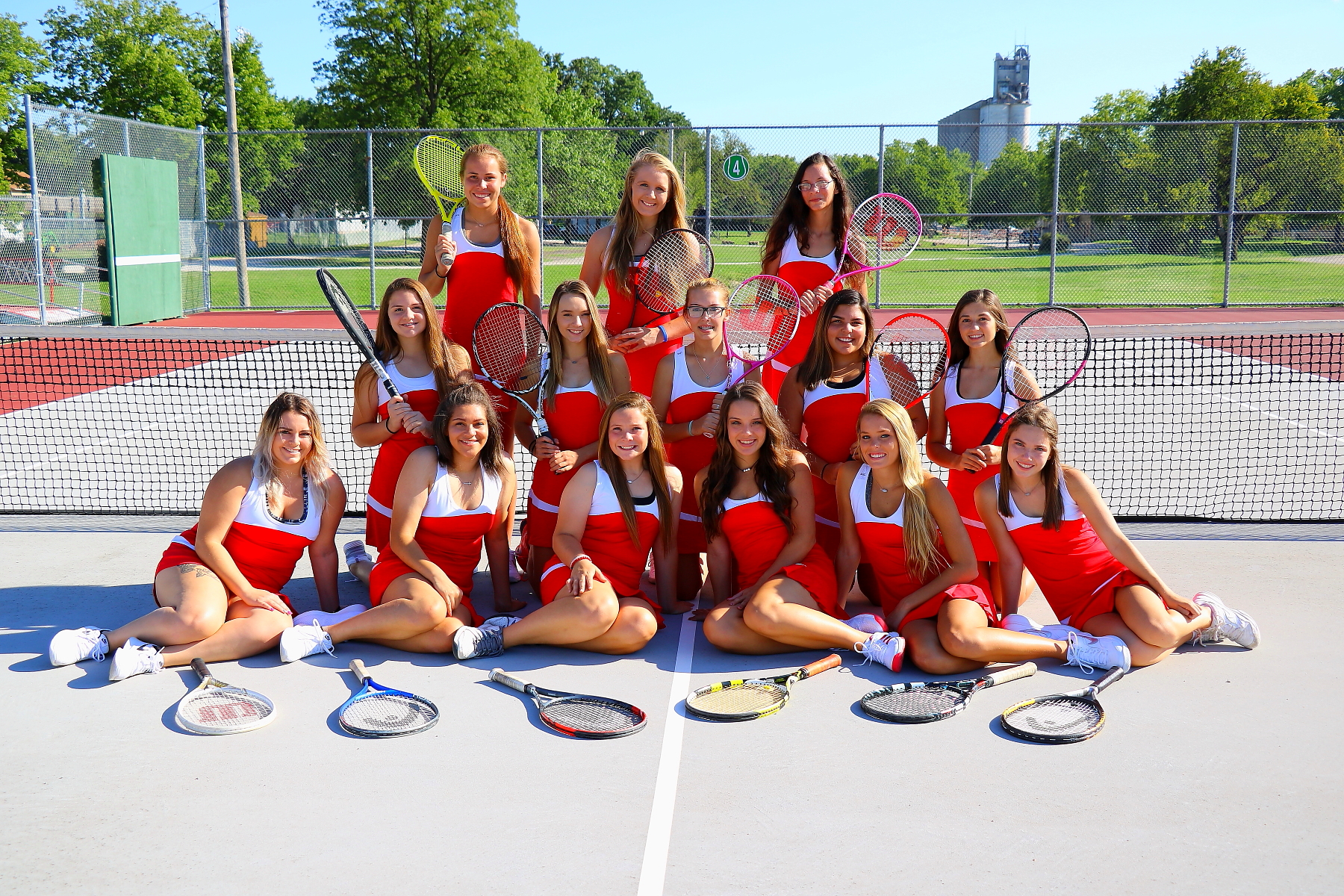 BACK ROW L to R: Rylee Rusk, Jacelyn Buck, Jennifer Walters
KNEELING L to R: Calli Hatfield, Kylie Aufdengarten, Raeawna Nutt, Olivia Brand, Natalie Henning
SITTING L to R: Shilynn Gustason, Adaysia Love, Abby Lowe, Mekenna Adams, Avery Rusk, Lexi Saffell

It was TEAM PIC time for the Lady Crusader Tennis Team on Monday. Click below and meet the ladies!

2017 WHS GIRLS TENNIS TEAM PICS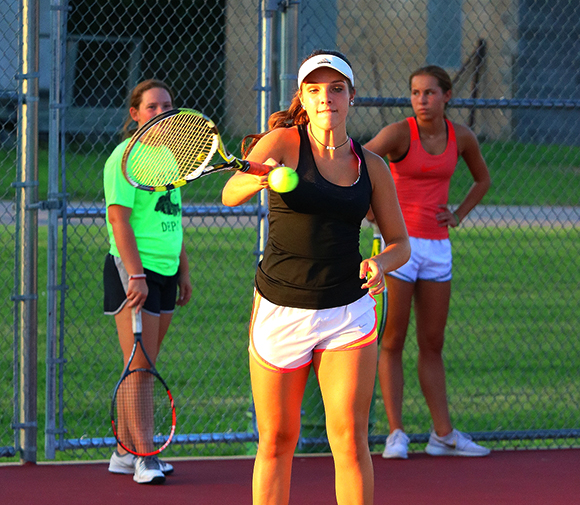 The WHS Girls Tennis team has been hard at it all week, this first official week of FALL SPORT PRACTICES across the State. Coaches Brian Aufdengarten and Daphne Adams were putting the girls through their tennis rigors Thursday evening at the Crusader Courts on 9th St. They have a lot of fun at their sport and the coaches account for a lot of that. The numbers are down from last year but some very quality players returning for action this year nonetheless. They have a lot of talent, just not as much depth. "4" Seniors, all State Tournament Qualifiers last season will lead the Lady Crusaders this Fall. Mekenna Adams, Avery Rusk, Lexi Saffell and Abby Lowe. Mekenna has qualified for State and medaled all 3 of her underclassman seasons. A lot of excitement lies ahead for sure!

Their first Varsity action will be on Tue. Aug. 29th, hosting Buhler, Conway Springs and Eisenhower HS's down at the 9th street courts. That action will get underway at 3:00PM. The weather Thursday evening at the courts was PERFECTO…very nice temperatures and not a puff of wind…perfect tennis conditions and the girls and coaches were enjoying it. The temps on the cement courts "seem" to get as high as 120 or so when it's HOT & SUNNY so cooler weather this time of year is much appreciated no doubt! Probably won't last. 

GOOD LUCK ON THE 29TH!!

WHS GIRLS TENNIS PICS 081817
2016 SEASON

WHS Doubles Partners Mekenna Adams and Kylie Aufdengarten after advancing to final day action in Winfield today at the State 4A Girls Tennis Championships, downed Collegiate in a tie-breaker 9-8 (7-5) to finish 5th!! The duo will be bringing home the hardware - check out more from the State 4A Tennis Tourney - STATE 4A TENNIS WRAP-UP
Congrats to Avery Rusk and Lauryn Snipes as well as Abby Lowe and Lexi Saffell - all battled hard on Friday but came up short on the Saturday call sheet. Great seasons for all of them!!
STATE 4A GIRLS TENNIS PICS 101416
STATE 4A GIRLS TENNIS "SINGLES FINAL RESULTS"
STATE 4A GIRLS TENNIS "DOUBLES FINAL RESULTS"
STATE 4A GIRLS TENNIS "FINAL INDIVIDUAL PLACES"
STATE 4A GIRLS TENNIS "FINAL TEAM SCORES"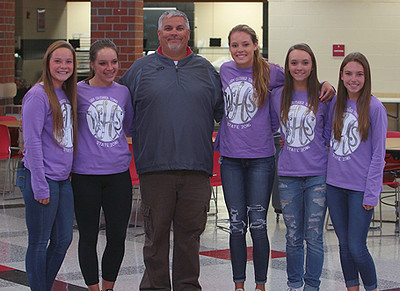 NOT PICTURED: Lauryn Snipes
NOTE: Of the 21 teams represented at the State 4A Tournament this weekend, "7 Teams" arrive with a full contingent of qualifiers (6). The Lady Crusaders are 1 of the 7!
VARSITY GIRLS TENNIS SQUAD @ STATE!
Lauryn Snipes * Mekenna Adams
Abby Lowe * Lexi Saffell
Avery Rusk * Kylie Aufdengarten
SEND OFF WAS THURSDAY @ WHS COMMONS
COURT ACTION will commence around 11:30AM today and then conclude beginning at 9:00AM on Saturday.
T.H. Vaughan Tennis Center, 1400 Mound Street
Winfield, KS 67156
GOOD LUCK LADY CRUSADERS-IT'S HARDWARE TIME!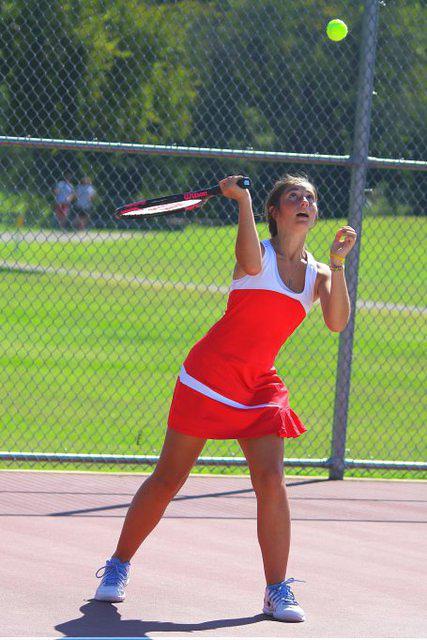 The WHS JV Girls Tennis squad hosted Circle, Derby and Eisenhower Monday at the 9th St. Courts with some awesome outcomes!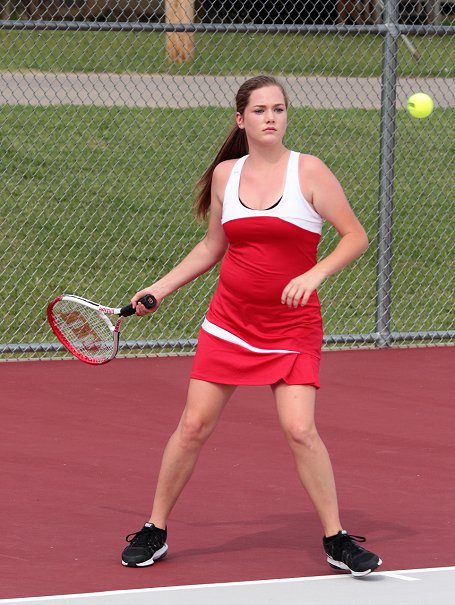 JV GIRLS TEAM RESULTS
Wellington White 34
Goddard Eisenhower 26
Chaparral 18
Wellington Red 17
Neodesha 5
INDIVIDUAL RESULTS
Medalist
#1 singles Natalie Henning 4-0 1st place
#1 doubles Brentasia Cramer & Shilynn Gustason 4-0 1st place
#2 singles Faith Rowley 2-1 2nd place
#1 doubles Adaysia Love & Mariah Pruitt 3-1 2nd place
#1 singles Hattie Staley 2-2 3rd place
#2 doubles Raeawna Nutt & Maggie McMinn 2-2 3rd place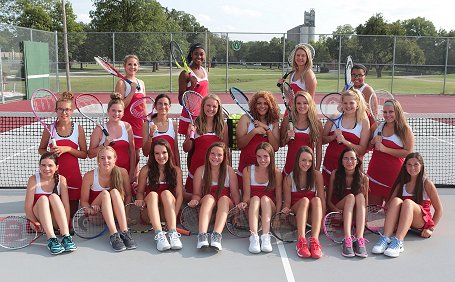 The Varsity Squad hosted a QUAD this week on Tuesday down at the 9th St. Courts – they did not lose 1 match!! Awesome!
TEAM RESULTS
Wellington 30 / Chaparral 15
Winfield 12 / Kingman 3
INDIVIDUAL RESULTS
#1 Singles Abby Lowe went 3-0 for first place. Won over Winfield 8-4, over Chaparral 8-7(8-6), and over Kingman 8-3. #2 Singles Jacelyn Buck went 3-0 for first in her first action on the season. Won over Winfield 8-3, over Chaparral 8-4, and Kingman 8-3. #1 Doubles Lauryn Snipes & Avery Rusk went 3-0for first place. Beat Winfield 8-1, beat Chaparral 8-4, and beat Kingman 8-3. #2 Doubles Madison Lewellen & Lexi Saffell also went 3-0 for first. Won over Winfield 8-1, beat Chaparral 8-0, and beat Kingman 8-0.
WHS GIRLS TENNIS 2016 TEAM PICS 090616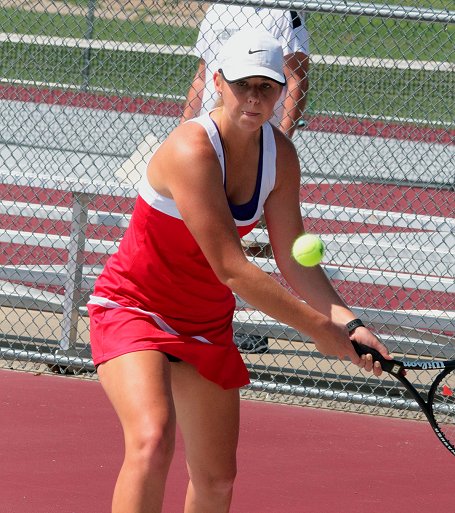 The Varsity Girls Tennis team held their season opener Tuesday at the 9th St. Courts - hosting Buhler, Goddard Eisenhower and Conway Springs. It was a close battle but in the end the Wellington Girls came out on top - this is the first time Wellington has won this tournament outright since 2012. Here are the team and individual results - awesome job Ladies!!
TEAM RESULTS
Wellington 16, Buhler 15, Goddard Eisenhower 15 and Conway Springs 14 (that was a battle!)
INDIVIDUAL RESULTS
#2 Singles Madison Lewellen went 3-0 for a 1st place finish! #2 Doubles Lauryn Snipes and Avery Rusk went 2-1 for 2nd. #1 Singles Abby Lowe and #1 Doubles Mekenna Adams and Kylie Aufdengarten both finished 3rd!
CONGRATULATIONS LADIES!